Sustainable architecture: innovative and inspiring building design
This is sustainable architecture at its best: from amazing abodes to centres of care and hard-working offices, these buildings not only look good but also do good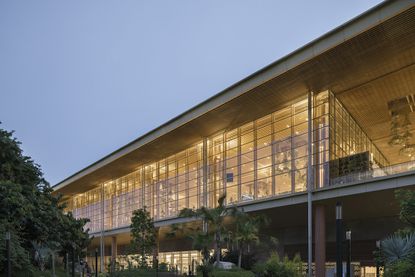 (Image credit: Ar. Ekansh Goel © Studio Recall)
Sustainable architecture is a complicated, multi-layered task. Architects need to consider materials, construction, performance and provenance of everything, as well as maintenance and afterlife - social sustainability is critical too. The green agenda should be at the top of everyone's mind, and luckily, there are a few great project to provide inspiration and help spearhead change. This is sustainable architecture at its best: the finest examples from across the globe, from amazing abodes to centres of care and hard-working offices. These are buildings that not only look good but also do good.
THE FINEST SUSTAINABLE ARCHITECTURE
---
Apartamento Paraíso by Rúina
Apartamento Paraíso is Rúina's renovation of a first-floor apartment in the Edifício Olga Ferreira building in São Paulo. Starting with an existing, fragmented space that lacked natural light, and with poor ventilation in original service areas as a legacy of colonial architecture, the studio has transformed the apartment into a bright, open home brimming with craftily repurposed material touches. An inverted beam embedded in the wall between the living room and bedroom was unearthed during demolition, and reappropriated to support furniture facing both sides, 'sectoring the environments without visually separating them'. Meanwhile, turning the wall between the kitchen and service area into glass sliding windows brings a renewed 'visual permeability from end to end of the apartment,' improving natural lighting and cross ventilation.
Kempegowda International Airport by SOM
Kempegowda International Airport has just unveiled its new Terminal 2 structure, a pioneering bamboo design by architecture studio SOM. Located in Bengaluru (BLR Airport), southern India, this significant piece of transport infrastructure services one of the country's largest cities – as well as its wider region. Aiming to create a facility that not only can handle the 25 million new visitors expected, but is also rooted in nature and sustainable architecture, the new terminal is rich in interior planting, lush exterior gardens (its landscaped spaces designed in collaboration with Grant Associates and Abu Jani/Sandeep Khosla), and natural materials such as brick and bamboo. It is all conceived to uphold Bengaluru's reputation as the 'garden city'.
The Leaf by KPMB Architects with Architecture49, Blackwell Structural Engineers, and HTFC Planning & Design
Situated deep in the Canadian prairies, Winnipeg's The Leaf is a new, format-defying greenhouse complex and horticultural attraction. The city, a relatively remote, mid-sized urban centre, is used to experiencing acute fluctuations in temperature. While long winters often see averages hovering around -40°C, summer days peak at +40°C. It's no wonder that, like other northern metropolises, the city's 750,000 residents benefit from a network of above and underground passageways, if not also a swathe of climate-resilient construction projects that model the latest low-energy consumption and low-tech climate control solutions. Addressing temperature extremes is a way of life here – and The Leaf truly embraces this and a particularly sustainable architecture approach.
Tom Lee Park by Studio Gang
Tom Lee Park unfolds along the east bank of the Mighty Mississippi. Set to open officially on Labor Day 2023, this is an important, new, green space for downtown Memphis, as well as a place where nature and the city meet. Its creators, Chicago based Studio Gang (the project's masterplanner and architect) and New York's Scape (who acted as landscape architect and park designer), describe the old site as a 'working waterfront', a previously flat, inhospitable, landfill part of town used for anything between parking lot, dump site, commercial transport route and industrial facility. The team, led by respective founders Jeanne Gang and Kate Orff (both featured in the Wallpaper* USA 300), was called upon by client Memphis River Parks Partnership to reimagine this stretch of the riverside as a centrepiece riverfront green, an urban lung and open space to be shared among Memphis residents. It was not an easy task. 'Tom Lee Park is part of a much bigger plan for the city of Memphis,' explains Gang. 'The city was turning its back to the river, and we wanted to change that. It's a very ambitious plan.' The greater scheme involves a taskforce put together by city authorities in 2017 to transform some six miles of the riverfront into a network of public spaces; the park is just the first one of them to complete. It is surrounded by areas of very different use and character - from residential neighbourhoods to a mud island, an open air concert space, and a museum about the Mississippi. It sits on a bluff, with the water running just below it, so the team also had to negotiate potential flooding from what is North America's largest river.
Tate Modern cafe 'Corner' by Holland Harvey
The Tate Modern cafe has been given a makeover courtesy of London architecture studio Holland Harvey. The much loved gallery always had a hospitality space on its ground level, yet changing needs and several years in operation, meant the popular northwest corner interior was in need of a refresh. Enter the practice led by Richard Holland and Jonathan Harvey, and now the reimagined cafe has just opened its doors looking better than ever, filled with minimalist touches and sustainable architecture elements. Fittingly named 'Corner', the new Tate Modern cafe (commissioned by Tate Enterprises) is a bustling all day cafe and bar area, used by staff and visitors during the day, as well as special events and late-nights as part of the gallery's busy programme. As a result, this needed to be an interior with some inherent multi-tasking, able to shapeshift and transform from a day to an evening venue, catering for anything from meetings, eating, coffee, bar and bigger parties.
Slot House by Klima Architecture
Slot House sits on a ridge in the Wasatch Back region of the Rocky Mountains, just outside Park City, Utah – where architect Chris Price runs his practice, Klima Architecture. It is defined by a series of interlocking gabled masses, and is as informed by earthships as it is by formalism; as influenced by its mountain-climbing clients as it is by Price's childhood in New Mexico; as sheltered from the elements as it is set squarely within nature. It offers, Price says, a place of solace and protection from which to respect and enjoy this wild landscape. It's also a gamechanger for Price, marking an evolution of years of quiet, dedicated practice into a crystallised approach. 'This is the first opportunity where all the stars aligned,' he says. Designed for a couple who connected with him initially through a shared affinity to mountain climbing, the house marks a solidification of Price's optimistic, ecologically driven, formally sophisticated approach to architecture. Named Klima Architecture, in honour of his dedication to the Passivhaus movement and all things sustainable (klima being an ancient Greek word that has evolved over time to mean climate), Price's practice has grown over the last few years as he has connected with a client base interested in projects that are simultaneously cosmopolitan and rugged, inventive and practical.
Farm8 by Studio Array
Nestled within one of New Delhi's urban villages, Farm8 provides a green oasis dedicated to art. Tactile and raw, the complex's design by the local architecture practice Studio Array, headed by Rachit Srivastava, aims to bridge the verdant world of nature, right in the heart of one of the world's busiest metropoles, with the realm of culture and creativity. The project sprang from a concept for a private studio for the exclusive use of its clients, the artists Ranbir and Rashmi Kaleka. Yet Farm8's brief evolved over time, mirroring the owners' changing needs and lifestyles. It slowly developed into a more expansive, community-driven space and now belongs to a collective of ten artists, writers and environmentalists (including the Kalekas) that came together in the early 1990s to form a retreat and practise a natural way of farming.
Wooden prefab cabin by CABN
CABN belongs to a small but highly visible sub-set of prefab makers shooting for the moon with a non-standard design. Looking at the wider history of prefabrication and modular building, prefabs promise so much. If your sights aren't set especially high, then the vast majority of factory-built homes available around the world will do pretty much exactly what you need them to: provide shelter at a substantially lower cost than a conventionally built house. This Canadian company wants to do more than just be a provider of tiny homes and trailer park alternatives; and it hopes that this showhome points the way to more sustainable, low-cost housing and denser communities.
Booking.com headquarters, City Campus by UNStudio
'What if work could be extraordinary?' asks Ben van Berkel. Booking.com's office in Amsterdam, named City Campus, is his response, and it's nothing if not ambitious. With its occupants now happily moved in, and a BREEAM Excellent design certificate for sustainable architecture for it under their belt, van Berkel's architecture practice UNStudio proposes this as a model for 21st century workspace. When a Dutch student in Eastern Holland came up with the idea for Booking.com in 1996, it was a pioneering thought, and it quickly took off, becoming the global phenomenon of a travel platform it is today, as well as a state-of-the-art tech company. But as the business grew, staff and spatial needs did too, and Booking.com found itself based in several different buildings in Amsterdam, which was neither practical nor efficient. UNStudio's brief was to create a home for the company's some 6,500 staff in town – but one that would stand the test of time, and multitask too.
The Magasin Électrique at Luma Arles
'It was like stepping inside Willy Wonka's Chocolate Factory,' says Assemble Studio co-founder James Binning, describing his first visit to Atelier Luma at the arts centre Luma Arles in the south of France. The design laboratory has been concocting material innovations on site since 2016 – culturing algae for natural dyes and turning potato starch into bioplastics. So, when it outgrew its original space on the complex and decided to renovate the nearby Magasin Électrique, it could offer its collaborators, London-based Assemble Studio and Belgian practice BC Architects & Studies, a spread of sustainable materials to choose from. Rice straw, sunflower stems, salt, soil and limestone waste all find their way onto the fabric of the former railway electrical shop, reimagined as thermal and acoustic insulation and rammed earth interior walls, among other things. Almost every raw or recycled material was sourced and processed within 70 km from the site, with the renovation works acting as a prototype of new kind of low-carbon, bioregional architecture that takes cues from ancient practices – an ongoing project dubbed Lot 8. Most materials are made from waste products from other industries – sunflower oil production, limestone quarrying – creating new revenue streams for local communities.
Stream Building by PCA-Stream
The Stream Building by PCA-Stream opens today (31 May 2023) in Paris, bringing with it a vision for urban design for the 21st century. It is a mixed-used structure based on sustainable architecture principles, housing office and commercial activities – the outcome of almost 15 years of studies by the studio's research arm, Stream Lab. 'What makes the Stream Building different is precisely that it is not just an office building,' says Philippe Chiambaretta, the Parisian studio's founder. 'The building is a mixed-use laboratory that stitches the city together. It brings together, under the same roof, all the activities of a mixed and dense urban life, in the spirit of the "15-minute city": offices, a hotel, four restaurants, a rooftop, two food halls. It offers a plural, hybrid and hospitable place, inspired by the mutations of contemporary lifestyles, and becomes a new place of life and resources for the inhabitants in a neighborhood that was cruelly lacking in amenities and services.'
Reference Center of Babassu Coconut Breakers by Estudio Flume
The sprawling Maranhão Babaçu forests are home to dazzling flora, but also the traditional community of babassu harvesters. This local, predominantly female group living in the north of Brazil has been working in its distinctive, tropical moist broadleaf forest ecoregion environment for decades, its daily life and economy strongly linked to the region's dominant plant, the babassu palm. Its product, a coconut-like fruit, can be opened to reveal seeds that can be pressed for oil, whose properties make it popular in the beauty, medicine and food industries. It is here that São Paulo's Estudio Flume just completed its latest project, the Reference Center of Babassu Coconut Breakers, for this very community.
Kampala art centre by New Makers Bureau and Localworks
A new Kampala art centre cuts a fine figure in the Ugandan capital. London-based New Makers Bureau has built a richly patterned new home for a local arts trust, 32° East, from materials excavated from the site itself – earth, wood and reclaimed brick. The studio drew on the heritage of earth building in the region, creating Uganda's first purpose-built community art space in the city's Kabalagala neighbourhood, while taking inspiration from the Lalibela churches of Ethiopia – sunken, rock-hewn structures created by subtracting material beneath the ground to reveal the forms. 'We took cues from the idea of archaeology and excavation, literally mining the site for material,' says founding director James Hampton.
Spruce House by Ao-ft
If Ao-ft co-founders Liz Tatarintseva and Zach Fluker describe parts of Spruce House, their newest project, as a Swiss army knife, they've got a point. The home's extremely high standard for functionality and efficiency truly belies its small but perfectly formed physique. Spruce House and Studio – the name makes sense as soon as you set eyes on its timber-clad façade – is the pair's joint home in east London's Walthamstow. Not only has it been a personal labour of love, it's also the first flagship project of their newly minted architecture practice.
Citizens House by Archio
Citizens House lies nestled within the sleepy residential neighbourhood of Sydenham, south London, its light-coloured brick marking a departure from the area's red-brick counterparts. All clean lines, with nods to minimalist architecture, and touches that appear more raw and almost industrial, it feels elegant and contemporary, created to a design by architecture studio Archio. Citizens House's success, however, goes far beyond its apparent aesthetic qualities. Welcome to London's first-ever community land trust housing scheme, offering 11 'genuinely and permanently affordable homes for local people'.
Saltviga House by Kolman Boye Architects
What started as an experiment resulted in Saltviga House – an idyllic timber dwelling on the south coast of Norway. Nestled in a wooded plot overlooking the sea, this family home was conceived with 'gentleness' in mind, explain its creators, the Sweden-based studio Kolman Boye Architects, founded in 2013 by Erik Kolman Janouch and Victor Boye Julebäk. What underlines this approach, and makes Saltviga House stand out, is that it utilises offcuts from the production of Dinesen oak planks. These compose very visibly its roof and exterior walls, giving it its shingle-like appearance. Taking their cues from the beautiful material, Kolman and Boye crafted a home that feels at once cosy and environmentally responsible; they are deft hands at creating inspiring architecture using timber, as well as the cabin and rural home typology, as work such as Rotunda Serotina for Wallpaper* Handmade 2015 and Vega Cottage demonstrate. At the same time, every piece of offcut used in the house was checked and tested for its durability against the often harsh Norwegian weather.
Exchange House transformed by Piercy&Company
Exchange House's distinctive black parabolic arches and exposed industrial trusses, designed by SOM in 1990, make it a landmark in the cityscape of London's Broadgate campus - winning the AIA's Twenty-five Year Award in 2015. Fast forward to 2023 and London architecture studio Piercy&Company was commissioned by British Land and GIC to redesign the iconic structure's interior, aiming to transform its shared spaces, improving tenant amenities, while also pushing the boundaries of sustainable architecture, employing circular economy principles.
Piercy&Company, a studio that is well versed in transforming historically sensitive spaces, tapped into British Land's vast archive, using original hand-drawn sketches of the building to inform its redesign. By making the most of the transparency provided by the original continuous ground floor glazing and double height, the architects established a new synergy between the interior and freshly landscaped Exchange Square (by DSDHA) outside. This was achieved through the introduction of layered internal planting, natural materials, and a colour palette that mirrors the seasonal green scheme of the garden. By playing with the concept of a 'garden room', the interior changes have brought the outside in, and with it, a palpable sense of warmth to the reception hall.
Congregation Kol Emeth synagogue by Field Architecture
Palo Alto plays host to a world debut with its new, eco-friendly synagogue: welcome to Congregation Kol Emeth's redesigned home, the first ever LEED Platinum building of its kind. The voice and heart of the local Jewish community since its foundation, Congregation Kol Emeth grew lively and strong over the years, slowly but surely its activities outgrowing its original home. The new space and its sustainable architecture were designed by locally based studio Field Architecture, the project led by practice co-founder Jess Field. The project included the reimagining and expansion of the existing structure on site – at the same time composing an impressive Zero Energy and Net Zero Water Building for irrigation.
Adler Spa Resort Sicily
For the new Adler Spa Resort Sicily, Italian architect Hugo Demetz was tasked with designing a scheme that would exploit the views of the surrounding natural landscape, while blending into the scenery. 'Bio[philic] architecture was the only way forward,' says Adler co-owner Franziska Sanoner, whose family has developed the brand over generations. The resulting collection of mainly single-storey structures includes 90 guest rooms, each complete with a private terrace accessed via sliding glass doors. The set-up encourages visitors to recharge and captures the essence of the slow travel movement. Spaces inspire guests to embrace the calm and secluded location and the resort's ethos of al fresco living. Built upon the idea of sustainability, the resort features walls clad in natural unbaked Sicilian clay. The material was chosen for its natural damp-control properties. Elements of one of the island's most iconic sites can also be found in the wall structure; tuff rock, which is formed from volcanic ash and sediments, and has been sourced from Mount Etna. The rock naturally helps keep the internal spaces cool in the summer and warm in the winter.
10 Exchange Square
Coffey Architects has just completed a sustainable refurbishment of a 2004 SOM-designed workplace in Broadgate, London. Welcome to the revamped 10 Exchange Square, where the studio installed a bold cycle-in entrance and managed an estimated 93% embodied carbon savings. Working with developer British Land and the building's existing 'good bones', the architects took on the task to update the structure to contemporary standards. Apart from prioritising cycling and providing the necessary parking and infrastructure, the scheme includes a reinvigorated entrance with cladding in solid European oak timber that has been procured from certified eco-conscious sources. Sustainability experts Norman Disney & Young helped champion local procurement, promote reusability and reduce embodied carbon. 'Our work on 10 Exchange Square is part of a growing movement to provide high-quality retrofit workspaces; avoiding building demolition is key in the transition to net zero. Outmoded buildings may not be fit for purpose, but clever clients understand that this is, in part, where the architect's value lies. Our focus was on doing less with more, a holistic approach in terms of experience and sustainable construction. Importantly, the two storey intervention repairs the urban entrance to Broadgate. It creates the second ever cycle-in office building in London. The new route offers a wonderful journey from street to desk for all users,' says studio director Phil Coffey.
Terphouse
Located within a system of dikes and small islands, this Rotterdam house appears serene and idyllic; yet it was designed to withstand harsh weather conditions and works cleverly and hard towards a sustainable architecture result. The brainchild of local architecture practice Studio AAAN, Terphouse, as the project was titled, balances contemporary architecture and environmental friendliness, set upon a low mound engulfed in low greenery and flowers. Terphouse is situated in the suburbs of the city of Rotterdam, within an environment that brings together nature and constructed context – both in terms of buildings and humanmade landscape. 'The house is dug in the artificial mound on the island, situating the living spaces on the first level and the bedrooms and secondary rooms underground. This means that from the living spaces the open landscape is perceived over the dikes. By folding the landscape around the house, a connection with the garden is made possible and the house is perceived as a modest solid in the landscape,' the architects write.
The Black and White Building
The Office Group (aka TOG) was founded in 2003, which means that the design-led workspace specialist is about to head into its third decade. The company is marking the occasion with one of its most pioneering projects to date. Welcome to The Black & White Building – the tallest mass-timber office building in central London, as well as the first workspace development that TOG has built entirely from scratch, and its most impressive yet in terms of sustainable architecture. In its first 20 years, TOG managed to shake up the world of office development. Founders and co-CEOs Olly Olsen and Charlie Green kicked off a quiet revolution, rolling out one location after another, growing their company in size and scope and ever-refining its offering, leading the charge on flexible workspace and hybrid working models (for context, WeWork was founded in 2008). As a result, TOG now manages over 50 buildings in the UK and Germany, where almost 20,000 users populate its outposts through a range of membership and enterprise programmes. Interestingly, this latest adventure brings the company full circle back to east London's Rivington Street, right opposite its oldest operational venue and one-time headquarters. The project features interiors by Daytrip Studio.
Beck Farm
This modest countryside home in North Yorkshire is a work by London based Vine Architecture Studio. 'This traditional farmstead in the Howardian Hills AONB has changed dramatically over time, growing as a working farm and reducing in size as methods became increasingly mechanised. Our conversion, refurbishment and extension of the building is the latest stage in its evolution, with the project offering an opportunity to work with – and add to – the character of the site,' explains head of the practice Rory Pennant-Rea. Nature friendly materials, such as timber, dominate throughout, while the structure also uses ground source heat pumps therefore draw a minimal mains energy supply reducing its overall carbon footprint.
Pembury Pool House
South London architecture studio Knox Bhavan crafted this discreet, elegant, brick-clad pool house on the grounds of a larger estate near Tunbridge Wells. The architecture team wanted to make this as environmentally friendly as possible from the get-go, embedding the design into the ground and placing an intensive 400mm thick green roof forms a biodiverse mound, which provides both significant protection and good thermal mass. Made out of brick and timber, the structure also harvests rainwater to irrigate the land in front of the pool. 'The Pembury pool house is a self-effacing building that manages to be both modest yet striking. Built in response to the landscape, it is entirely respectful of what was already there. Our idea was that, upon entering it, you would feel as if you were going into the earth. We anticipate this hardwearing structure will stand for hundreds of years, becoming an elemental component of the surrounding garden,' says Sasha Bhavan one of the studio's founding partners.
Farnham House
This sustainable Farnham house sprang from its owners' fabric-first decision. Instead of updating a dilapidated bungalow on site, it made more sense for the clients and their architects to demolish the modest property and replace it with a new, eco-friendly, modern building. The aim was to design and construct a home that would make the most of the secluded setting and enable the owners to integrate renewable technology to run it efficiently and with minimum impact to its surroundings.
West Side Residence
De Baes Architects has created a new, ultra-sustainable residential building in Belgium's chic seaside resort of Knokke. The structure, which reuses an existing, crumbling modernist block on site, has been turned into a into a high-performing set of homes that save '72,000kWh of electricity a year,' the architects explain. The design includes energy-efficient facade systems that improve overall performance, as well as extensive reuse of materials and structural elements from the existing building, saving time and minimizing emissions in the process.
Habitas San Miguel de Allende
Hospitality brand Habitas has launched its latest, sustainable-led venue, located on the outskirts of UNESCO World Heritage site San Miguel de Allende in Mexico. Choose one of the 60 sustainably built, earth-inspired luxury rooms, which are dispersed among gardens filled with native species of plants. A locally-sources approach is applied throughout, from the rooms' design, to the farm-to-table food available, and the resort's range of activities on offer. The architecture was created by the hospitality brand's in-house design team.
Wellesley College Science Complex
SOM are behind this impressive piece of education architecture - which bridges technological advances and sustainable architecture. The new Wellesley College Science Complex, situated in Massachusetts, USA, offers new spaces that feature state-of-the-art learning and research facilities, a restoration of the surrounding landscape, and a strategy to conserve and renovate the most distinctive elements of the existing center. It also aims to boost opportunities and support STEM education for women. 'We reimagined the science center as a village for teaching, learning, and research,' said SOM design partner Colin Koop. 'The project is a careful mix of removal, renovation, and addition that will give students and faculty a more inviting and engaging experience.' It includes extensive botanical gardens as part of its offering. The project has received LEED Platinum certification for its eco credentials.
Loft, Fox Hollow
New Mexico-born designer and developer Roger Bittenbender used his extensive experience in luxury, boutique, New York residential projects for a new venture - meet Loft, one of a series of countryside homes that lack nothing in design or lifestyle ambition against their urban counterparts. The home is located in bucolic Germantown in the Catskill Mountains. The timber exterior is out of Atlantic White Cedar wood, sustainably sourced and processed within the US. Meanwhile, the project also features only native plants for landscaping, preservation of all trees on site, openings and interior arrangement that maximises temperature control, and high efficiency LG Heat pumps for heating and cooling. All, while tapping into that graceful, Scandinavian minimalist aesthetic.
Washington School of Business
Seattle's LMN Architects spearheaded the strong eco credentials in this new piece of sustainable architecture. The completion of Founders Hall at the University of Washington Foster School of Business, not only marks a new project in a series of collaborations between the studio and the particular institution, but it also celebrates the very first mass timber structure in the campus. 'The new Founders Hall is an architectural and philosophical continuation of the interconnected spaces that LMN Architects has designed for the Foster School of Business over many years. It stands apart with an elevated focus on sustainability goals, social equity and inclusivity, and increased opportunities for community connection,' said Kate Westbrook, principal at LMN Architects. 'The use of mass timber lowers the project's embodied carbon substantially while we celebrate the Douglas fir to create a warm and inviting atmosphere on the interior. The exterior architectural expression draws from the material palette established by earlier Foster School buildings and reveals moments of the mass timber structure to hint at the experience within.'
Quay Quarter Tower
Quay Quarter Tower cuts a fine figure near the Sydney waterfront, all twisted forms and contemporary high-rise dynamics; but this tall building stands out for more reasons than one. Its sculptural physique is certainly eye-catching, but this is also an impressive feat of sustainable architecture reuse, hailing a new era for its genre in Australia and beyond. Its accolades now include a prestigious International Highrise Award 2022, which has just been announced today. Sustainable architecture, urban innovation, striking aesthetics; there's a lot to be said for this new-era high-rise. Its architects, 3xn (in partnership with BVN) celebrate the project as 'the world's first adaptive reuse skyscraper'. Gone are the days when height and volumetric gymnastics alone could impress the global architecture scene. Now, every building needs to work hard to make the most of its challenges and opportunities in order to have a positive – or, at least, neutral – impact, environmentally speaking. Quay Quarter Tower was designed to do that, not least through its very basis as a redesign of an existing tall structure – as the client, AMP, opted for a clever reimagining, instead of demolishing, its 40-year-old bones.
Cork House
Cork House is a new family home, built in an east London brownfield site. So far, so normal, for a London infill story. What's less usual about it is that it was built during the pandemic, and its creator, architecture practice Polysmiths, worked had to design a home that not only becomes fit for purpose for its residents – Polysmiths founder Charles Wu and his partner – but also makes the most of its site and circumstances, turning the challenges of its plot and timing into golden architectural opportunities. The home, a new-build structure in Forest Gate, is situated on a rectangular brownfield plot hidden from the main street, surrounded by typical east London terrace house rear gardens. Wu, an architect and ceramicist with experience at studios such as Heatherwick Studio, AHMM, Studio Egret West, began the project in the midst of lockdowns and knew from the start that he was going to have to face challenges. Finding creative solutions for them became a key driver for pushing the boundaries of design in this scheme.
The Canopy: Michelin headquarter's renovated reception area
The Canopy is the Clermont -Ferrand based Michelin headquarter's freshly renovated reception area. The design's biophilic influences encompass a glasshouse with plants and a facade that mimics the formations of trees. The abstract nature design is made entirely out of wood. 'Bringing a potential vision to life for such an emblematic company was a challenge. The headquarters' future could only be decided upon in collaboration with the company and within the company itself,' explains Nicola Delon, founding partner of Encore Heureux. 'This idea went hand in hand through an architectural consulting period with a studio set up at the heart of the company. Dialogue and workshops with Michelin teams truly became a corner stone of the design process behind the transformative headquarter program.'
Pivadenco School
Architects Rodrigo Duque Motta, and Cristian Larrain and Matias Madsen of MAPAA collaborated on this new school building in the Chilean countryside's Melipeuco district. Part of the local Ministry of Education's Escuelas Rurales de la Araucanía initiative, which outlines the creation of eight small schools in rural parts of the region, Pivadenco school was designed to support diverse communities. 'We defined a common strategy for the four schools, we understand these buildings not only as an educational center but also as the social center of a territory,' the architects explained. The building was composed with energy efficiency and thermal comfort in mind, while the complex includes a zone for native flora, fruit trees, and vegetables to thrive.
Novartis Pavilion
Art meets science in the Novartis Pavillon designed by AMDL CIRCLE and Michele De Lucchi. Set in Basel, Switzerland, the project, which opened this year, includes a new exhibition, meeting and event centre. It is open to the public - the first of its kind in the Novartis campus - and features a distinctive, zero-energy media façade. Mixing sustainable architecture with visual arts and state of the art technology, the building uses a new generation of organic photovoltaic and a grid of LED lights to screen the works of international artists. The art is curated by HEK (House of Electronic Arts) in Basel. 'Future-orientated, innovative, open and optimistic. The floor plan of the Novartis Pavilion is inspired by the universal symbolism of the circle, considered a powerful field of psychophysical energy, a sort of sacred area where all physical and spiritual forces are concentrated. Because the architecture itself must communicate energy, must inspire and promote connections between different voices and cultures,' said De Lucchi.
House of the Rosebank Health Village
South African architecture collective Frankie Pappas undertook this thorough re-imagining of a community healthcare in Johannesburg. The structure, which was redesigned with a modest budget, now prioritises natural ventilation and principles of reuse; the project was also crucial in creating discreet, necessary spaces for both patients and medical professionals to conduct their meetings with enough breathing room and specially designed spots, such as generous waiting areas and smaller meeting nooks. The fresh design accommodates consulting rooms, waiting spaces, a reception, bathrooms, and service spaces. 'Healthcare is one of the highest expressions of our humanity. So instead of cold light, incessant bleeps, and the bitter smell of antiseptics - the sensorial touchstones of this project are sunlight, and the sound of running water, and the smell of petrichor,' said the architects.
The Learning Tree
The fragrant smell of timber, a slew of engaging toys and gentle lines and materials, and sustainable architecture principles are key components in the identity of The Learning Tree nursery - a new preschool facility in East London's Romford. The timber-clad architectural interior design is the brainchild of emerging studio Delve Architects. The young practice, set up in 2017 by school friends Edward Martin and Alex Raher, was called upon to retrofit a former industrial building. This has now been transformed into a warm, welcoming learning space using durable design and natural materials - namely, timber, ply and rubber. Creating the space in just six months and working with specific budget constraints, the architects employed glazed partitions, timber screens, curved forms and bespoke joinery to customise the interior for their client, leading childcare and education company, Storal Learning.
Kura Kura Badminton Court
Studio Jencquel and Ibuku's Kura Kura project is an architectural treasure tucked away in the mountains of Bali. At 200 sq m, this bamboo badminton court structure is a modest but intriguing feature of the leafy grounds of the Rumah Hujan Estate in Ubud, designed around sustainable architecture principles. Intended initially as a paddle tennis court, the project evolved organically into a badminton court, when Studio Jencquel founder Maximilian Jencquel realised that Indonesia's national sport would be a more fitting addition to the estate's grounds. Aside from being a visual highlight, the building contributes to a wave of striking bamboo-based architecture in Bali.
Karper
Hé Architektuur's projects look primarily at rescuing the remnants of existing buildings. This, combined with the team's inclination towards renewable, raw materials, means the resulting works often feel like a creative revival of bygone eras. The building that became the studio's Karper project, in Molenbeek, Brussels, had served for years as a factory and office. Retaining the existing four walls and solid metal beam that runs through the centre of the building for support, the team added exposed wooden flooring. These elements, alongside huge windows and painted brick in subtle hues, give the house a light, honest feel. Four mezzanine-style floors create a flow between the spaces in this 330 sq m building, where interior walls are largely absent, making way for curtains and resulting in a highly flexible layout. One bathroom wall is replaced by tri-fold doors that open out onto the ground floor courtyard, and wooden stairs are tucked into corners, freeing up floor space on the well-connected levels. The façade combines an attractive mixture of period and contemporary design. A white brick loft extension sits on top of the historic body of the house, contrasting beautifully with the red bricks and adorned window frames below.
Belgium 528
Enter Projects Asia cleverly used a sustainable structure to refresh a factory building in Belgium. Located in Waregem, the project reactivates a 300sq m mix-use space through 'balance and calm.' Wellness and an eco approach were also important and the architects decided upon insta