Architectural gardens around the world to soothe the soul
From small domestic gardens, to nature reserves, urban interventions and local parks, here are some of the finest green projects that place nature at their heart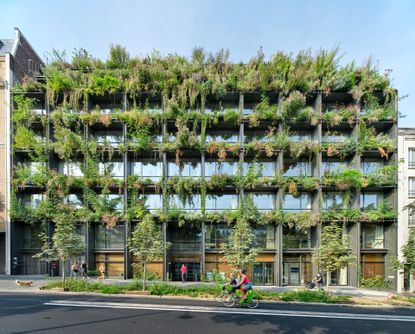 (Image credit: Triptyque Architecture, Philipe Starck)
Wallpaper* Newsletter
Receive our daily digest of inspiration, escapism and design stories from around the world direct to your inbox
Thank you for signing up to Wallpaper. You will receive a verification email shortly.
There was a problem. Please refresh the page and try again.
A garden has always been spatial shorthand for sanctuary; in times of crisis, this gets amplified. As many of us increasingly seek the safe haven of our garden, the local park or nearby nature reserve, we raise a glass to the many, gorgeous green projects that bring cheer and serenity to our everyday lives. From small domestic gardens and urban gardens, to plant-based urban interventions, woodland installations, leafy architectural landscapes and even the dry terrain of desert flora, here, we tour some of the best projects set to green up our views and encourage the healing and balancing power of nature to filter through into our day.
Villa M, France
This architectural garden is a vetical one. Design by Brazil and France based Triptyque Architecture and Philipe Starck, the project features an extensive green facade, built around the principles of biophilic design and wellness. The mixed use scheme houses healthcare professionals in an innovative mix, including a hotel, restaurant, bar, conference area, a check-up area, a co-working space, and a showroom for start-ups in the world of health. The idea is 'to promote mixing, exchanges and mutual aid between the different specialties and the different generations of health professionals,' explain the architects.
1105 West Peachtree, USA
This new mixed-use development in the heart of Midtown Atlanta features a garden at its heart. Designed as a 'sky terrace', this expansive architectural garden not only adds a green lung to the heart of the city but it also helps direct circulation and connects the three different buildings it's placed among (the development comprises residences at 40 West 12th). Designed by Atlanta-based firm SITE solutions, this green space was created around the scheme's masterplan, conceived by architects Rule Joy Trammell + Rubio. The aim was 'to bring the human experience of the street to the development's many users, offering a strong sense of community through smart design.'
Hillcrest Meadow Gardens, Canada
Canadian ecological designer Nina-Marie Lister has been recently announced as the recipient of the prestigious $50,000 Margolese National Design for Living Prize, which is offered by the University of British Columbia's School of Architecture + Landscape Architecture. Recognized by the jury for 'her commitment to addressing and nurturing the coexistence of wildlife and people in safe, healthy, and interconnected landscapes, as well as connecting people to nature in cities,' the designer has several green projects under her belt. One of them is Hillcrest Meadow Gardens - Lister's own personal home garden, a pollinator meadow with a biodiverse, native urban habitat (pictured above).
GuangzhouGarden, UK
2021 Chelsea Flower Show's Gold Medal Winning GuangzhouGarden, created by Grant Associates includes five latticework bamboo structures developed and fabricated by Bristol-based advanced timber structure specialists Xylotek. 'Taking part in our first RHS Chelsea Flower Show is an exciting creative challenge for us as we look to capture the essence of vast and vibrant Guangzhou, with a population of 15 million people, and distil it down into a garden plot just 20m x 10m!,' says Grant Associates' director Peter Chmiel. Xylotek's Martin Self adds: 'We were thrilled to work over the past two years with Grant Associates on the design and realisation of the 'Guangzhou Garden. We particularly enjoyed exploring bamboo's technical potential and harnessing its capacity to create poetic new forms.'
FormaHQ rooftop, UK
One of London's latest cultural hubs, FormaHQ in Southwark, also boasts a fabulous green roof. The existing modernist building was refurbished and reimagined by Sanchez Benton Architects with international artist Gabriel Kuri and features a cleverly planted rooftop with a garden by Nigel Dunnett. Offering views of the surrounding cityscape as well as respite from its central London's densely built setting, this little gem plays with colour as the greenery contrasts the redesigned building's vibrant orange hues. The building hosts a varied artistic programme and the garden will be open to the public during office hours.
Garden Among The Courtyards, Italy
Milan has long been a city of secret gardens. In this dense, industrial, grande dame of a metropolis, composed of large apartment blocks and walled-off palazzos, one of the great joys of wandering aimlessly is accidentally discovering the planted clearings and courtyards that offer respite from its fabricated scenery. Still, many such green spots remained private and off-limits to most until recently, when more parks and community vegetable gardens slowly started to make an appearance. Milan Green Week in 2019 and local organisations such as Clever Cities and RoofMatters have been helping to foster sustainable practices in the city, including a culture of urban gardening and green roofs. Brera-based architecture studio Piuarch has been cultivating its own planted roof since 2015, titled Garden Among the Courtyards – enhancing liveability, wellbeing and social relations for both employees and the local neighbourhood. Directors Germán Fuenmayor, Gino Garbellini, Monica Tricario and Francesco Fresa believe that while the design community is aware and engaged in the dialogue about creating more green space in their city, there's still much to do. 'It is not only about urban planning but also about subverting social, cultural and educational policies within the city and people,' says Fresa.
Sky Garden, UK
This new indoor botanical delight is Sky Garden; a green space in the heart of London, right at the top of the Chelsea and Westminster Hospital. Commissioned by Chelsea and Westminster Hospital NHS Foundation Trust and its charity CW+, the piece was designed by award-winning landscape designer and CW+ Artist in Residence, Jinny Blom. 'Gardens, quite simply, improve our lives,' says Blom. 'To go and sit amongst plants and nature, especially in the context of a bustling hospital, has an immediate positive impact on stress levels. The Sky Garden will provide an irreplaceable source of respite to those in need.' The design takes its cues from Modernist architecture and features clean planter shapes engulfed in greenery and calming colours.
South Ken Green Trail, UK
The South Ken Green Trail is a new series of green interventions on London's Exhibition Road. The three projects are 'The Algae Meadow' by Seyi Adelekun and Wayward (in collaboration with the V&A, and working with specialists from UCL and Imperial College London), 'Home away from Hive' by Mizzi Studio (pictured here), and 'Windflower' by Urban Radicals with Adam Harris. They are free for all to visit and together are 'supporting the post-pandemic recovery of London's arts and science district,' say the project's organisers. Highlighting our natural environment as well as great design and architecture, the installations are part of the 2021 London Architecture Festival and will remain in place until the Great Exhibition Road Festival which runs from 9-15 October.
Taiyuan Botanical Garden, China
The botanical gardens at Taiyuan City in China commissioned Austrian based studio Delugan Meissl for a new home; and the results are impressive. The team transformed a former coal-mining area into a landscape park, incorporating architectural structures, like pathways, greenhouses and a bonsai museum (pictured above) with planting and greenery of all kinds in a harmonious, eye-catching design. 'The centrepiece of the buildings, which are very precisely inserted into the modelled topography, consists of three greenhouses, which were realised as three hemispherical timber lattice domes,' explain the architects. Publicly accessible areas are matched by a cleverly integrated research centre containing laboratories, studios, office buildings, workshops, meeting rooms, lecture rooms and a library.
RHS Hilltop, UK
Designed by architecture studio WilkinsonEyre, RHS Hilltop is the gardening science hub for The Royal Horticultural Society at RHS Garden Wisley in Surrey. Blending modern architecture with lush gardens, the project is an exciting new centre for horticultural science and learning, and the result of a five-year transformation. The surrounding green spaces of the newly landscaped Wisley gardens, have been masterplanned by Christopher Bradley-Hole, and designed in detail by Matt Keightley and Ann-Marie Powell. 'The new centre is designed to integrate with the working gardens and provide a central hub for the scientific community based at RHS Garden Wisley and the million plus visitors that come each year,' says WilkinsonEyre's Geoff Turner.
New Haven Botanical Garden of Healing Dedicated to Victims of Gun Violence, USA
According to data collected by Gun Violence Archive, at least 5,132 children were shot in the USA last year. As a response, Svigals + Partners have created a garden that 'honours the lives lost to fatal gun violence in New Haven and raises awareness of the immense emotional impact of the crisis.' The project is located in New Haven and was envisioned as both a green space for healing and a call for action for the local community and beyond. Leafy expanses and sculpture blend in this architectural garden that is perfect for contemplation.
Silence by Pawel Althamer at the Garage Museum of Contemporary Art, Russia
Nature, art and contemporary building design meet in this green installation at the Garage museum of contemporary art in Moscow. The brainchild of Polish artist Paweł Althamer, this spatial piece was conceived as a garden for meditation. The project has a clear collaborative and therapeutic nature, according to the artist. 'Each element of the garden—be it a fallen tree or a particular deciduous bush—is a hidden quote, while the composition as a whole is a unique environment where the restless city dweller of today can alter the regime of time, as if transported to a picturesque space in a past era, where the rhythm and pace of life were not by default accelerated to the limit,' says the museum's statement.
Elephant Springs, UK
There is an exciting new natural stone and water landscape in London. Elephant Springs, located in Elephant Park in South London and designed by landscape architects, Gillespies in collaboration with artist Mel Chantrey of The Fountain Workshop, blends greenery, natural materials and water features in a sculptural environment that is open to all. 'Elephant Springs sits at the heart of this landmark regeneration project, nestled in an ever-expanding central park that saw the first phase open in 2017 before any of the buildings,' says Gillespies' Armel Mourgue. 'Our landscape-led approach created very early on a destination for relaxing walks, playful times and essential human interaction. The new phase will see all these activities expand into a much larger park, where unforgettable moments of play and water are revealed amongst a landscape of rain gardens, pockets of lawn and groups of mature trees.'
Little Island, USA
A new public park has opened on the Hudson River. The new green space, which encompasses three new performance venues for New York, is designed by London based Heatherwick Studio, who was invited to the project by philanthropist Barry Diller and the Hudson River Park Trust. Set on an impressive sculputral constellation of some-280 concrete piles that rise from the water, the park was created as a haven for both humans and wildlife, filled with nature and opportunities to connect with it. Its construction was impressive and the result is certainly eye-catching. 'The project began when we were asked to conceive of a sculptural structure to go on a design for a newly enlarged piece of the Hudson River Park promenade,' says studio founder Thomas Heatherwick. 'The project was interesting, but we saw the opportunity to create a more engaging experience for New Yorkers and to build on the city's heritage of inventing exciting new public spaces. Instead, we had the idea to make an entirely new type of pier as a lush rectangular garden island, connected to the land with generous gang-planks as bridges, aligned to the street grid of New York.' This undulating pier structure is like no other.
Swing Bridge, UK
A project instigated by the community of Friends of Crystal Palace Dinosaurs, this elegant new bridge forms part of the landscape at the well-known South London Crystal Palace Park. The structure was designed by architecture studio Tonkin Liu, and it's inspired by the architecture team's decade-long immersion in biomimetic studies. The project was launched to create a necessary and secure crossing to the park's Dinosaur Islands and their sculptural displays. The Swing Bridget is a pivoting design with one central foundation; this allows it to move and only allow access to the island when needed, therefore protecting the exhibits. Made out of steel, the structure is visually powerful through its skeleton-inspired design and geometries.
RELATED STORY
Al Fey Park, Abu Dhabi
Al Fey Park claims to be the Middle East's very first urban biodiversity park. Boasting great biodiversity in its wildlife and planting, as well as its own microclimate and a design by Danish landscape architecture specialists SLA, this green expanse is located in downtown Abu Dhabi. The public park spans. some 27,500 sq m. 'Al Fay Park is a new type of forest park in Abu Dhabi. Through our extensive research in the region's flora and fauna, we create a new paradigm for how to think and design public realm in the Middle East. Al Fay Park is a celebration of Abu Dhabi's native nature and culture and a prime example of how to maximize climate action, increase life-quality, and radically improve the biodiversity of an entire city – all on a former sand site,' says SLA design principal and partner Rasmus Astrup.
Between Heaven and Earth, China
Created for the Shenzhen Flower show in China, this garden, entitled 'Between Heaven and Earth', is the brainchild of garden and landscaping outfit McWilliam Studio. The space feels at once delicate and deeply grounded to its site, respectful and expressive. It 'explores the connections between space and form and the interactions between woodland and water, land and sky,' explain its creators. Combining the water element with paved surfaces, light and textural planting, the design features a series of irregularly placed vertical metal poles, which mirror the surrounding woodland's trees. Some span some 10m high and each carries either a small LED or a misting spray at its top, adding an extra dimension to the installation. With this design, the garden experts scooped the show's Gold Medal.
Hidden Burle Marx Gardens, Brazil
One of Sao Paulo's iconic modernist-inspired office buildings, Condomínio São Luiz was designed by Brazilian architect Marcelo Fragelli in 1984. What many didn't know, is that the development had a Burle Marx designed garden 'hidden' away in its grounds. Now, a sensitive restoration by Perkins & Will meant the gardens by the iconic landscaping artist could open to the public for the first time in almost 40 years. The architects' retrofit included unifying the workspace's former two receptions into one central hall. This allowed the removal of partitions that surrounded the building, thus creating access into the garden for pedestrians.
The Waiting Room, Somaliland
A small project created and built by architect Rashid Ali Architects with students at Abaarso Tech, the first school of architecture in Somaliland, The Waiting Room is a light, open air, planted structure in the city of Hargeisa. It is also the first structure in the city to be entirely made out of timber. The building sits just outside the city government's land registry office, within a public courtyard, and offers much needed space for waiting and socialising for both visitors and staff. It connects users with the context and leafy planting in the courtyard. 'The idea was to design and build a small contemporary building, while also introducing and experimenting with materials and construction techniques that are not familiar locally,' explains the team. 'Our aim was not just to use such materials just for the sake of it, but to build in a relatively short time from pre-fabricated components and leave possibility for disassembling and for reuse in future.'
Terra Dominicata, Spain
Part of a hotel and winery experience in the Tarragona area, called Terra Dominicata, this expansive terrace and gardens was designed by Spanish architecture and landscaping studio SCOB. Taking its cues from the surrounding Montsant Natural Park, the design included the refurbishment of a set of abandoned, formerly agricultural buildings previously belonging to a monastery, and a series of outdoors spaces, from small courtyards to paved terraces and a swimming pool deck. 'The materials, the vegetation, the textures and colours, as well as the traditional ways of building are representative of the place together with its historical and cultural heritage,' say the architects. Drawing on the region's planting, the surrounding vineyards and adding climbing frames for wisterias, the team created a green haven, particularly suited for southern gardens with a Mediterranean climate.
Samos Garden, Greece
Created to compliment the restoration of a historic villa on the island of Samos in Greece, this garden is the brainchild of Stockholm based architecture studio OOAK. The architects got involved in the scheme to develop a landscaping strategy for the property's grounds, to add a pool and work with the garden in front of the main building and the guesthouse. The team drew inspiration from medieval hortus conclusus (enclosed gardens of the time) and a nearby overgrown space within a fortified monastery. A geometric carpet of recycled brick, gravel and plants was applied, creating a soft, leafy environment. This is contrasted by the sharp, minimalist, black-coloured pool that sits within. OOAK worked with Athens based agriculturist and gardener Marios Virlas, for specialised advice and insights on the horticultural side.
Brooklyn Heights Garden, New York, USA
NYC-based architecture office Worrell Yeung has led the renovation of a family home's outdoor space in a Historic Landmark District in Brooklyn Heights. The commission consisted of the front and back gardens of a typical brownstone building. The architects also made sure to fine tune existing details to support and enhance the new design; for example, by restoring the historic forged iron fencing and gate details on the front entrance and by enlarging the steel casement openings towards the back, to bring plenty of light into the interiors and better visually connect indoors and outdoors. The project features stone paving, new planters and a new, black custom metal staircase that leads directly into the small rear garden below. 'This is consistent with a lot of the interior architecture work we do, in which we deploy 'objects' within a space. We treated these objects like vitrines, which helped us to organize the cubic hot tub with the plantings, for example,' says co-founder Jejon Yeung.
Guangming OCT Trail, China
Conceived by international landscape architecture, planning and urban design firm SWA Group, a new circulation route has been installed in China's Guangming District, located north of Shenzhen. The region's picturesque, forested mountain landscapes are a major nature attraction and now, a system of three bridges that float above the undulating terrain allow visitors to take in the rich greenery from a vantage point. Simple, geometric and dynamic, the design is contemporary and invites pedestrians into the tree-filled expanses of the Chinese countryside. What started as a smaller project to expand and finess a regional jogging and biking trail, has now developed into a 'an iconic destination that adds value for locals and tourists, while supporting goals for healthy living and urbanization, connecting the city of Shenzhen with its surrounding towns and national parklands,' explains the design team.
Moor Lane Community Garden, London, UK
Bringing nature into the urban heart of the British capital, a new pop-up community garden has been installed in the City of London. Designed by local landscape firm Wayward, with the support of local community and resident groups, the City of London Corporation and its cultural district, Culture Mile, the project is titled Moor Lane Community Garden. The piece – a series of interlocking, leafy planters – features robust, sculptural bases inspired by the character of the nearby Barbican housing estate and London Wall. Created as a temporary project, but in place at least till next summer, the structure offers a breath of fresh air and acts as a testbed for a future landscaping project in Moor Lane.
ISPACE, Val Calanca National Park, Switzerland
This project, designed by Davide Macullo Architects, is nestled within rich woodland outside the village of Rossa, in the Calanca Valley of Switzerland. Created with the support of the RossArte Foundation, the municipality of Rossa and the Swiss National Park Val Calanca, and titled ISPACE, the small timber structure offers an architectural resting spot within nature for visitors to the park. 'ISPACE is a project born out of an idea combining art and architecture in the creation of environments that stimulate people to perceive the influence of a space on their moods,' say the architects. 'It is a re-evaluation of the territory, allowing us to rediscover our bond with nature.' This structure is the first in a series of similar installations in these woods; nine more architectural sculptures are set to appear in this part of the world in the next months.
The Landroom Observatory, Israel
The majesty of nature spans thick, green forests, more tropical climes, as well as drier, desert environments. French-Israeli architect Ben Gitai has recently completed a striking architectural installation that harnesses the power of the last – the new Landroom Observatory has been designed to overlook the world's largest geological crater: Makhtesh Ramon in the Negev desert. This structure, created as a sculptural star and desert-gazing observatory, is made entirely out of local sandstone and limestone extracted from the ground around it, making it look and feel entirely of-its-place and camouflaged within its surroundings. It provides visitors to the area a shelter from the sun and a spot to sit, relax and take in the magnificent scenery. The boutique piece is designed to accomodate only two people at a time.
Dream Within A Dream, China
Created as a property sales centre with a twist, Dream Within A Dream is a concept by Shanghai-based Wutopia Lab. 'Shanghai Huijian invited Wutopia Lab to design a welcoming stage in front of the sales' center of their project in Huzhou,' explain the architects. 'The only request from the client was to make it different.' The team drew on the power of nature and landscaping to create an environment that challenges the norm about what a 'modern city' is. The steel construction includes a forest of volumes, perforated screens and bright white surfaces, which house different 'landscapes', such as caves, hills, streams, rocks, highlands, waterfalls and auditorium formations.
Grosvenor Square, London, UK
Architecture studio Tonkin Liu is behind the revamp of one of central London's rare beasts – the garden square. Upon completion, Grosvenor Square, the second largest garden square in the capital, will be formed by four interlocking gardens based on the project's original oval shape. Principles Anna Liu and Mike Tonkin shaped their design through feedback from local residents and Londoners, and input from experts including Royal Botanic Gardens Kew, LSE Cities and the Green Infrastructure Consultancy. The result is a design that promises to increase biodiversity and double the number of trees in the open space. The refreshed square will include corner gardens with 'options for small dynamic structures welcoming visitors', as well as shaded seating under the canopy of trees, a sense of openness and a secret water garden.
Houston Botanic Gardens, USA
An island in Houston's Bayou system has recently been re-introduced as the American city's very first botanic garden. International landscape firm West 8 is behind the transformation, which includes a collection of tropical, sub-tropical, and arid plants from around the world. Underpinning everything in local flora and fauna, the garden is also set to showcase the area's amazing biodiversity, which the project encourages. 'The intent of the site design is to seek balance in all aspects, from planting and soils, through to topography and materials – the careful juxtaposition of order and chaos that is at the heart of enduring gardens,' says West 8 New York office's Donna Bridgeman-Rossi. Working to amplify the existing site's qualities and support sustainability and diversity, the project also features elements to make the user experience as comfortable as possible, such as a series of 21 thin shell concrete vaults that line the perimeter of the main global collection garden (pictured); the alcoves offer shaded rest spots for visitors.
Receive our daily digest of inspiration, escapism and design stories from around the world direct to your inbox
Ellie Stathaki is the Architecture Editor at Wallpaper*. She trained as an architect at the Aristotle University of Thessaloniki in Greece and studied architectural history at the Bartlett in London. Now an established journalist, she has been a member of the Wallpaper* team since 2006, visiting buildings across the globe and interviewing leading architects such as Tadao Ando and Rem Koolhaas. Ellie has also taken part in judging panels, moderated events, curated shows and contributed in books, such as The Contemporary House (Thames & Hudson, 2018) and Glenn Sestig Architecture Diary (2020).