Rúina, Brazil: Wallpaper* Architects' Directory 2023
Brazil's Rúina enters the Wallpaper* Architects' Directory 2023, our annual round-up of exciting emerging architecture studios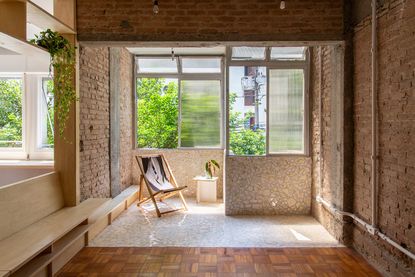 (Image credit: Lauro Rocha)
Wallpaper* Newsletter
Receive our daily digest of inspiration, escapism and design stories from around the world direct to your inbox
Thank you for signing up to Wallpaper. You will receive a verification email shortly.
There was a problem. Please refresh the page and try again.
Rúina, the Brazil-based practice headed by co-founders Julia Peres and Victoria Braga, is the latest addition to the Wallpaper* Architects' Directory 2023, our annual round-up of exciting emerging architecture studios.
Who: Rúina
Founded in 2020 by Peres and Braga, Rúina is a studio based in São Paulo and Salvador in Brazil. The practice, whether developing architecture and objects or consulting, has a focus on 'the reuse of materials and construction waste'. Hailing from São Paulo, Peres is an architect and graphic designer, with professional experience working across various project types. Meanwhile, Braga, born in Rio de Janeiro, is an architect and researcher, and is currently part of the Graduate Program in Archaeology and Cultural Heritage at the Federal University of Recôncavo Baiano. Recognising that within Brazilian contexts, material waste is heavily stigmatised, Rúina seeks to 'subvert the material resource considered as waste into new and alternative material for civil construction'.
Peres and Braga are highly experimental in their approach. They explain: 'Our practice starts from the intention of emphasising the process of making the project rather than its final object.' Drawing inspiration from visionary Brazilian architects associated with Arquitetura Nova (Sérgio Ferro, Flávio Imperio and Rodrigo Lefèvre), Rúina aims to bridge the gap in architectural practices focusing on themes of 'bioconstruction, natural materials and sustainable waste management' in the Global South.
Of their driving force, the architects say: 'Understanding memory, heritage and what we consider as urban ruins is part of the complexity of projecting oneself in the contemporary world, this challenge and the relationship between the old and the new motivates us.'
What: Apartamento Paraíso
Apartamento Paraíso is Rúina's renovation of a first-floor apartment in the Edifício Olga Ferreira building in São Paulo. Starting with an existing, fragmented space that lacked natural light, and with poor ventilation in original service areas as a legacy of colonial architecture, the studio has transformed the apartment into a bright, open home brimming with craftily repurposed material touches.
An inverted beam embedded in the wall between the living room and bedroom was unearthed during demolition, and reappropriated to support furniture facing both sides, 'sectoring the environments without visually separating them'. Meanwhile, turning the wall between the kitchen and service area into glass sliding windows brings a renewed 'visual permeability from end to end of the apartment,' improving natural lighting and cross ventilation.
In line with the studio's ethos of reducing and reusing waste, existing materials and demolition debris on site were either restored or put to new use. A crusher helped break down various materials to produce both coarse and fine pieces, which were integrated into countertops, floors and finishes. Drawing inspiration from traditional mosaic floors common in São Paulo in the 1950s and 1960s, crushed old bathroom tiles were applied to floor and wall cladding in the terraced areas. The original floor in pink peroba wood, as well as original iron windows in the entrance hall were completely restored.
By prototyping and experimenting with different materials, the studio was able to define 'the most appropriate technical and aesthetic solutions' for the project, constantly renegotiating the relationship between architecture and construction.
Why: Wallpaper* Architects' Directory 2023
Conceived in 2000 as an international index of emerging architectural talent, the Wallpaper* Architects' Directory is our annual listing of promising practices from across the globe. While always championing the best and most promising young studios, over the years, the project has showcased inspiring work with an emphasis on the residential realm. Now including more than 500 alumni, the Architects' Directory is back for its 23rd edition. Join us as we launch this year's survey – 20 young studios from Australia, Brazil, Canada, Congo, Ecuador, Greece, Hong Kong, India, Italy, Japan, Lebanon, Mozambique, Pakistan, Senegal, Spain, Sweden, Switzerland, the UAE, the UK, the USA and Vietnam, with plenty of promise, ideas and exciting architecture.
Receive our daily digest of inspiration, escapism and design stories from around the world direct to your inbox
Nana Ama Owusu-Ansah is a writer and photographer from London. She first wrote for Wallpaper* in 2021, in a series on the new vanguard of African designers practising in Africa and its diaspora. She is drawn to projects centring on decolonial approaches to art, architecture, as well as community and sustainability. Nana Ama read Economics and Spanish at University of St Andrews, and, as an avid linguist, is passionate about using accessible language to invite new audiences to engage in design discourse.