Wallpaper* Architects Directory 2023: meet the practices
It's time for the Wallpaper* Architects Directory 2023 big reveal; scroll down to meet the 20 architecture studios joining our emerging practices to-watch list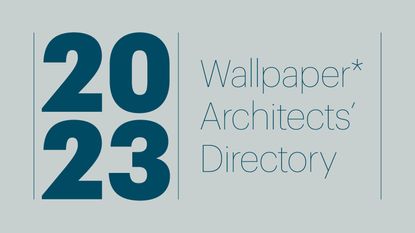 (Image credit: Future)
Wallpaper* Newsletter
Receive our daily digest of inspiration, escapism and design stories from around the world direct to your inbox
Thank you for signing up to Wallpaper. You will receive a verification email shortly.
There was a problem. Please refresh the page and try again.
The full list for the Wallpaper* Architects Directory 2023 has been revealed, celebrating 20 studios as our finest emerging architects to watch.
Conceived in 2000 as an international index of architectural talent, the Wallpaper* Architects' Directory is our annual listing of promising practices from across the globe. While always championing the best and most promising young studios, over the years, the project has showcased inspiring work with an emphasis on the residential realm. Now including more than 500 alumni, the Architects' Directory is back for its 23rd edition.
Join us as we launch this year's survey – 20 young studios, from Australia, Brazil, Canada, Congo, Ecuador, Greece, Hong Kong, India, Italy, Japan, Lebanon, Mozambique, Pakistan, Senegal, Spain, Sweden, Switzerland, the UAE, the UK, the USA and Vietnam, with plenty of promise, ideas and exciting architecture.
Wallpaper* Architects Directory 2023
Scroll down for the who, what, and why behind our Wallpaper* Architects Directory 2023 selection, and click on the link in each one for more on their work.
---
Pop Architecture, Australia
'The Pop Art movement, dry humour and architecture' brought practice partners Katherine Sainsbery and Justine Brennan together, when they set up Pop Architecture over six years ago. Their portfolio brings together a site-specific approach with their own take on materiality and formal expression. For them, 'excellence in architectural practice supports the vision of the studio and consists of using a tried, tested and flexible design process to achieve successful outcomes; happy clients and collaborators; and continuous improvement'.
The female-led practice promotes 'balance in the workplace, discouraging overtime and modelling sharing of responsibility'. It encourages staff development through collaboration and communication. At the same time, the word 'Pop' captures key tenets of its ethos, the founders explain. 'The process used to generate artwork by artists such as Andy Warhol and Roy Lichtenstein resonates with [us]. The notion of removing the artist's hand and producing work via a production line draws parallels with contemporary architectural practice – both in terms of the number of people involved in completing a project, and in the creative opportunities which lie in the process of trying to simplify or optimise a design.'
Ruína Architecture, Brazil
Founded in 2020 by Julia Peres and Victoria Braga, Rúina is a studio based in São Paulo and Salvador in Brazil. The practice, whether developing architecture and objects or consulting, has a focus on 'the reuse of materials and construction waste'. Hailing from São Paulo, Peres is an architect and graphic designer, with professional experience working across various project types. Meanwhile, Braga, born in Rio de Janeiro, is an architect and researcher, and is currently part of the Graduate Program in Archaeology and Cultural Heritage at the Federal University of Recôncavo Baiano. Recognising that within Brazilian contexts, material waste is heavily stigmatised, Rúina seeks to 'subvert the material resource considered as waste into new and alternative material for civil construction'.
Anya Moryoussef, Canada
'Reinvention, specifically of typologies and the ideas they embody', make Anya Moryoussef's work stand out from the crowd, motivating her practice, she says. 'We grow so used to our homes, where we spend so much time, that we easily overlook the effect they have on us. We look to design spaces that feel alive by activating their latent potential, changing moods, atmospheres, and thereby the lives of the people inside them. The spaces we generate have a strong and immediate – I'd even say emotional – impact on the people who enter them, and this is the first step to reconsidering, rethinking, reimagining the way we live.'
Atelier Tropical, Congo & Mozambique
Atelier Tropical is an architecture practice founded in 2016 by Valérie Mavoungou Rodriguez. A self-described 'Pan-African architect', Mavoungou Rodriguez draws from her Congolese heritage, studies abroad, and experiences living in multiple African countries, to lead her dynamic practice, working across Africa.
Atelier Tropical finds its purpose in designing climate-sensitive projects, 'resilient to their tropical climates', that celebrate modernity while still embracing local building methods and African aesthetics. When she was growing up in the tropical basin of the Congo river, she reflects, 'many buildings were not always adapted to our luxurious landscape, dense vegetation, and hot humid tropical climate; I often wondered how we could do better'.
Natura Futura, Ecuador
Natura Futura's José Fernando Gómez is motivated by a desire to continuously participate in, research and experiment with the urban condition, 'deeply committed to the city and community life', he explains.
'On the other hand, this collective project is also a personal motivation; that leads us to question ourselves about sensitive aspects of architecture in Latin America. We believe in a path of architectural exploration that works to find solutions through questioning and continuous research about the cities. We are especially focused not in main cities, but in satellite cities.'
KKMK, Greece
Founders Kate Karagianni and Marina Karamali see architecture as an 'intense and personal creation'. They strive for timelessness, taking into account the fact that their clients lives might change and needs evolve. KKMK is also an international practice, as while their headquarters is based in Athens, they have been involved in a variety of projects, spanning residential, tourism and commercial projects, in London, Australia, Indonesia and Egypt. No matter where they are, they are inspired by the cultural, historical, and social context of each given place – sprinkled with their own experiences in fashion, art and philosophy.
Collective, Hong Kong & Spain
Collective was founded by architect Betty Ng in 2015 – Chi Yan Chan, Juan Minguez and Katja Lam have since joined her as co-directors. While the studio is 'globally oriented and strongly rooted in Asia', the team explains, it remains headquartered in two continents, with offices in both Hong Kong and Madrid. With the directors combining experience at some of the world's most influential practices, such as the studios of Pritzker Prize-winning architects Rem Koolhaas/ OMA and Herzog & de Meuron, Collective has a truly international outlook and a range of projects under its belt.
'We love working in a diverse genre of international projects, to move away from the standards and routines. Every project becomes a new adventure that allows us to tackle new circumstances, offering us an opportunity to come out with new answers and design solutions. These fresh encounters and processes motivate us in design,' the architects say, explaining what drives them and their overall approach, which can be applied to schemes of any scale and type. '[We] practice architecture, interiors, urban design and exhibition design. Collective specialises in design as a methodology, not a style.'
Misa Architects, India
Misa Architects is an architecture and design studio founded in 2015 in Ahmedabad, India, aiming to bring fresh perspectives to the contemporary Indian design scene. Its work strives to be 'culturally aware, environmentally responsible and creatively unbound'. Helmed by experienced architect Tarun Patel, who also teaches at CEPT University, the well-respected Architecture and Planning School in Ahmedabad, the team of 14 dynamic designers has worked extensively across Gujarat, Mumbai, Bangalore, and internationally in Dubai and Kenya.
Rooted in a love for India's rich cultural history that is 'interspersed with mythology, art, music and architecture', Misa Architects is on a quest to 'stimulate and stir the different senses', blending vernacular styles with sustainably minded touches that engage the user both emotionally and spiritually.
Arii Irie, Japan
Atsuo Arii and Kako Irie met while working at C+A Tokyo, a joint architectural practice once headed by Kazuhiro Kojima and Kazuko Akamatsu. Kojima passed away in 2016 and both Arii and Irie sees him as the biggest influence on their practice; 'We both worked under him until he passed away and are deeply influenced by his interest and perception of architects as a mould for air, natural light and human activities,' they elaborate.
The couple like to take on a variety of projects and despite only setting up shop in 2015, have already worked on a wide range of buildings, from coffee shops to factories.
'Since most of our projects are something we encounter for the first time, the design always starts from research. Not only about the site but also the actual building type and its historical background and present use. This loosens our minds and helps us break away from stereotypical definitions of architects,' they explain. What excites Arii and Irie about being architects is precisely this opportunity to dissect a slice of the present to see what's going on in the world right now.
East Architecture Studio, Lebanon & UAE
Architects Nicolas Fayad and Charles Kettaneh joined forces in 2015 and founded East Architecture Studio, the dynamic practice with one base in Lebanon, and another in the UAE. The practice now has worked across four continents and has won recognitions including the Aga Khan Award for Architecture 2022 for its Oscar Niemeyer Guest House Renovation project in Tripoli, Lebanon.
Remaining small and agile while excelling in their field is important for the pair. They say: 'What sets us apart as a studio is our ability to tackle significant projects with a relatively small yet highly skilled team. We excel in adapting and designing within diverse contexts and environments, allowing us to create tailored solutions that perfectly align with each project's unique needs. We take pride in being a dynamic and forward-thinking architectural firm.'
ALEEYA. design studio, Pakistan
ALEEYA.design studio or simply, 'A.' is a Karachi-based design practice founded in 2020 by Aleeya Khan. Specialising in high-end residential, commercial, boutique offices and interior renovations in the economic heart of Pakistan, A. stands apart for its bespoke, Japandi, minimalist architecture style. Refusing to be put in a box, A. expands: 'We are not an architecture or interior design firm; we are a design house with an ethos driven by a desire to create a movement in all aspects of design.'
Born and raised in Karachi, Khan completed a bachelor's in Urban Design & Architecture Studies at New York University, and a master's in Architecture at Columbia University Graduate School of Architecture, Planning & Preservation. After working at award-winning practices such as Beyer Blinder Belle, Khan returned to Pakistan in 2017 to explore the growing real estate market.
ID + EA, Senegal
ID+EA may be a young studio, but founder Fatiya Diene Mazza has already undertaken many projects and collaborations in a variety of scopes and sizes. A holistic approach that prioritises researching the varying cultural, societal, environmental, and economic aspects of each commission allows the architect and her team to 'devise sustainable and high-impact design solutions', she explains.
'Our studio takes immense pride in formulating designs that harmoniously blend elements of traditional and contemporary styles. Our objective is to pioneer a fresh, engaging narrative that challenges conventional African design norms,' said Diene Mazza.
'By fusing the steadfast principles of classic design with the daring innovation of modern architecture, we create a cohesive, dynamic design framework. In doing so, we strive to push the boundaries of African architectural expression, promoting a creative atmosphere that truly explores the potential of the architectural landscape.'
Nicolas y Nicolas, Spain & Ecuador
Nicolás y Nicolás' mission is to elevate everyday spaces, and living, through architecture. Nicolás Vivas, who heads the Quito office in Ecuador, and Nicolás López, who leads the Barcelona one in Spain, have a varied portfolio that is still growing – the pair only formed their joint practice in 2017. But they always try to bridge cultures and experiences, using for example, both local and traditional, and contemporary materials in their work. At the same time, they try to challenge themselves with every project. '[We stand out for] trying to step out of the boundaries,' they say. 'Our education, normally, [is] very linear on how we should understand architecture. Sometimes we forget that we are sensitive beings that enjoy simple things. We are trying to push the boundaries with gentle gestures.'
Studio HE, Sweden
Architect Xiao He was born in Wuhan, China, before her family moved to Sweden, where she has been residing since the age of four. Her studio, Studio He, was founded in 2019, following studies in Sweden and Hong Kong, as well as professional experience at established firms. 'In my earlier years, I was only driven by an unwavering quest for pioneering design approaches, constantly seeking to break new ground,' He says.
'As my career progressed, I experienced a shift. I embraced and celebrated my Chinese heritage and seamlessly blended it with the Nordic design philosophy imprinted upon me during my upbringing, finding inspiration in its rich design elements. Additionally, with age, I have developed a deep interest in nature and sustainable materials. While acknowledging the complexity of achieving 100 per cent sustainability without compromising design aesthetics, I strive to incorporate sustainable principles as a vital aspect of my projects.'
Studio Tropicana, Switzerland and Italy
'As an emerging architecture firm, we are motivated by the opportunity to push the boundaries of what is possible and create something truly unique,' says Studio Tropicana founder Martina Palocci. 'Architecture has the power to shape the way we live, work, and interact with each other, and our desire is to have a positive impact on society through designing spaces that are beautiful, functional, and sustainable.' To achieve this, the architect and her team draw on multidisciplinary references, from space to art, film and design. 'It is through [a] continuous osmotic process [among disciplines] that we can create futuristic designs, where every element is in balance, properly orchestrated, and part of a timeless language,' she explains.
Pashenko Works, UK
Mariia Pashenko and Koen Schaballie founded Pashenko Works in 2020. The dynamic architectural practice works between Ukraine, Belgium and the UK with a main office based in south London. After completing a degree in Fine Arts and Architecture in Ukraine, Pashenko moved to the UK in 2009 to study housing and urbanism at the Architectural Association, working for various practices in London over the next decade.
Schaballie studied architecture at the Catholic University of Leuven, the TU Delft and the AA before working on a range of projects in the UK, Netherlands and Belgium. 'Fascinated and inspired by the European city', Pashenko Works was started as a way for Pashenko and Schaballie to develop their own signature approach to architecture that thoughtfully blends Ukrainian, Belgian and UK influences.
Of Architecture, UK
Working with anything from public institutions and charities to developers, designers and private individuals, Of Architecture is a small and agile studio based in east London. 'We see architecture as a process where materials come together, accumulate and create spaces. Our ethos is to understand and respect the integrity of each element of the building – the material, craftsmen and people who would inhabit these spaces,' founders James Mak and Jongwon Na agree.
Working closely with their clients sits at the core of the duo's work. They explain: 'We celebrate each and every context we work in. Architecture should honestly articulate who we are as individuals and as a society. Our aspiration is to create simple, conscious and beautiful spaces through a piece of furniture, a building, or a city at a time.'
At the same time, they layer their brief with their rich influences that stem from 'everyday life in the city'.
Common Works, USA
This award-winning practice (It was named among The Architectural League of New York 2023 Emerging Voices), may still be young and small, but it has big and noble ambitions. 'Speaking honestly – my primary motivation is escape,' says Common Works' founder Asa Highsmith. 'Escape from for-profit motives of private development. I have a long-term vision to use the profits we make from our business to begin our own non-profit community housing development entity with an aim to explore new, affordable housing models centered in sustainable practice and focused on rebuilding community.
'America seems to be a country currently built to atomise and isolate each person from the other, and it is detrimental to our social wellbeing and general health. I hope this answer doesn't sound too politically charged or wildly silly – but it's my honest hope, and thus my motivation.'
Formation Association, USA
Founded by John K Chan and Grace U Oh in Los Angeles, Formation Association practises architecture 'as an expansive cultural project to transform our expectations of the built environment'. Rooted in the idea of 'formation', found in psychology and archaeology and referring to the multi-dimensional forces and actions that create a single site or expression, the studio's work is multivalent and multi-layered in its design approach.
Trained in architecture at the USC School of Architecture, design director Chan brings extensive experience in various project types across the USA and abroad. Meanwhile, managing director Oh, a staunch advocate for the intersectional contemporary art scenes of Los Angeles, is deeply engaged in the cultural communities in which the Formation Association's architectural work finds its purpose.
Tad.Atelier, Vietnam
Set up in Ho Chi Minh City, Tad.atelier is a small practice focusing on small and medium-sized projects across architecture, interiors and landscape design. This follows its founder Vu Tien An's philosophy, centred on slow architecture, nature and the environment, and the informal spaces in our cities. 'Although the rapid growth of the city has put pressure on the construction industry, we are trying to keep an open approach for each project we are in charge of. To us, two important issues that determine the formation of each project are the context and the requirements of the clients. In Tad.atelier, researching and making decisions for each specific project is a new and unique thought process. It really motivates us to seek solutions in completely different methods,' says the studio founder. 'We conceive of buildings as living entities rather than objects.'
Receive our daily digest of inspiration, escapism and design stories from around the world direct to your inbox
Ellie Stathaki is the Architecture Editor at Wallpaper*. She trained as an architect at the Aristotle University of Thessaloniki in Greece and studied architectural history at the Bartlett in London. Now an established journalist, she has been a member of the Wallpaper* team since 2006, visiting buildings across the globe and interviewing leading architects such as Tadao Ando and Rem Koolhaas. Ellie has also taken part in judging panels, moderated events, curated shows and contributed in books, such as The Contemporary House (Thames & Hudson, 2018) and Glenn Sestig Architecture Diary (2020).