Atelier Tropical, Congo and Mozambique: Wallpaper* Architects' Directory 2023
Atelier Tropical from Congo and Mozambique is added to the Wallpaper* Architects' Directory 2023, our annual round-up of exciting emerging architecture studios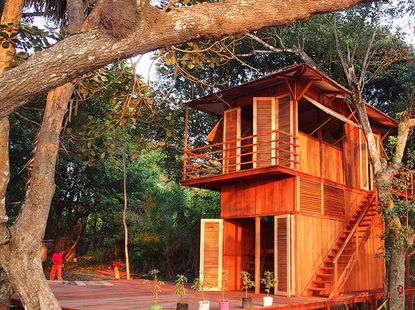 (Image credit: Atelier Tropical)
Wallpaper* Newsletter
Receive our daily digest of inspiration, escapism and design stories from around the world direct to your inbox
Thank you for signing up to Wallpaper. You will receive a verification email shortly.
There was a problem. Please refresh the page and try again.
Atelier Tropical is the latest practice to join the Wallpaper* Architects' Directory 2023, our annual round-up of exciting emerging architecture studios. The practice from Congo and Mozambique, led by founder Valerie Mavoungou Rodriguez, has completed a range of residential works, including Eco-lodge Kunda highlighted here.
Who: Atelier Tropical
Atelier Tropical is an architecture practice founded in 2016 by Valérie Mavoungou Rodriguez. A self-described 'Pan-African architect', Mavoungou Rodriguez draws from her Congolese heritage, studies abroad, and experiences living in multiple African countries, to lead her dynamic practice, working across Africa.
Atelier Tropical finds its purpose in designing climate-sensitive projects, 'resilient to their tropical climates', that celebrate modernity while still embracing local building methods and African aesthetics. When she was growing up in the tropical basin of the Congo river, she reflects, 'many buildings were not always adapted to our luxurious landscape, dense vegetation, and hot humid tropical climate; I often wondered how we could do better'.
After training as an architect in Paris, with stints also in Tokyo and Seoul, Mavoungou Rodriguez returned to her roots, dedicating her work to the investigation of 'both sustainable vernacular constructive techniques and modern lines'. Recognising that fast-industrialising countries on the tropical belt are 'major vital reservoirs of carbon on our planet, home to most world wildlife and plants', Mavoungou Rodriguez says that 'as space practitioners, we have no choice but to design while preserving the vital reserves and biodiversity of our ecosystems'.
Inspired by tropical modernism, Mavoungou Rodriguez is 'committed to advocating for bioclimatic architecture', further explaining that 'when we meld traditional crafts with contemporary design aesthetics, we create regional, charming, temperature-tuned, effective architecture for our landscape, climate, and people'.
What: Eco-lodge Kunda
Eco-lodge Kunda is a series of different bioclimatic wooden cabins made out of one of the most durable and resistant tropical redwoods, Niové. Situated in the Congo's National Park of Conkouati Douli, a Unesco-recognised coastal ecosystem, the lodge was delivered in 2017 with the aim of proposing a 'totally ecological and decarbonised experience to the visitors'. Deeply engaged with tropical architecture practices, Atelier Tropical was well-positioned to design these decarbonised cabins, making use of natural resources and limited energy for this unique site that offers spectacular views of the Atlantic Ocean.
'The idea was to create added value by showing up best sustainable practices in materiality, production, and thermic, like natural ventilation, solar power lighting, and work with local craftsmanship,' Mavoungou Rodriguez explains. Wood was hand cut and dried on-site, as well as treated with linseed oil. All furniture was also made on-site. By making a conscious effort to work closely with local expertise and materials, Atelier Tropical seeks to break the cycle of 'never-ending importation of industrial answers and materials from the developed northern hemisphere'. Open to the public, the lodge has hosted many visitors and tourists. For Atelier Tropical, Eco-lodge Kunda is but one of many examples of how, despite limited resources, the practice 'can stand strongly for sustainable solutions and respond to environmental challenges on big and small scales'.
Why: Wallpaper* Architects' Directory 2023
Conceived in 2000 as an international index of emerging architectural talent, the Wallpaper* Architects' Directory is our annual listing of promising practices from across the globe. While always championing the best and most promising young studios, over the years, the project has showcased inspiring work with an emphasis on the residential realm. Now including more than 500 alumni, the Architects' Directory is back for its 23rd edition. Join us as we launch this year's survey – 20 young studios from Australia, Brazil, Canada, Congo, Ecuador, Greece, Hong Kong, India, Italy, Japan, Lebanon, Mozambique, Pakistan, Senegal, Spain, Sweden, Switzerland, the UAE, the UK, the USA and Vietnam, with plenty of promise, ideas and exciting architecture.
Receive our daily digest of inspiration, escapism and design stories from around the world direct to your inbox
Nana Ama Owusu-Ansah is a writer and photographer from London. She first wrote for Wallpaper* in 2021, in a series on the new vanguard of African designers practising in Africa and its diaspora. She is drawn to projects centring on decolonial approaches to art, architecture, as well as community and sustainability. Nana Ama read Economics and Spanish at University of St Andrews, and, as an avid linguist, is passionate about using accessible language to invite new audiences to engage in design discourse.