Formation Association, USA: Wallpaper* Architects' Directory 2023
USA practice Formation Association has joined the Wallpaper* Architects' Directory 2023, our annual round-up of exciting emerging architecture studios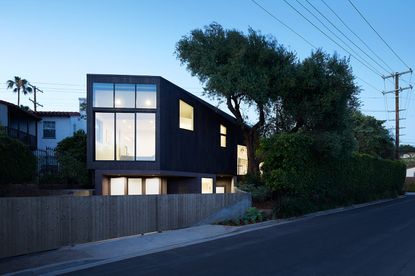 (Image credit: Stephen Schauer)
Wallpaper* Newsletter
Receive our daily digest of inspiration, escapism and design stories from around the world direct to your inbox
Thank you for signing up to Wallpaper. You will receive a verification email shortly.
There was a problem. Please refresh the page and try again.
Formation Association from the USA's West Coast is behind the geometric, contemporary lines of Ivanhoe Vista House in Los Angeles' Silver Lake neighbourhood. Now, the young studio, which was founded in 2016 in the US by John K Chan and Grace U Oh, has joined the Wallpaper* Architects' Directory 2023, our annual list of exciting emerging practices from across the globe.
Who: Formation Association
Founded by John K Chan and Grace U Oh in Los Angeles, Formation Association practises architecture 'as an expansive cultural project to transform our expectations of the built environment'. Rooted in the idea of 'formation', found in psychology and archaeology and referring to the multi-dimensional forces and actions that create a single site or expression, the studio's work is multivalent and multi-layered in its design approach.
Trained in architecture at the USC School of Architecture, design director Chan brings extensive experience in various project types across the USA and abroad. Meanwhile, managing director Oh, a staunch advocate for the intersectional contemporary art scenes of Los Angeles, is deeply engaged in the cultural communities in which Formation Association's architectural work finds its purpose.
As descendants of Chinese and Korean immigrants settling in Los Angeles, the pair often meditate on the 'ebb and flow of global migratory patterns', imbuing their architectural work with a 'multicultural and multilingual attitude' that celebrates idiosyncrasies while tying together different approaches.
With an expanding portfolio of residential and commercial builds, art installations and design objects, Formation Association shuttles between cultural scenes, and the founders reflect: 'It is this quality of having just leaned out of the normative while still bearing its traces, that both registers and unregisters our work from either existing and vernacular contexts, or the overbearing expectations of the contemporary architectural moment.'
What: Ivanhoe Vista House
The architects point out that 'Ivanhoe Vista House differentiates itself from the neighbourhood's predominantly white stucco Spanish colonial architecture'. In keeping with Formation Association's varied design approach, this private residential scheme carefully considers the history of its area, while also imagining a new future.
Set on a three-sided site, punctuated by an olive tree and its canopy, the new volume emerges through the foliage to frame generous vistas of the reservoir beyond. Taking cues from the architectural and material expression of the expansive wood-gabled structure once covering the entire Ivanhoe Reservoir in the 1930s, now lost to memory, the design forms a series of new gabled profiles that scale towards the existing pitched-roof house.
Though sharp, angular moments appear to dominate, a sense of softness is still achieved through warm tones, natural finishes and a sequence of light-dappled windows that draw in natural light to the upper living area, which features a new primary bedroom, kitchen and children's reading nook. Below, an art studio, garage and dwelling unit that doubled up as a tutoring space during the Covid-19 pandemic, basks in the southern exposure, benefitting from views and access to the lakeside park across the street.
Why: Wallpaper* Architects' Directory 2023
Conceived in 2000 as an international index of emerging architectural talent, the Wallpaper* Architects' Directory is our annual listing of promising practices from across the globe. While always championing the best and most promising young studios, over the years, the project has showcased inspiring work with an emphasis on the residential realm. Now including more than 500 alumni, the Architects' Directory is back for its 23rd edition. Join us as we launch this year's survey – 20 young studios from Australia, Brazil, Canada, Congo, Ecuador, Greece, Hong Kong, India, Italy, Japan, Lebanon, Mozambique, Pakistan, Senegal, Spain, Sweden, Switzerland, the UAE, the UK, the USA and Vietnam, with plenty of promise, ideas and exciting architecture.
Receive our daily digest of inspiration, escapism and design stories from around the world direct to your inbox
Nana Ama Owusu-Ansah is a writer and photographer from London. She first wrote for Wallpaper* in 2021, in a series on the new vanguard of African designers practising in Africa and its diaspora. She is drawn to projects centring on decolonial approaches to art, architecture, as well as community and sustainability. Nana Ama read Economics and Spanish at University of St Andrews, and, as an avid linguist, is passionate about using accessible language to invite new audiences to engage in design discourse.