Pashenko Works, UK: Wallpaper* Architects' Directory 2023
The UK's Pashenko Works is the latest addition to the Wallpaper* Architects' Directory 2023, our annual round-up of exciting emerging architecture studios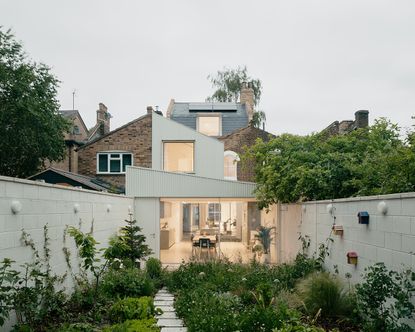 (Image credit: Stijn Bollaert)
Wallpaper* Newsletter
Receive our daily digest of inspiration, escapism and design stories from around the world direct to your inbox
Thank you for signing up to Wallpaper. You will receive a verification email shortly.
There was a problem. Please refresh the page and try again.
The UK's Pashenko Works is the latest addition to the Wallpaper* Architects' Directory 2023, our annual round-up of exciting emerging architecture studios. The practice co-founders, Mariia Pashenko and Koen Schaballie, show us around their own home and latest project, White Patio House in south London.
Who: Pashenko Works
Mariia Pashenko and Koen Schaballie founded Pashenko Works in 2020. The dynamic architectural practice works between Ukraine, Belgium and the UK with a main office based in south London. After completing a degree in Fine Arts and Architecture in Ukraine, Pashenko moved to the UK in 2009 to study housing and urbanism at the Architectural Association, working for various practices in London over the next decade.
Schaballie studied architecture at the Catholic University of Leuven, the TU Delft and the AA before working on a range of projects in the UK, Netherlands and Belgium. 'Fascinated and inspired by the European city', Pashenko Works was started as a way for Pashenko and Schaballie to develop their own signature approach to architecture that thoughtfully blends Ukrainian, Belgian and UK influences.
Despite the practice being relatively new, Pashenko and Schaballie's combined experience spans projects of different scales, programmes, climates and cultures. While Pashenko leans towards master planning and concept design stages, Schaballie complements these competences, gravitating towards materiality and construction. Central to their thinking are sustainability and circular economy principles, with designs that are 'considerate, cost-effective and achieve more with less'.
Contemplating architecture as both a profession and a passion, Pashenko Works lovingly pursues projects, 'unlocking the potential of the site, the brief and the context and making the best of those opportunities'.
What: White Patio House
Offering a new prototype for dense urban living, Pashenko Works' White Patio House is a transformation of a traditional terrace into a patio house for the studio founders' family. The home is made up of five distinct parts; the original Victorian terrace, a glass atrium, new contemporary extensions on the ground and first level, a patio garden and a garden room at the end of the site.
Daylight pours into the home's central glass atrium, reducing the need for artificial light and conceptually serving as a 'bridge' that connects the new volume to the 'memory' of the old building. Inspired by Belgian brutalism, deliberately exposed blockwork, steel beams and columns 'delineate the whole perimeter of the site as a uniting theme'.
Minimal sliding doors open into the garden, 'dissolving the barriers' between inside and outside. The off-white corrugated steel sheets that clad the new additions match window frames and door colours, maintaining the carefully considered colour palette of the home. Thinking not only horizontally, but vertically, side walls feature growing climbers, bird houses and bug hotels.
Embodying Pashenko Works' ethos, sustainable design choices permeate this build –from choosing materials based on their sustainability credentials and capabilities, to including green roofs that regulate urban heating effects and encourage biodiversity. Thoughtfully maximising space within local planning constraints, White Patio House reimagines the experience of living within a congested cityscape.
Why: Wallpaper* Architects' Directory 2023
Conceived in 2000 as an international index of emerging architectural talent, the Wallpaper* Architects' Directory is our annual listing of promising practices from across the globe. While always championing the best and most promising young studios, over the years, the project has showcased inspiring work with an emphasis on the residential realm. Now including more than 500 alumni, the Architects' Directory is back for its 23rd edition. Join us as we launch this year's survey – 20 young studios from Australia, Brazil, Canada, Congo, Ecuador, Greece, Hong Kong, India, Italy, Japan, Lebanon, Mozambique, Pakistan, Senegal, Spain, Sweden, Switzerland, the UAE, the UK, the USA and Vietnam, with plenty of promise, ideas and exciting architecture.
Receive our daily digest of inspiration, escapism and design stories from around the world direct to your inbox
Nana Ama Owusu-Ansah is a writer and photographer from London. She first wrote for Wallpaper* in 2021, in a series on the new vanguard of African designers practising in Africa and its diaspora. She is drawn to projects centring on decolonial approaches to art, architecture, as well as community and sustainability. Nana Ama read Economics and Spanish at University of St Andrews, and, as an avid linguist, is passionate about using accessible language to invite new audiences to engage in design discourse.