London's Exchange House gets a sustainable revamp
London's iconic Exchange House in Broadgate has been transformed for the 21st century by Piercy&Company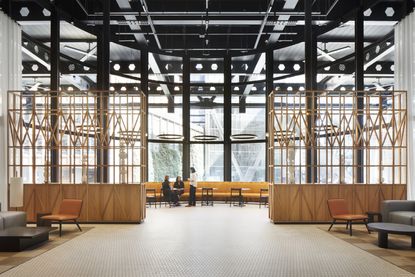 (Image credit: Jack Hobhouse)
Exchange House's distinctive black parabolic arches and exposed industrial trusses, designed by SOM in 1990, make it a landmark in the cityscape of London's Broadgate campus - winning the AIA's Twenty-five Year Award in 2015. Fast forward to 2023 and London architecture studio Piercy&Company was commissioned by British Land and GIC to redesign the iconic structure's interior, aiming to transform its shared spaces, improving tenant amenities, while also pushing the boundaries of sustainable architecture, employing circular economy principles.
Exchange House's reception hall brings new sense of warmth
Piercy&Company, a studio that is well versed in transforming historically sensitive spaces, tapped into British Land's vast archive, using original hand-drawn sketches of the building to inform its redesign. By making the most of the transparency provided by the original continuous ground floor glazing and double height, the architects established a new synergy between the interior and freshly landscaped Exchange Square (by DSDHA) outside. This was achieved through the introduction of layered internal planting, natural materials, and a colour palette that mirrors the seasonal green scheme of the garden. By playing with the concept of a 'garden room', the interior changes have brought the outside in, and with it, a palpable sense of warmth to the reception hall.
Geometric motifs create themes and moments
Large-scale tapestry works by Kangan Arora, an Indian-born and London-based textile designer, were introduced. The pieces feature colourful abstractions of the building's characteristic parabolic arches, steel trusses and beams. Meanwhile, the elm wood lattice shelving units designed by the architects and made by Benchmark, hold delicate raku fired porcelain sculptures by ceramicist Nadine Bell, introducing new textures and tones to the space. The unit also mirrors the building's overall exposed structure in its characteristic joinery - a geometric motif that is further echoed in the design of the office level bathrooms.
Embracing circular economy principles
In keeping with circular economy principles that are core to the studio's overall practice, over 4,000 sq ft of existing Pentelikon marble was carefully removed from the site, cut locally, and hand-laid with cement to create terrazzo flooring for the ground floor reception. Only 40% of the existing marble was used in the reception, allowing for this style to extend to flooring in lift lobbies on other floors, as well as sinktops on the office floor bathrooms. The warm, uniquely-designed terrazzo brings a welcomed contrast in tone and texture to the original building's omnipresent black steel, creating a new grounding feeling to the shared areas.
There's more to come; plans are underway to create a new 200 sq m rooftop terrace, tapping into a previously unused space in the building. This will improve the existing range of tenant amenities for working and hosting. With a design the promotes biodiversity and a biophilic approach, Piercy&Company continues to support sustainability, while also creating new moments of rest, community and connection with nature.
From peeling back layers to reveal original features and details, to opening up new ways through that allow people to pass under the belly of the building, and creating dialogues inside and throughout the building, Piercy&Company has made forward-thinking yet respectful changes to an architectural icon, subtly transforming it for the 21st century.
Nana Ama Owusu-Ansah is a writer and photographer from London. She first wrote for Wallpaper* in 2021, in a series on the new vanguard of African designers practising in Africa and its diaspora. She is drawn to projects centring on decolonial approaches to art, architecture, as well as community and sustainability. Nana Ama read Economics and Spanish at University of St Andrews, and, as an avid linguist, is passionate about using accessible language to invite new audiences to engage in design discourse.