Slot House sets a high bar for sustainable architecture in Utah
Slot House, an energy-efficient mountain retreat in Utah, by local practice Klima Architecture, sets the bar high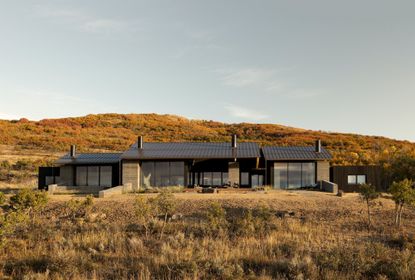 (Image credit: Malissa Mabey)
Slot House sits on a ridge in the Wasatch Back region of the Rocky Mountains, just outside Park City, Utah – where architect Chris Price runs his practice, Klima Architecture. It is defined by a series of interlocking gabled masses, and is as informed by earthships as it is by formalism; as influenced by its mountain-climbing clients as it is by Price's childhood in New Mexico; as sheltered from the elements as it is set squarely within nature. It offers, Price says, a place of solace and protection from which to respect and enjoy this wild landscape. It's also a gamechanger for Price, marking an evolution of years of quiet, dedicated practice into a crystallised approach. 'This is the first opportunity where all the stars aligned,' he says.
Designed for a couple who connected with him initially through a shared affinity to mountain climbing, the house marks a solidification of Price's optimistic, ecologically driven, formally sophisticated approach to architecture. Named Klima Architecture, in honour of his dedication to the Passivhaus movement and all things sustainable (klima being an ancient Greek word that has evolved over time to mean climate), Price's practice has grown over the last few years as he has connected with a client base interested in projects that are simultaneously cosmopolitan and rugged, inventive and practical.
Slot House by Klima Architecture
The approach to the 6,500 sq ft house – which feels as though it's on a remote plain despite being part of a fairly densely populated (for this part of the world) homeowners' association-managed plot – comes from the side, inviting visitors to wind around and face the front door. The exterior entrance is lengthened and detailed with a slotted wood screen that allows for light to come through into the interior while providing essential privacy.
Comprising a guest wing, public areas and a more private family section, as well as an office, studio and gym complete with climbing wall, the house is organised around a single long hallway ('a big defining element,' says Price) that runs its entire width. A central courtyard comes complete with 3ft-long overhangs, its shape drawing inspiration from the famous slot canyons of Utah's Zion National Park. An outdoor living area is tucked into the shelter provided by the extruded living room and main bedroom suite, creating a space for prospect over the wild Rocky Mountains and refuge from the astounding storms that frequently roll through the region.
The interior is informed by a hierarchy that begins with a consistent 12ft ceiling height and roofs gabled at a 5/12 pitch, a design request by the homeowners' association that initially created an unwieldy 18ft-high vaulted space. In Price's hands, that 12ft line becomes the key measurement that anchors all the other design elements around it. Those vaulted ceilings become either soaring public interior spaces or private loft spaces above the bathrooms, accessible by Donald Judd-inspired ladders set into niches cut into the bedroom walls.
A board-formed concrete wall, which demarcates the living room, appears to float directly through the windows into the exterior, but Price points out that it's actually two separate yet contiguous walls, broken into separate thermal masses, a choice informed by his commitment to Passivhaus principles. Meanwhile, the single long hallway creates a sense of linearity and cohesion and introduces a geometry that gets picked up again in the articulated window frames that support triple-paned glass, the clarity of the cabinetry and millwork, and the repetition of the use of screens, which appear and reappear in exterior spaces, bathrooms, and near the side entrance.
On the exterior, blackened shou sugi ban wood offers a visually textured contrast with the sleekness of the interior's warm and sophisticated material palette, and provides yet another link between inside and outside.
For Price, this project is part of an evolution that started in New Mexico, where he grew up influenced by a father who built his childhood home and an uncle who designed earthships – autonomous, off-grid, hyper-sustainable homes. His development as an architect has been deeply influenced by New Mexican architect Antoine Predock – still a hero – and a sense of process-oriented affinity with landscape-inspired architects such as Tom Kundig and Rick Joy.
'I'm always trying to work with the environment and not against it,' says Price. Asked if he would ever consider upping sticks and heading for a bigger city, he demurs. He says he is too captivated by Utah's extreme environment, with its massive temperature differences between summer and winter, its powder-dusted mountains and scorching deserts, and its blend of rugged outdoorsy life and highly sophisticated inhabitants and visitors. Describing the view from the house's outdoor living area, he waxes poetic. 'From this seat you just watch the show,' he says. 'It's like looking at a live painting.' 
A version of this article features in the August 2023 'Made in America' issue of Wallpaper*, on sale 6 July, available in print, on the Wallpaper* app on Apple iOS, and to subscribers of Apple News +. Subscribe to Wallpaper* today
Receive our daily digest of inspiration, escapism and design stories from around the world direct to your inbox