Introducing Wallpaper* August 2023: a celebration of creative USA
Discover Wallpaper* August 2023, celebrating creative stars of all stripes across the USA, and on sale now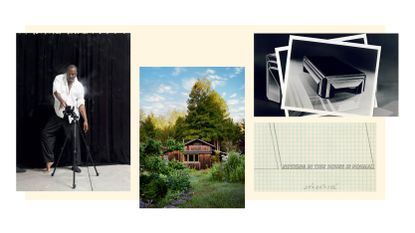 (Image credit: Left: Photography Paul Mpagi Sepuya; Producer Michael Reynolds. Centre: Photography Thomas Loof; Art direction Michael Reynolds. Right: Jason Schmidt)
Welcome to the August 2023 issue, Wallpaper's guide to creative America. We shine a spotlight on a dazzling array of talent that is shaping the future of the creative industries, and compile the names you need to know in our Wallpaper* USA 300 – from Pharrell Williams to Pamela Shamshiri, and from Nifemi Ogunro to André Balazs. These are the hottest names in the USA today, from born-and-bred locals to the global thinkers who have chosen to make it their home, from the trailblazers and the tastemakers to the rising stars of tomorrow.
Wallpaper* August 2023: Made in the USA
Highlights of the issue include our profile of Stephen Galloway, master choreographer and creative alchemist, who was captured in a series of intimate portraits by photographer and artist Paul Mpagi Sepuya. According to writer Mallery Roberts Morgan, Stephen Galloway brings the magic. 'Using the roll of a shoulder, the twist of a head, the exact placement of an arch of a foot, Galloway has pioneered a singularly unique profession as a creative movement director,' she says.
We visit Salmon Creek Farm, originally established as a commune set within the coastal redwood forests of Albion, California, and reborn as the ultimate creative retreat by artist Fritz Haeg. A place to foster a relationship with nature, slow down and enjoy the simple pleasures of daily life. Then to a transformed new public space in Memphis by Chicago-based architect Jeanne Gang, who champions urban spaces for all and has collaborated with Kate Orff to restore nature on the banks of the Mississippi, before heading over to Venice Beach for a very personal tour of unsung hero and original mirror queen Lenny Steinberg's minimalist home, inspired by movement and music (captured in a charming film).
Over to Brooklyn, New York, for a profile on Nan Goldin and her PAIN collective, photographed for the very first time together by Jason Schmidt in Nan's living room. Following All the Beauty and the Bloodshed, the 2022 documentary directed by Laura Poitras, Goldin discusses using her influence in art to confront power and accountability in the US opioid crisis.
We also discuss the weird and wonderful world of cult filmmaker John Waters in his Baltimore studio ahead of his upcoming retrospective show, titled 'Pope of Trash', at the Academy Museum of Motion Pictures in LA.
We showcase an energy-efficient mountain retreat in Utah by local practice Klima Architecture, eat at The Commerce Inn, a Shaker-inspired, early American tavern in New York's West Village from esteemed chefs Rita Sodi and Jody Williams, and relax at the Kona Village in Hawaii, which carefully preserves the spirit of the site's original 1960s resort and the sacred land it sits on.
My eternal thanks and enormous credit to our US Director Michael Reynolds, who achieved such extraordinary features and shoots and brought them to our pages with the same passion and enthusiasm as he did for the very first cover of Wallpaper*; US Editor Pei-Ru Keh; and NY-based contributing editor Tilly Macalister-Smith.
August 2023 Wallpaper*, 'Made in the USA', launched on Wallpaper.com on 4 July with a month of digital programming – we promise there will be fireworks!
Sarah Douglas
Editor-in-Chief
The August 2023 issue of Wallpaper* is available in print from 6 July, on the Wallpaper* app on Apple iOS, and to subscribers of Apple News +. Subscribe to Wallpaper* today
Receive our daily digest of inspiration, escapism and design stories from around the world direct to your inbox
Sarah Douglas is Editor-in-Chief for Wallpaper*, where she is responsible for the content across the print magazine, digital platforms, in-house creative agency Bespoke, brand partnerships, and events. Joining Wallpaper* in 2007 as Art Editor, Sarah became Creative Director in 2012, before being named Editor-in-Chief in 2017. During this time she has commissioned an array of illustrious artists and designers including Jean Nouvel, Yayoi Kusama, Tom Sachs, Nendo, Virgil Abloh and Jenny Holzer; championed talents such as Formafantasma, Sabine Marcelis, Martino Gamper, Bethan Laura Wood, Philippe Malouin, and Craig Green; and overseen partnerships with leading brands including B&B Italia, Prada and Rolex. Sarah is also a member of the judging panel for the London Design Medal, and regularly judges for international design competitions.