Earth brick barn house is Yinka Shonibare's hub of creativity in Nigeria
Yinka Shonibare's new artists' residency space, Ecology Green Farm, in a remote part of Nigeria, offers a lush landscape for cultural and creative discovery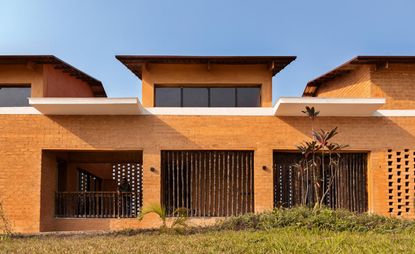 (Image credit: yinkashonibarefoundation.com)
Wallpaper* Newsletter
Receive our daily digest of inspiration, escapism and design stories from around the world direct to your inbox
Thank you for signing up to Wallpaper. You will receive a verification email shortly.
There was a problem. Please refresh the page and try again.
At the end of a powdery orange dirt track, a two-hour drive from Lagos in the village of Ikise, in south-western Nigeria, sits an earth brick barn house. The jewel in the crown of Ecology Green Farm, it's a new artists' residency space established by British-Nigerian artist Yinka Shonibare.
Set on the highest point of the farm's 54 acres of land, surrounded by panoramic views of lush forest, grassland and bush, the building's laterite shell radiates a warm golden glow in the late morning sun. Myriad butterflies settle and take flight, while the hum of insects, rustling grass and birdsong forms the soundtrack to this country retreat.
The barn house accommodates a studio and living quarters for the participants of the artists-in-residence programme, which launches this spring, offering the opportunity to live and work on site over a three-month period. Artists also have the option of spending the residency at an alternative location in Lagos, and both sites are run by the Nigeria-based Guest Artists Space (GAS) Foundation, a sister organisation to the Yinka Shonibare Foundation, led by director Belinda Holden. 'We should all be closer to nature,' says Shonibare, as he reflects on Ecology Green Farm's remote location. 'It's an excellent environment for artists to be inspired and work, and to have some quiet.'
Shonibare brought on board Nigerian architecture firm MOE+ Art Architecture, led by creative director Papa Omotayo, to execute the project. The artist was drawn to the idea of a modern British barn house, with references to the traditional design aesthetic of the Yoruba ethnic group of south-western Nigeria, to which he belongs.
Omotayo delivered the carefully considered simplicity of a pitched roof and rectangular form. The space is accessed through a south-facing entrance, leading to a studio set between twin courtyards. The living and kitchen areas feature double-height ceilings, which add to their expansive feel, and these open out onto a west-facing balcony that frames the daily sunset. On the opposite side of the rectangular structure are three bedrooms, with the main bedroom enjoying east-facing views of the rising sun. A south-facing, pierced brick wall extends along the main hallway, connecting the entrance to the bedrooms, and allowing natural ventilation and controlled light to enter the space. Similar walls serve the same function for the north-facing façade lining each courtyard, while also providing a decorative screen.
'When you're in the space, you can look from one end to the other through the garden spaces, and that brings the outside inside,' says Omotayo. 'You are constantly reminded that you are on this farm and that you have all these beautiful views of the landscape.' The walls of each room are finished with laterite plaster to create a natural smooth finish, while the screen walls and hallways retain their exposed clay brick. Around 256 sq m of cast-in-situ terrazzo flooring extends throughout the space, in a mix of white cement and recycled natural stone and marble, with delicate flecks of browns and greys set in a soft white base.
The ceiling reflects the barn house feel, with exposed timber rafters supporting a longspan aluminium roof clad in timber. Solar panels installed across the roof, together with a waste-to-biogas system, will generate half the power required in the first five years, with a move to 100 per cent off-grid use beyond this period.
The structure was built with a double skin of laterite, using about 40,000 handmade earth bricks reinforced with small quantities of cement. These take on an array of tones, from a warm reddish-brown hue in the shade to gold bathed in the sun's rays and a cool orange on softly lit surfaces. Laterite – which forms in tropical and subtropical regions –was an obvious choice, according to Omotayo: 'On the way to the farm, everywhere is red earth. You go past laterite deposit after laterite deposit, so laterite made absolute sense.'
Building with the material was practised around the world for centuries and was traditionally used in pre-colonial Nigeria. The material 'breathes', regulating internal temperature through its resistance to heat. As no firing process is required for the brick, harmful emissions are eliminated from the construction process. Furthermore, its abundance in the region allowed Shonibare to source a sustainable material. Both Shonibare and Omotayo were keen to create a building that did not feel 'overmanufactured'. Omotayo also considered it important to employ local workers to manually construct the barn house. 'We started to think about how to take very localised elements of our cultural heritage, materials and processes and apply them to a bigger scale with architecture,' he says.
With the aim of creating a 'new localised African modernism', Omotayo's practice has increasingly incorporated vernacular architecture, while moving away from the culture of importing materials for domestic projects. 'Ninety per cent of everything that goes into building in Nigeria is imported,' he says. 'We were thinking about how to revert back to artisanal and locally made materials.'
The use of local artisans and materials was also important to Temitayo Shonibare, Yinka's niece, who oversaw the project's interior design. This is her first project under the banner of her newly formed studio, Entry Point. Taking inspiration from Mexican, Brazilian and Sri Lankan interiors, she looked to vintage pieces, particularly from the 1960s, keeping furniture intentionally low to allow the architecture of the building to shine. She worked closely with local artisans to select the wood for key pieces and 90 per cent of the furniture was locally made or sourced.
Yinka Shonibare's goal is that Ecology Green Farm will become a self-sustaining venture with practical value, one that plays a role in strengthening food security in the country. The earth brick barn house is surrounded by six walled gardens, four of which will be used as leisure spaces, while two will serve as allotments to grow food for visiting artists. Meanwhile, acres of nearby farmland that are part of the residency campus have been cultivated to produce an abundance of fruits, roots and vegetables in the open fields and within greenhouses to be sold commercially.
Yinka Shonibare describes the project as a platform for research and learning, where people around the world can visit to get to know the country: 'They can really experience Nigeria, meet people and also understand the culture, and possibly learn from creatives on the ground.'
INFORMATION
moeaa.com
Receive our daily digest of inspiration, escapism and design stories from around the world direct to your inbox