Hé Architectuur, Belgium: Wallpaper* Architects' Directory 2022
Wallpaper* Architects' Directory is our annual round-up of exciting emerging architecture studios. From our 2022 list, meet Belgian studio Hé Architectuur and explore its house in Molenbeek that is a triumph of reuse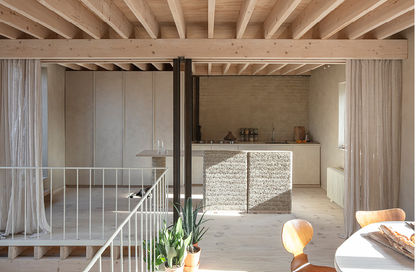 (Image credit: Tim Van de Velde)
Wallpaper* Newsletter
Receive our daily digest of inspiration, escapism and design stories from around the world direct to your inbox
Thank you for signing up to Wallpaper. You will receive a verification email shortly.
There was a problem. Please refresh the page and try again.
Belgium-based studio Hé Architectuur and its residential project Karper have made it into the Wallpaper* Architects' Directory 2022, our annual list of exciting emerging practices from across the globe, thanks to directors Hanne Eckelmans and Renée Verhulst's love for clever, sustainable architecture.
Who: Hé Architectuur
Chance encounters sparked the partnership between Hanne Eckelmans and Renée Verhulst, leading them to form Belgian architecture studio Hé in 2017. Eckelmans and Verhulst lived and worked in the same neighbourhood prior to starting the studio and after regularly crossing paths, gradually transitioning into working together. In 2020, they began collaborating with a third team member, Isabelle Marchal, and since then the all-female studio has operated as a trio, continuously innovating their practice by inviting ideas from external designers too.
Hé's approach prioritises adaptation and reuse, combining the structure of existing buildings with mindful design to reimagine spaces with new identities – the key example is the redesigned Karper building, a transformation of a commercial space into a home. The team will base a whole project around retaining features such as beamed ceilings and original stone flooring, and design interiors around the furniture that clients already have, giving each project a very different feel while ensuring a simple consistency. 'The first goal in sustainable architecture is to avoid building,' they say. Eckelmans and Verhulst, both lecturers at the University of Leuven in Brussels, are also conscious of the importance of collaborating with other architects, and speak passionately about the value of passing on knowledge to inform systemic change towards more sustainable practices.
What: Karper
Hé's projects look primarily at rescuing the remnants of existing buildings. This, combined with the team's inclination towards renewable, raw materials, means the resulting works often feel like a creative revival of bygone eras. The building that became the studio's Karper project, in Molenbeek, Brussels, had served for years as a factory and office. Retaining the existing four walls and solid metal beam that runs through the centre of the building for support, the team added exposed wooden flooring. These elements, alongside huge windows and painted brick in subtle hues, give the house a light, honest feel.
Four mezzanine-style floors create a flow between the spaces in this 330 sq m building, where interior walls are largely absent, making way for curtains and resulting in a highly flexible layout. One bathroom wall is replaced by tri-fold doors that open out onto the ground floor courtyard, and wooden stairs are tucked into corners, freeing up floor space on the well-connected levels. The façade combines an attractive mixture of period and contemporary design. A white brick loft extension sits on top of the historic body of the house, contrasting beautifully with the red bricks and adorned window frames below.
Why: Wallpaper* Architects' Directory 2022
Conceived in 2000 as an international index of emerging architectural talent, the Wallpaper* Architects' Directory is our annual listing of promising practices from across the globe. While always championing the best and most promising young studios, over the years, the project has showcased inspiring work with an emphasis on the residential realm. Now including more than 500 alumni, the Architects' Directory is back for its 22nd edition. Join us as we launch this year's survey – 20 young studios from Australia, Belgium, Canada, Chile, China, the Czech Republic, Ecuador, France, Greece, India, Indonesia, Japan, Nigeria, Paraguay, Thailand, the UAE, the UK, the USA, and Vietnam with plenty of promise, ideas and exciting architecture.
INFORMATION
he-architectuur.be
Receive our daily digest of inspiration, escapism and design stories from around the world direct to your inbox
Martha Elliott is the Junior Digital News Editor at Wallpaper*. After graduating from university she worked in arts-based behavioural therapy, then embarked on a career in journalism, joining Wallpaper* at the start of 2022. She reports on art, design and architecture, as well as covering regular news stories across all channels.
With contributions from