Modernism to minimalism: sun-drenched Los Angeles houses
From modernist residences to riveting renovations and new-build contemporary homes, we tour some of the finest Los Angeles houses under the Californian sun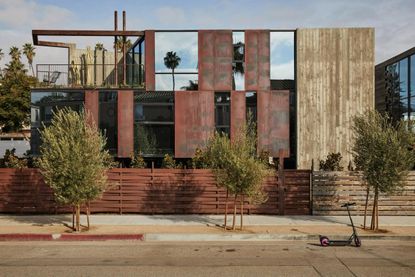 (Image credit: Sam Frost)
The City of Angels is also the city of architectural dreams. And Los Angeles houses are joy – from iconic modernist residences (hello, Garcia House and Moore House - see below), to minimalist abodes, and from riveting renovations and reinventions of the existing historical fabric, to entirely new-build contemporary homes, large and small, in all shapes and sizes. Sun-drenched under the blue Californian skies and at the cutting edge of their field, these homes are rich and diverse, representing the finest in Los Angeles architecture.
Amazing Los Angeles housesPacific Palisades house by Johnston Marklee and Studio Shamshiri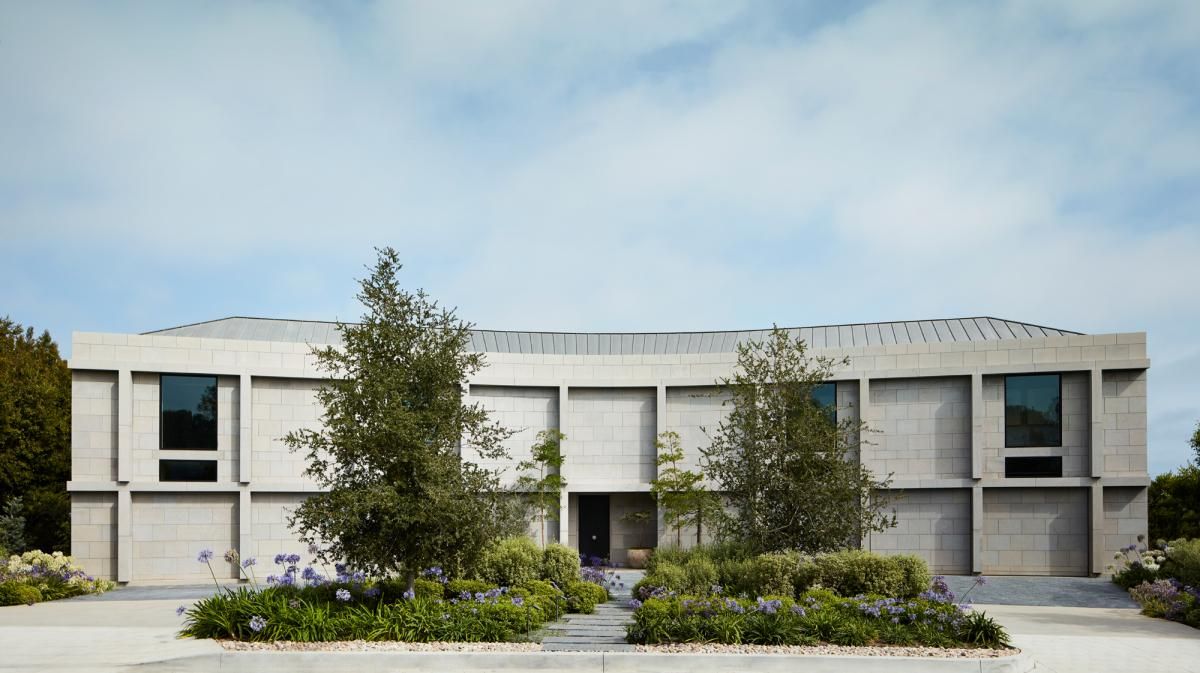 There's a secret behind certain houses in Pacific Palisades: the kind of heartstopping ocean views that make all the adjacent palm trees, pools and velveteen lawns seem to fade to grey. One such Pacific Palisades house, a riff on a Norman-style villa, has a sober limestone façade beneath a pitched metal roof, and it raises few eyebrows from the street. It's a new build by Johnston Marklee, the celebrated LA firm founded in 1998 by architects Sharon Johnston and Mark Lee. Known for their private houses, often reclusive mysteries on the outside and shapeshifting wonders within, Johnston and Lee have also made their mark with the Menil Drawing Institute in Houston, designed for the Menil Collection and opened in 2018. 'Dominique de Menil was famous for wearing her fur jacket with the outside in, so no one would see the fur,' Lee says, laughing, of the oil heiress who established the pioneering art museum with her husband John. That a patron of such high calibre could be so low-key pleases him: her approach 'has a certain normalcy on the outside that doesn't betray something exciting inside – I think this is also what we're trying to capture', he adds. Additional writing: Sarah Medford
Venice Beach house by Matthew Royce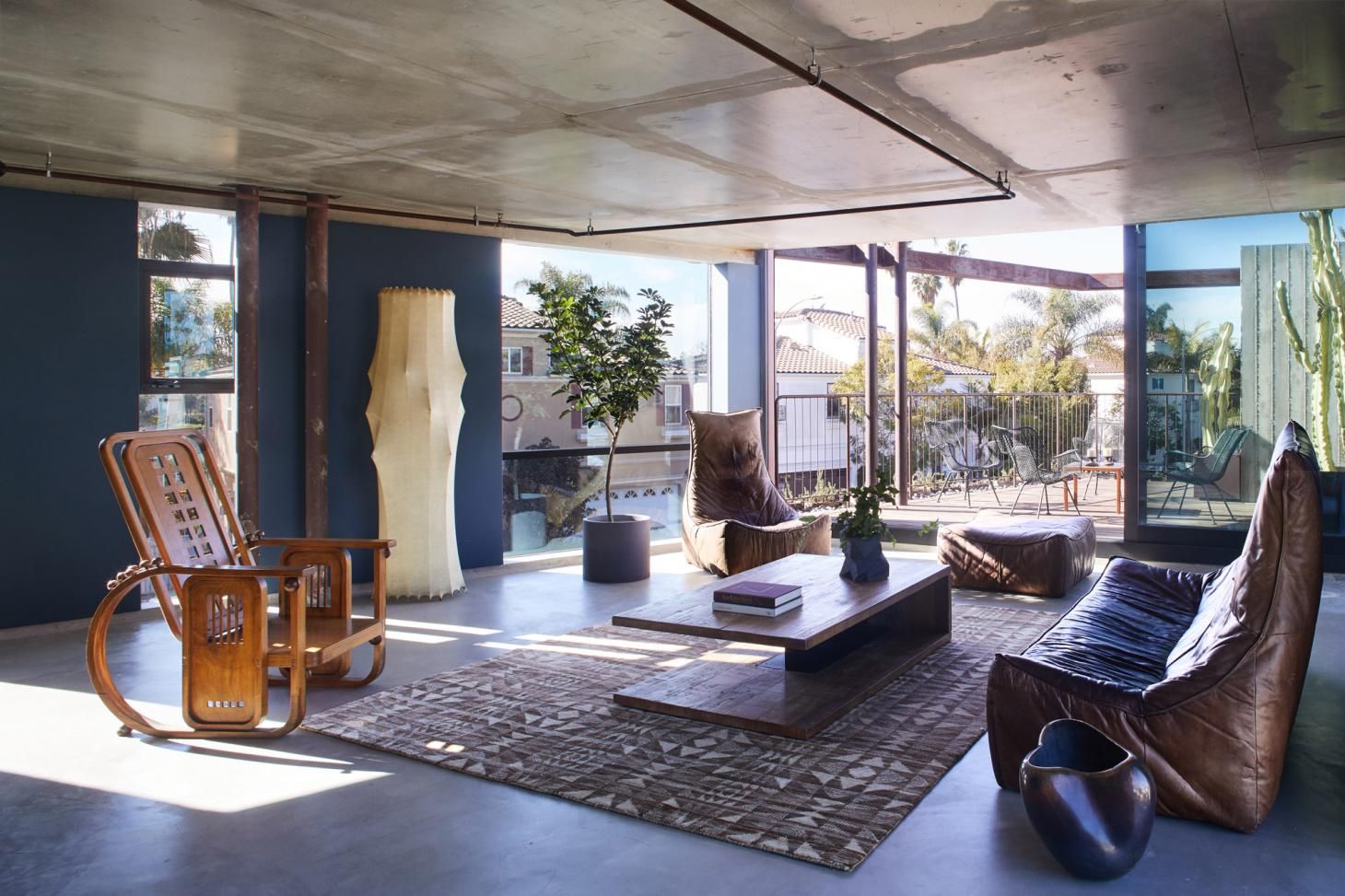 The sun-drenched Los Angeles neighbourhood of Venice might be best known for its rustic beachfront living, but architect Matthew Royce's abode is an eye-catching exception to the vernacular. Located on an unlikely triangular site, it draws from myriad international influences in its design and architecture while still staying true to its local roots as a Venice Beach house. Home to Royce and his wife, Farnaz Azmoodeh, the building reflects Royce's principles of sustainable design and respecting local history. Set along a historic electric streetcar line that ran from 1905 to the mid-1950s on Oxford Avenue, just adjacent to the main thoroughfare of Abbot Kinney Boulevard, it nods to Venice's past and present, but not in ways that one might expect. Additional writing: Pei-Ru Keh
Radius House by Pentagon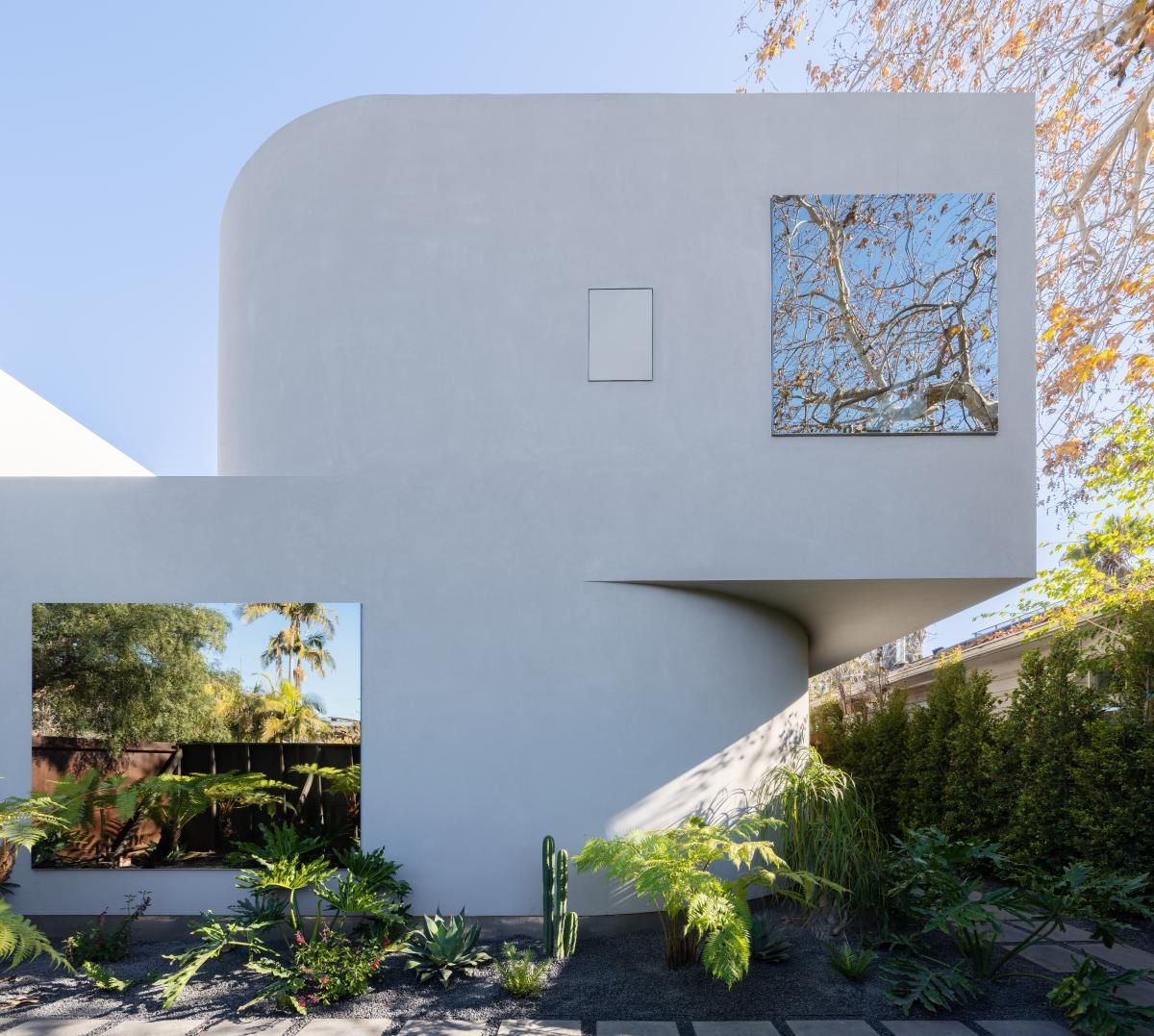 Emerging Los Angeles architecture studio Pentagon has just completed its first, ground-up, new residential project; this is Radius House, a site-specific piece of sculptural architecture that uses crisp geometries to create homely spaces and architectural moments of domestic bliss within an urban landscape. Set in the Venice neighbourhood of Los Angeles, the home cuts a distinctive presence, even within the area, which is known for its striking architecture, both old and contemporary, such as the recently completed Venice Beach house by Matthew Royce. As its name cleverly hints, Pentagon was set up by a group of five – SCI-Arc master of architecture graduates, Ben Crawford, Tyler McMartin, Paul Stoelting, Dale Strong and Paul Trussler – in 2014. The quintet worked with the site's restrictions to carve out a two-storey home with generous, flowing interiors and outdoor areas in the form of courtyards and terraces. In fact, the outdoors plays a key role in the design's arrangement, as the house wraps around a central courtyard on three sides.
South Pasadena residence by Medium Plenty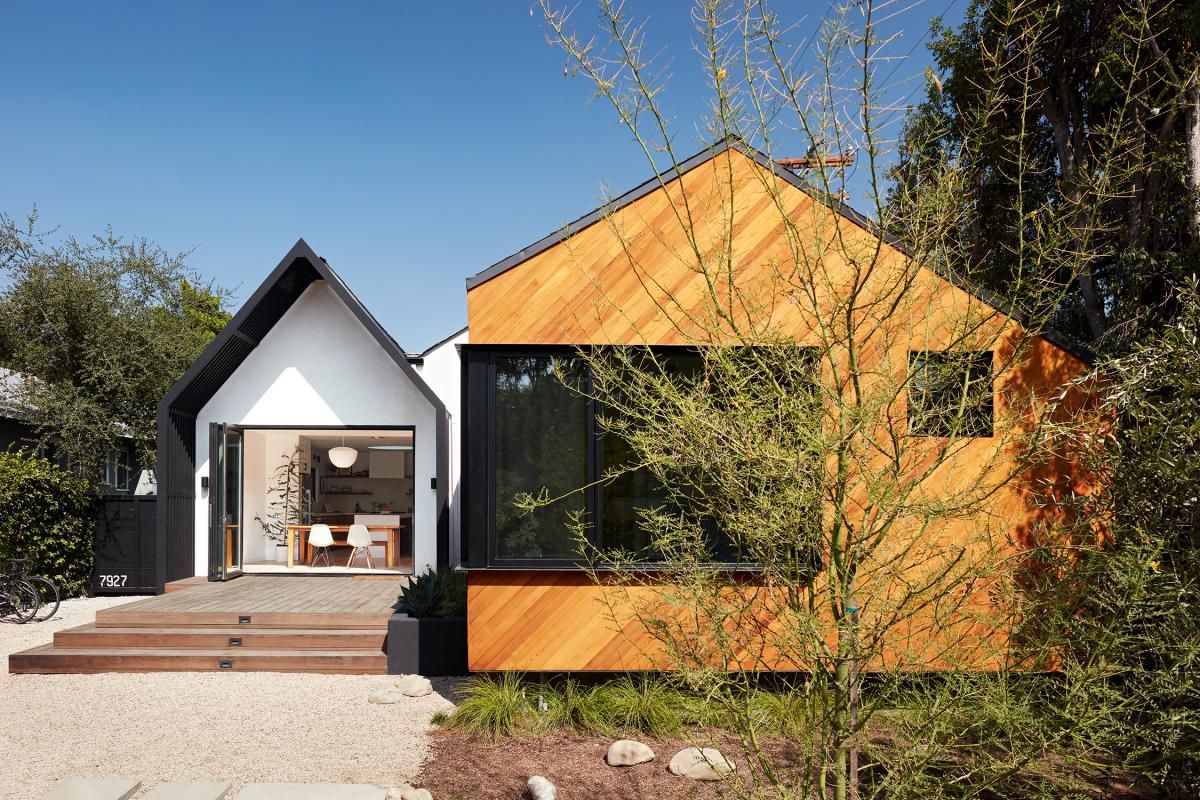 Husband and wife team Gretchen Krebs and Ian Read of Northern California architecture practice Medium Plenty are experienced hands when it comes to home renovations. The pair have expertly architecturally upgraded several residences by paying close attention to existing conditions, while inserting modern gestures, light and a sense of spatial generosity into a domestic, everyday setting. Their recent project falls in this category too, a complete contemporary residential redesign of a South Pasadena family home for Michael Cosentino, a senior producer at a National Public Radio station (KPCC), and his wife Rion Nakaya, founder and editor of digital educational platform The Kid Should See This. The project involved the transformation of an existing, nearly a century-old South Pasadena residence – originally, Nakaya's family home. Planning their move-in, the owners discovered they were in need of more space. They were also after a modern interior aesthetic to fit their lifestyle. Their brief suggested balancing classic and modern, warm and minimalist, sharply poised and contemporary with homely and inviting. The new design blends all this with a sophisticated nod to midcentury styles and the aesthetics of modern Japanese houses.
Hollywood Hills House by Envelope Architecture + Design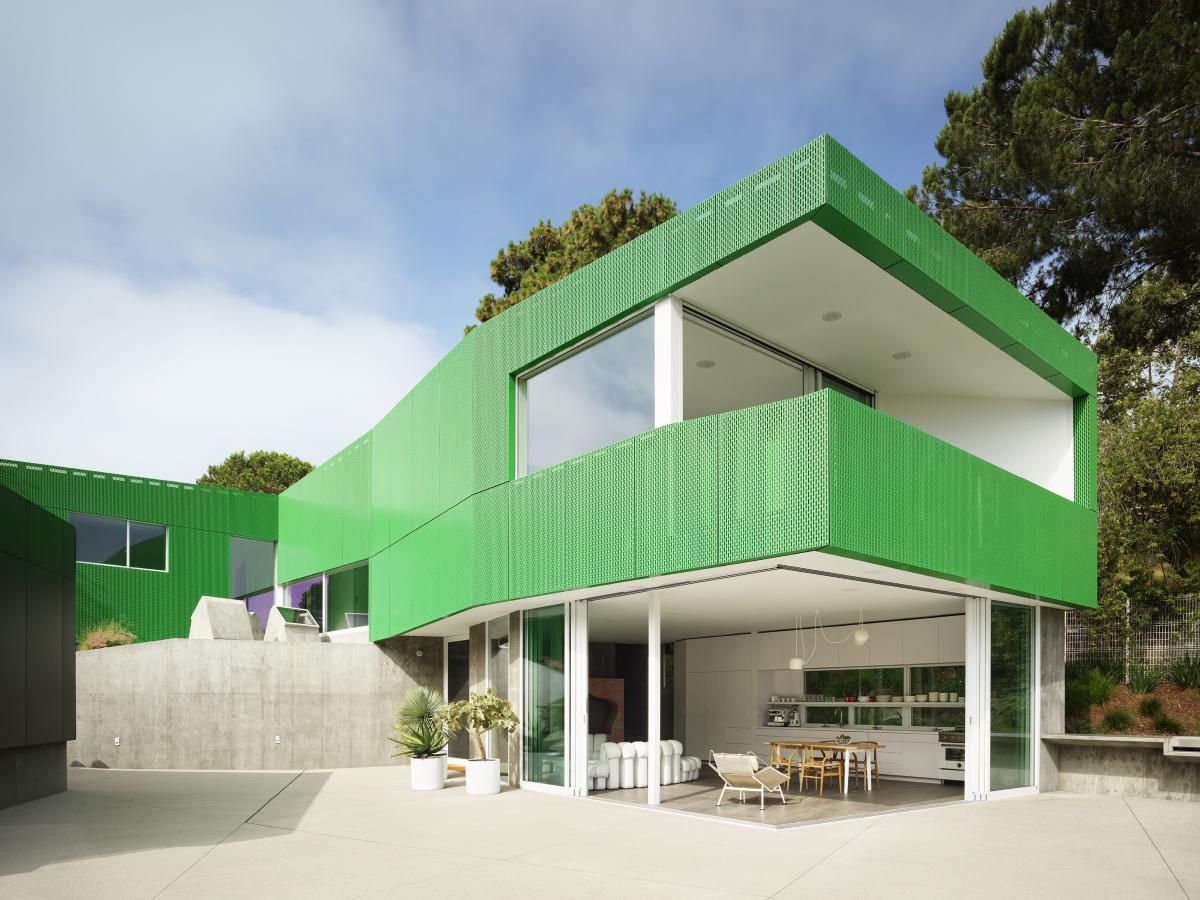 The slopes of Los Angeles' hilly suburbs are home of some of the world's finest modernist residences – think Pierre Koenig's Case Study House No 22, and John Lautner's Chemosphere House. This is what one couple – an interior designer and an entrepreneur – had in mind when they began hunting for a family home. Their search led them to an unlikely plot in the Hollywood Hills, ragged, empty and neighbouring a nature reserve. The steep slope, while offering striking views, was almost unbuildable. Called upon to help, architect Douglas Burnham, principal of Berkeley-based Envelope Architecture + Design, was unfazed. The clients snapped up the plot and with it the chance to build from scratch in the Hills, to create a contemporary answer to those modernist classics. The architects made the slope safe and landscape designer Matthew Brown refortified the site with native species. Soon, a curious green volume started peeking out from the foliage. The team enveloped the site in a sculpted concrete wall, but this bright, cantilevered upper volume makes the house hard to miss. 'There's an exuberance to LA architecture,' says Burnham. 'There's room to experiment. The green shade came from the client's preferences, but also out of the tree canopy – albeit ours is very much an artificial green.' The Hollywood Hills house has almost no conventionally shaped rooms at all. 'The floorplan is very kinked and faceted, not much is parallel or perpendicular,' says Burnham. 'We tried to enhance movement through the house, so it's about spaces of motion and flow. This happens in plan but also in section, with the master bedroom volume tilted up a bit, giving more room to the space below. The broken geometry gives a casual, informal feeling.'
Cove Way by Sophie Goineau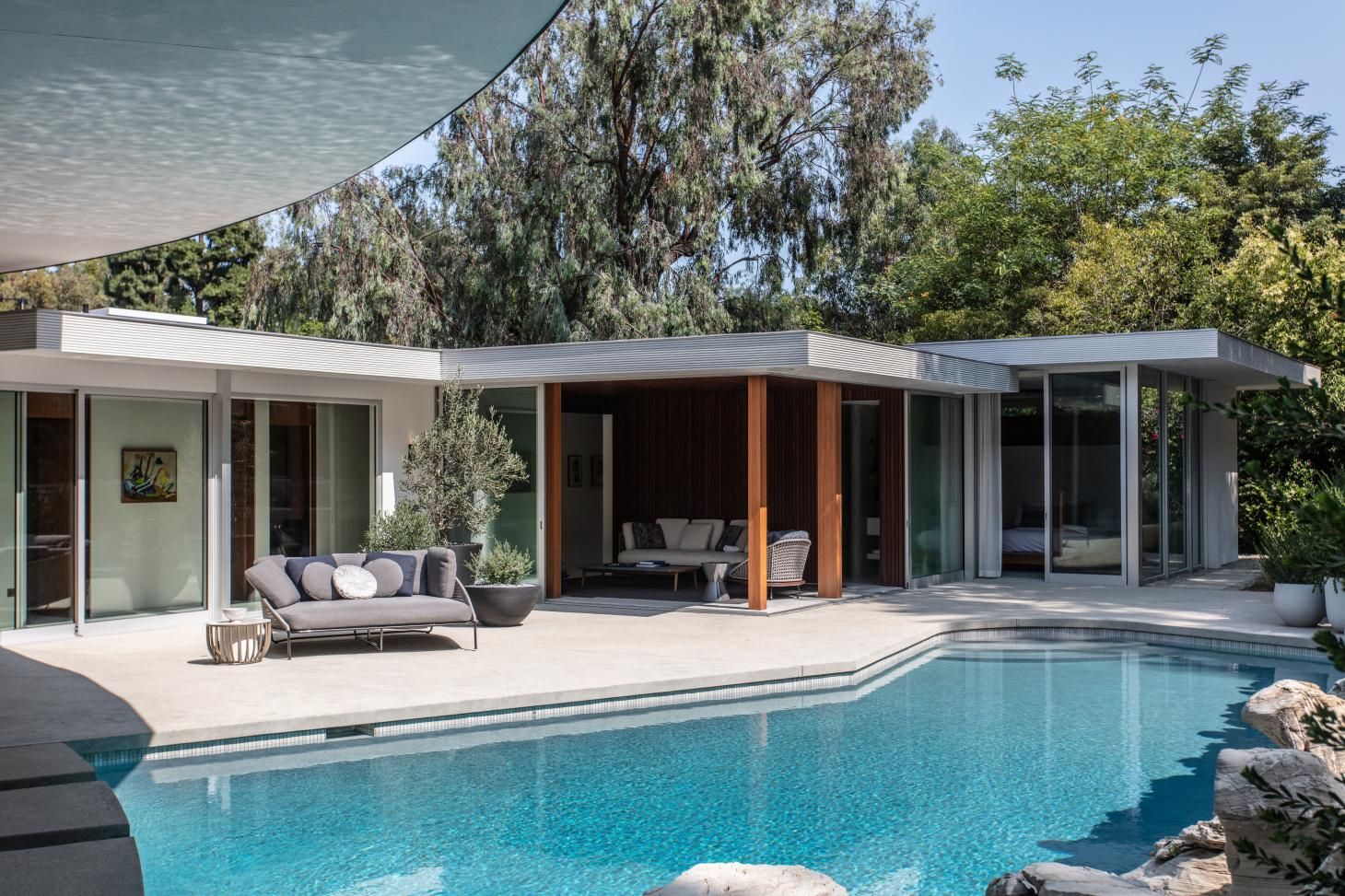 A historic midcentury Beverly Hills home by Alfred Wilkes has been restored by interior designer Sophie Goineau. Cove Way, a California residence set among leafy grounds, was originally built in 1957 to the era's modernist architecture traditions. Now, after two years of meticulous research and building works, the home has been brought back to its former glory – with a 21st-century twist, while drawing on themes by the great modernists, such as Richard Neutra, Harold Levitt and Mies van der Rohe and a 'less is more', minimalist approach. Goineau worked on refreshing existing features and opening up the space while maintaining the important overall aesthetic and philosophy of the structure. The house, which spans some 5,000 sq ft and four bedrooms, is composed of an arrangement of straight and curved lines, and glass expanses that open up towards the verdant gardens and swimming pool outside. Pronounced overhangs of a flat roof enhance a vertical feel and elegantly, visually extend the low volumes.
Moore House by Woods + Dangaran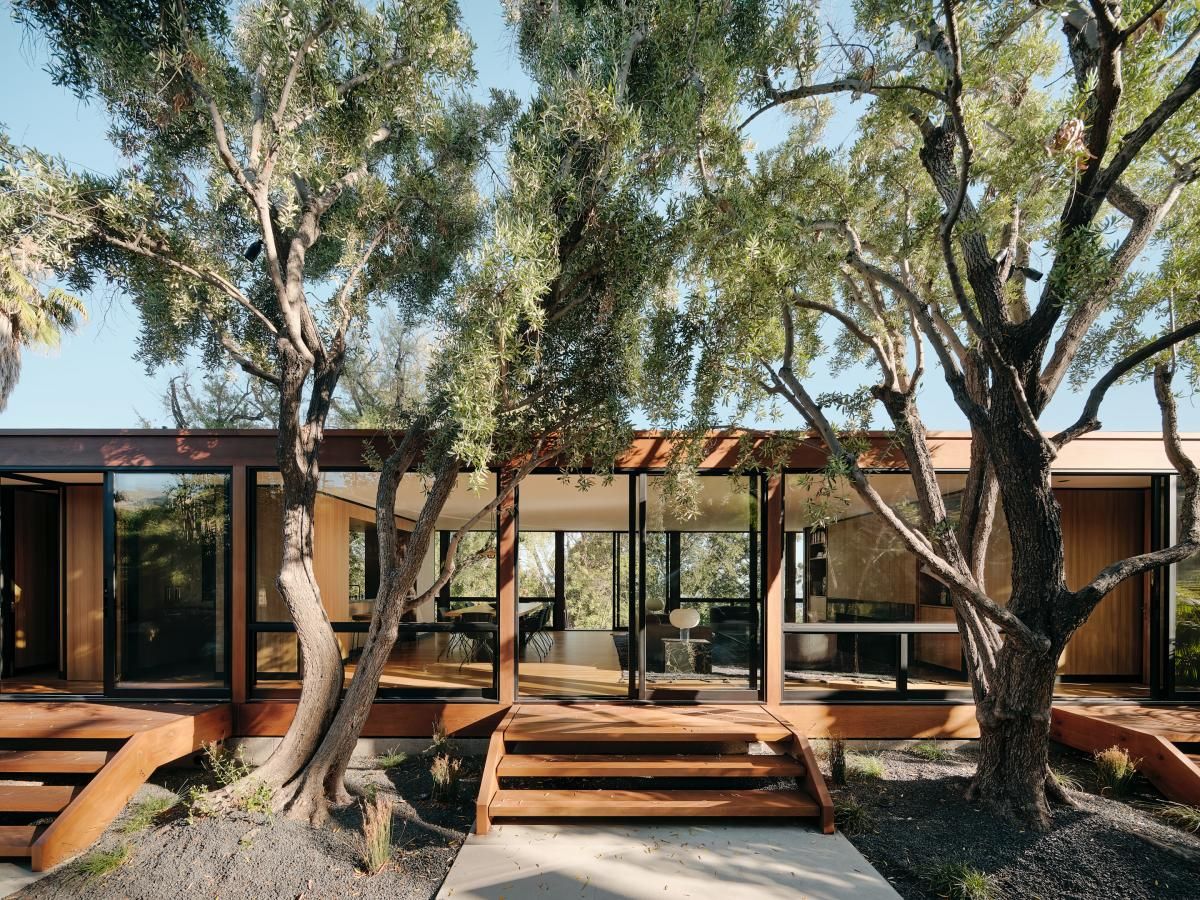 This 1965 Craig Ellwood house in the LA neighbourhood of Los Feliz has been given a new lease of life with an extensive restoration by Los Angeles architecture studio Woods + Dangaran. Called Moore House, the home unites the best of what California modernism has to offer; midcentury interiors, open-plan spaces, clean and sharp volumes that are softened by the use of wood, architectural gardens and glazed expanses that afford long views of the cityscape beyond. When the team was awarded the commission, the house was in a bad state, Brett Woods and Joseph Dangaran recall. The two co-founders of the boutique architectural firm have a wealth of high-quality, modernist-inspired homes under their belt, such as their recent new-build Carla Ridge Residence. Here, 'the shell of the home is upgraded to preserve the longevity of the structure and to meet contemporary performance standards', they explain.
Garcia House by John Lautner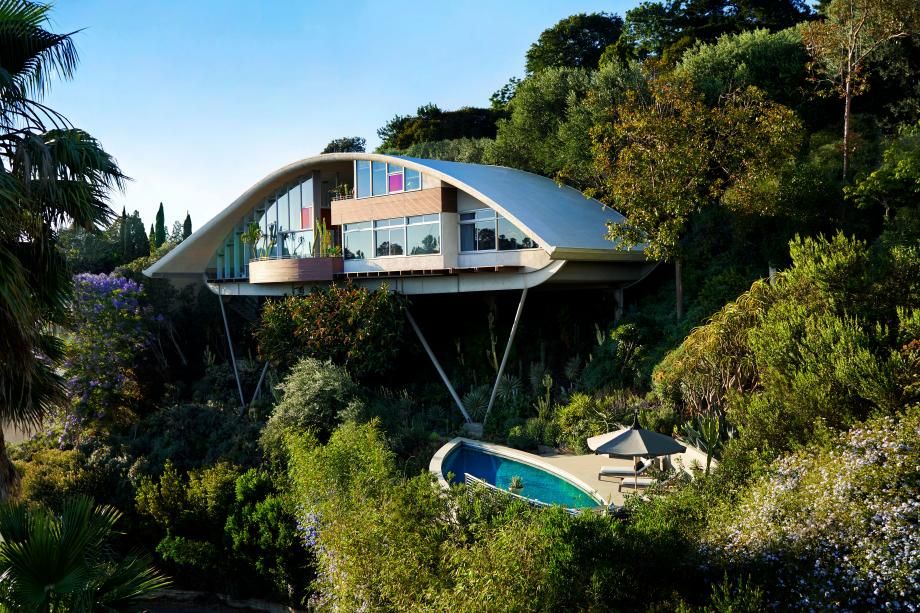 Perched nimbly on one side of the Hollywood Hills along Mulholland Drive in Los Angeles, John Lautner's futuristic Garcia House is one of the most enduring specimens of the midcentury modern movement. Completed in 1962 for the jazz musician, conductor and Hollywood composer Russell Garcia and his wife Gina, the almond-shaped house is as well known for the steel caissons that hoist it 60ft above the canyon below as it is for its part in 1989's Lethal Weapon 2, where it appears to come crashing down in a foul blow to the film's villains. Special effects and celebrity aside, the Garcia House, which is, in fact, standing tall and well, now serves as a piece of living history, with its V-shaped supports, parabolic roof and stained-glass windows. The house's current owners, entertainment business manager John McIlwee and Broadway producer Bill Damaschke, have been on a mission to restore and revive the house since they purchased it in 2002, while living there full time. Wallpaper* first reported on the house in our January 2009 issue (W*118), when McIlwee and Damaschke were enjoying the fruit of their ambitious restoration efforts. 'When we first saw the place in 2002, it was a little bit of a shambles,' recalls McIlwee now. 'It was 25 years of neglect. Structurally, the house was perfect. The whole house sits on caissons and not one part of it touches the ground. However, the roof was a big issue because it had deteriorated,' he continues. 'There was a leak by a window and it ate through a portion of the house. We came in, took out some old carpet, painted the house and lived in it for a year. That was critical for us because we would have made different decisions if we had tried to do the work before we moved in.' Writer: Pei-Ru Keh. Art Direction: Michael Reynolds
Curson Residence by Nwankpa Design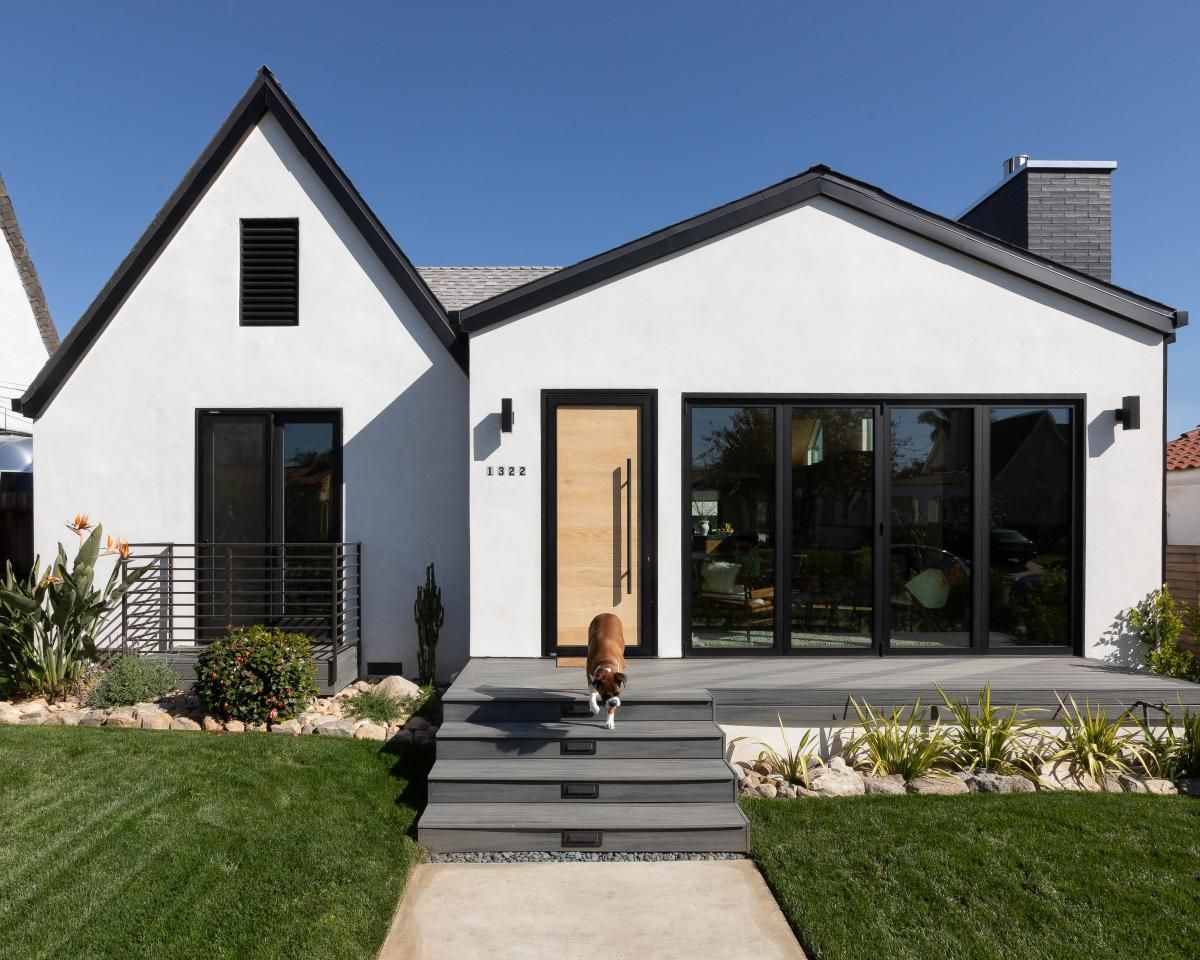 Transforming an existing home to contemporary requirements while maintaining a sense of a building's original character and intention is no mean feat. Doing all this during a pandemic is even more impressive. Achieving this balance of old and new, in the face of challenges brought by local lockdowns and various other restrictions, is something architect Susan Nwankpa Gillespie pulled off in her latest project, Curson Residence. The project, completed by the architect's studio, Los Angeles-based Nwankpa Design, involved the redesign of a 1920s Storybook-style house in the city, which was artfully delivered by an all-women-of-colour design and construction team during the Covid-19 lockdown of 2020. The house featured a distinctive roof with steep pitches and a prominent street-facing, tapered chimney. Nwankpa Gillespie worked with the original structure's main features – such as its defining roof outline – to enhance its architectural presence externally, but also its functionality and sense of space inside. Maintaining most of the roof, the architect pushed the walls out to add an extra 400 sq ft to the existing 1,000 sq ft home. Clever landscaping around the building will soon grow into a mature garden, adding a touch of nature to the urban site.
Monon Guesthouse by Jerome Byron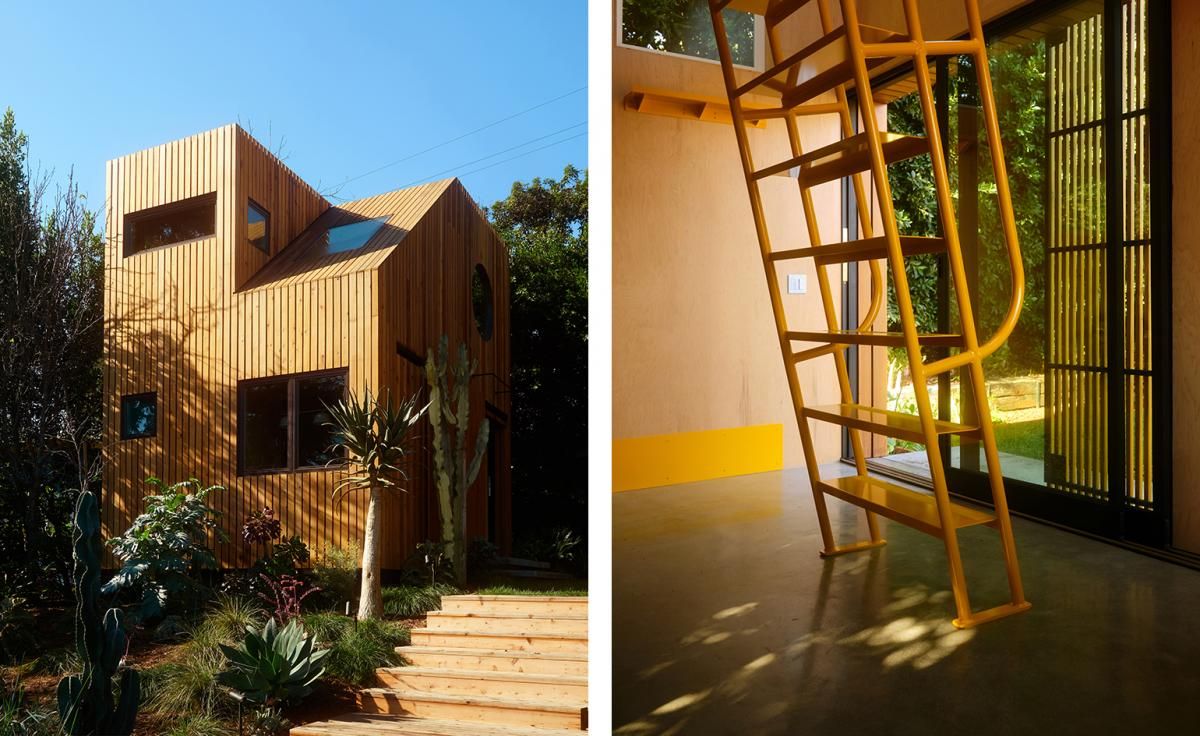 A curious wooden structure has emerged in a back garden in the Los Angeles neighbourhood of Los Feliz. Nestled behind a hillside property, this is Monon Guesthouse, the latest work by Californian architectural designer Jerome Byron; and its unusual appearance and architectural folly-like, pavilion nature was not a coincidence. 'As a commission, the guesthouse was meant to spark creativity and imagination for both the husband and wife, an entrepreneur and writer, and their two young children,' explains Byron. The guesthouse, spanning two levels and some 245 sq ft, now sits among rich foliage in a finely landscaped architectural garden. The levels, pathways and planting were designed by LA office Terremoto, which came into the site first, reimagining it with a wild and graphic garden of cacti and grasses. The small cabin-like addition was then added among this natural environment.
Carla Ridge Residence by Woods + Dangaran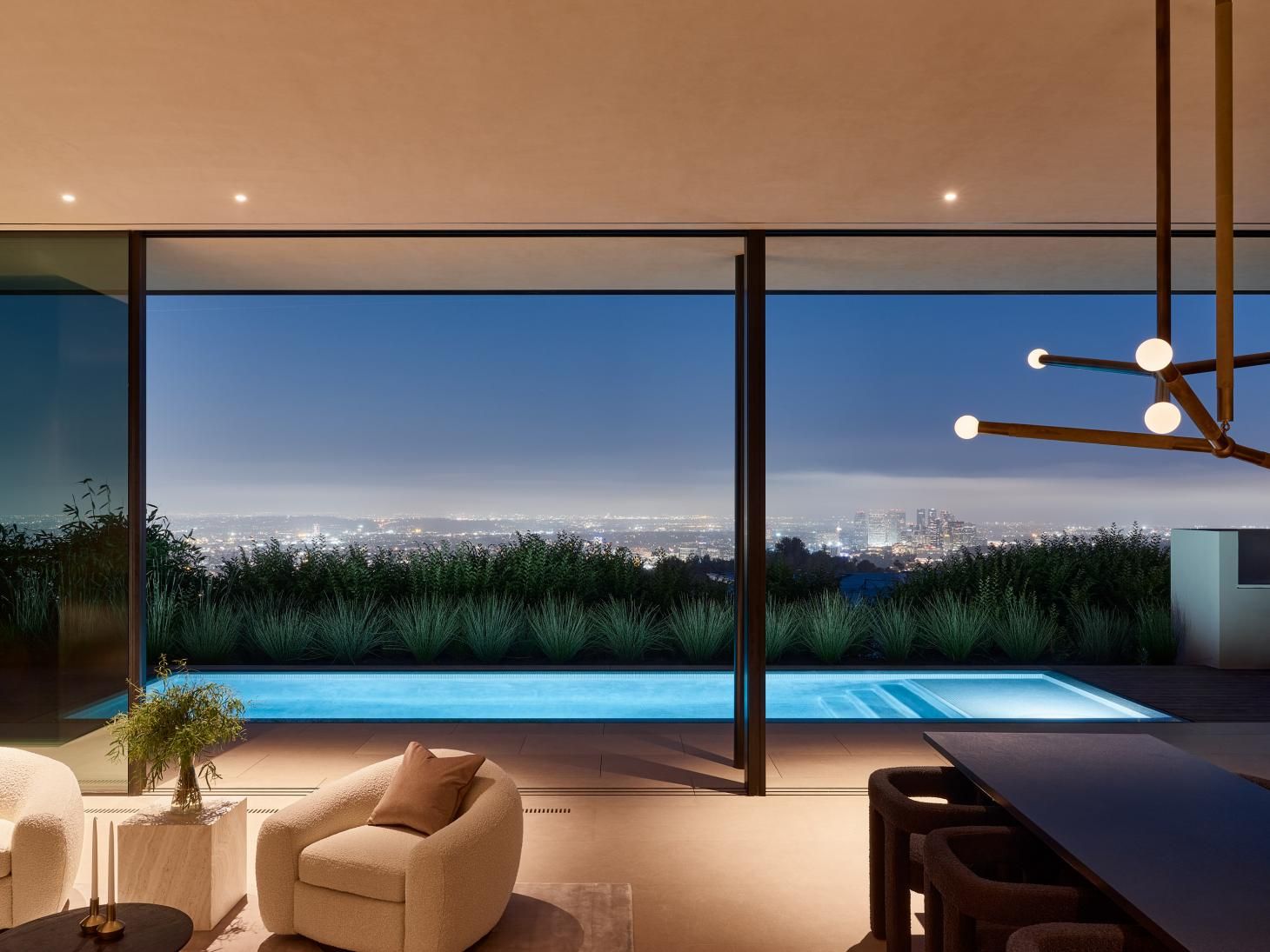 Los Angeles architecture studio Woods + Dangaran has crafted an idyllic hillside home, nestled into one of the city's famous green slopes. Set in Trousdale Estates, Carla Ridge Residence embodies the spirit of Los Angeles living, bringing together an urbane lifestyle with long views, open spaces and an architecture that merges indoors and outdoors while nodding to classic modernism. Spanning a generous 9,800 sq ft and five bedrooms, and created for a local developer, the house is expansive. This is also a design that is completely in tune with its surroundings, combining a flowing open-plan interior for its communal spaces, with an array of outdoor areas. There are courtyards, paved terraces, sheltered open-air pathways, architectural gardens and a striking, double infinity-edge swimming pool with views east to downtown Los Angeles and west to the Pacific Ocean. 'The visitor experience is carefully choreographed,' say the team.
Positively Negative by Dan Brunn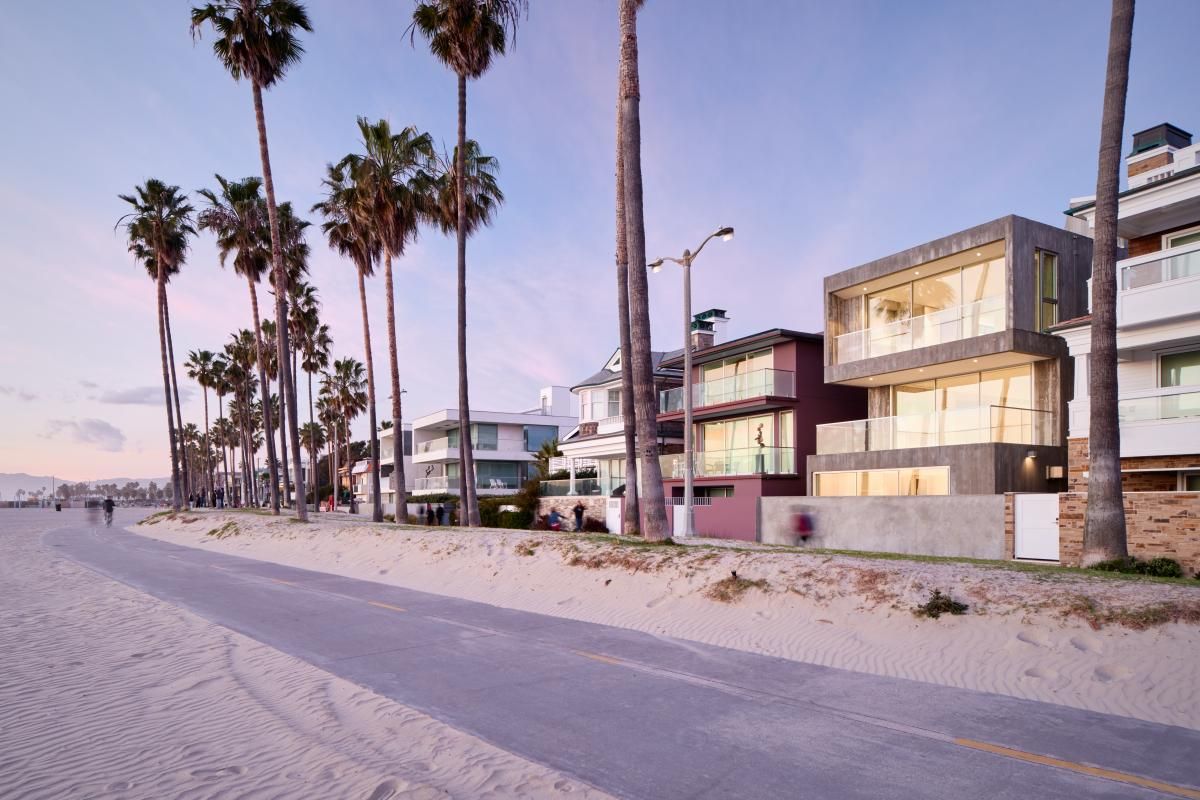 This minimalist beach house in California is the brainchild of American architect Dan Brunn. The house, located just on the waterfront of Venice Beach, is an ode to raw concrete and pared-down volumes, yet was born of pragmatism and functionality; Positively Negative, as the house is named, was created as a direct response to 'the harsh marine weather and densely packed environment of its location', says the architect. Featuring a narrow frontage and attempting to address a healthy balance between natural light, privacy and outdoor space, the house design was conceived as a series of stacked cubes. The composition is quite complex but also feels at home within Los Angeles-based Brunn's portfolio – the architect is well known for his clean, minimalist, sculptural work.
INFORMATION
Ellie Stathaki is the Architecture Editor at Wallpaper*. She trained as an architect at the Aristotle University of Thessaloniki in Greece and studied architectural history at the Bartlett in London. Now an established journalist, she has been a member of the Wallpaper* team since 2006, visiting buildings across the globe and interviewing leading architects such as Tadao Ando and Rem Koolhaas. Ellie has also taken part in judging panels, moderated events, curated shows and contributed in books, such as The Contemporary House (Thames & Hudson, 2018) and Glenn Sestig Architecture Diary (2020).