John Lautner's modernist landmark Garcia House restored to former 'rainbow' glory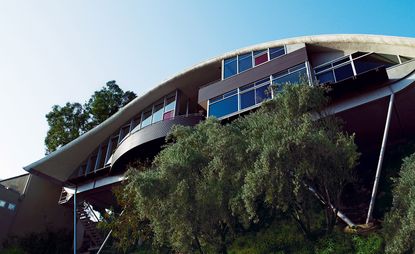 (Image credit: Richard Powers)
John Lautner was the great architectural dramatist of his age. His chief partner was geography itself, and Lautner created a series of gravity-defying statement houses in California and beyond. Rather than attempt to tame or temper a site, Lautner worked with nature, anchoring his futuristic sculpted houses to hillsides and cliff tops, as with his Elrod House in Palm Springs, the Arango residence in Acapulco and the Garcia House on Mulholland Drive.

Here, Lautner created a mesmerising home, completed in 1962, for jazz musician Russell Garcia and his wife, Gina. Gina is a composer and a conductor, who worked with many of the Hollywood film studios. The house Lautner designed for him was pitched up on the Hollywood Hills, clinging to the steeply sloping terrain, while taking in view of Los Angeles to the southwest.

Because the site was so rugged and barren in the early 1960s, Lautner decided to pepper the glass walls of the house front and back with panes of coloured glass to give it a warmer feeling. But Russell and Gina Garcia still didn't last long in the house. In 1966, at the peak of Garcia's fame, the couple sold up lock, stock and barrel, bought a boat, and went sailing around the world.
Thus the house became a floating landmark on Mulholland, winning a bit part in Lethal Weapon 2 along the way, but it was not always well taken care of. Upheavals in the 1980s meant the loss of many of Lautner's original fixtures and fittings and by the time the last owner, actor and director Vincent Gallo, sold up, the Garcia house needed some healing. New owners John McIlwee, an entertainment business manager, and Bill Damaschke – president of creative production at Dreamworks Animation – embarked on a sensitive restoration in 2002, balancing the need to update the house for 21st-century living with preserving its special character.

'We feel that the whole thing was tremendous kismet,' says McIlwee, who saw the house advertised in the property pages on the morning of his birthday. 'We have a friend who lives just up the street and we would drive by the house. I remember looking at it and thinking there's no way we could spend that much money on a house that needed so much work. But in retrospect we can't believe we got the house for the price we did, with all the resurgence of interest in the art and culture of midcentury design.' He adds: 'People don't look at this as just a house, because you can easily get bigger places with more square footage and more land. They see it as a piece of art – a weird jewel box, sitting on stilts, high up above the whole canyon.'

'When we embarked on this project, we did a lot of homework,' adds McIlwee, 'and we looked at a lot of architects.' Los Angeles-based practice Marmol Radziner won out. Damaschke first came across its work in a magazine; as well as designing houses for Ellen DeGeneres and Tom Ford, the architects Leo Marmol and Rod Radziner has restored a whole series of modernist classics by Albert Frey, Rudolph Schindler and Richard Neutra. 'They were so responsive and their attention to detail was meticulous. It had to be custom fixtures, custom furniture, custom everything to make it feel as special and unique as it is. We realised it would be a challenge, but didn't realise to what degree,' says Damaschke.
While Lautner's structural engineering had largely stood the test of time, with the steel anchors holding up well, other parts of the house had not. The roof was leaking, there was dry rot and almost all the original built-in furniture had either been removed or ruined.

'Worst of all, the transparency through the centre of the house had been lost to a great extent,' says Radziner. 'Working with Bill and John, we were able to bring that back while still providing some privacy from the street, given that people do stop and look at this house. Restoring a building like this is a subtle balancing act, as you want to make sure that you don't lose its soul. A house like this has integrity and there are some things that you need to revise to make it liveable, but you have to make sure that you do that in a way that feels natural and in harmony with the house the architect created.'

Marmol Radziner was able to restore elements, such as the terrazzo floors and the windows, including the stained glass, plus an occasional light fitting, and they managed to keep the kitchen sink. Just about everything else had gone in the 1980s or had been trashed under layers of grey paint. Having stripped the house back to its bones and updated all the services, Marmol Radziner began reinterpreting the many bespoke fitted elements of the place, from the walnut cabinet work and kitchen to the fitted L-shaped sofa in the living room.
'When it came to the master bedroom, we did reconfigure the space a bit because there hadn't been a master suite and we needed to make it work for Bill and John,' says Radziner. 'But the process was very subtle and not done in a way that would change the feeling of the house.'

The restoration was completed in 2005, when McIlwee and Damaschke asked interior designer Darren Brown to work on the loose furnishings. Brown blended an eclectic mix of contemporary and retro pieces for a glamorous, updated Studio 54-inspired look to suit the futuristic Jetsons look of the house itself.

Now the entire team is reassembling to build a pool alongside the house, inspired by Lautner's original and unbuilt design. McIlwee and Damaschke are also taking time to enjoy the house that the Garcias gave up. 'The Garcia House is one of Lautner's most iconic works,' finishes Radziner. 'Some of that is to do with the simplicity of the expression of the form – the one arched roof that spans the entire living space with that hole through the centre framing the views of the city beyond. It's one of maybe five houses in Los Angeles that defines the city clearly. It really is known as a part of LA.'

As originally featured in the January 2009 issue of Wallpaper* (W*118)
INFORMATION
For more information, visit The John Lautner Foundation website, the Marmol Radziner website and Darren Brown's website