Parker — Palm Springs, USA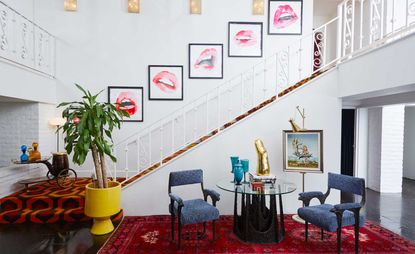 (Image credit: parkerpalmsprings.com)
So narcotic is the Parker Palm Springs with its 13 lush acres of Californian hacienda meets country estate, that leaving it induces a profound sense of withdrawal. And yet it is perhaps best appreciated from the vantage point of nostalgia – fitting for a hotel that has morphed from mid-century Holiday Inn; to Gene Autry's home for his baseball team; to a Merv Griffin owned Givenchy spa; and now to a Jonathan Adler designed wonderland.

Just as memory plays tricks, so do the Parker's many layers play with senses and sensibilities. Near the Alice in Wonderland-inspired croquet lawn, the magnificent landscape architecture by Judy Kameon, blends native plantings with leftover rose gardens from its Merv Griffin/Givenchy days, and covers up a rather 80s looking neoclassical pastiche of a ballroom with vines that give it an overgrown sense of history, evoking a magical, imagined past.

In a hotel that forbids signage, singular design vignettes pop up whimsically in unexpected places: an Andalusian inspired fountain and lamp with two chairs under a pine tree here, or a Moroccan door leading to a meeting room along a country lane-like pathway elsewhere. And guests (who regularly get lost in the labyrinth like acreage) must rely on their inner sense of wayfinding to reach their rooms.

Now a Jonathan Adler refresh has given the legendary hotel a new pop of colour and eclectic style, that in true chic choc fashion has you guessing at what is Adler's design, and what is retro find. New upholsteries, textiles, and found objects in the lobby, new stools in the bar, and a red patterned carpet (the same as in The Shining) with pop art tableaux greet patrons in the original building, while the Gene Autry villa has been re-designed to perfection with a more sophisticated – but still fun – blend of slick lacquered cabinets, safari-inspired fabrics and tribal masks and textiles. The spa has been updated with new marine inspired art and upholsteries, but the real star is the new Counter-Reformation wine bar.

Here, chef Herve Glin's generous French based plates with sunshine state twists paired with old world wines complement Adler's mix of Euro-chic and Californian whimsy, complete with tropical banana leaves and an actual confessional from Italy. With high occupancy rates, you may not necessarily check in any time you want, and you might never want to leave this delightful Californian sanctuary.
INFORMATION
ADDRESS VIEW GOOGLE MAPS (opens in new tab)
4200 East Palm Canyon Drive
Palm Springs, CA 92264