Modern Japanese houses inspiring minimalism and avant-garde living
We tour the best Japanese architecture and modern Japanese houses designed by international and local architects that open up possibilities for all types of lifestyle, from minimalist to communal in Japanese architecture.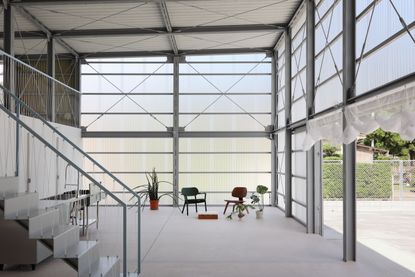 (Image credit: Kai Nakamura)
Here we tour the best modern residential Japanese houses designed by international and local architects, from inventive interiors in central Tokyo to clever constructions in Kyoto. The Japanese house has gained a reputation for being smart with space – in the face of Japan's tricky planning regulations and tight urban plots – opening up possibilities for all types of lifestyle from minimalist to communal in Japanese architecture.
THE FINEST JAPANESE HOUSES
---
Warehouse Villa in Isumi by Arii Irie Architects
Arii Irie Architects Warehouse Villa in Isumi is admittedly more warehouse than villa. 'The client needed a simple warehouse for storage, but also wanted to be able to use the space as a weekend retreat for family and friends.' With no specific need for climate control, the architects proposed an ultra-simple structure of a steel frame with 0.5mm-thin steel and polycarbonate corrugated sheets for the roof and walls. On the ground floor, there is a large open kitchen/living room, two toilets and a freestanding bathtub tucked away behind the corner of the main storage space and cordoned off with a full ceiling-height curtain. A steel staircase leads up to a mezzanine above the storage space, where visitors can camp for the night in sleeping bags.
Momoyama House by Erika Nakagawa
Japanese architect Erika Nakagawa defines her open plan weekend house in the lazy seaside town of Atami, an hour and a half south of Tokyo, as a renovation, rather than a completely new structure. The 458 sq m site, perched in the middle of a steep hairpin turn up the romantic sounding Peach (Momo) Mountain (Yama), already came with a surrounding wall made from rough fieldstones at the bottom and concrete cinder blocks at the top. Rather than tear everything down and start from scratch, Nakagawa's approach was to incorporate the existing wall and the garden into the design. Using the outer perimeter of the site as the defining outer walls of the building, Nakagawa added a large, slightly irregular shaped roof, resting on poured concrete pillars. Four glass walls enclose basic functions of the house, but it feels larger because of the floor to ceiling glass and overhang of the roof out in the surrounding garden.
Ikema House by 1100 Architect
On the secluded island of Ikema, part of the Okinawan archipelago in the East China Sea, 1100 Architect has recently completed a cliff-top home looking out to sea. Built of concrete to withstand extreme weather, the architects detailed the home with traditional Japanese materials to soften its edges. The couple who commissioned the house, an art dealer who is originally from Ikema and her husband, an engineering entrepreneur, reside permanently in Naha, Okinawa island, and had always dreamed of having a retreat in Ikema. The architects had previously completed another commission for the couple in Naha City, so they were familiar both with native construction methods, materials available and the traditional, yet contemporary tastes of their clients. 'They were primarily interested in a clean modern aesthetic, and the choice of cast concrete is a stereotypical construction method in Japan because of typhoon and earthquake requirements', says Juergen Riehm, lead architect on the project and partner at 1100 Architect.
Shofuso House by Junzo Yoshimura
Shofuso Japanese House and Gardens, a shoin house (a type of traditional Japanese residential architecture) subtly infused with modernist details, was built in Japan in 1953 by the Tokyo-based architect Junzo Yoshimura, before being shipped to America's East Coast for a 1954 outdoor exhibition titled 'The House in the Museum Garden' at New York's Museum of Modern Art. Shofuso, which moved to Philadelphia in 1957, is an expression of Yoshimura's interpretations of the Japanese classical shoin-zukuri style of architecture. 'If you want to study Japanese architecture, don't study the sukiya style,' he once said. 'Begin by studying the shoin style.' Yet Yoshimura spent his career at the heel of one of Europe's great architects of the time, learning how to fuse shoin principles with rationalist and modernist thinking. Shofuso, then, is the child of a historic connection between Eastern and Western cultures, and a hinge between nationalist tradition and internationalist modernity.

Maebashi Galleria by Akihisa Hirata
Maebashi Galleria is the latest in the string of revitalisation projects involving an impressive roll call of top international and Japanese architecture, design and art scene names, that are putting Maebashi in mountainous Gunma prefecture, northwest of Tokyo, firmly on the country's creative map. With this newest opening – a new complex fusing art galleries with residences – the transformation of a sleepy former silk-making city in rural Japan into a major creative hub has taken a leap forward. Innovation has long been threaded through the DNA of the small city, which flourished for centuries as a progressive silk production hub. More recently, countering its industrial decline, its creative projects are increasingly in the spotlight, including the landmark Shiroiya Hotel by Sou Fujimoto which opened in December 2020. Maebashi Galleria, just five minutes on foot from the hotel, was designed by architect Akihisa Hirata. Transparent and light, the four-storey building – configured from 13 staggered layers of stacked box-like units wrapped in greenery, that seemingly hover above the ground – is home to two gallery spaces, 26 residences and the French restaurant Cépages.
Tane Garden House by Atelier Tsuyoshi Tane Architecture
Tane Garden House is the latest addition to be revealed at the Vitra Campus in Weil am Rhein. The building, created by French-based, Japanese architect Tsuyoshi Tane (a participant in the 2018 Wallpaper* Architects Directory), was inaugurated this week during Art Basel 2023 and represents an immersive garden structure that draws on ideas of nature and memory. 'Like archaeologists, we begin a long process of exploration and digging up the memory of a place. It is a process of surprise and discovery, a quest to encounter things we did not know, what we had forgotten, what has been lost through modernisation and globalisation. I believe that a place will always have memories deeply embedded in the ground and in history. And that this memory does not belong to the past, but is the driving force that creates architecture. Through this process of thinking about the future from the memory of a place, archaeology gradually becomes architecture,' said Tane.
Shigeru Ban houses at the Simose Art Museum in Hiroshima
With the opening of a series of Shigeru Ban houses at the ambitious Simose Art Museum project outside of Hiroshima, fans of the architect now finally have an opportunity to experience some of Japanese architecture's most iconic homes first hand. The new museum, also created by the architect and opening on 1 April 2023, offers a holistic experience of Japanese design, art, craft and Shigeru Ban's work. With three sides made entirely of floor-to-ceiling sliding glass doors, Wall-Less House by Ban, originally from 1997, does indeed appear to be little more than a slab floor and floating roof. The windows open wide to blur the border between inside and out. The architect's Paper House, built using 110 paper tubes, with a single oversized one housing the toilet, is a testament to the architect's well-known fascination with the particular material – and a true joy to experience up close.
Kubomi Apartments by Organic Design Inc
Conceived as a 'pocket in the city,' the Kubomi Apartments by Organic Design Inc are set in the sprawling Tokyo suburbs, a short trip from the city centre. The project was created as compact studios for the area, which has high demand for pied-a-terre homes due to its nearby hospital and nursing school. The minimalist, flowing design is centred on a main, shared courtyard, which serves as a place for meeting and socialising for the residents, as well as the wider community. 'As a strategy for encouraging community members to use the courtyard, we incorporated curved walls that invite passersby to slip into the concave "hollow." We also visually integrated the courtyard and sidewalk by using the same asphalt to pave both, further encouraging people to gather in the "hollow",' the architects write.
C4L by Hitoshi Saruta / CUBO design architect
C4L is a modern Japanese house with a traditional twist. The residence, situated in the heart of Tokyo, draws on traditional Japanese architecture as well as notions of home, designed by Hitoshi Saruta and his studio, CUBO design architect. Saruta and his team took their cues from Junichiro Tanizaki's book on Japanese aesthetics, In Praise of Shadows, which places an emphasis on 'materials and furnishings whose beauty and comfort can only be fully appreciated in the half-light of a traditional home', the team explain. 'In traditional Japanese homes, deep eaves linked the interior with the garden,' the architects continue. This allowed the structures to have soft light inside, keeping the interiors layered and gentle, while the gaze is turned towards the much brighter garden outside. The same principles were employed in this project in order to play with shadow and light to create a comfortable domestic space.
Kenzo House by Kengo Kuma
Ok, while this is technically not located in Japan, Kenzo House is still a fine Japanese house -as well as one of Paris' better kept secrets. The home of legendary fashion designer Kenzo Takada, it sits in the French capital's 11th arrondissement, and while it was initially created by Takada himself in 1988, it was redesigned thoroughly by Japanese architecture master Kengo Kuma in 2017, which brought the property to its current iteration: an architectural slice of Zen within Paris' bustling metropolis. Now, following Takada's passing in 2020, it has come on the market via the property specialists at Christie's. Kenzo's work mixed Eastern and Western influences, as well as a passion for colour, light and nature. Kuma kept this spirit when reworking the house, blending in the Parisian setting traditional Japanese building materials, such as ceramic, stone, bamboo, and wood. 'With it, we can experience nature more deeply and more intimately,' Kuma said. 'Transparency is a characteristic of Japanese architecture; I try to use light and natural materials to get a new kind of transparency.'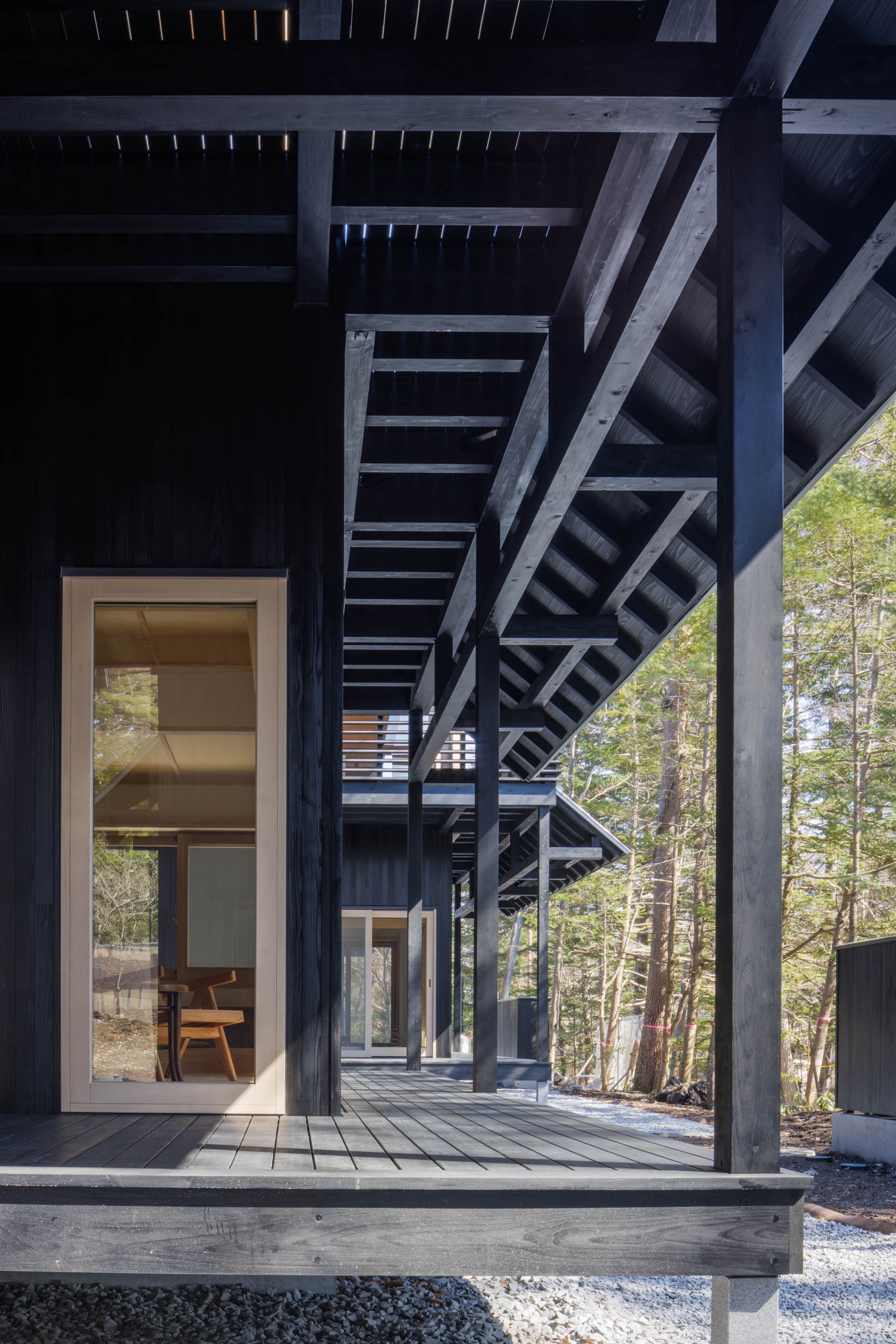 SSH No.03 by Ryue Nishizawa
SSH No.03 is the third piece of architecture to open at Shishi-Iwa House Karuizawa, the ambitious Japanese hotel that taps into the potential of quality architecture to impact emotions and enhance wellbeing. The new Japanese architecture addition comprises a scattering of minimalist black 'boxes', appearing to float in the forest, separate yet connected, with hovering walkways, corridors and hidden gardens just visible through the trees. An unfolding dialogue between nature and architecture takes centre stage. SSH No.03 is the brainchild of Ryue Nishizawa and marks the established Japanese architect's first hotel project, set to open in May 2023 in Karuizawa, the scenic mountain town an hour by bullet train from Tokyo. Nishizawa's creation sits alongside two existing timber structures designed by fellow Pritzker Prize-winning architect Shigeru Ban. The spaces are just minutes apart on foot, surrounded by forests and mountains. SSH No.03 consists of a modular network of ten, discrete two-storey pavilions, defined by angular tilted roofs, black façades of charred cedar cladding and cut-out windows. In a sharp visual contrast, the interiors offer a distinct sense of lightness – with every structural element (from floors to ceilings, walls, cupboards, and bathtubs) wrapped in pure white aromatic hinoki cypress wood, a long-revered Japanese species typically used in imperial residences, shrine and temples.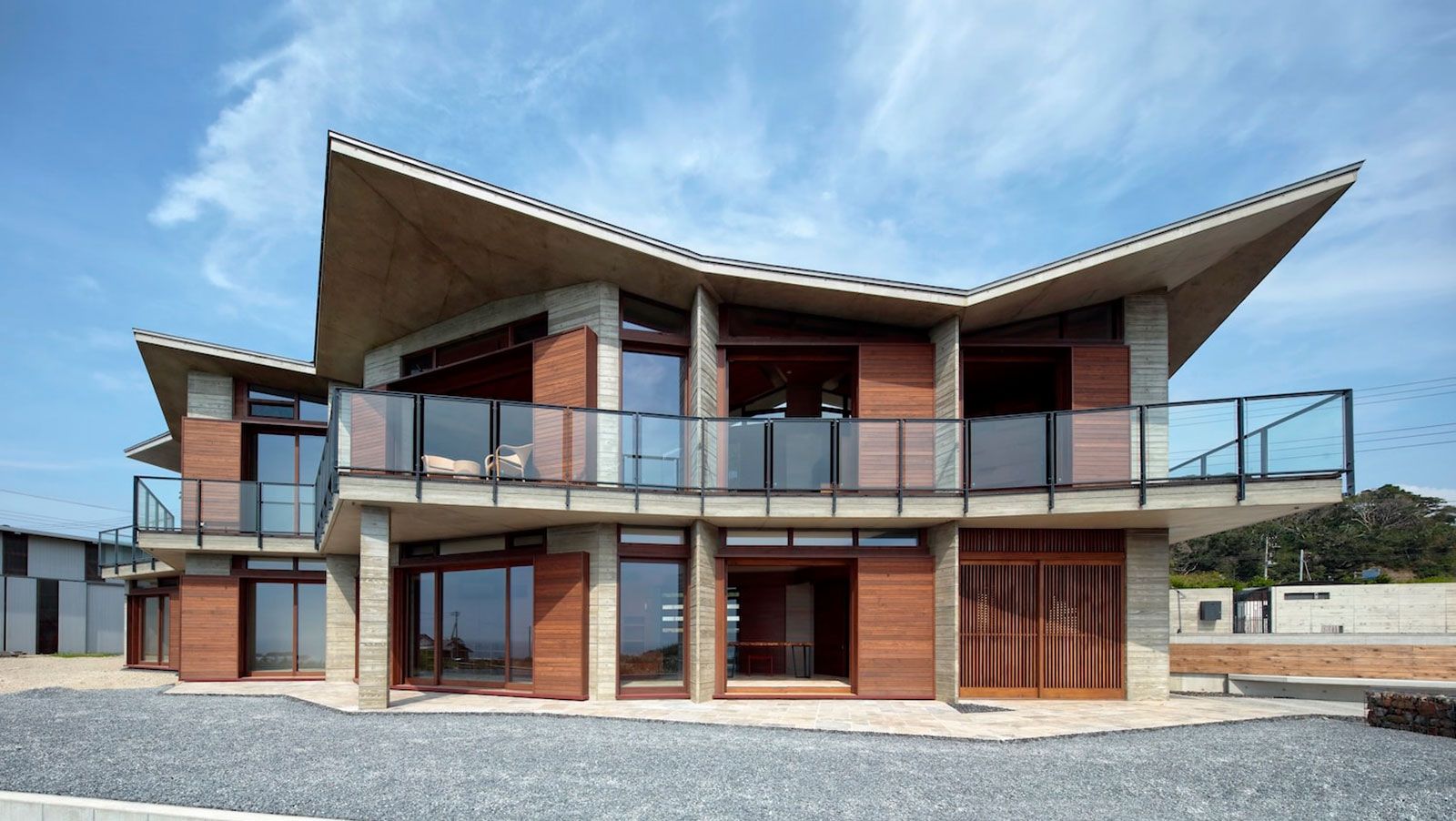 Villa MKZ by Takeshi Hirobe Architects
Villa MKZ by the Japanese architecture studio of Takeshi Hirobe takes its cues from its site; quite literally so, as the unusually shaped building was formed by following the buildable outline of its plot, resulting in an expressive, angular, striking roof that defines its identity. This parcel of land, while enviably perched on a hillside offering long views of Japan's Minamiboso City and the sea in the distance, was tricky to design for, as it is steeply sloped, featuring a rocky outcrop that made it hard to build. Yet a clever system of shapes and an open mind allowed Hirobe to craft his project – a weekend home for a private client. Kanagawa-based Hirobe and his team weaved the footprint of the main home around the site's restrictions – while a guest suite is located on the opposite end of the site. 'At our first client presentation, we proposed a plan comprised of interconnected triangles, but this design was not rigidly fixed; rather, our approach allowed for the forms to be adjusted by "pinching" the roof peaks as we developed a more detailed plan,' the architect explained. 'We gradually adjusted the peaks in response to client requests regarding the interior, so that each roof segment contained a space appropriately scaled for its use.'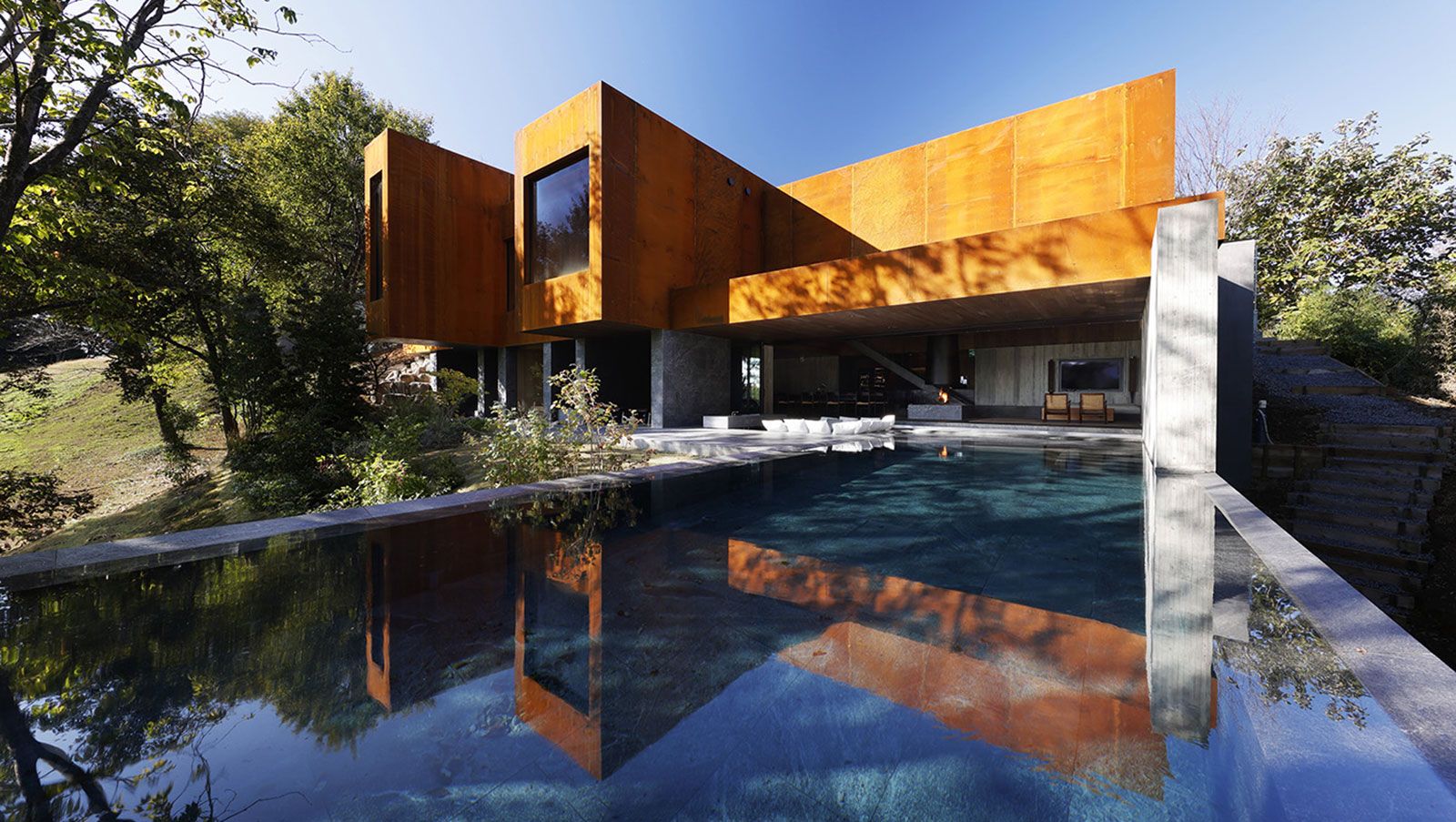 Not A Hotel in Japan, by Shinji Hamauzu and Suppose Design Office
When Shinji Hamauzu quit working for Zozo Group, one of Japan's leading fashion retailers, in early 2020, he told his friends he wanted to go into the hotel business. Everyone advised him against it. 'This was in the middle of Tokyo's Covid lockdown and everyone thought I was crazy,' he says. Hamauzu persevered. He wasn't planning on 'just' building and running yet another hotel. He wanted to do things differently, and to highlight this, and partly in jest, he named his new venture 'Not A Hotel'. 'It was important to signify that we were completely different from your regular hotel,' Hamauzu explains. 'The usual route to building a hotel is to secure funding, build, and then start selling rooms by the day and hope for a good occupancy rate.' But instead, Hamauzu intended to treat each 'room' as a timeshare, selling it to 12 people, each getting 30 days' worth of use. He also planned to first find a great location and get a well-known architect to design the property, and then sell the timeshares online off the back of renderings and drawings. Only when the capital had been secured would construction begin.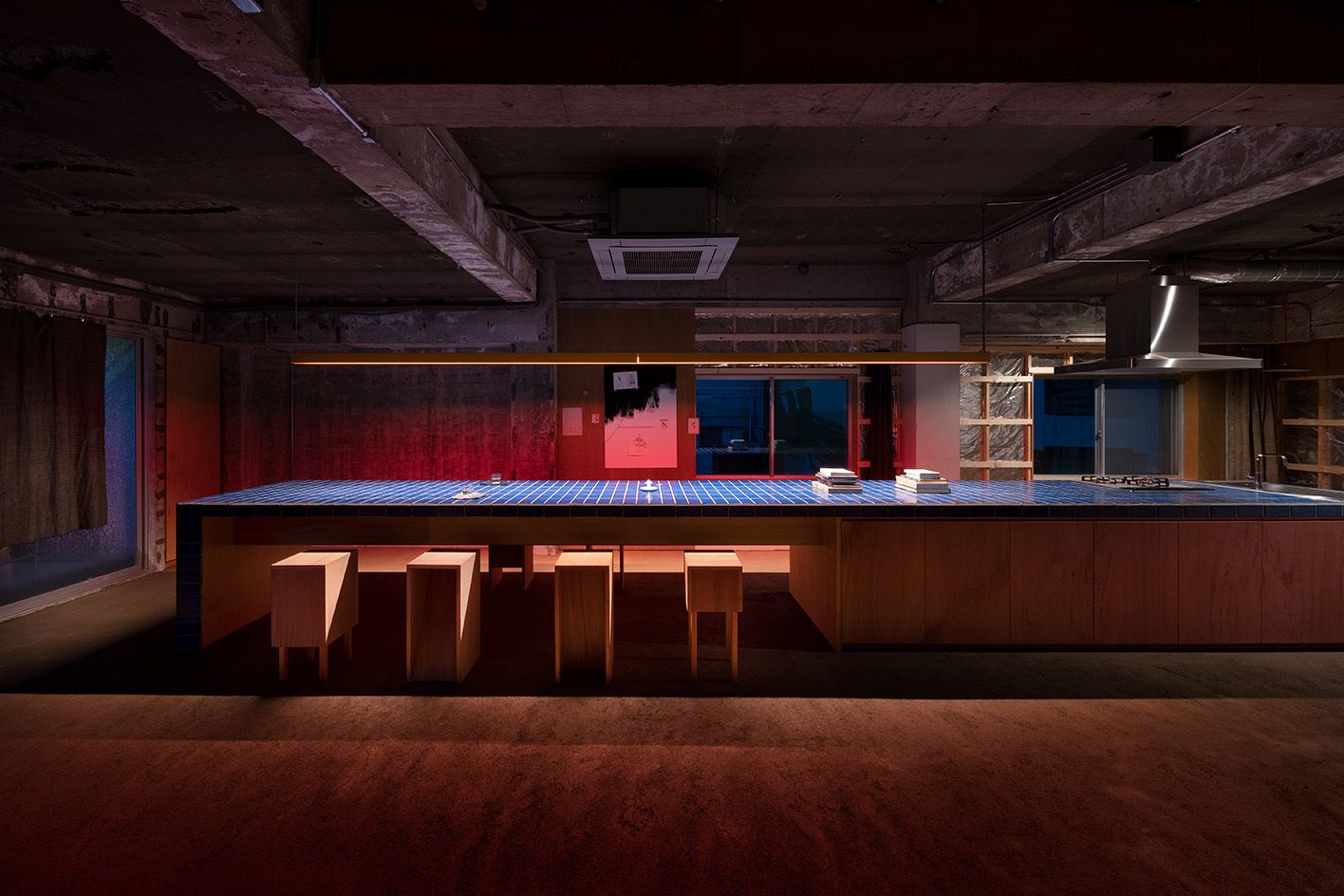 Fishmarket for Hiraki Sawa by Ab Rogers
The origins of this brutalist artist's studio can be found in a Thai festival. The designer Ab Rogers and the artist Hiraki Sawa met at the annual Wonderfruit cultural gathering in Thailand in 2018 and bonded over fish, particularly yellowfin tuna. Both are keen cooks and it got them thinking about cooking, eating and creativity, creative time and space. Sawa, who studied at Slade School of Art under British artist Phyllida Barlow and is best known for short films and collage-base animation, splits his time between London and Kanazawa, where he grew up. In 2019 he took over a raw, empty office space in the Japanese city, initially planning to establish a small co-working space with a business partner. He then changed tack and set on creating something more adventurous and typology-busting, what he calls a 'co-being' space.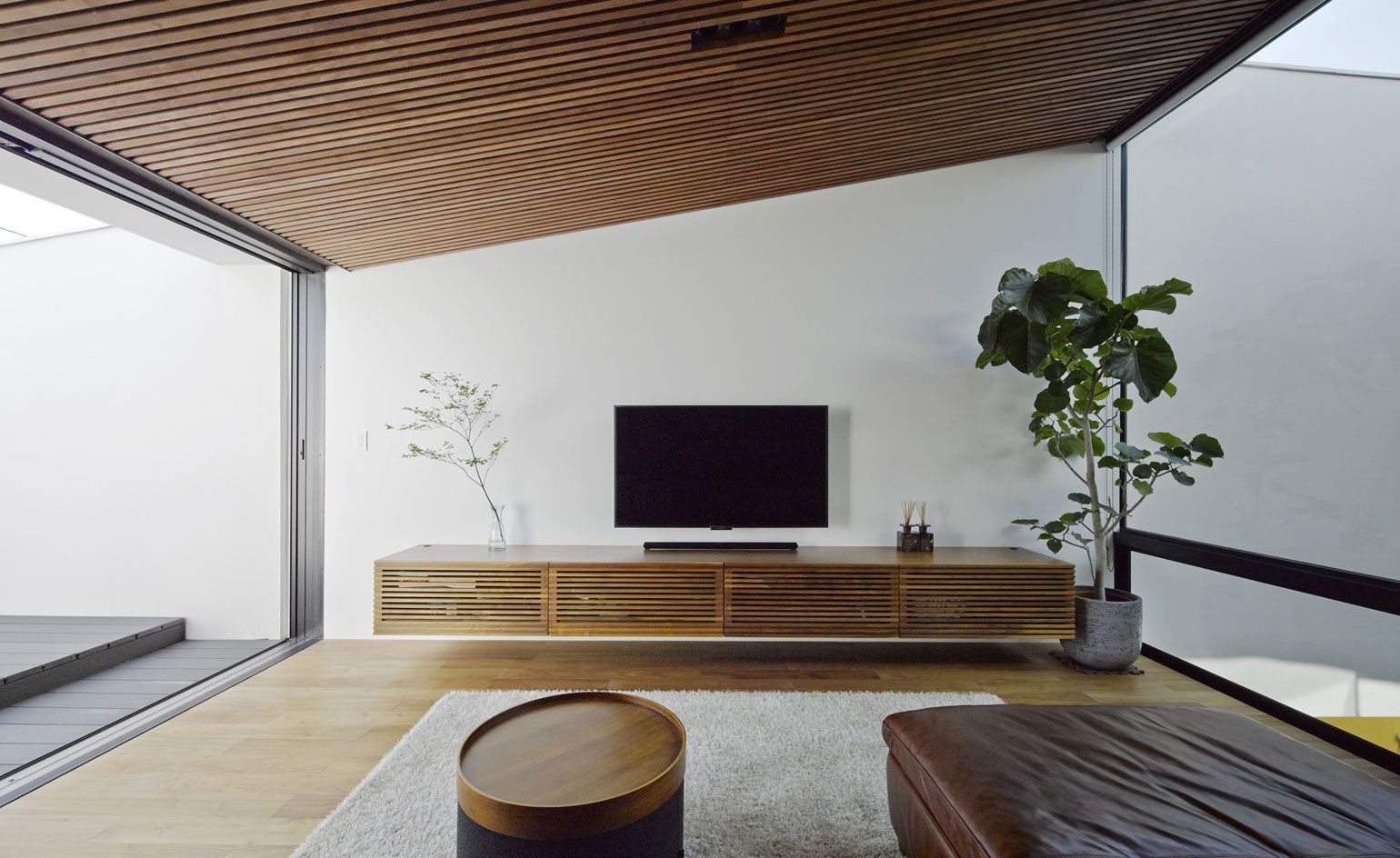 Wave House by Apollo Architects & Associates
Shaped around the idea of a resort hotel, this Japanese family home in Fujisawa, Kanagawa is a restful haven for any sea-lover, positioned a mere two kilometres from the ocean. The client, an avid surfer with family in-tow, acquired the land to build a home, which would be functional and robust enough to serve everyday life activity whilst maintaining a relaxed 'holiday' feel. The commission for Wave House went to Apollo Architects & Associates(opens in new tab), headed by Satoshi Kurosaki. The team began with a U-shaped plan built around a ground floor open-air courtyard. A family memorial tree stands regally at its heart; a symbolic growing process to be observed from both ground and first floor levels. The void also separates visually the living and kitchen/dining spaces on the first floor; these are internally connected by a couple of steps. The glass walls reflect the blue sky above, referring to the blue ocean nearby. A wide corner window ensures the open-plan kitchen and dining area gets natural light from both sides.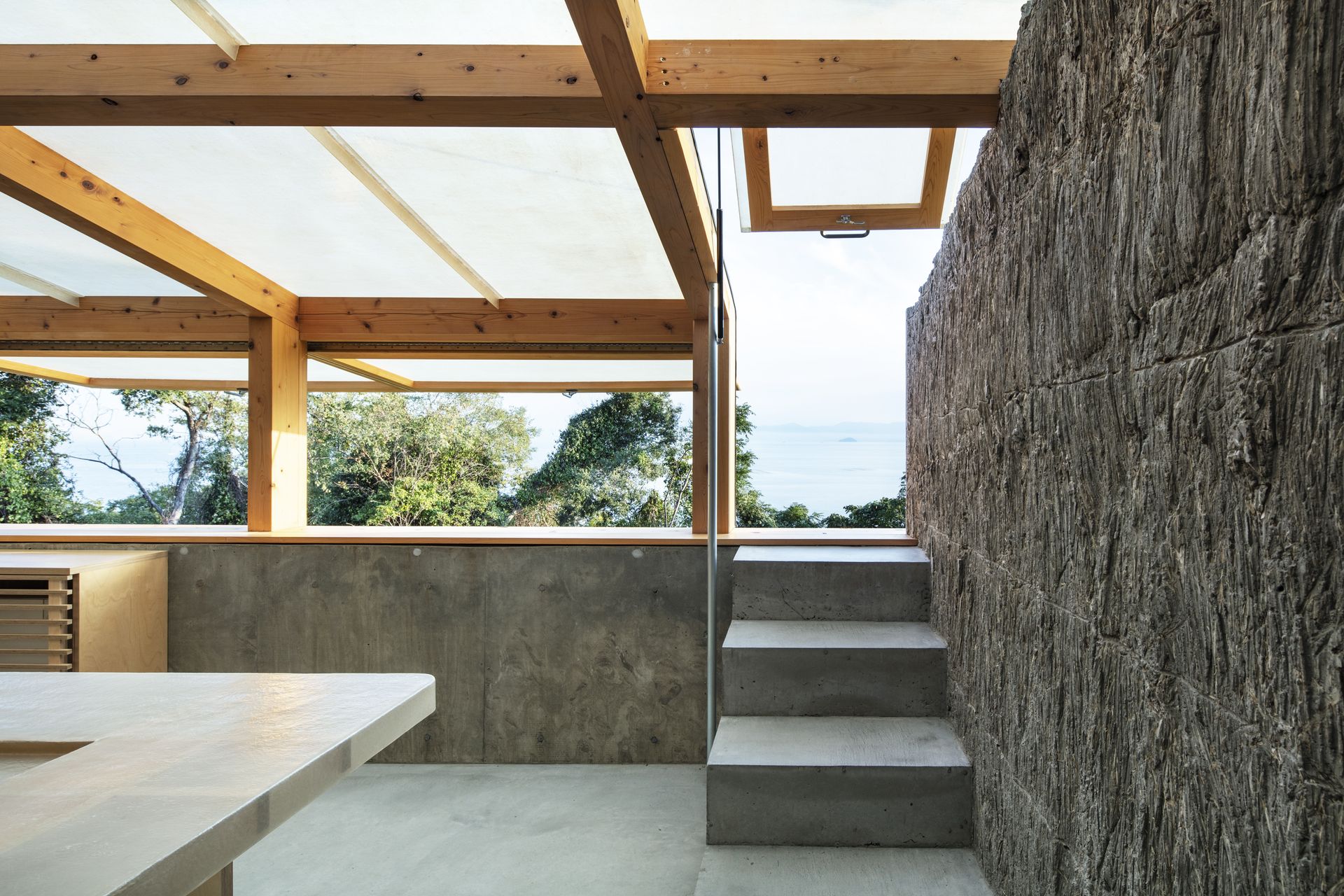 Tiny house by Schemata Architects
This tiny house, perched on a slope overlooking the Seto Inland Sea, is the perfect lookout point to take in the idyllic surroundings, comprising green nature and blue waters. Situated on one of the many small islands of the Japanese archipelago, the compact structure is a guest house – part of the grounds of a larger property, K Residence. The new building, along with a smaller dining pavilion next to it, are the latest additions to a universe of structures that compose K Residence, and have been designed by Tokyo-based Schemata Architects, headed by the studio's founder Jo Nagasaka. Conceived as a miniature house to host family members and friends, when visiting the main house's residents, the guest house offers spartan accommodation and welcome isolation, within minimalist architecture surrounds.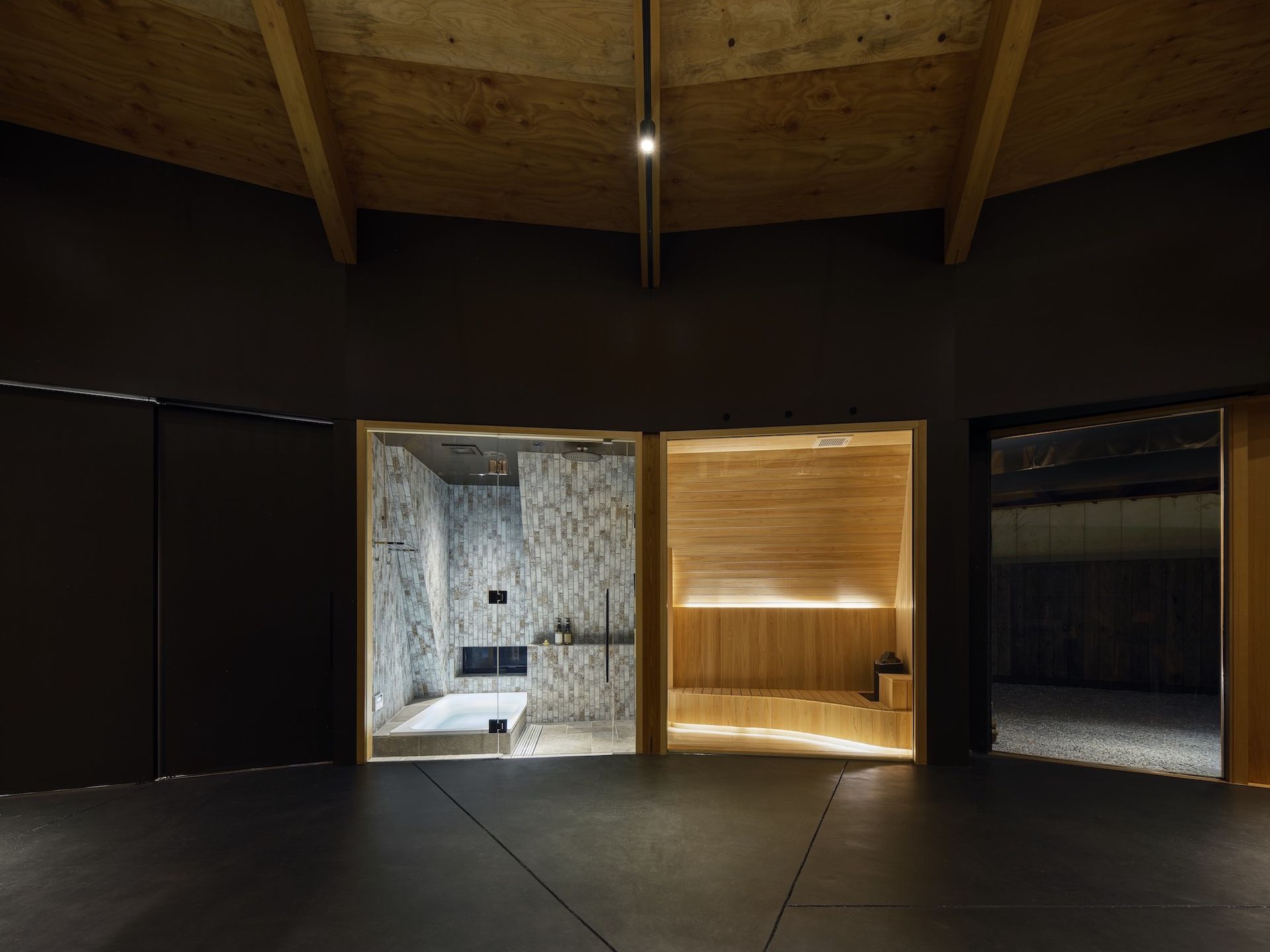 The Circus by Hitoshi Saruta of Cubo Design Architect
The typical circus tent structure, with its round shape, discrete, repeating facets, and tensile nature, served as the inspiration for this new holiday home in Japan's Chiba prefecture. Designed by architect Hitoshi Saruta of Tokyo-based studio Cubo Design Architect, the house, aptly titled The Circus, was a commission for a car-loving client, conceived as a space where they can 'spend time with cars'. The Circus' shape was chosen for the flexibility it offers and its ability to provide generous interiors where the client's cars can sit on proud display. At the same time, from the outside, it remains discreet – if rather mysterious – in its dark-coloured, opaque shell reminiscent of the circus tent structure form. 'In contrast to a typical house with a built-in garage, the aim here was to blur the boundaries between people, cars, and rooms in a relaxed environment,' the architect writes.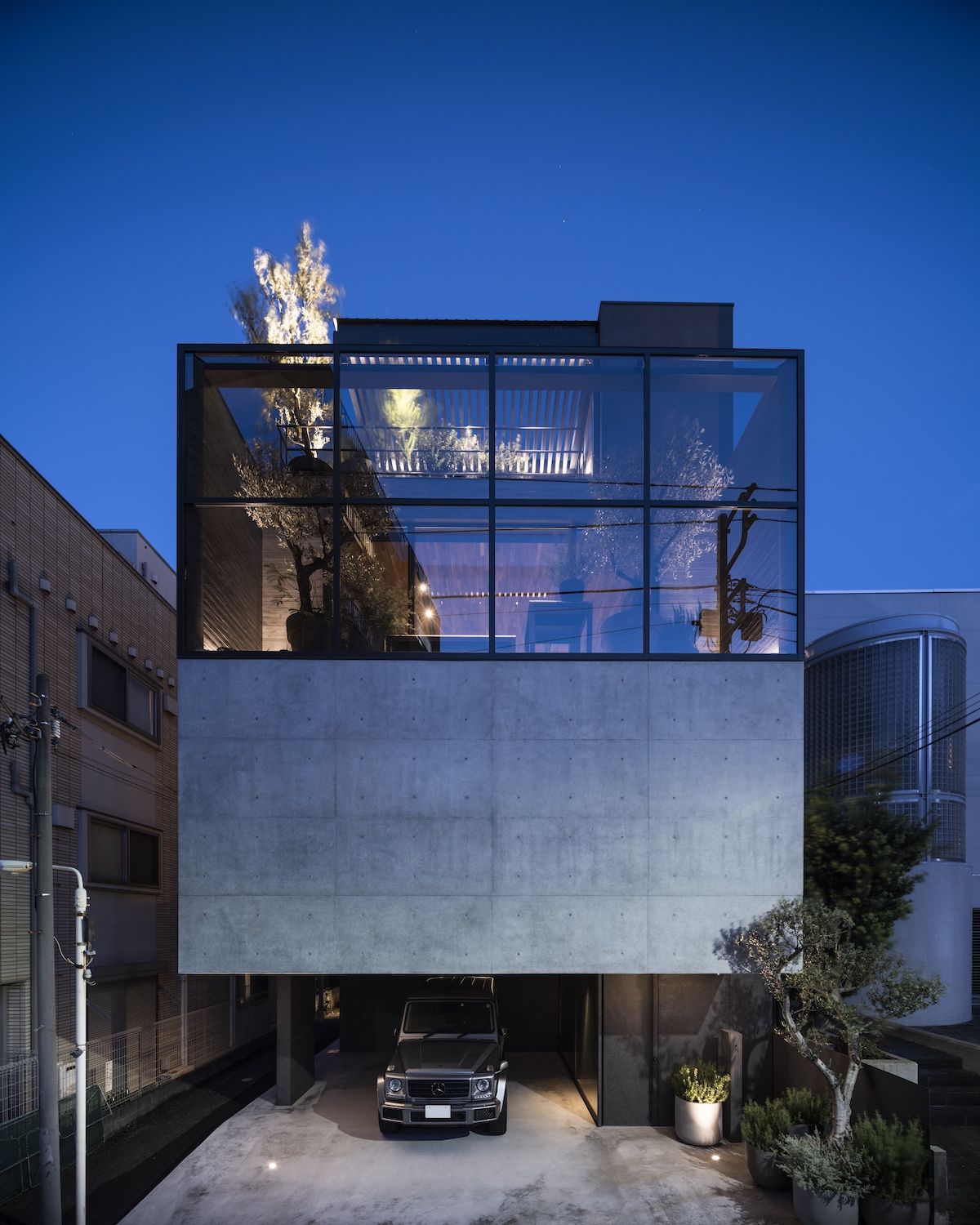 Esprit by APOLLO Architects & Associates
This sleek home in a quiet residential corner of Tokyo's Shibuya district is defined by its blocky concrete volume, which appears opaque and mysterious on the lower levels, but becomes light and transparent as guests move upwards. Titled Esprit, and designed by architect Satoshi Kurosaki, who heads the local studio APOLLO Architects & Associates, the structure also features an airy two-car piloti garage that marks its entrance. The client - a family with children - can now enjoy a minimalist space that feels generous and open, however protects their privacy through tricks of the trade, such as one-way glass and semi-open in-between areas filled with plants. Tasked to create a home where from the owners can also comfortably work if needed, the architects ensured Esprit features all mod cons, such as a separate gym, a library, a concealed rooftop garden, and a chef's kitchen.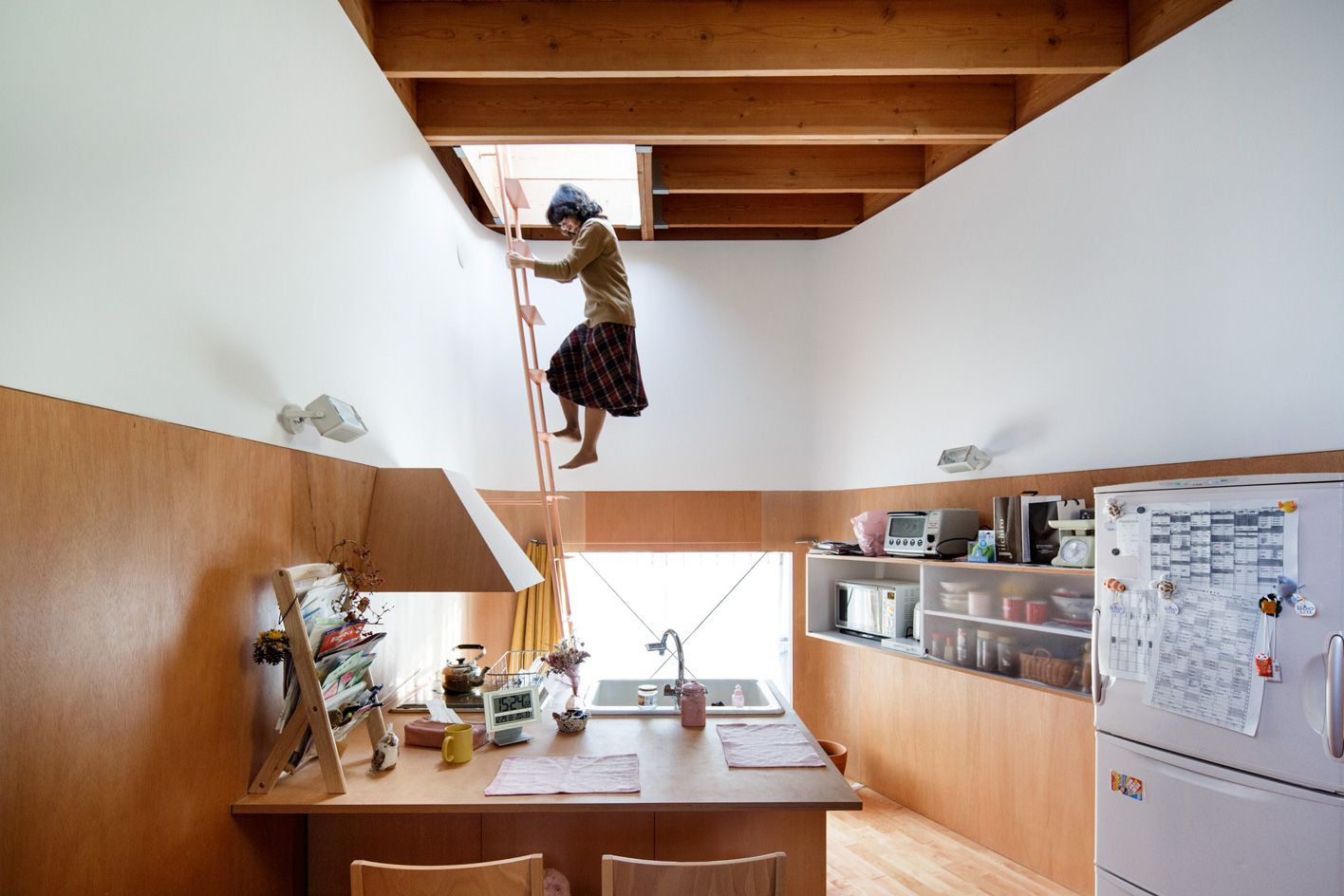 Maison Aki-Shima by Taira Nishizawa
Maison Aki-Shima was built in 2004 in Akishima, Tokyo, by architect Taira Nishizawa. Unlike homes in many Western nations, Japanese residences depreciate rapidly in value over time. As argued by economists Richard Koo and Masaya Sasaki in a 2008 report, a typical home loses all economic value within 15 years of being built. Houses, too, have a limited physical lifespan – an estimated average of twenty years for wooden buildings, and thirty for concrete structures.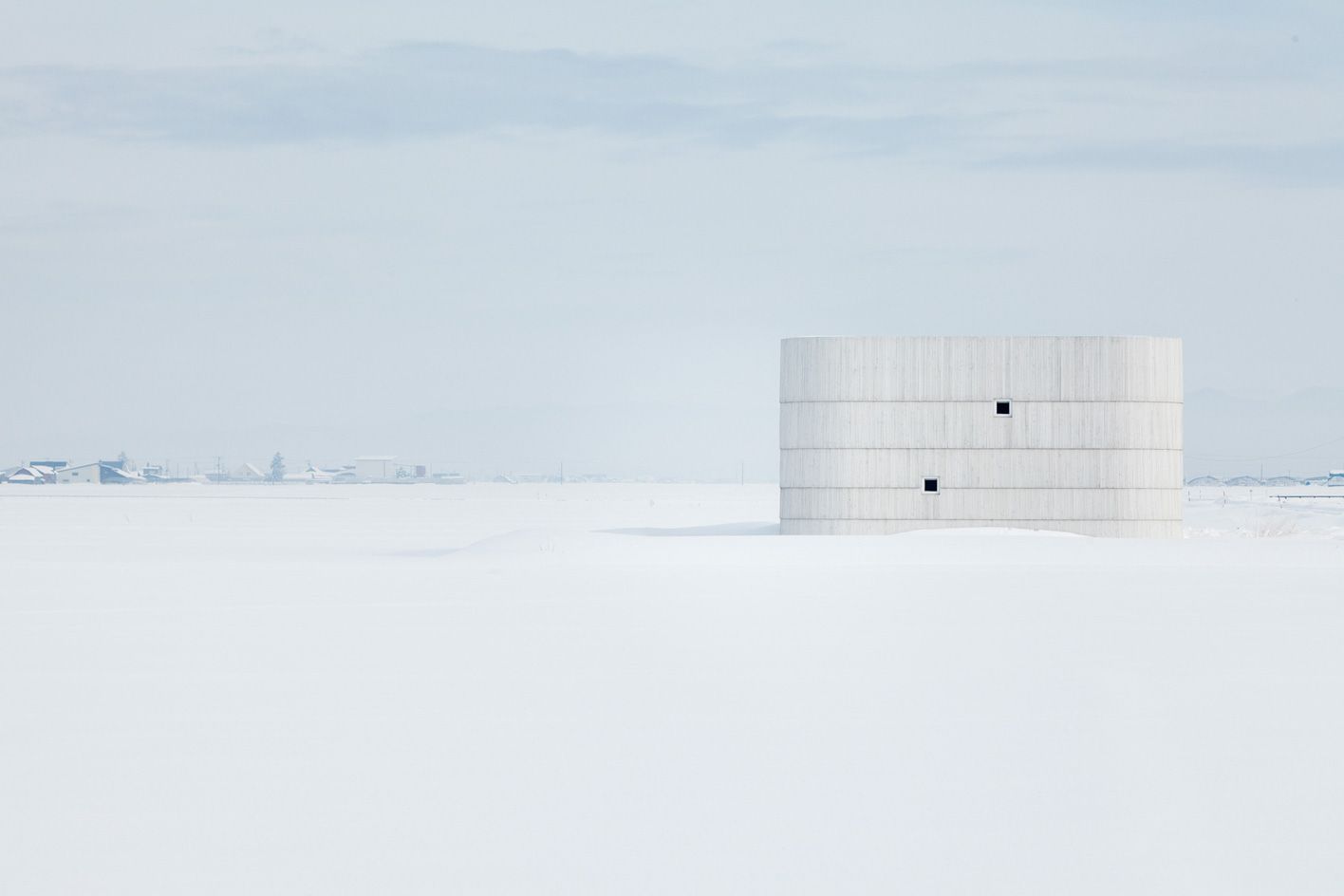 Repository by Jun Igarashi Architects
Repository, built in 2012 and conceived by Jun Igarashi Architects, sits on the outskirts of Asahikawa, on northern Japan's Hokkaido island. The region sees a drastic temperature swing of 60°C between summer and winter, and so the house has been designed with this mind, featuring only small openings and plenty of insulation.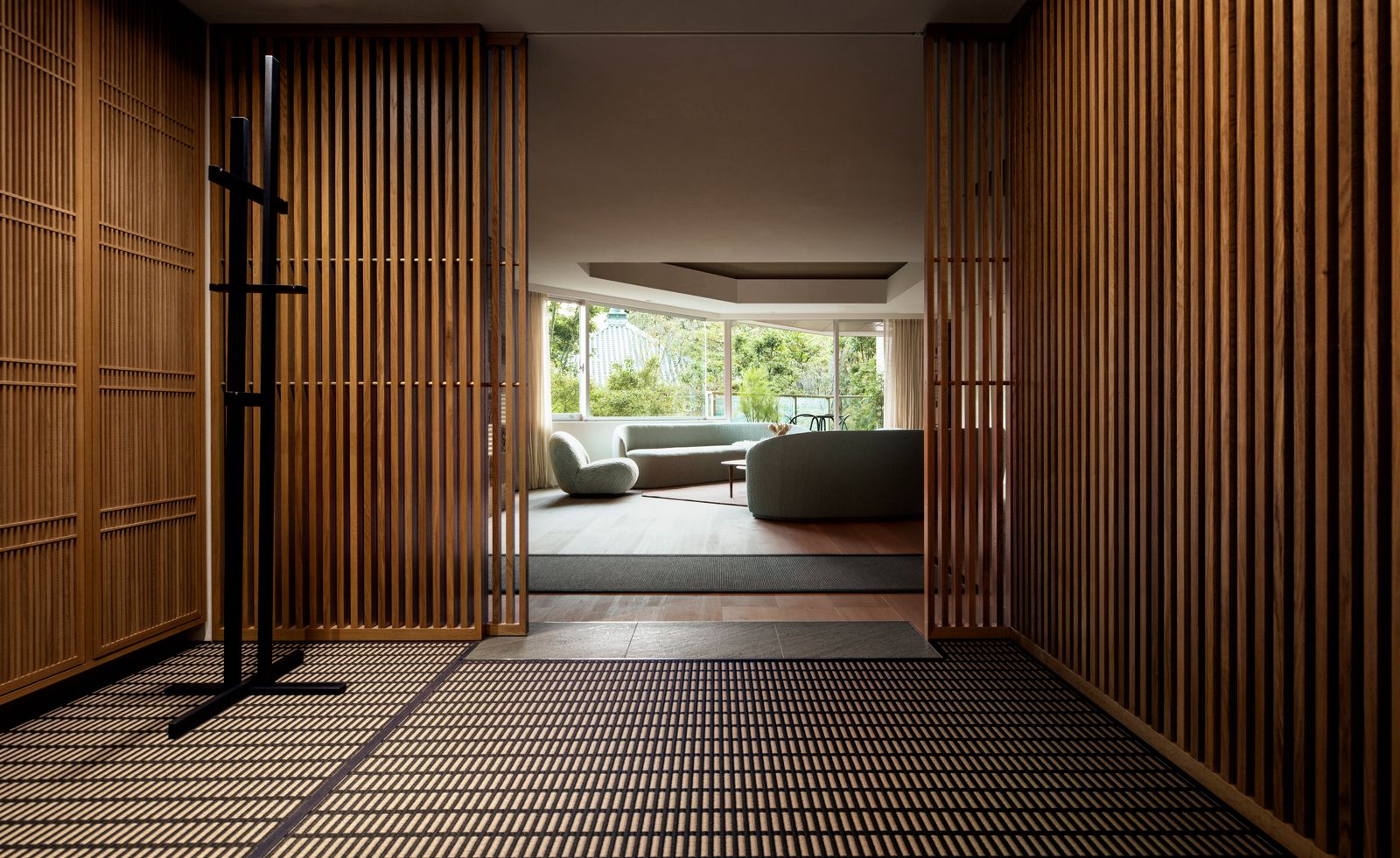 Opus Arisugawa Terrace & Residence by OEO Studio
Copenhagen-based OEO Studio brings a Scandinavian sensibility to Japanese design codes with the completion of a Tokyo apartment at Opus Arisugawa Terrace & Residence. Marrying a clean aesthetic with locally sourced materials, the result intertwines references in a nod to both cultures. The luxury apartment is a collaboration between OEO Studio and Japanese property developer ReBita, with the former drawing on its design heritage for key elements throughout. The kitchen, designed by OEO Studio, was crafted in Denmark by Danish brand Garde Hvalsøe and comes complete with its distinctive handcrafted cabinetry. In the living room, furniture by Gubi, Stellar Works and Brdr Krüger makes an elegant foil for wall art by Finnish artist Jaakko Mattila and Danish photographer Søren Rønholt. Read more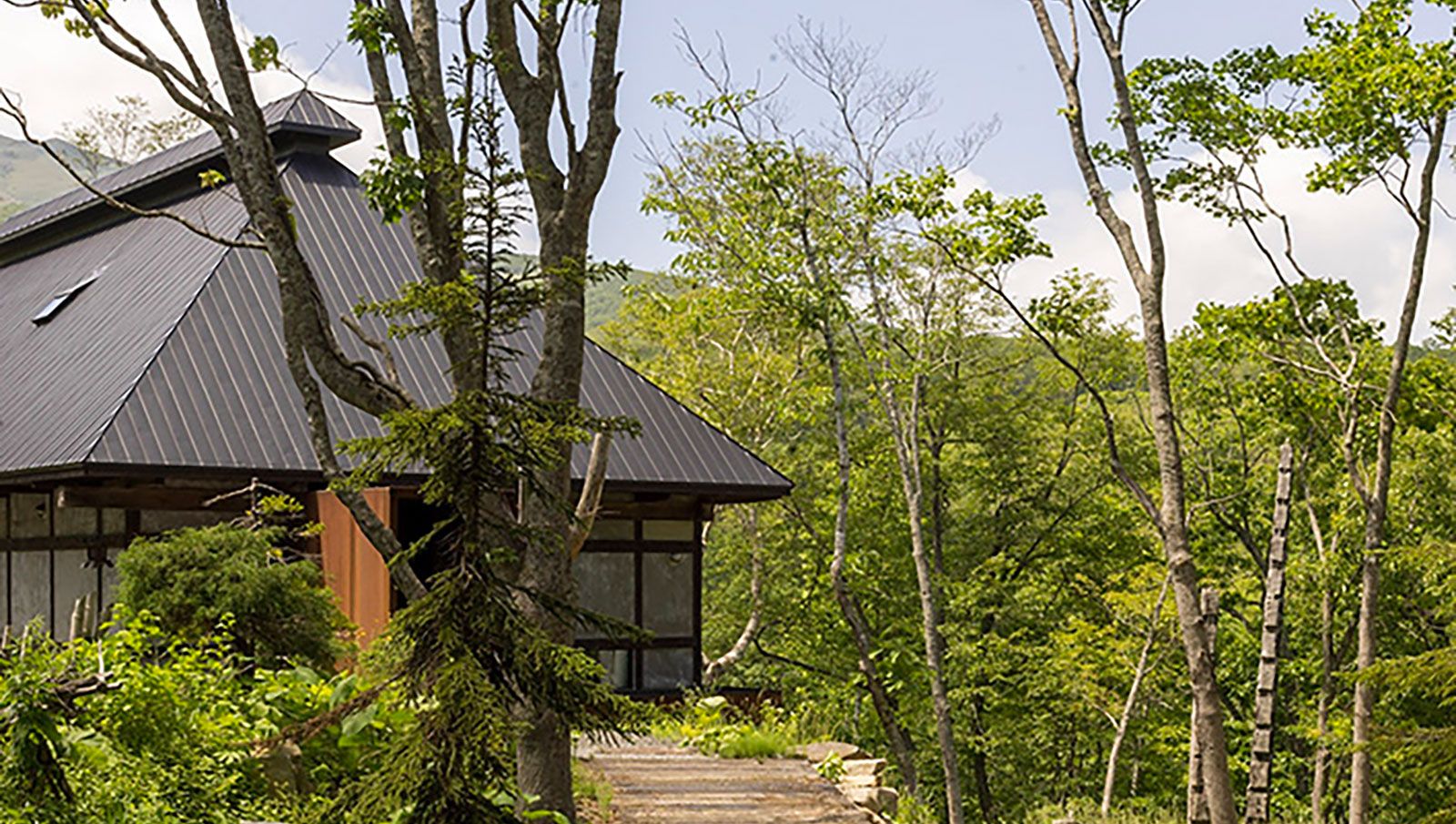 Shiguchi by artist and collector Shouya Grigg
Shiguchi was born out of the vision of one man – artist and collector Shouya Grigg, who transformed a group of centuries-old farmhouses into a cultural haven that bridges Japanese heritage and hospitality, and modern luxury in an unspoiled secluded valley in Hokkaido, the country's northernmost island. Fascinated by the monumental architecture of the A-frame-shaped, thatched, pitch-roofed rural farmhouses (kominka) that dot the Japanese countryside, in 2015, Grigg found an abandoned dwelling of this typology in Tochigi, and had it carefully dismantled, beam by beam, by a team of master craftsmen. It was relocated and reassembled near his home (and a previous creative hospitality project he spearheaded), the contemporary ryokan Zaborin, in the ski resort of Niseko. Read more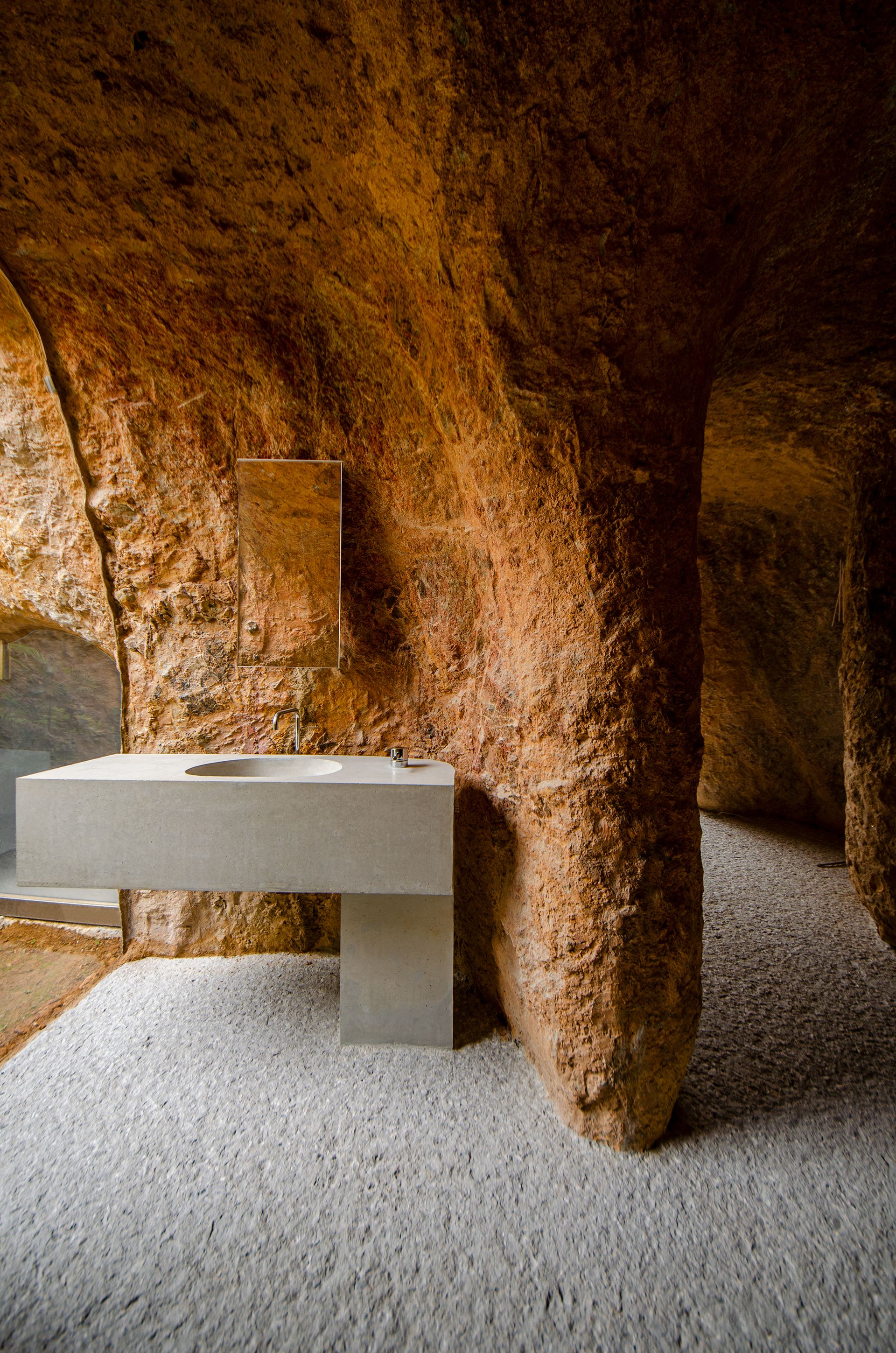 Home/Restaurant by Junya Ishigami
When we first heard about Junya Ishigami's idea for an unusual, cave-like house and restaurant design in Yamaguchi back in 2018, we knew we had to come back when the project was completed. This is one of those designs that push the envelope for what architecture can be. Even though relatively small in size, the project has been nine years in the making; three for the design phase, and six for the actual construction. The result is a unique piece of Japanese architecture, and the product of a visionary mind, some hefty poured concrete and a painstaking, archeology-like excavation. Ishigami's client wanted a distinctive, earth-inspired space that would serve both as an intimate restaurant and a home for his family. Ishigami's proposal included a radical construction method. A carefully thought-out moon-like landscape of holes was dug out of the 914 sq m site, then filled with reinforced concrete. The cavities surrounding the concrete were excavated to reveal a seemingly random, but actually carefully designed, configuration of interconnecting 'caves' making up the structure's almost 200 sq m floor plan. Read more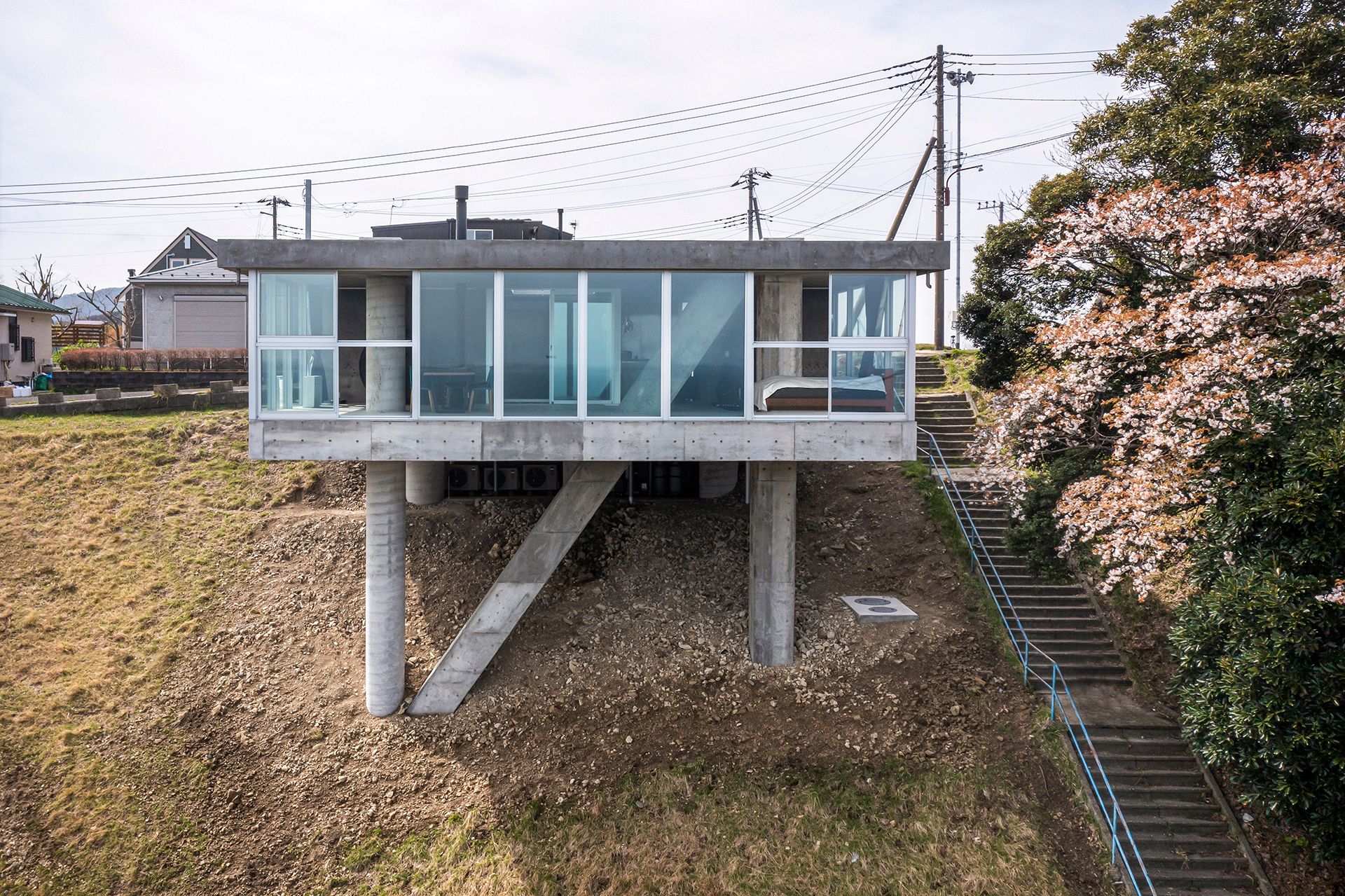 Torus House by Noriaki Hanaoka Architecture
Its challenging, steeply angled plot helped define the identity of this new Japanese house in Chiba prefecture. Torus House, designed by Tomi City, Nagano-based Noriaki Hanaoka Architecture, is perched boldly on its hillside site, gazing towards north-facing views of buildings and nature, and the sea beyond. Made largely out of concrete, the house feels sturdy and solid, yet sits lightly on the slope, wrapped in swathes of glazing and glistening in the summer sun. Dramatic on the inside, as it is on the outside, Torus House is composed internally of one, big flowing space. This open plan arrangement contains living, kitchen, dining and bedroom areas. The openness and the lightness rendered from the glass walls and expansive views, combined with the plot's incline, make the interior feel like it's floating above the landscape. At the same time, the strong concrete pillars, braces and slabs anchor it firmly to the ground. Read more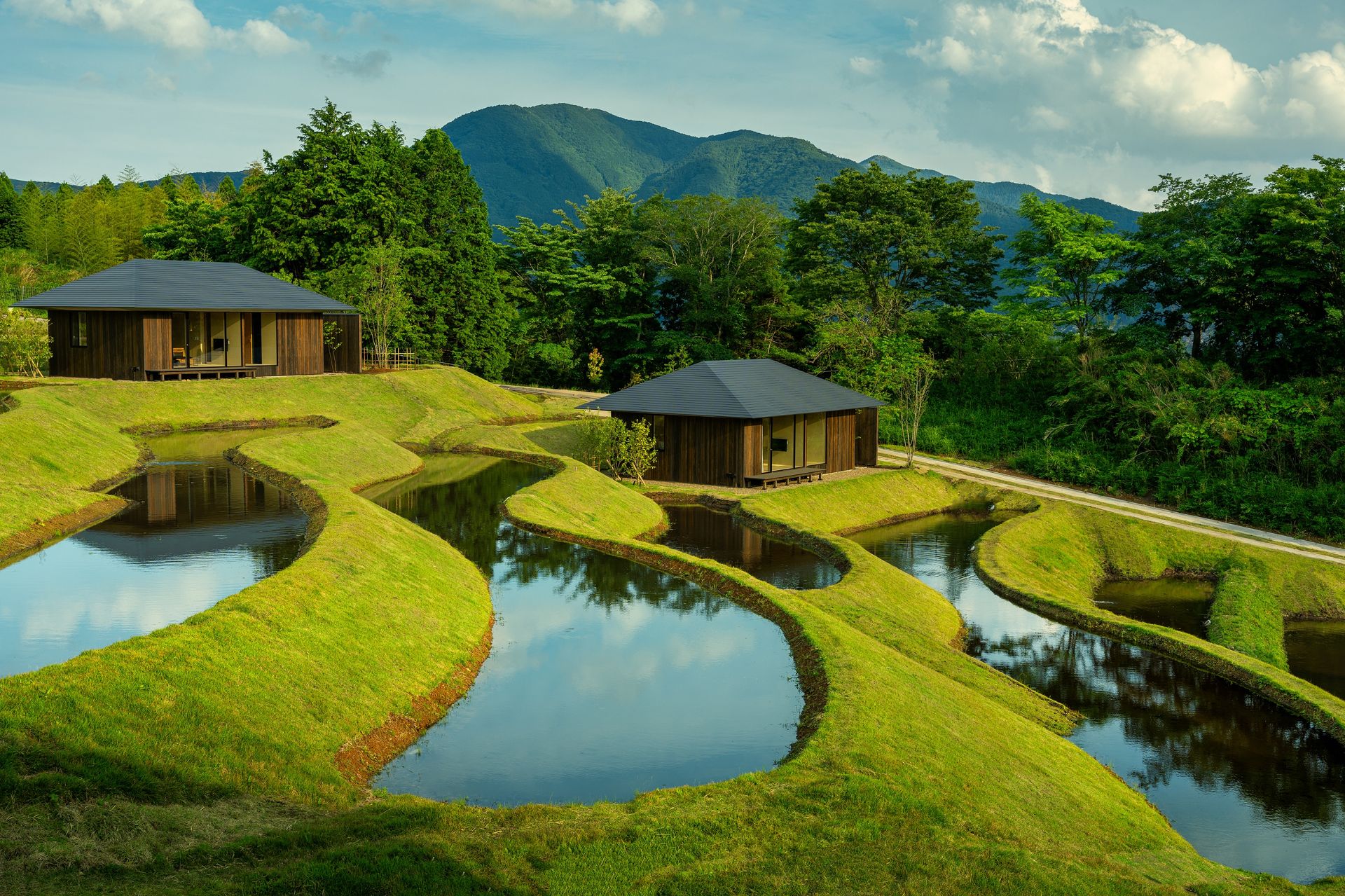 Kai Yufuin by Kengo Kuma
Built around a cascading valley of rice terraces that reflect the horizon's endless play of colours, the Kai Yufuin hot spring ryokan by Hoshino Resorts, is one of Kengo Kuma & Associates' latest works. Composed of a public building, a bathhouse, guest rooms and separate villa suites, the project is defined by elements of traditional Japanese architecture and the region's farmhouse vernacular that form the basis of the design. Located on the island of Kyushu in the Ōita Prefecture, famous for its hot springs especially in and around the city of Beppu, the Yufuin valley basin has an abundant resource of mineral-rich water. Both these elements unite in this project to form the identity of Kengo Kuma's newest Japanese hospitality offering. Read more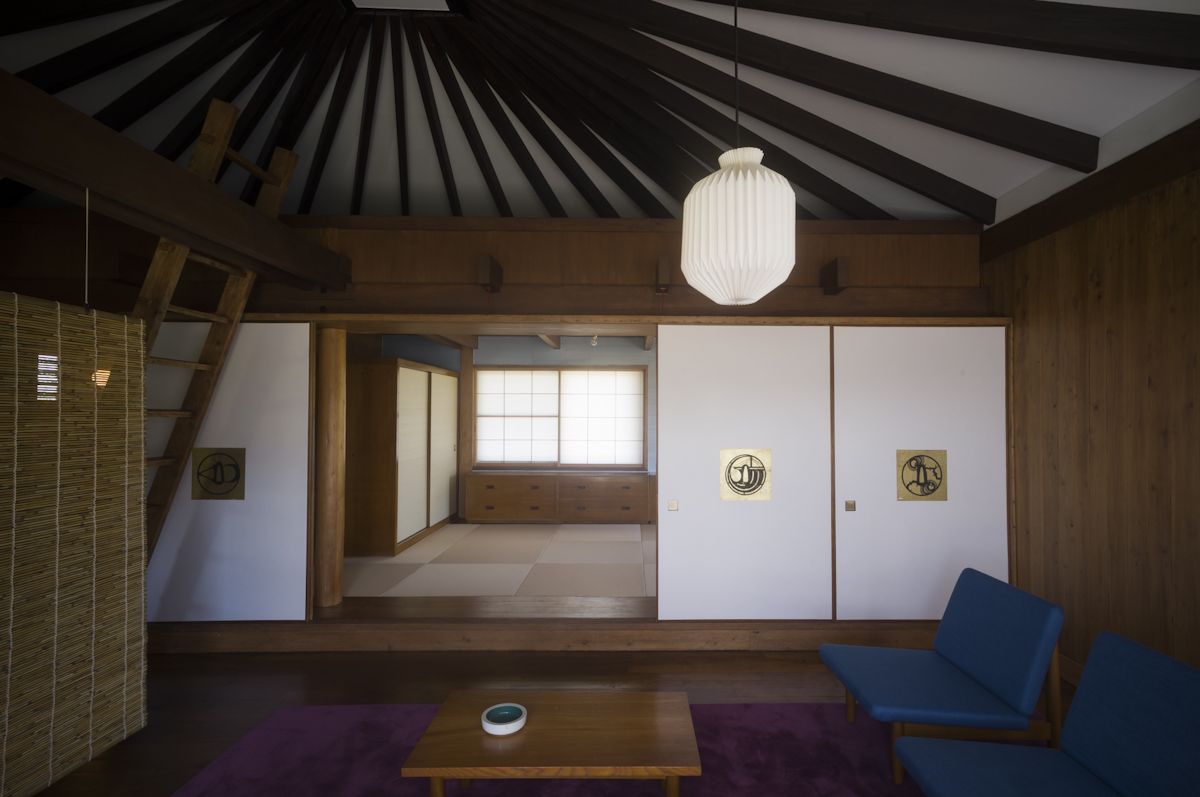 The Umbrella House by Kazuo Shinohara
Visitors to Vitra's Weil am Rhein campus this year will find a new arrival among the furniture brand's park of architectural treasures. Standing temple-like in a greenfield site next to buildings by Jean Prouvé and Buckminster Fuller, the Umbrella House by Japanese architect Kazuo Shinohara has a quiet but compelling presence. The wooden design, built in 1961 in Nerima, a residential neighbourhood of Tokyo, is the smallest and one of the last remaining residences from the first of Shinohara's four self-titled 'styles'. Its arrival in Germany is the result of a rescue mission that began when the Japanese architectural firm SANAA contacted Vitra. It had been informed by the Japanese organisation Heritage Houses Trust that the house was at risk of being demolished to make way for a new road. Recognising the building's significance – Shinohara is considered one of the most important Japanese architects from the latter half of the 20th century, but is still little known internationally – Vitra worked with the Tokyo Institute of Technology to dismantle, ship and rebuild the house on its campus, where it will serve as a venue for small gatherings. Read more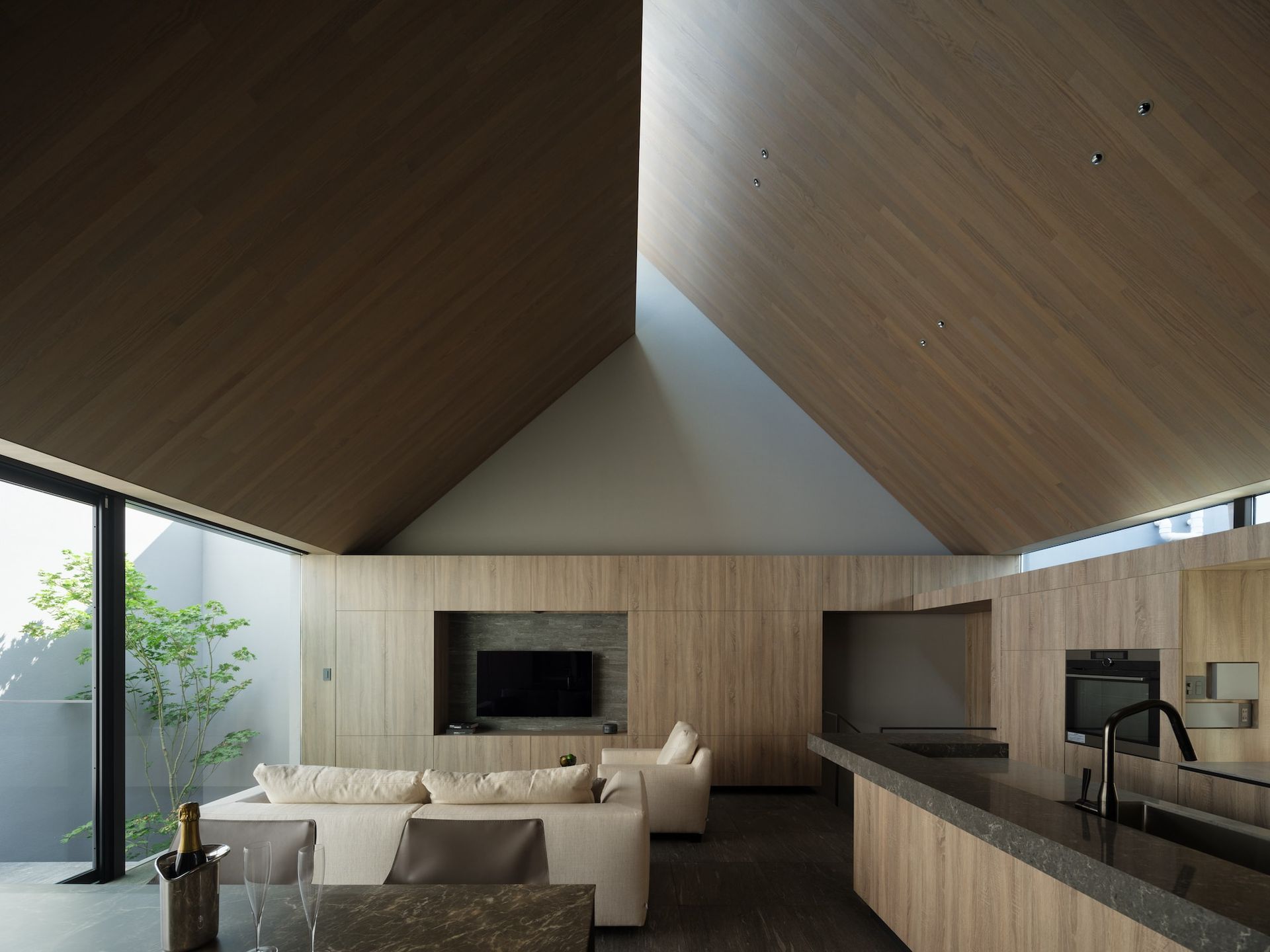 Espace by Satoshi Kurosaki / APOLLO Architects & Associates
This relatively boutique, two-story, wood-frame house sits nestled in the Shinagawa ward of Tokyo. Designed by Satoshi Kurosaki and his studio, APOLLO Architects & Associates, it combines drama and minimalist architecture. The architecture team emphasised a sense of space, creating clean surfaces and working with an imposing double height living space where a timber-clad ceiling follows the roof's pitch and becomes the room's main architectural centrepiece. This Japanese house is also awash with natural light, which floods in from a courtyard and clerestory windows. Clean, flat, vertical and angled surfaces throughout ensure daylight bounces off to help illuminate every corner of the property. 'By treating the entire building as a reflector, we succeeded in creating a separate universe of diffuse light that makes the rooms feel spacious and echoes the uniquely tranquil character of the residents,' the architects explained.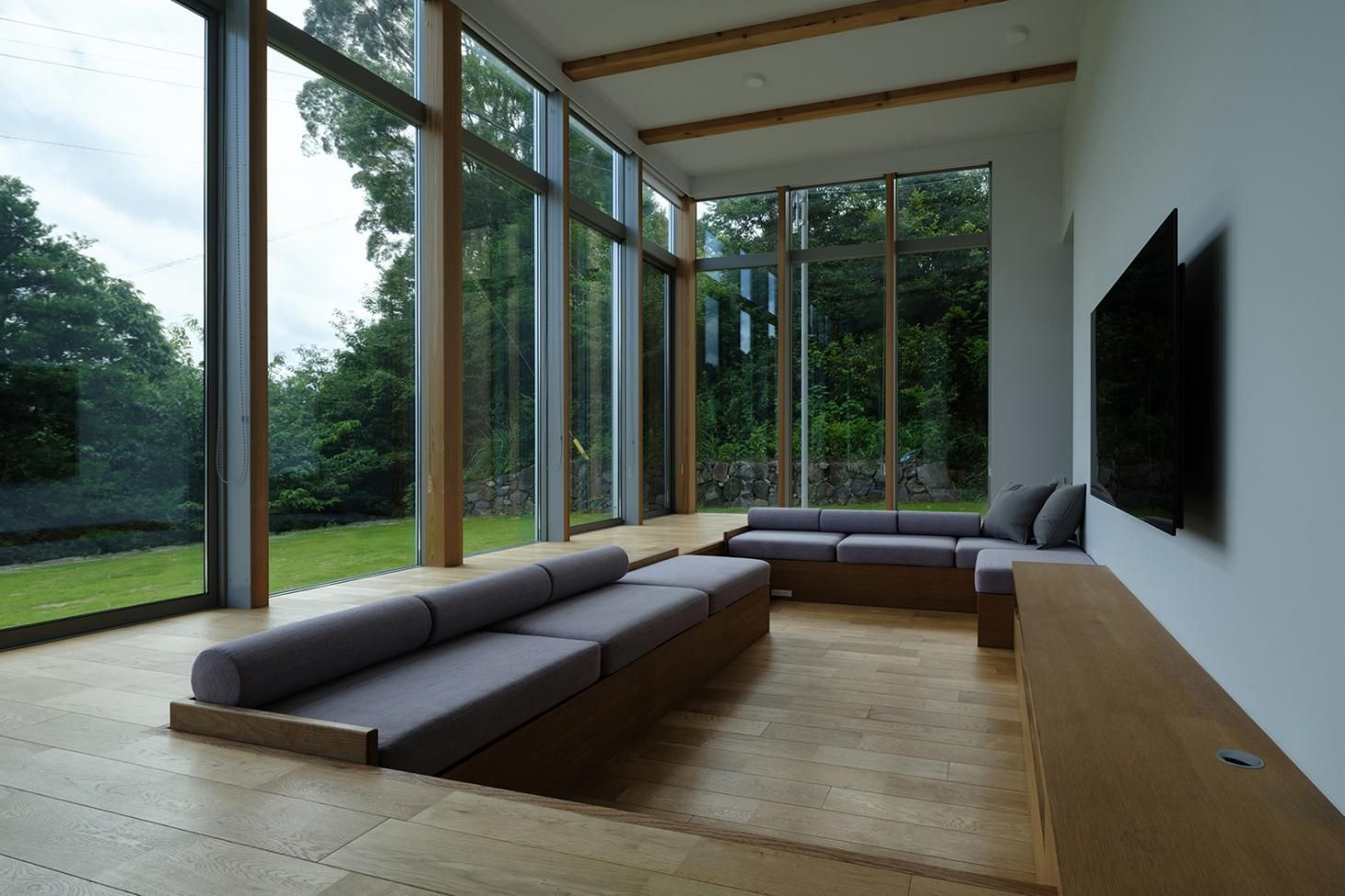 House in Hasami by Momoko Kudo/MMA
This small family home in the southern Japanese city of Hasami is the second in what Momoko Kudo calls the 'Box series' (the first was completed in 2018). 'Boxes' of four different sizes have been placed slightly askew in plan to form the footprint of the house. The client likes to entertain, and the more public areas such as the kitchen, dining and lounge are kept on the expansive ground floor, while bedrooms for the family of four are on a more compact and compartmentalised upper level. The off-centre placement of the 'boxes' creates various outdoor spaces, and a large roof (divided into two parts) brings everything together harmoniously. Inside, a slightly sunken lounge area lowers the sightlines towards the surrounding greenery to almost ground level. This, combined with the floor-to-ceiling windows, creates an impression of spaciousness. Outside, small but important details, such as a slight rounding of corners on the otherwise simple vertical cedar boards, matching the rounded foundation and the pressed soil around the house's perimeter, help to keep the house neat and add a contemporary feel, while using simple, unpretentious materials. The roof's thin, round, vertical steel support beams add another modern touch, contrasting beautifully with the vernacular cedar siding. Additional writing: Jens H Jensen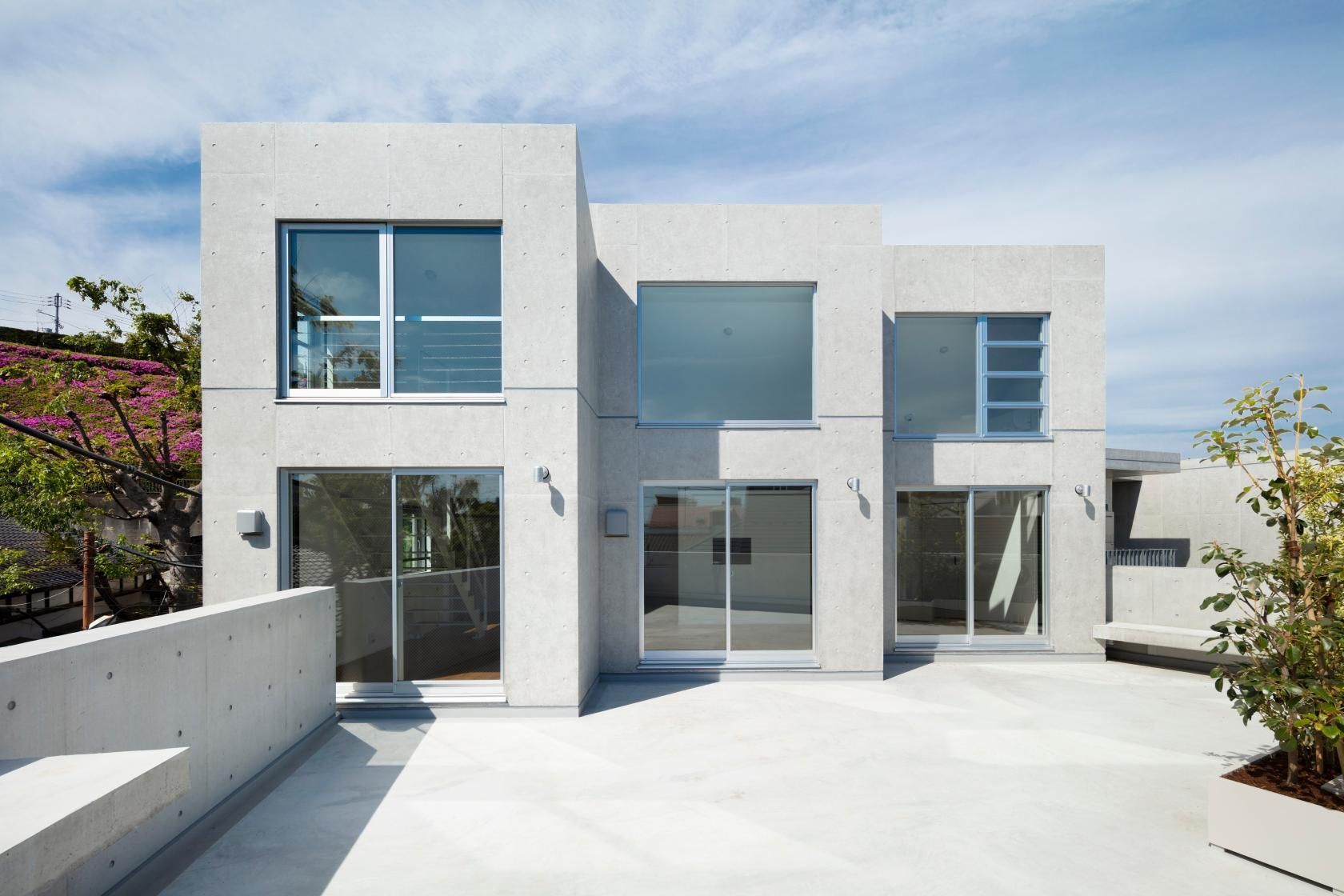 Ideareave Ikegami, by Ryuichi Sasaki Architecture with Takayuki Yagi
Anew mixed-use scheme has just been completed in Tokyo's Ikegami district – so far, so normal. But this project, Ideareave Ikegami, by Ryuichi Sasaki Architecture in collaboration with architect Takayuki Yagi for client Yasunori Kamata / K-M-T ingeniously blends a music hall and residential units within a single building, ensuring its residents, and the wider neighbourhood, can benefit from direct access to arts and culture from the comfort of their own home. The award-winning, internationally acclaimed architecture studio specialises in cultural experiences, and has commercial, music, leisure and hospitality projects under its belt. In this design, a reinforced concrete structure combines performance space, practice rooms, soundproofed residential rental units, as well as a luxurious penthouse at the very top. The architects drew on the area's vibrant character and cultural identity to develop their design solution.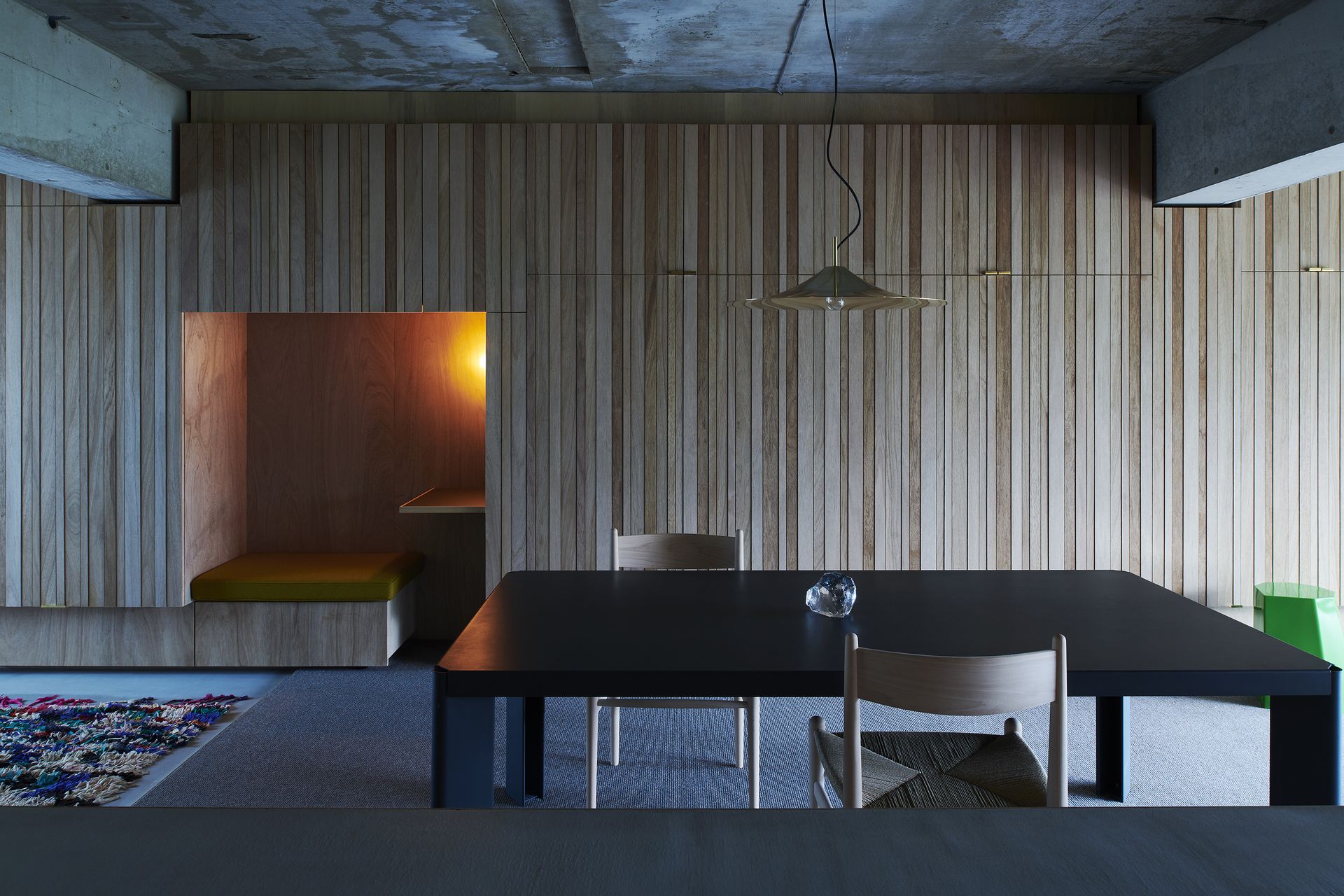 Aoyama House by Hitotomori Architects
The open plan of this home in Aoyama gives a bright and spacious feel to a compact 92 sq m flat. The exposed concrete ceiling adds height, while a small alcove for reading creates cosiness. Materials are simple (plywood, mortar, pile carpet) but complement each other well in terms of colour and texture. Lighting design features work by New Light Pottery. Additional writing: Jens H Jensen. Photography: Hiroki Kawata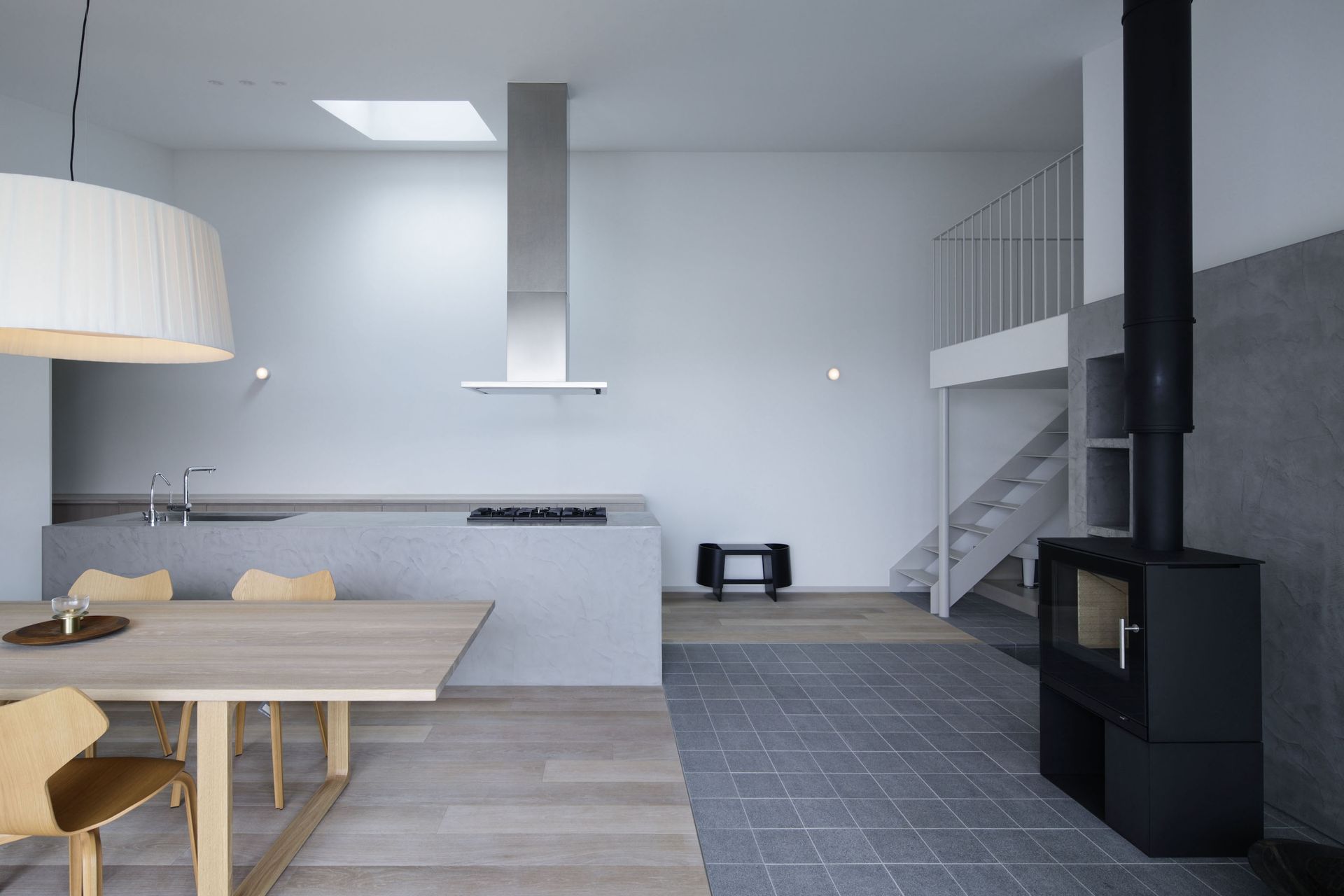 Hayama House by Case-Real
When escaping the urban sprawl of Tokyo becomes a priority, many Tokyoites look to the seaside town of Hayama. Facing the Sagami bay and within a fairly easy commute of the big city, but with a much slower pace, it's easy to see this beachfront little town's attraction. It is also the setting for this new Hayama house, commissioned by a family who approached Japanese architecture studio Case-Real for the design. While the client, a family of four, had been living in the area for some time, they jumped at the opportunity to buy the neighbouring plot to their current home in order to expand their footprint. With most residential plots in Japan being modest in size, the norm is to build in two or three storeys to allow for the necessary square footage. Having secured a second plot, however, the client could afford to ask Case-Real's Koichi Futatsumata to design a single-story home to fulfil their needs – a move seen as something of a luxury in Japan. Additional writing: Jens H Jensen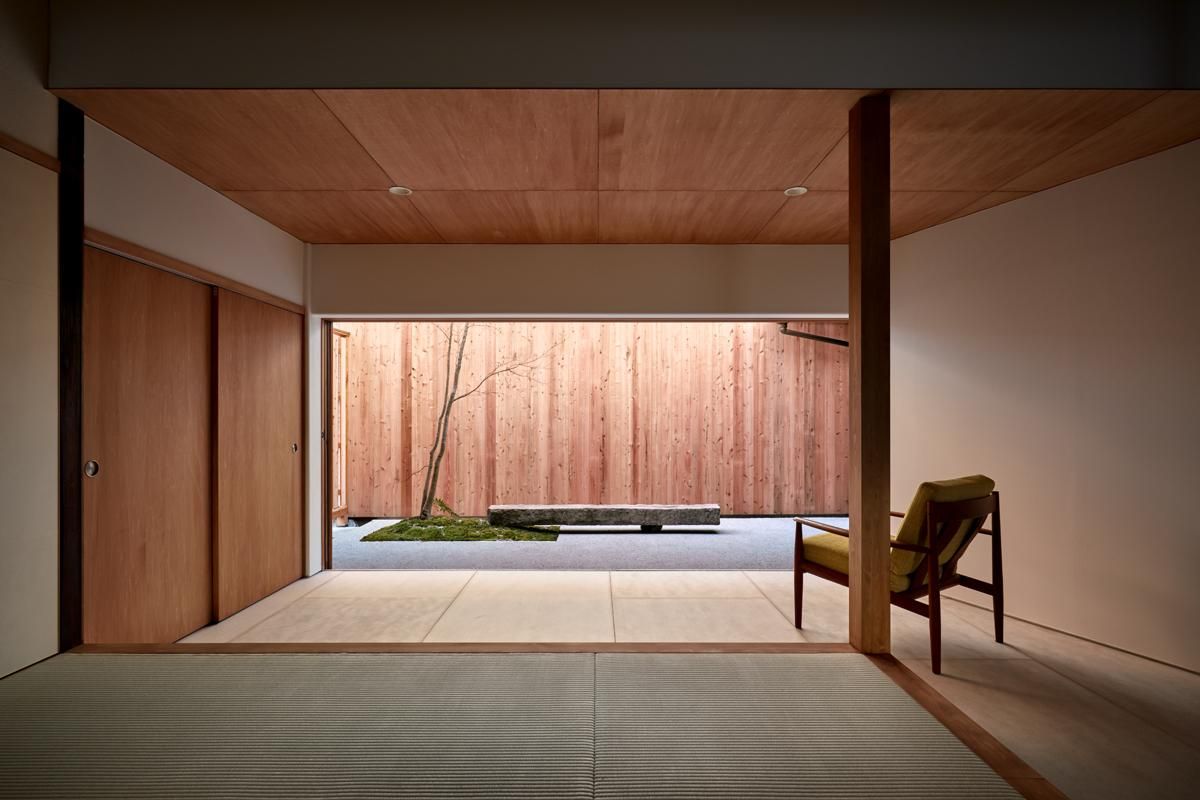 Kidera Row Houses by Naoko Fujioka + Fujioka Architectural Laboratory
The latest residential project of this Fujioka family practice is a beautiful renovation of a Nagaya row house containing two residencies and one small shop. The studio's signature careful attention to detail and materials enhances the cultural significance of these traditional homes, while suggesting a new direction for Nara's many old houses, which are waiting to be given the Fujioka treatment. Additional writing: Jens H Jensen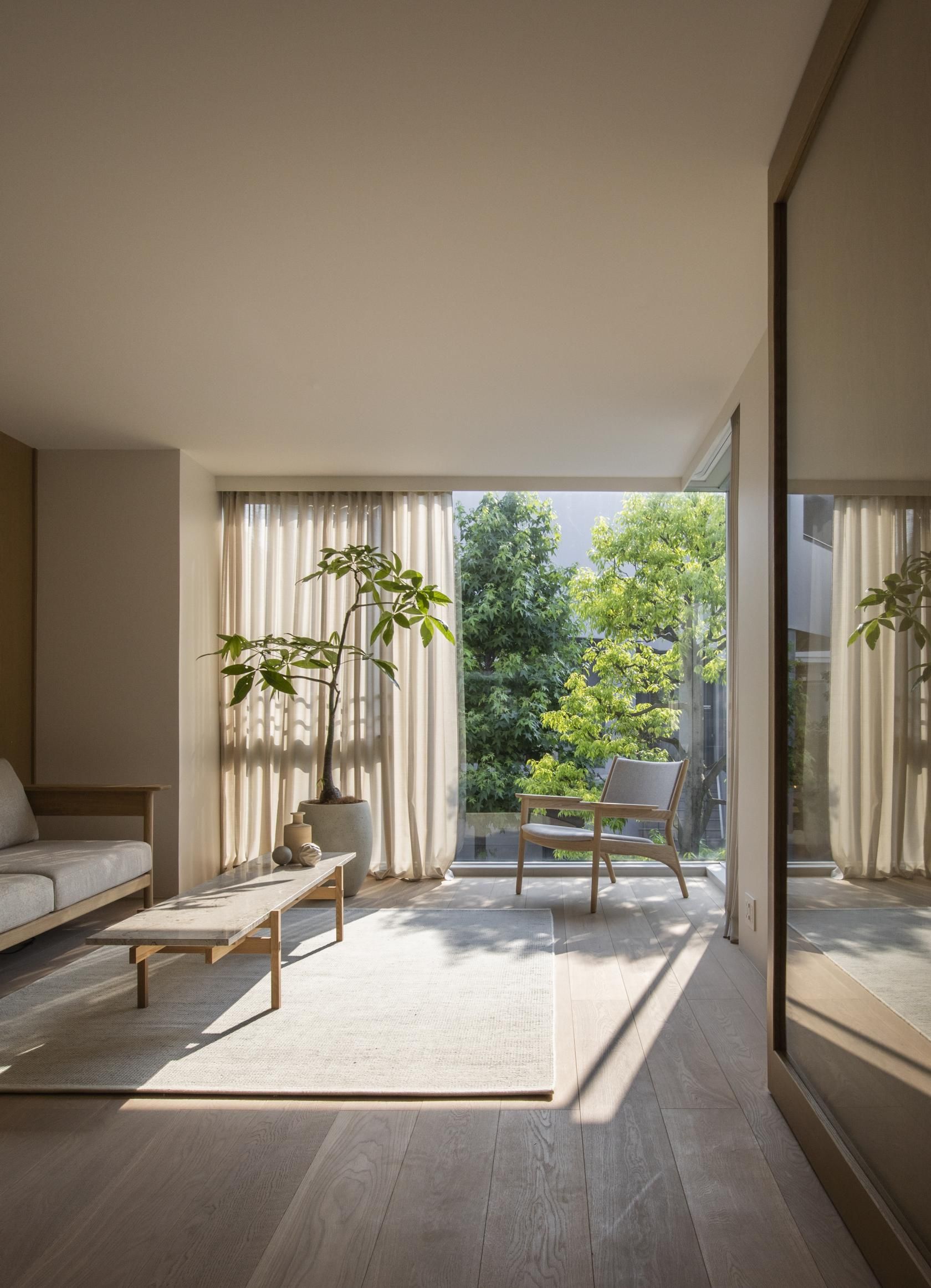 Kinuta Terrace by Keiji Ashizawa and Norm Architects
Designed by a dynamic duo - Tokyo's Keiji Ashizawa and Norm Architects from Denmark - Kinuta Terrace is an all-encompassing renovation of 36 maisonette homes originally built in 1991. All the furniture for each house unit is custom designed and made by Karimoku. The work has been the beginning of a whole new line of furniture from the Japanese maker, branded as Karimoku Case Study. Additional writing: Jens H Jensen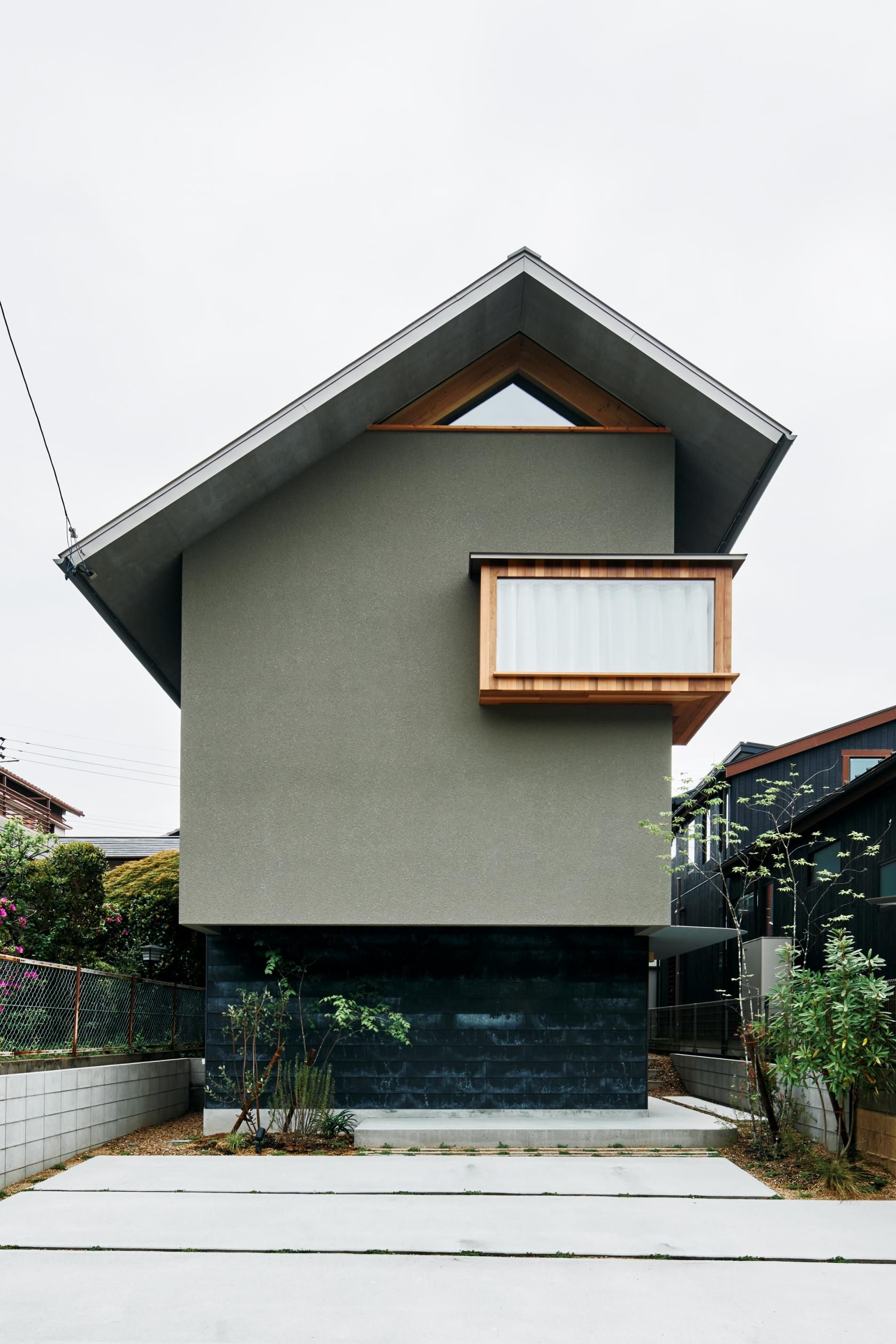 Uedayama House by Écrit Architects
Established six years ago by Nobuyoshi Hayashi, Hiroshi Kaito and Eri Yabushita, Écrit Architects already has an impressive portfolio of completed projects, with a strong focus on single-family houses. Yabushita was the lead architect on Uedayama House and has designed a simple, yet generous home for a young couple and their two kids in Nagoya. The narrow, but tall upper floor dining and kitchen area in particular stands out with its exposed beams and feature triangle windows at both ends. Additional writing: Jens H Jensen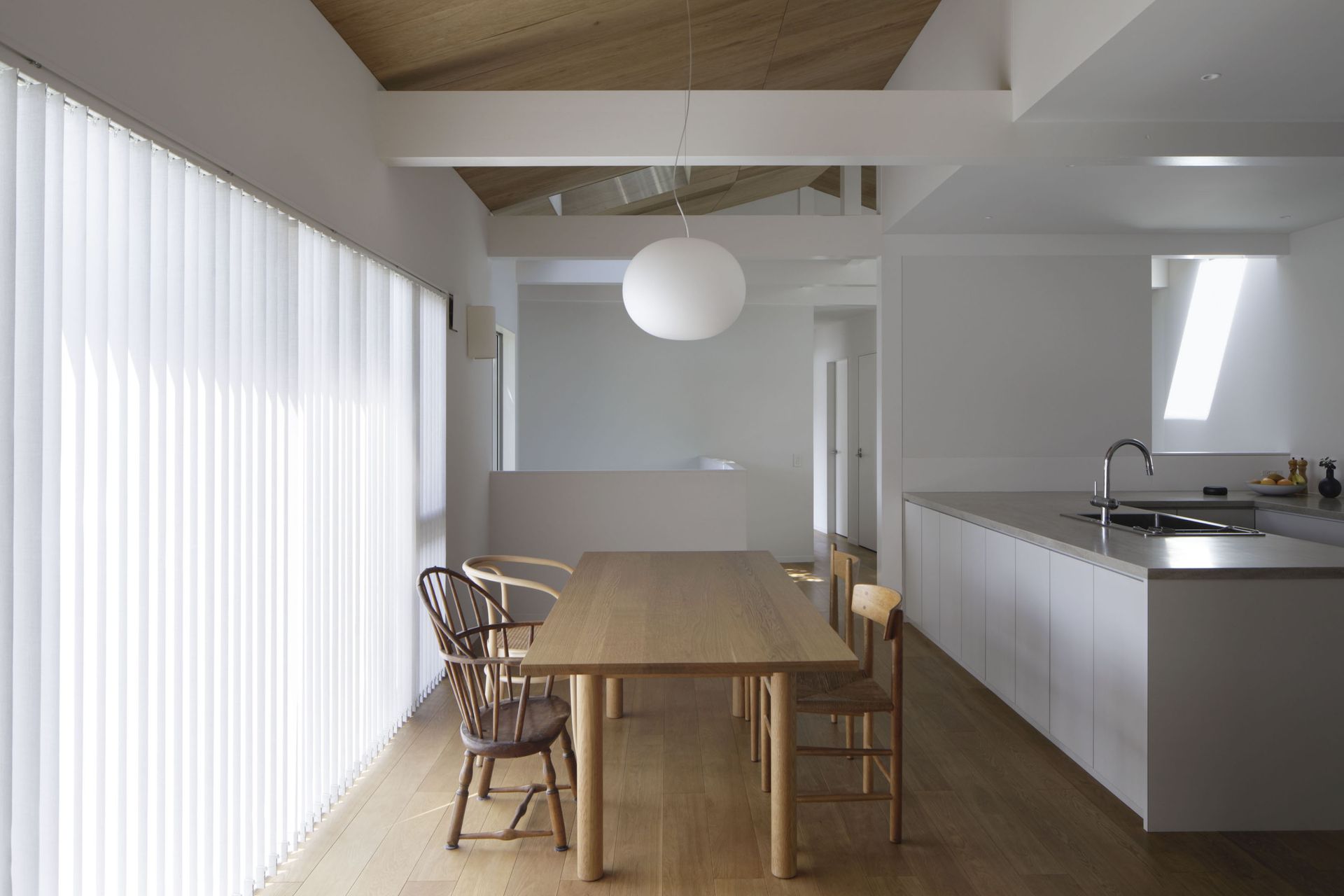 House in Sasuke by Koichi Futatsumata & Yuki Onita (Case-Real)
This minimalist house by Case-Real is divided vertically, with a design office and piano room on the ground floor, and living quarters for a family of four on the upper level. Interiors are kept simple and white, but ample natural light and the shade of the large mulberry tree in the front garden create warmth through shadow play, in particular in the upper living spaces. Additional writing: Jens H Jensen. Photography: Daisuke Shima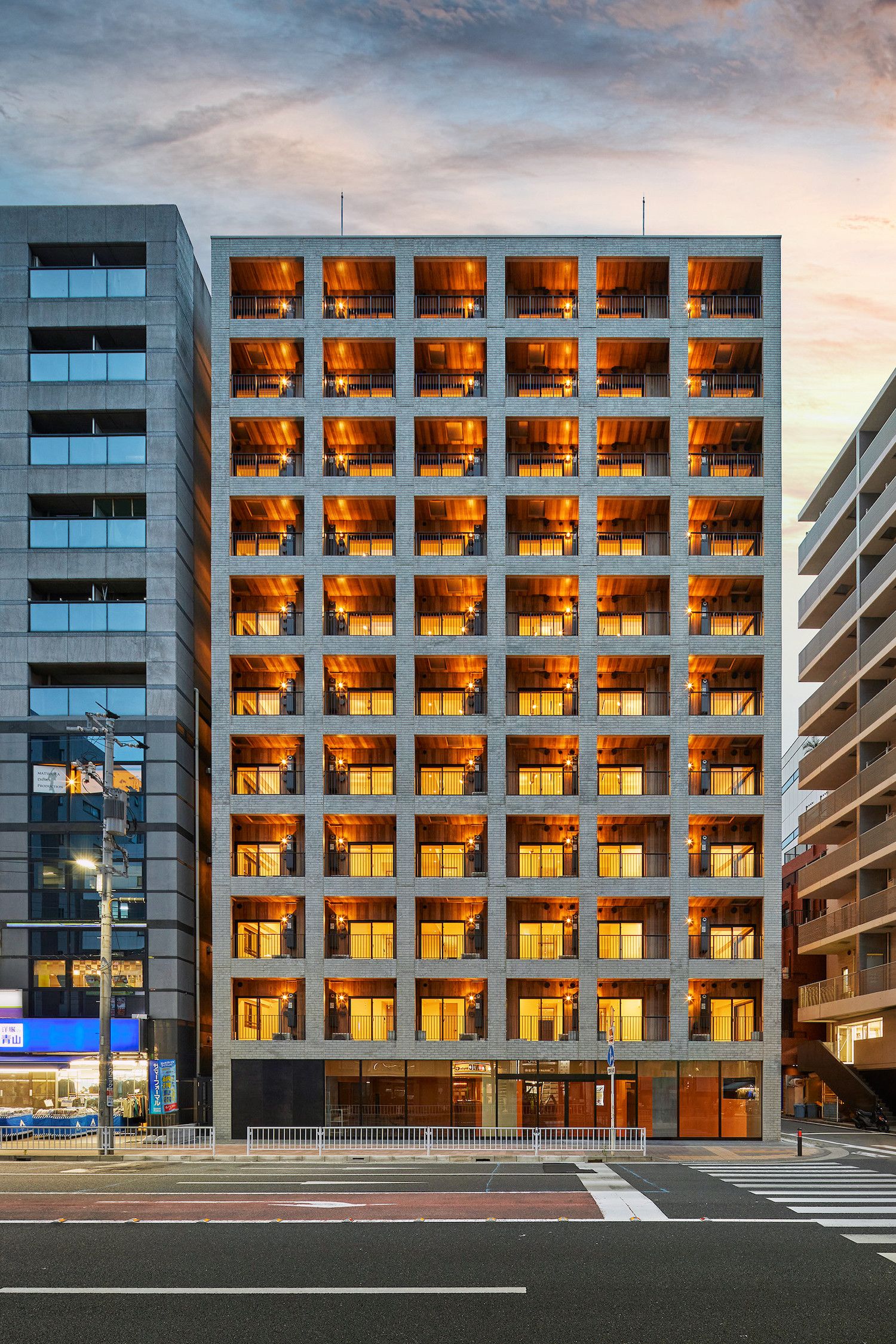 Sakaragicho Residence by Key Operation Inc
This boutique Yokohama apartment building may be multi-family housing, but it offers the attention to detail and serene design of a single family project. An outer skin and geometric external grid rhythm creates a unified facade that brings neatly together the upper level residential floors with the ground floor commercial units. The result is a calming, minimalist appearance in what is in fact a fairly large scale urban building. Photography: Noriyuki Yano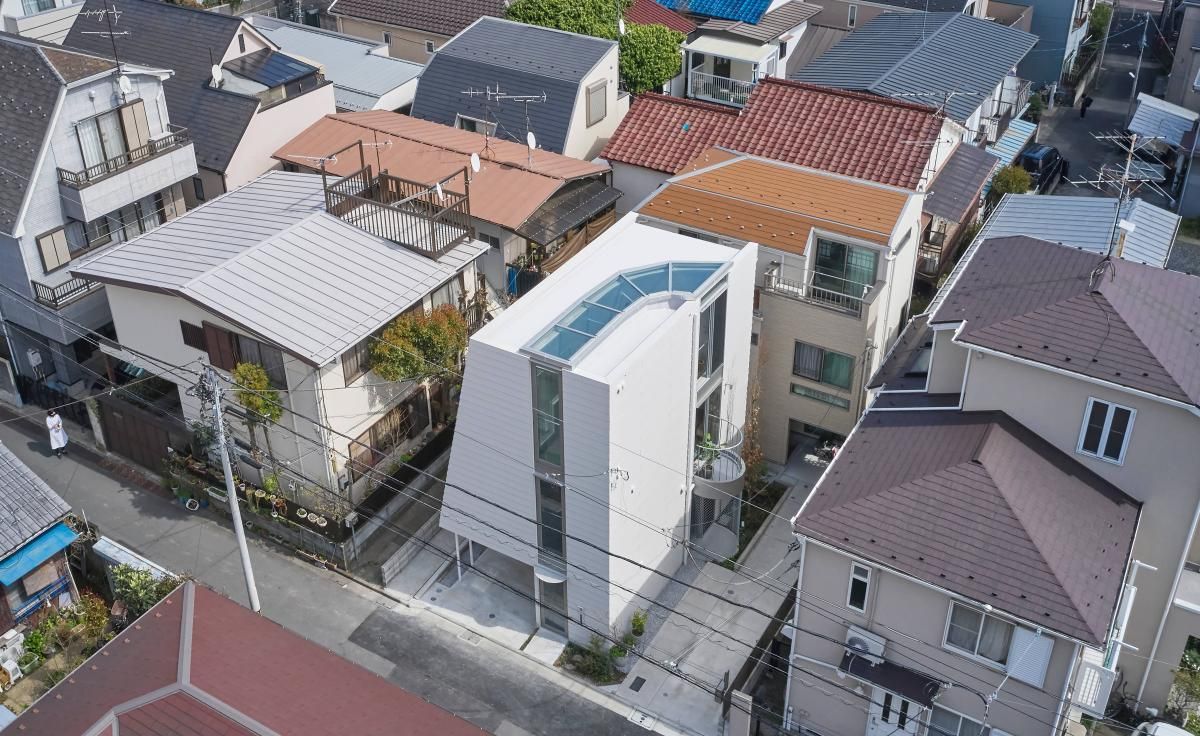 Scoop Landscape House by Not Architects Studio
The perpetually engaging housing laboratory that is suburban Japan continues to delight. The Scoop Landscape House is a new project by Not Architects Studio, a side project set up by Tetsushi Tominaga and Lisa Ono, together with Aoi Nahata. Ono's concept design for this 101 sq m Japanese house was to create a space that 'scooped up' the best views and fragments of cityscape surrounding the modest lot in Ota City, a residential district just south of Tokyo's city centre.
The site conditions were typical of the area, with a compact plot hemmed in by other similarly scaled houses. 'Usually, when I walk around my neighbourhood, I see a very repetitive cityscape,' says Ono, 'However, when I squint, there are moments that touch my heart, such as trees planted in gardens, the weeds growing on the roadside, sunlight filtering through leaves or the sky seen from between buildings.' The Scoop Landscape House has been shaped to make the most of these fleeting moments. Additional writing: Jonathan Bell. Photography: Yasuhiro Takagi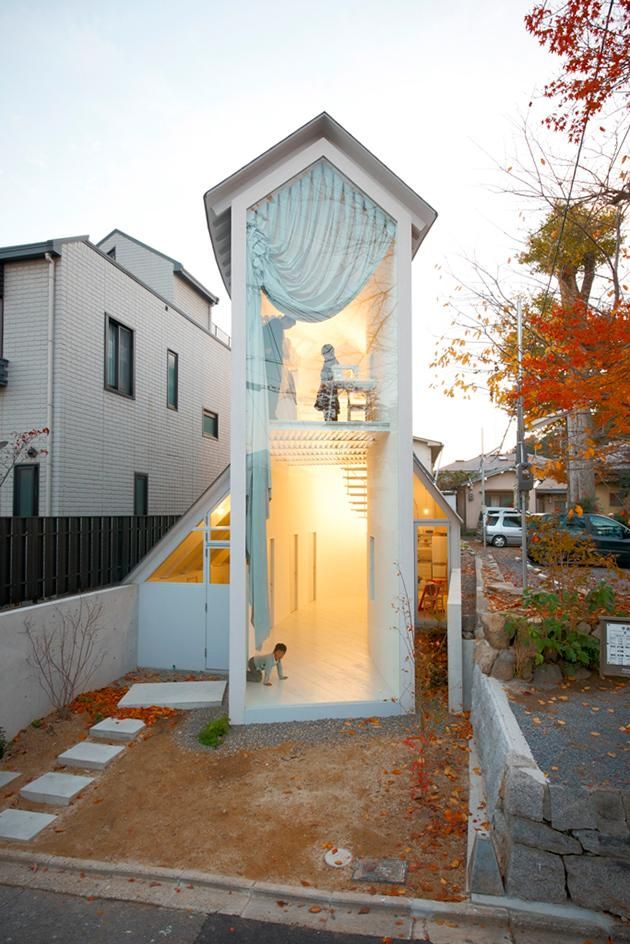 O House by Hideyuki Nakayama
This project, a design classic completed in 2009, is located in the beautiful, ancient city of Kyoto. Narrow and artfully placed across a gently curving footprint, the home sits within a constrained plot and exemplifies the urban challenges often found in Japanese cities - as well as the local architects' ingenious solutions to them. Photography: Mitsutaka Kitamura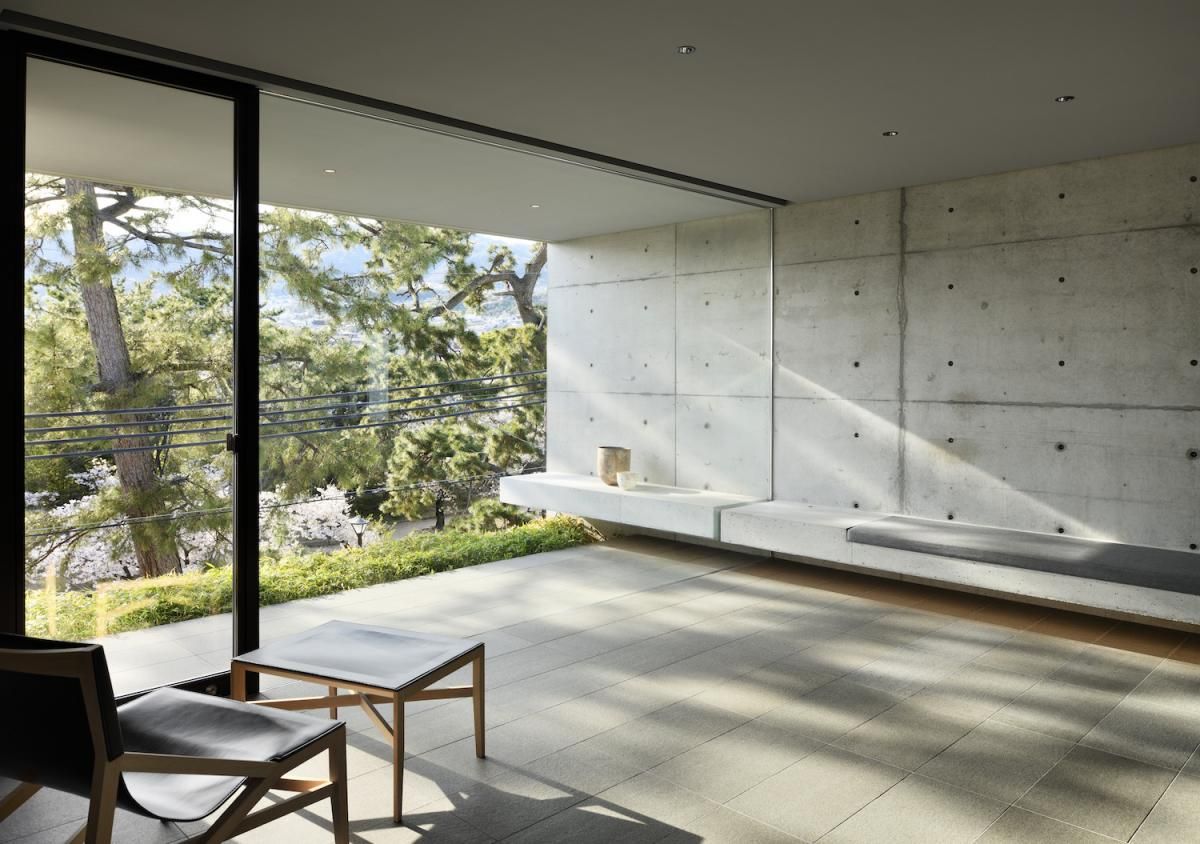 F Residence by Go Fujita / Gosize
Situated in a quiet residential area in the city of Nishinomiya, Hyogo prefecture, a supreme natural setting that is proudly counted among Japan's top one hundred sites for viewing cherry blossoms, F Residence is the work of local practice Gosize. This project, in fact, bears a special significance to the firm, being the home and office of the studio's owner Go Fujita, who founded Gosize in 1999. A complex brief that combines life and work areas did not deter Fujita from employing his signature approach to architecture; the studio excels in creating contemporary interiors that draw on the country's traditions. 'Seeking to reflect a distinctive Japanese aesthetic that favours natural materials and finds beauty in simplicity, the design emphasizes plainness and blank spaces in the interior,' explain the architects. Photography: Nacasa & Partners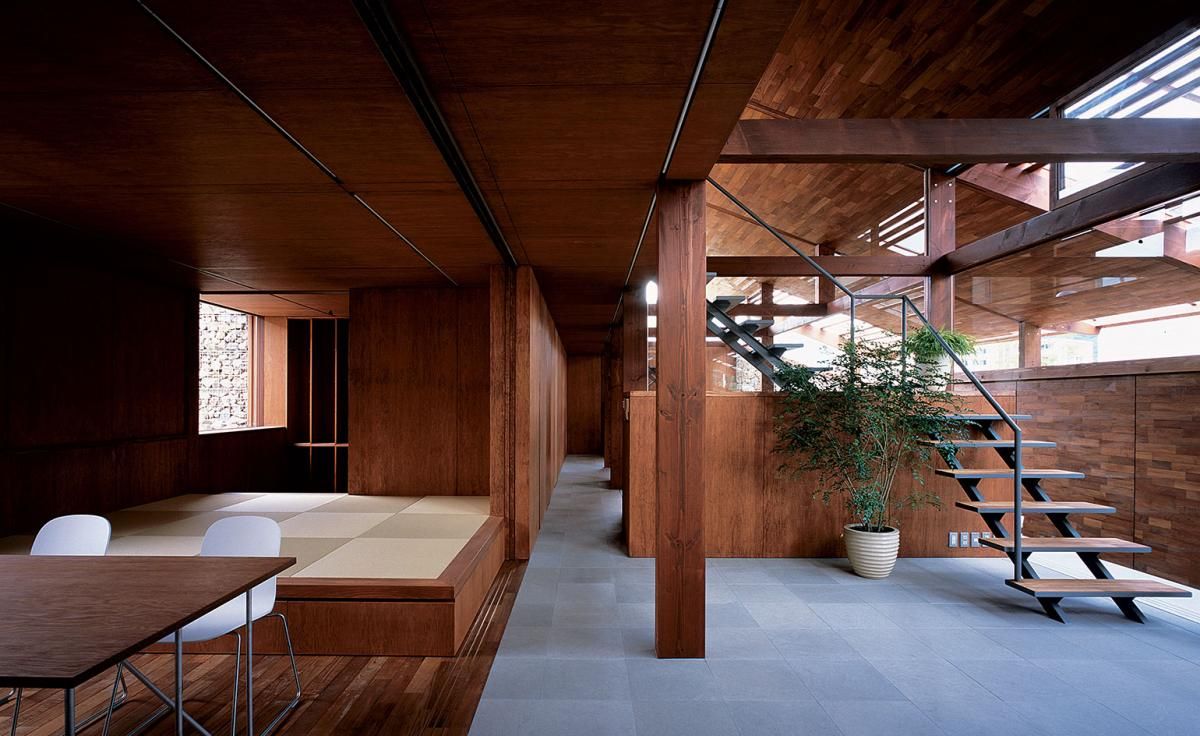 Stone House by Hiroshi Sambuichi
Even a cursory glance at Hiroshi Sambuichi's oeuvre shows it's clear that the Japanese architecture master doesn't do conventional. First, there was his Air House, an almost transparent sliver of glass and wood built on a spectacular castle moat in Hagi. Then there was Sloping North House, a family home perched on a vertiginous rise in Yamaguchi. There's also the dental clinic, near Hiroshima, which he decked out like an upturned wooden boat with vegetation on the roof. And we have Stone House, a family home built in the mountains on a bed of crushed river stones. Sambuichi has already been garlanded with awards for buildings that manage to be both good-looking and good to the environment. Although he takes the eco issue very seriously, there's nothing earnest about his designs. He thinks very carefully about the materials he uses (and often reuses) and dreams up ingenious ways for his buildings to operate with as little heating and air conditioning as possible. Additional writing: Fiona Wilson. Photography: Shinkenchu-sha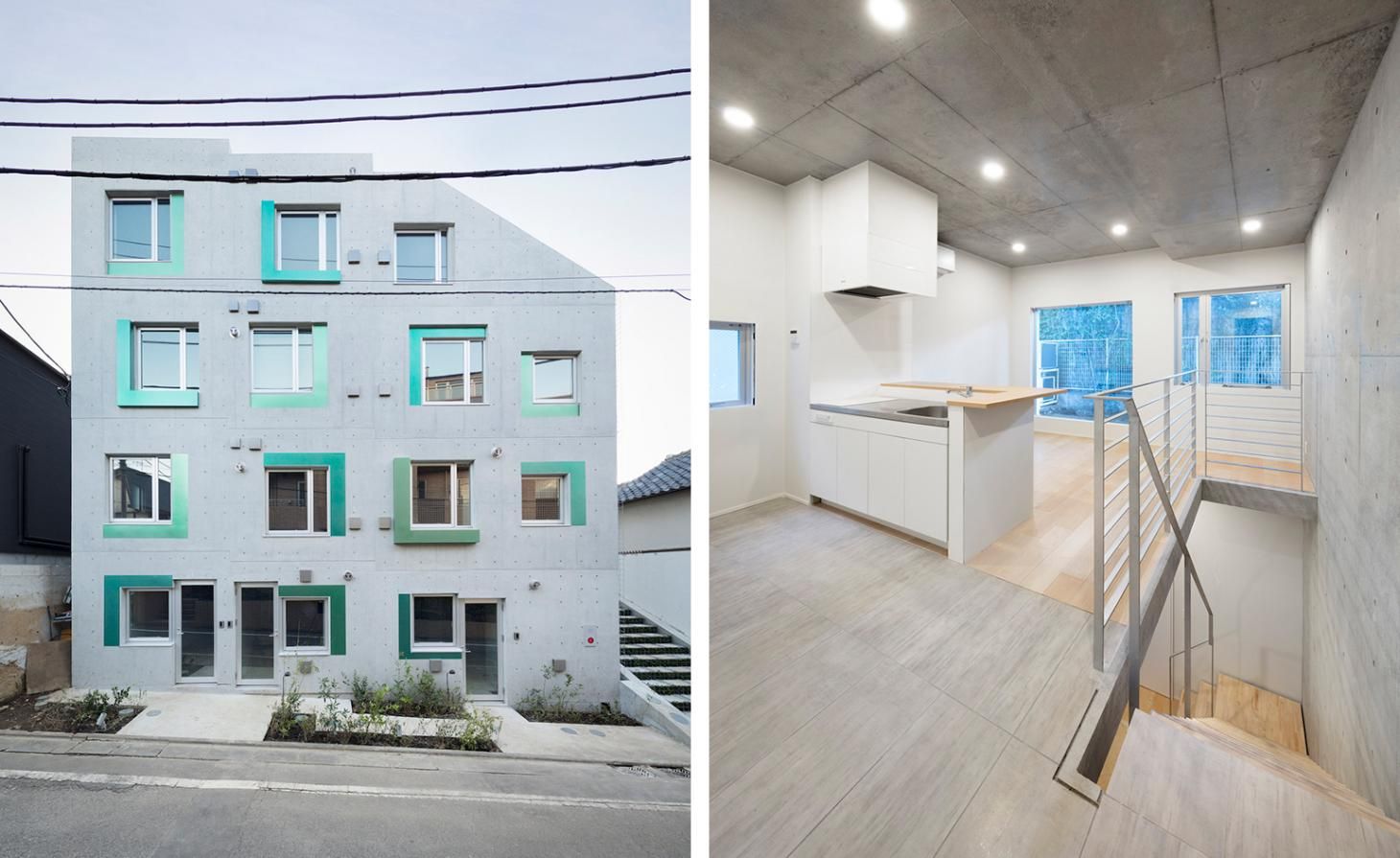 Daita, Tokyo by Ryuichi Sasaki / Sasaki Architecture
Set in the western part of the mega-city of Tokyo, among tall, old trees and low mansions, Daita is a design-led housing development of 16 apartments. Its author, Sasaki Architecture, worked with a clean, monolithic concrete main body, creating highlights by inserting L-shaped colored stainless steel openings across the facade. This design m