This Hayama house offers a twist on Japanese seaside living
A new house in Hayama by architects Case-Real offers a new take on living in the Japanese seaside town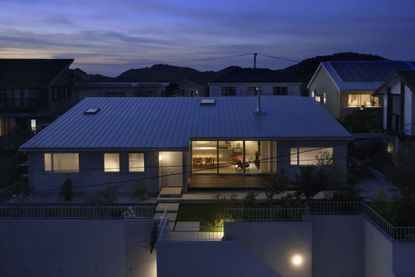 (Image credit: Daisuke Shima)
When escaping the urban sprawl of Tokyo becomes a priority, many Tokyoites look to the seaside town of Hayama. Facing the Sagami bay and within a fairly easy commute of the big city, but with a much slower pace, it's easy to see this beachfront little town's attraction. It is also the setting for this new Hayama house, commissioned by a family who approached Japanese architecture studio Case-Real for the design.
While the client, a family of four, had been living in the area for some time, they jumped at the opportunity to buy the neighbouring plot to their current home in order to expand their footprint. With most residential plots in Japan being modest in size, the norm is to build in two or three storeys to allow for the necessary square footage. Having secured a second plot, however, the client could afford to ask Case-Real's Koichi Futatsumata to design a single-story home to fulfil their needs – a move seen as something of a luxury in Japan.
As the family like to entertain, the kitchen takes centre stage within the minimalist architecture of the home's layout. All of the house's other rooms are planned around it, with easy access back to it. As everything is literally under the same gently sloping roof, there is a seamless flow throughout the house; from the more private bedrooms and bathrooms on the west side to the double-height living area, and small en-suite guest room at the east of the building.
The living room, expanding to two floors through a mezzanine, adds a nice touch of vertical design to the otherwise single-storey plan. A single step leads down to a cosy carpeted lounge area with a custom-made sofa. A simple steel staircase leads up to a small library area above the lounge.
Materials and colours are kept to a minimum throughout the home, adding to the coherent and calm design. There are painted white walls and ceilings, and white oil-finished oak floors. The grey Mortex kitchen counter is complemented by a feature wall of the same material at the back of the wood-burning stove. Futatsumata's own delicate wall sconces made by Japanese manufacturer Lighting Sou Inc provide soft ambient lighting throughout, leaving the ceiling almost completely bare (except for one large pendant above the dining table), adding to the serene and spacious feel of the house.
The large sliding doors facing the kitchen open up to extend the dining area onto the partly covered deck running along the south side of the house – the perfect environment for lazy summer nights in the company of good friends.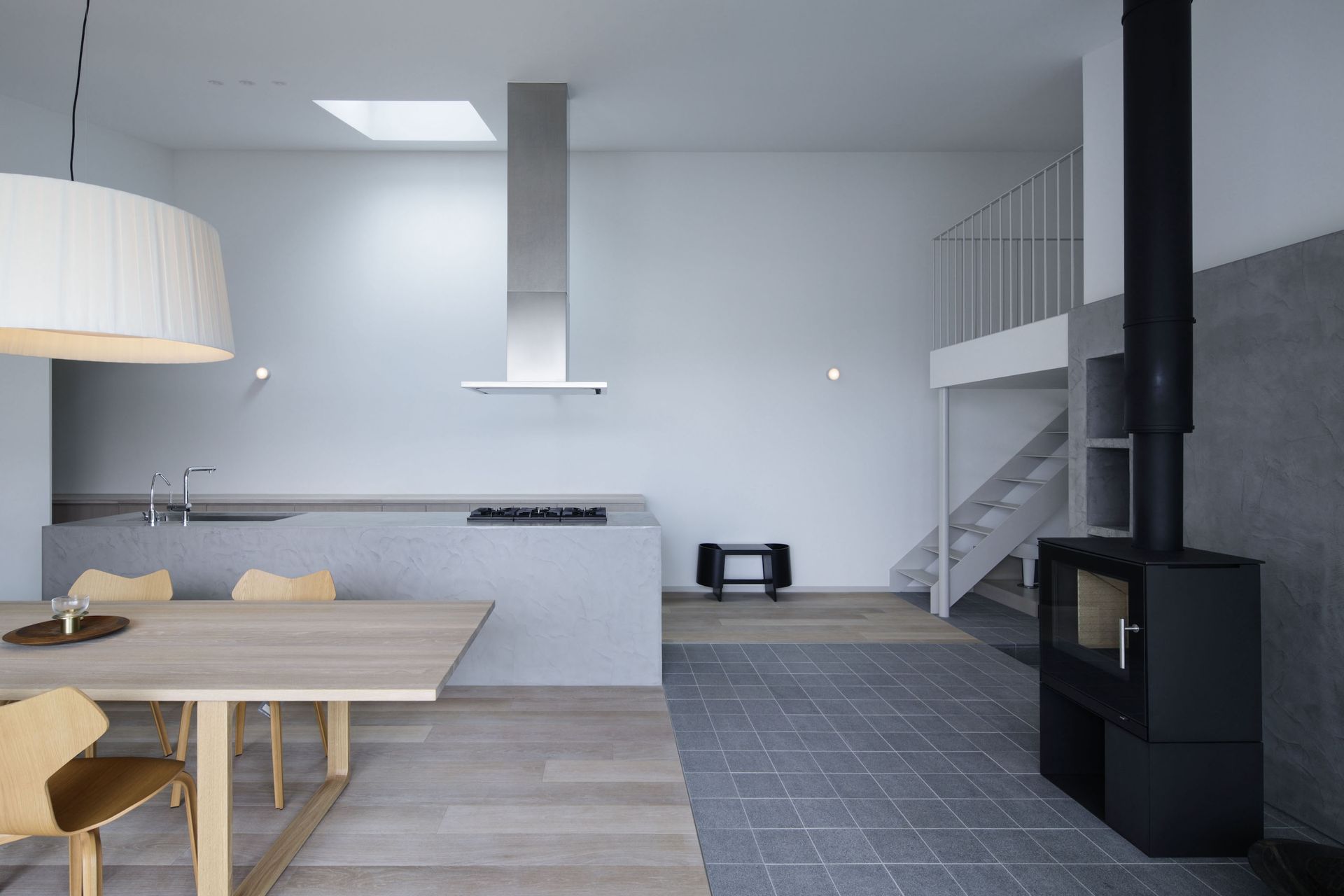 INFORMATION