Shishi-iwa House reveals SSH No.03 by Ryue Nishizawa in Karuizawa, Japan
Shishi-iwa House launches SSH No.03 by Ryue Nishizawa, a fresh addition to the ambitious Japanese hotel's Karuizawa campus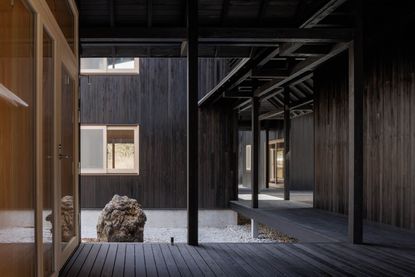 (Image credit: Kenichi Suzuki)
SSH No.03 is the third piece of architecture to open at Shishi-Iwa House Karuizawa, the ambitious Japanese hotel that taps into the potential of quality architecture to impact emotions and enhance wellbeing.
The new Japanese architecture addition comprises a scattering of minimalist black 'boxes', appearing to float in the forest, separate yet connected, with hovering walkways, corridors and hidden gardens just visible through the trees. An unfolding dialogue between nature and architecture takes centre stage. SSH No.03 is the brainchild of Ryue Nishizawa and marks the established Japanese architect's first hotel project, set to open in May 2023 in Karuizawa, the scenic mountain town an hour by bullet train from Tokyo.
Shishi-iwa House's SSH No.03 by Ryue Nishizawa
Nishizawa's creation sits alongside two existing timber structures designed by fellow Pritzker Prize-winning architect Shigeru Ban. The spaces are just minutes apart on foot, surrounded by forests and mountains.
SSH No.03 consists of a modular network of ten, discrete two-storey pavilions, defined by angular tilted roofs, black façades of charred cedar cladding and cut-out windows. In a sharp visual contrast, the interiors offer a distinct sense of lightness – with every structural element (from floors to ceilings, walls, cupboards, and bathtubs) wrapped in pure white aromatic hinoki cypress wood, a long-revered Japanese species typically used in imperial residences, shrine and temples.
A sense of transparency and a blurring of boundaries – between humans and nature, light and dark, inside and out – were key elements in the design, according to Nishizawa, founder of Office of Ryue Nishizawa and co-founder of Tokyo architectural studio SANAA.
'SSH No.03 is about the co-existence of nature and architecture,' explains Nishizawa. 'We were asked if it would be possible to transform a traditional Japanese architectural style into something contemporary, in relation to a wooden structure. We came up with the idea of several pavilions scattered through nature, without creating one single big box architecture. People can feel inside and outside at the same time. There is a sense of transparency in terms of spatial and temporal flow.'
Beneath its contemporary form and minimalist lines, SSH No.03's foundations are rooted in traditional Japanese wood architecture. Key to this is Nishizawa's use of a centuries-old tatami mat measurement system for the project, resulting in deeply complex jigsaw puzzle-like calculations that form the structure.
The pavilions – home to ten guest rooms and one larger villa – are serene, light-flooded havens, with surfaces wrapped in hinoki, mainly from Gifu Prefecture, alongside windows framing seasonal views plus either luxury Western beds or tatami mat flooring and futons. 'Hinoki is one of the most popular and important woods in Japan,' says Nishizawa. 'When the Japanese make something important, they use hinoki – for example in Ise Jingu, the most important shrine in Japan.'
Not dissimilar to the feeling of being inside a tearoom or a temple, a sense of stillness permeates SSH No.03. It is the spatial manifestation of the traditional Japanese concept of ma (or negative space), which focuses on what lies in-between and is as important as the physical structure. This can be experienced firsthand by guests while enjoying modern tea rituals in the teahouse, soaking in the bathhouse or savouring traditional sweets in the ochanoma lounges.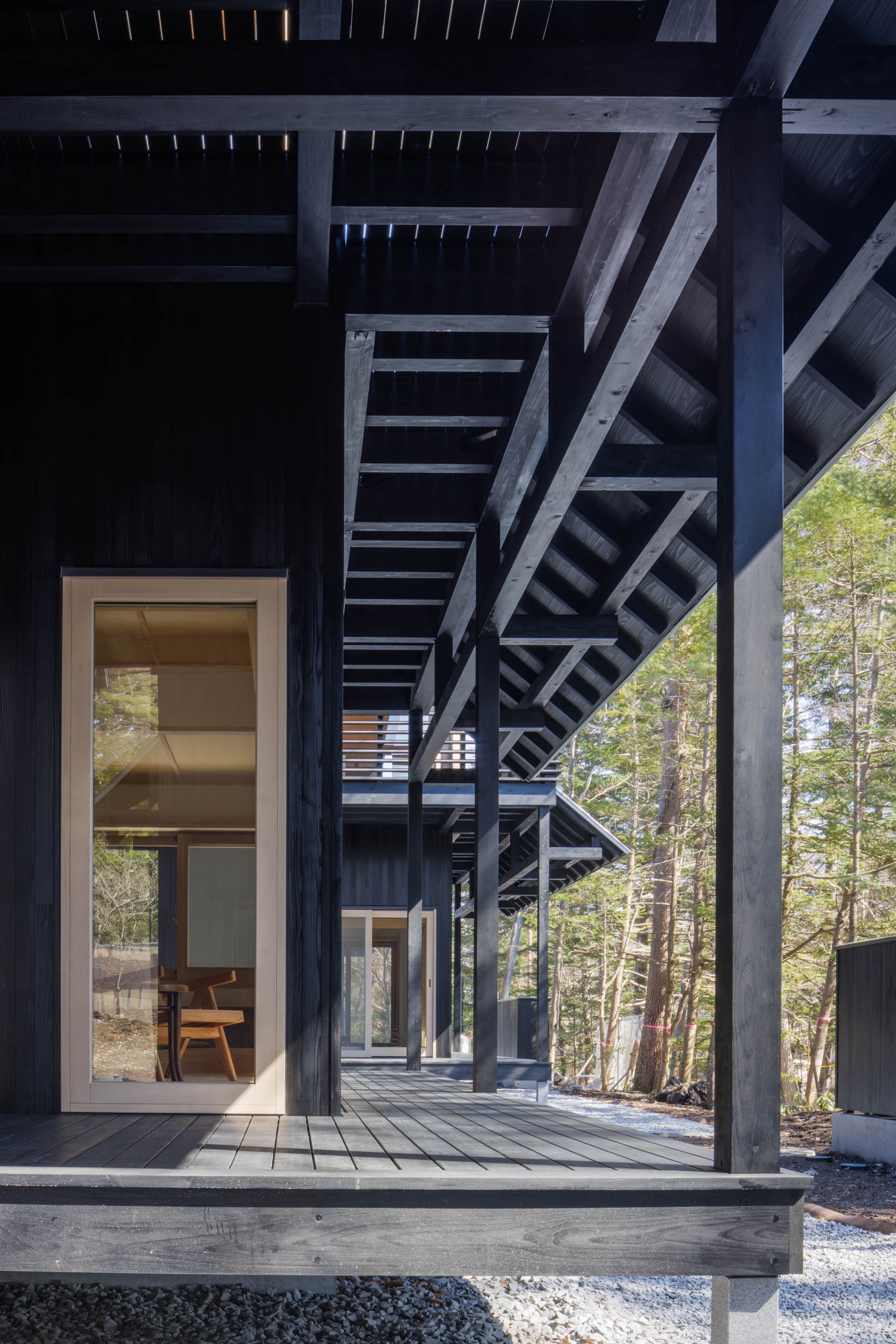 As was the case with Ban, Nishizawa was given complete freedom to design the interiors and curate the pavilions' furniture. The result offers a rare purity of creative vision throughout the space.
Alongside moon-like Flos lighting, Japanese antiques and – selected by the owner, Cecilie Manz-designed 1616/Arita Japan porcelain cups – is a roll call of design classics: from 1898 bentwood stools by Michael Thonet, and teak and cane 1955 'Easy Chairs' by Swiss architect Pierre Jeanneret, to the smooth curves of Arne Jacobsen's 1958 'Swan' chairs.
The featured art becomes an additional layer of creativity behind the Shishi-Iwa House concept. An impressive array of paintings can be found in SSH No.01, while photography is showcased in SSH No.02. In SSH No.03, it's all about woodblock prints, both traditional and contemporary, on the walls.
Shishi-Iwa House owner Huy Hoang, founder of HDH Capital Management, a Singapore-based investment company, says: 'Nishizawa's architecture is somehow there but not there, allowing a direct connection between humans in a sheltered space and the surrounding nature. This third project adds a layer of wellness, spirituality and meditation to Shishi-Iwa House Karuizawa.'
Shishi-Iwa House Karuizawa opened in 2019 with SSH No.01 by Shigeru Ban, an undulating structure designed to snake through forest trees. Ban's second structure opened last year, defined by its signature curved sky walk approach. Kazuyo Sejima, fellow co-founder of SANAA, is currently working on SSH No.04 in Hakone, due to open by 2025.