Ab Rogers crafts 'co-being' brutalist artist's studio for Hiraki Sawa in Kanazawa
Fishmarket is Hiraki Sawa's new, brutalist artist's studio, designed by Ab Rogers in Kanazawa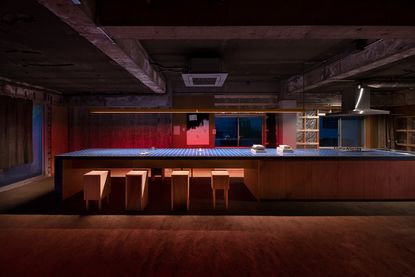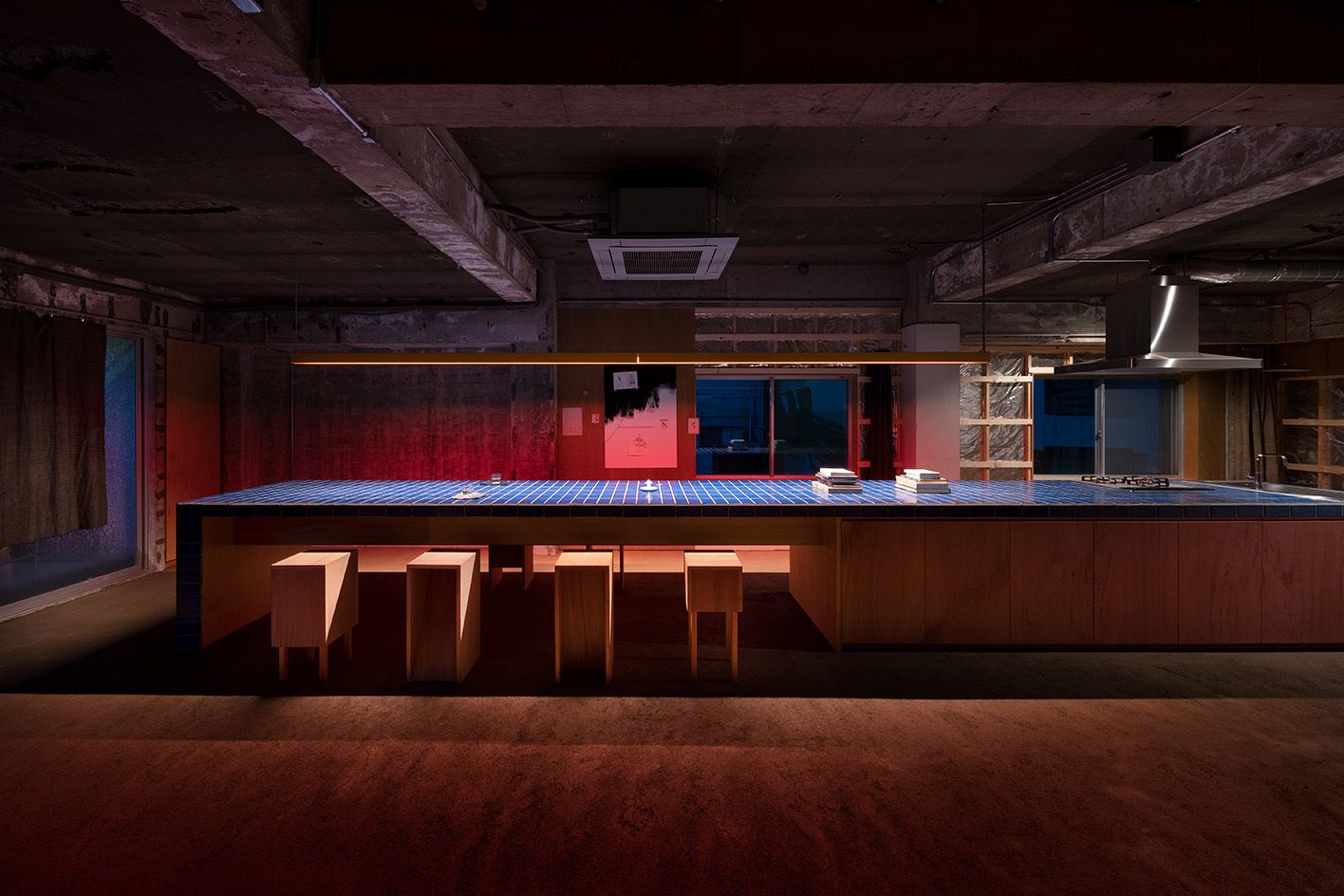 (Image credit: Takumi Ota)
The origins of this brutalist artist's studio can be found in a Thai festival. The designer Ab Rogers and the artist Hiraki Sawa met at the annual Wonderfruit cultural gathering in Thailand in 2018 and bonded over fish, particularly yellowfin tuna. Both are keen cooks and it got them thinking about cooking, eating and creativity, creative time and space.
Sawa, who studied at Slade School of Art under British artist Phyllida Barlow and is best known for short films and collage-base animation, splits his time between London and Kanazawa, where he grew up. In 2019 he took over a raw, empty office space in the Japanese city, initially planning to establish a small co-working space with a business partner. He then changed tack and set on creating something more adventurous and typology-busting, what he calls a 'co-being' space.
Fishmarket: a brutalist artist's studio by Ab Rogers
'For me, a studio is not just a space where I create something, a work of art, but a generous space where I'm allowed to do all the steps leading up to the creation of something,' Sawa says. 'Where I can cook delicious food, eat, talk, think, sometimes walk around, take a bath, enjoy the wind on the balcony, throw myself into the online space, or lock myself in the toilet.'
Sawa wanted to create a space that could frame everything and anything as a creative act. 'I think the world would be much more interesting if we could spend our entire lives weaving a life as a work of art,' he says. And Ab Rogers Design, behind Wonderfruit's temporary creative village, seemed like the perfect choice to work out the structure and dynamics of such a place.
Rogers created a 200 sq m studio/apartment/event space tagged Fishmarket. It feels deliberately unfixed and unfinished. Over its two storeys, concrete walls and floors have been left deliberately raw and in some areas even the insulation has been left visible, coming off lo-fi sci-fi. 'I'm really interested in how we can build less and build with less,' Rogers says.
The key design element on the upper floor is a series of neon pivoting plywood panels allowing for the creation of what Rogers calls 'playful chambers'. The lower floor is dominated by an 8m-long dining table/workstation, tiled a vibrant blue, with built-in hob. The space also includes a bed, a bathroom and a toilet with privacy optional. The effect is a kind of challenging minimalism that, as Rogers says, 'asks users to define how the space works best for them'.
Fishmarket was largely created during the Covid pandemic, with Rogers, now based largely in Lisbon, driving the project remotely. 'It really became about feeling space through a second person and relying upon amazing local architects and craftspeople to interpret your drawings.'
Rogers still hasn't had a chance to make use of the space, but a selection of musicians and filmmakers, mostly friends of Sawa, have. The artist wants to establish Fishmarket as a place anyone can rethink and reimagine purpose and practices. 'We're really trying to create design that nudges the way people think and work and see,' says Rogers. 'I think people will go to discover themselves within that space.'
Rogers calls it a 'transformative space', but it is also designed to work as an outré city-break bolthole. Fishmarket is a few minutes' walk from the SANAA-designed 21st Century Museum of Contemporary Art and an express train from Tokyo makes Kanazawa a do-able cultural day trip. Sawa is hoping Fishmarket will help encourage visitors to stay a little longer and take in more of the city. He is currently planning a series of Zen breakfasts at the space with a curator at Kanazawa's DT Suzuki Museum. Suzuki, the Buddhist philosopher credited with introducing the US to Zen thinking, was born in Kanazawa.
Sawa's next side venture is a collaboration with an organic winemaker based in Miyagi. The artist argues that Japanese viticulturalists are looking to emulate the success of its whisky makers. 'Ten years ago, Japanese wine was pretty disgusting but it's getting really good now,' he says.
fishmarket-kanazawa.com (opens in new tab)
abrogers.com (opens in new tab)