Straight up! The best whiskies bar none
Our whisky edit features some of the world's rarest and finest examples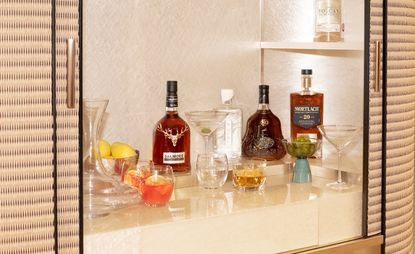 (Image credit: press)
The word 'whisky' derives from the Gaelic for 'water of life', and the fine whiskies featured in our edit are sure to bring life and warmth to winter evenings. From Scotland to Japan, we have scoured the world for the best whiskies money can buy, and we share them below.
Best whiskies, from the rare to the refined
Coachbuilt's Blended Scotch Whisky
Coachbuilt is a new blended whisky brand created by whisky expert George Koutsakis and Formula One racing star Jenson Button. The whisky blends spirits from the five whisky-producing regions of Scotland – Islay, Speyside, Campbeltown, Highlands and Lowlands – with each bringing its own unique flavour attributes to create a singular spirit.
The final product is a rich and creamy whisky with notes of summer fruits and subtle spice, followed by toffee, chocolate and a touch of citrus.
Mortlach's Mortlach 20
Mortlach 20 has been matured for a minimum of 20 years in the brand's signature sherry casks to achieve an exceptionally smooth and mellow taste. This premium scotch whisky features notes of tobacco, dried fruit, and leather that make for an intriguing, aromatic drink.
It's a subtle and sophisticated choice, ideal for pairing with food or a post-dinner cocktail.
The House of Suntory's Yamazaki 55 Year Old
Yamazaki 55 Year Old is the world's oldest, and arguably finest, Japanese whisky. Produced by Japan's first distillery, The House of Suntory, this limited-edition whisky comes in an engraved crystal bottle whose neck is wrapped in handmade Echizen washi paper and bound with Kyo Kumihimo braided cord (a traditional Kyoto craft). Only 200 bottles exist worldwide and at $60,000, this lives up to one of the most exclusive whiskies released in the last year.
Gordon & MacPhail's Generations 80YO
When it comes to quality, any whisky would be hard-pressed to surpass Gordon & MacPhail's latest batch of Glenlivet. That's because it holds the title of the oldest single malt Scotch whisky ever bottled and comes in a decanter designed by none other than David Adjaye.
At an astounding 44.9 per cent ABV, the Generations 80YO whisky gets its name from its 80 years inside Glenlivet Distillery's casks. It is a remarkably multifaceted whisky that alters its flavour with each sip, revealing, in turn, notes of citrus, vanilla, and leather.
Royal Salute's Couture Collection
Scotch whisky brand Royal Salute has launched The Couture Collection, a new line of collectable whiskies celebrating the world of fashion. The collection's debut, the Royal Salute 21-Year-Old Richard Quinn Edition features a bottle design by the rising star of British couture fashion, emblazoned with his signature floral designs.
The whisky itself has been crafted by Royal Salute's renowned master blender Sandy Hyslop, who hand-selected more than 31 rare single malts and grain whiskies, all matured for a minimum of 21 years. The end result is a floral and fragrant Scotch with an edge of oak and spice.
The Dalmore's King Alexander III
The Dalmore's King Alexander III whisky blends six different cask finishes to create an exceptional liquor admired by connoisseurs the world over. Composed of whiskies aged in French wine casks, sherry butts, Madeira drums, Marsala barrels, port pipes, and bourbon barrels from Kentucky, King Alexander III has a complex blend of flavours, from the sweetness of summer fruits to the richness of smoky oak.
The Macallan's Rare Cask
The whiskies that make up The Macallan's Rare Cask collection are drawn from the broadest spectrum of casks kept at The Macallan Estate. The brand's use of sherry-seasoned American and European oak maturation casks produces a distinct breed of woody and richly hued whiskies.
The first batch of the collection was launched in 2018, with a new, limited-edition batch released every year since. The latest, 2021 edition has a velvety taste with sweet raisin notes and undertones of vanilla and dark chocolate.
The Glenturret's Trinity Provenance
The Trinity Provenance is The Glenturret's most exclusive whisky. The first edition in what will become The Trinity series, The Provenance comes bottled in a limited-edition Lalique crystal decanter designed by Lalique's artistic and creative director Marc Larminaux.
With only 320 bottles in existence, the 33 Years Old single malt is a celebratory launch from two historic brands, with tasting notes of ginger, cinnamon sticks, and brandy-soaked cherries.
Glenmorangie's The Original
The Original Glenmorangie is a reliable choice when it comes to whisky. Since its debut more than 175 years ago as the first whisky of Glenmorangie, now one of the world's most prestigious brands, The Original has stood the test of time with its delicate blend of citrus flavours with sweet honey, vanilla, and bursts of peach.
Midleton Very Rare's Dair Ghaelach Kylebeg Wood
For Midleton Very Rare's fourth instalment of the Dair Ghaelach series, Midleton's masters worked with the guardians of Kylebeg Wood on the Ballykilcavan Estate, in County Laois, to carefully select the seven trees that would be used to create virgin Irish oak hogsheads in which to mature some of their best whiskies.
The partnership is the latest example of how Midleton is collaborating with Ireland's forestry custodians to meet the highest standards in forestry conservation, while simultaneously producing top-notch whiskies. The end result is a whisky characterised by woodland spices, cinnamon, nutmeg, and dried, earthy undertones.
Receive our daily digest of inspiration, escapism and design stories from around the world direct to your inbox
Writer and Wallpaper* Contributing Editor
Mary Cleary is a writer based in London and New York. Previously beauty & grooming editor at Wallpaper*, she is now a contributing editor, alongside writing for various publications on all aspects of culture.