Humo, a new Mayfair restaurant, revolutionises wood-fired cooking
Mayfair restaurant Humo experiments with different types of wood to create unique and delicious flavours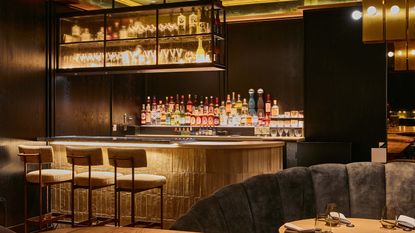 (Image credit: Humo)
Wood and fire burn at the heart of an exciting new Mayfair restaurant. Humo (meaning 'smoke' in Spanish) presents a wood-fired kitchen that offers a unique culinary experience revolving around a 4m-long grill, and uses no electricity or gas as cooking fuel.
This opening marks the debut for Colombia-born chef Miller Prada, a protégé of Endo Kazutoshi of Michelin-starred Endo at the Rotunda in west London. The food at Humo is influenced by the precision of Japanese cuisine and by Prada's Colombian roots. But the menu is led by exceptional ingredients rather than by a specific cuisine. The restaurant prides itself on using the very finest produce and innovative culinary techniques, with the use of smoke or fire integral to the preparation and execution of every dish on the menu.
Humo, inspired by wood and fire
Prada recalls his fascination with the bonfires he made at his grandmother's home near Bogotá – his family predicted a future in pyromania, but happily he channelled these tendencies towards cooking extraordinary food.
At Humo, a wide selection of woods is used to cook the food and to add subtle nuances of flavour. Juniper, white ubame oak, British oak, birch, cherry, walnut, apple and beech, for example, are sourced from protected wood 'farms' in the UK.
Prada has embarked on an experimental journey, with the various types of wood behaving in different ways, exploring their diverse burning characteristics and the degrees of heat and flavour they bestow.
Hero dishes include hand-dived Orkney scallop, grilled directly on French oak from whisky casks in which the whisky has been aged for 25 years, and served with a Speyside single malt whisky sabayon. The Hampshire trout is also of note. Marinated and smoked in juniper, it is seared with white ubame oak, topped with six-month-aged caviar, and then grilled in kombu kelp.
Anyone who enjoys the particular pleasure of staring into the dancing flames of a fire, or indeed, of watching food as it cooks, may indulge in these simple delights in sophisticated surroundings at Humo, where a comfortably seated counter surrounds the impressive tailor-made grill that's centre stage. In addition, the room is dotted with tables that offer a more intimate dining experience, and there is a ten-cover chef's table on the lower ground floor, which is designed for private dining, tastings, and exclusive events.
The wine list has been thoughtfully curated to complement the cuisine and spans small artisan growers and traditional producers, with a wide selection of low- and no-sulphur wines and, in particular, magnificent aged Burgundy and Bordeaux. Champagne also features, and plays a part in the pairing menu, which also includes sake and signature cocktails.
The space is glamorously lit and richly appointed by London-based studio Afroditi. Wood is fittingly the main theme and focus of the restaurant interior. One wall has been clad in all the different types of wood species that Prada uses for his cooking, and the floor is a stunning hand-crafted jigsaw of smoked European oak.
Finally, In case you were wondering about all this fire and smoke, your knitwear is safe. A state-of-the-art extraction system has been installed, so you will leave Humo after an outstanding culinary experience, but without smelling like a bonfire.
humolondon.com (opens in new tab)
Melina Keays is the entertaining director of Wallpaper*. She has been part of the brand since the magazine's launch in 1996, and is responsible for entertaining content across the print and digital platforms, and for Wallpaper's creative agency Bespoke. A native Londoner, Melina takes inspiration from the whole spectrum of art and design – including film, literature, and fashion. Her work for the brand involves curating content, writing, and creative direction – conceiving luxury interior landscapes with a focus on food, drinks, and entertaining in all its forms