IWA sake brewery by Kengo Kuma is Best Roofscape: Wallpaper* Design Awards 2022
IWA sake brewery in Japan, by Kengo Kuma & Associates, scoops Best Roofscape at the Wallpaper* Design Awards 2022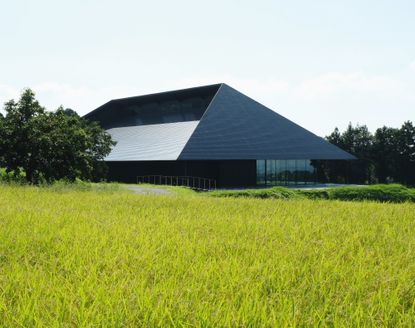 (Image credit: Nao Tsuda)
'My reputation, my notoriety is built on the art of assembling and blending, and this project has been all about assembling and blending the best possible team.' So says Richard Geoffroy, former Dom Pérignon chef de cave (W*211), now creator of a progressive new sake brand, IWA. The team to which he refers consists of sake master Ryuichiro Masuda, designer Marc Newson, who created the distinctive bottle and glassware, and Japanese architecture master Kengo Kuma, who has designed this Wallpaper* Award-winning IWA sake brewery.
Kuma was Geoffroy's first choice. They first met in around 2005 when working on another, unrealised, project, so this was a chance to set the record straight. 'Kengo has been resetting the fundamentals of Japanese architecture,' explains Geoffroy over a glass or two of IWA 5. 'He has an undiluted and pure vision; he has put Japanese architecture back on the map. His architecture, like our sake, is rooted in Japan, but it has an international reach.'
The IWA sake brewery vision
But Kuma has been much more than an architect on this project: 'He has guided me through the maze of Japan,' explains Geoffroy. 'Kengo opened my eyes to quintessential Japanness – the culture, aesthetics and philosophy.' Kuma also helped to source the right sake master. 'I'd been looking for the ideal partner, but had not been successful,' says Geoffroy. 'Kengo immediately suggested Ryuichiro Masuda.'
Kuma explains: 'This is such an ambitious project and I realised a high-level partner was needed. Masuda-san is my friend and I have great respect for him. He has unique ideas for the future of sake, without compromising on the traditions.'

The location of the kura (brewery) was of prime importance. 'We visited many options for the site, and finally we found this perfect place, says Kuma. The site of Shiraiwa (hence the company name, Shiraiwa, or 'white rock', and the brand's name, IWA) is located next to the town of Tateyama, near Toyama on the Sea of Japan coast. 'Masuda's family brewery is on the ocean side of the old town and our location is totally opposite, in the mountains,' continues Kuma. With some of the heaviest snowfall in the world, the area has access to pure local water. 'Richard and I were very excited to find such a place,' says Kuma.
IWA sake brewery architecture
But what of the actual building and architecture? 'I was convinced that it should not just be a factory – not a big concrete box with only the function of production,' says Kuma. 'We tried to look back to the old-style system, where sake was often made in the house. We wanted this to work more like a home than a factory.' Referencing the Edo period of domestic architecture in the Toyama region, the building features an extraordinary roof profile.
'It accommodates and hides many functions,' says Kuma. 'Traditionally, this area was renowned for the production of silk, and at the centre of many old houses there would be a large hearth, which would not only heat up the private spaces but also the factory spaces, to dry the silk. This large roof is a symbol of that kind of living and producing.' In Kuma's factory/home, workers, executives, production, reception and guests all live and work under this same roof, and gather around the large hearth. 'Everybody will meet there, talk there, eat there – it's the heart of the house,' Kuma explains. 'I want to bring that type of centre to the contemporary building.'

This is Kuma's first kura. 'It's a very special commission for a Japanese architect,' he explains. 'Both the making of sake and the making of architecture require attention to detail and the pursuit of perfection. The combination of tradition, craftsmanship and contemporary technology. I want to show that kind of harmony.' With Kuma renowned for exporting Japanese culture globally, and Geoffroy taking his vision of French culture to Japan, we have the perfect blend.
INFORMATION
iwa-sake.jp (opens in new tab)
kkaa.co.jp (opens in new tab)