Ardray whisky reinterprets Scottish traditions with a Japanese approach
Ardray whisky is the result of an exciting and groundbreaking collaboration between Scottish and Japanese whisky makers that presents new perspectives on a long-lasting tradition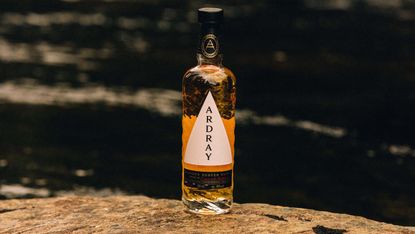 (Image credit: Ardray Whisky)
Premium spirits company Beam Suntory has unveiled Ardray whisky – a significant launch that heralds the dawn of a new era in blended Scotch whisky. Ardray is the result of an exciting and groundbreaking collaboration between Scottish and Japanese whisky makers which presents new perspectives and challenges preconceptions of blended Scotch.
The Ardray story begins in the 1920s with Japanese whisky maker Shinjiro Torii – the father of Japanese whisky and founder of Japan's first whisky distillery, Yamazaki Distillery, which led to the creation of Suntory, Japan's first single malt whisky.
Torii reinterpreted traditional Scottish whisky with a Japanese approach. He set out to make whisky that followed Scottish production standards while being subtle enough for the unique Japanese palate, which requires delicacy, balance, and complexity.
In 2023, Torii's journey comes full circle with the presentation of Ardray whisky. Translating from Gaelic as 'towards the light', Ardray honours Torii's original vision and Beam Suntory's aim to keep pushing whisky forward. Wonderfully complex, yet approachable, this malt-rich whisky invites us to look at blended Scotch with fresh eyes. Ardray is an ultra-premium spirit that reveals the skill and craftsmanship behind the art of blending.
Beam Suntory's chief blender for Scotch, Calum Fraser, worked tirelessly with the award-winning Suntory blending team. Three years of meticulous development resulted in a whisky with multiple, elegantly balanced layers of flavour. Grain and malt whiskies were blended at precise ratio increments to find the exact point of perfect harmony and create a whisky of distinction and depth – a new and exquisite experience of blended Scotch.
Fraser comments: 'In creating Ardray we have combined an exceptional selection of the very best Scotch whisky has to offer with the inspiring talent of Suntory's blending team to create something new, refreshing and exciting. The time, care and attention to detail taken to source both malt and grain whiskies from some of Scotland's most noted distilleries has allowed us to explore hundreds of blends of Scotch malt and grain whiskies to achieve Ardray's optimum balance of multi-layered flavours. [We were] driven by the desire to ensure that the true beauty of this blend is greater than the sum of its parts. Ardray promises a rich and complex taste, with a distinctive harmony of flavours: a mild, gently floral, and citrusy fruitiness, with a vanilla custard creaminess and a rich, silky mouthfeel and lengthy aftertaste that is unmatched.'
Ardray is bottled at 48 per cent and non-chill filtered to fully optimise the complex character of the blend – you may like to serve it 'off the rocks', which means straining the whisky into the glass over ice. This new angle on whisky drinking circumvents the old debate over whether to enjoy with ice or with water – off the rocks achieves the perfect level of chill and dilution.
Ardray is beautifully presented, with original artwork by artist Lia Melia that captures the dramatic Scottish landscape. The bottle features richly textured rippled glass that represents the Scottish water and fields of waving barley from which whisky is made.
Available from thewhiskyexchange.com
Receive our daily digest of inspiration, escapism and design stories from around the world direct to your inbox
Melina Keays is the entertaining director of Wallpaper*. She has been part of the brand since the magazine's launch in 1996, and is responsible for entertaining content across the print and digital platforms, and for Wallpaper's creative agency Bespoke. A native Londoner, Melina takes inspiration from the whole spectrum of art and design – including film, literature, and fashion. Her work for the brand involves curating content, writing, and creative direction – conceiving luxury interior landscapes with a focus on food, drinks, and entertaining in all its forms