Japan's newest hospitality offering is Not A Hotel
Unique hospitality offering Not A Hotel in Japan, by Shinji Hamauzu and Suppose Design Office, has won Best Timeshare at Wallpaper* Design Awards 2023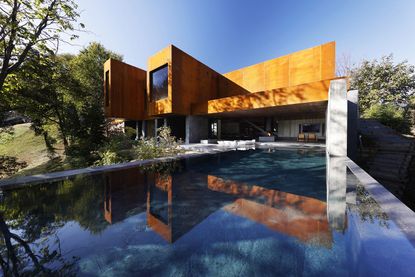 (Image credit: Kozo Takayama)
When Shinji Hamauzu quit working for Zozo Group, one of Japan's leading fashion retailers, in early 2020, he told his friends he wanted to go into the hotel business. Everyone advised him against it. 'This was in the middle of Tokyo's Covid lockdown and everyone thought I was crazy,' he says. Hamauzu persevered. He wasn't planning on 'just' building and running yet another hotel. He wanted to do things differently, and to highlight this, and partly in jest, he named his new venture 'Not A Hotel'.
'It was important to signify that we were completely different from your regular hotel,' Hamauzu explains. 'The usual route to building a hotel is to secure funding, build, and then start selling rooms by the day and hope for a good occupancy rate.' But instead, Hamauzu intended to treat each 'room' as a timeshare, selling it to 12 people, each getting 30 days' worth of use. He also planned to first find a great location and get a well-known architect to design the property, and then sell the timeshares online off the back of renderings and drawings. Only when the capital had been secured would construction begin.
Japan's Not A Hotel is born
The first location he chose was on top of a small hill overlooking the vast greenery of the Nasu Farm Village, a picturesque horse-riding stable. He then approached Japanese practice Suppose Design Office. 'We were initially contacted regarding the plot as we have a separate company that deals in real estate with great views,' says Suppose co-founder Makoto Tanijiri. 'And then Hamauzu asked us to come up with the design of the property, too. The initial brief was to design one property, but this later turned into two distinct properties,' says Suppose's other co-founder Ai Yoshida.
The larger of the two structures, titled 'Masterpiece', is clad in Corten steel and the interior features a mix of natural stone, hardwood and exposed concrete. A spacious living room with a sculptural fireplace opens out onto a large terrace offering far-reaching views of the landscape. There are four bedrooms, a cosy lounge, a pool, a natural hot spring bath and a sauna. Hamauzu and Tanijiri are self-proclaimed sauna aficionados. 'I am a huge sauna fan. No sauna, no life,' says Tanijiri. 'What's unique about the sauna in Nasu is the views. The scenery really heightens the experience.'
Advertised at ¥837,600,000 ($6,136,000) for exclusive use, 'Masterpiece' is somewhat of an investment. But chop it down to a 30-days-a-year timeshare and spending time there comes in at ¥69,800,000 ($511,000) – which quickly sold out. If a shareholder doesn't plan to use the full period they purchased, they can ask Not A Hotel to rent the house out to recoup some of the investment. Shareholders also get to use Not A Hotel's other locations. At the moment, there are only two, in Nasu and Aoshima, but Hamauzu is planning to create 30 new venues by 2025 and has already enlisted Suppose to design one in Minakami. Sou Fujimoto will work on a retreat on Ishigaki Island; and the trio of Smiljan Radic, Erika Nakagawa, and Yuji Harada will collaborate on a house in the woods in Kitakaruizawa.
The smaller of the Nasu structures (titled 'Think') is actually two buildings. The main volume is a little over 240 sq m. Like 'Masterpiece', it comes with its own spacious terrace, pool, sauna and hot spring bath, but it only has one bedroom. A tiny tower-like addition next to it makes up for this, acting as a small guest house, complete with a private hot tub on the roof.
The 'Masterpiece' and 'Think' retreats share a sense of spaciousness, and the quality of the materials and the construction elevate the carefully designed spaces. 'We thought hard about what luxury actually meant,' says Tanijiri. 'In Japan, many people think that if you use expensive materials, that will create a luxurious space, but, for us, luxury is more about things like the scale of the room, or the luxury to leave something out, or that fuzzy divide between the inside and the outside.'
The approach to the property, and the surrounding landscape by Japanese plant specialist Solso, is dotted with rough rocks and tall birch trees. As soon as visitors drive up the winding road towards the property, a sense of anticipation unfolds – it is clear that this is something special. Inside, the spacious rooms, carefully selected furniture and quality materials reinforce this feeling. This is not a hotel, but something more intimate, personal and, ultimately, much more satisfying.
The winners of the Wallpaper* Design Awards 2023 are revealed in the February 2023 issue, available in print, on the Wallpaper* app on Apple iOS, and to subscribers of Apple News +. Subscribe to Wallpaper* today
Receive our daily digest of inspiration, escapism and design stories from around the world direct to your inbox