Wallpaper* Design Awards 2023 winners announced here and in February issue
The Wallpaper* Design Awards 2023 winners are revealed here and in full in the February issue, on newsstands today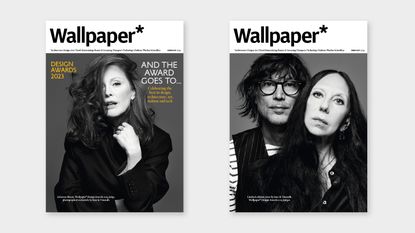 (Image credit: Photography: Inez & Vinoodh)
Beyond her indomitable presence on the big screen and timeless style – which have made her one of the most beloved figures in the entertainment industry – Julianne Moore has been a passionate champion of design. She's amassed an impressive personal collection, decorated her own homes, and built strong ties with designers and dealers over the years. So we were delighted when she agreed to serve as a judge of our annual Design Awards.
Not only is Moore the perfect cover star, she also has a feel for what good design can achieve beyond elevating our environment. As she tells our contributing editor Tilly Macalister-Smith, design can be a powerful differentiating force in a world of overstimulation: 'It can call your attention to something, it can give you an actual emotional experience. And the more you could do that in your life, the better.' This has proven a strong guiding principle for our selection of honorees throughout our dedicated awards issue.
Her fellow judges are no less illustrious. Inez & Vinoodh, who shot our portrait of Moore, are natural inclusions not simply because of their pioneering approach to image-making, but also Inez's ambitions in the field of design; as is Pamela Shamshiri, one of the most sought-after names in American design and a wizard at breathing new life into historic buildings. Objects of Common Interest, our Designers of the Year 2022, have also come on board. And to round off the panel, we are particularly pleased to have Nils Frahm, the genre-bending musician known for his unconventional use of the piano. Besides discussing his recent album, Music for Animals, Frahm also takes us on a tour of Funkhaus, the former GDR radio station complex in Berlin that he has meticulously restored into a contemporary creative hub.
Our judges determined the winners of our special categories – Designer of the Year, Best Public Building, Best Private House, Best Domestic Design, Best Grooming Product and Life-Enhancer of the Year – based on a shortlist drawn up by Wallpaper*.
Elsewhere in the magazine, our roving editorial team scoured the world for showstopping achievements and shining stars from across the creative industries. From the best looks on the S/S 2023 catwalks and a renowned Brazilian architecture studio's first ski retreat to a mega sculpture in the Nevada desert and a choir of wooden dolls programmed to perform a cappella compositions, these designs are evidence that the creative industries are more vibrant than ever.
And given the recent surge of interest in the creative uses of AI, it is apt that we would leverage its advances to commend our winners. We commissioned photographer Ben Millar Cole, who has experimented with AI-aided art since 2015, to imagine a new Wallpaper* Design Award using art generator Midjourney. Meticulous and of-the-moment. How very us!
Bill Prince
Acting Editor-in-Chief
---
WALLPAPER* DESIGN AWARDS 2023 WINNERS
The Judges' Awards
Six special categories, adjudicated by this year's judges, Julianne Moore, Inez & Vinoodh, Pamela Shamshiri, Objects of Common Interest, and Nils Frahm.
India Mahdavi
Turntable, by Brian Eno and Paul Stolper Gallery
Desert Palisades, US, by Woods + Dangaran
Chapel of Sound, China, by Open Architecture
Perfumes, by James Turrell, for Lalique
Tigín Tiny Homes, by Common Knowledge
---
All our other Wallpaper* Design Awards 2023
As decided by the Wallpaper* team.

Best Adaptation
Pictures from Home, at Studio 54, New York
Best Art Installation
Hyundai Commission for Tate Modern: Brain Forest Quipu, by Cecilia Vicuña
Best Asterisk
AI-generated Design Award 2023, by Ben Millar Cole
Best Bee Lines
Limited-edition honey, by Flamingo Estate
Best Cable Show
'To-Tie' lamps, by Guglielmo Poletti, for Flos
Best Clean living
'Tiberio' vanity unit with washbasin and mirror, by Andrea Parisio and Giuseppe Pezzano, for Ceramica Cielo
Axor 'One' basin mixer in Ice, by Barber Osgerby, for Axor
'Resincrete' tiles, by VitrA
'Zencha' bath, by Sebastian Herkner, for Duravit
'Joy Neo' freestanding bath mixer, by Palomba Serafini Associati, for Ideal Standard
Best Click
'M Lock 4810 buckle, by Montblanc
Best Commute
Elizabeth line, London
Best Construction
'Extrude' coffee table, by Arthur Vallin
'EP01' chair, by Lauren Goodman
'CSQ' console, by Niko Koronis, from Carpenters Workshop Gallery
'Silo 2FG' floor lamp, by Lambert & Fils
Untitled 2022, by Harry Morgan
'Aluminium' stool and candlestick, by David Taylor
Best Cross Pollination
'Occasional Object' cutlery set, by Virgil Abloh and Alaska Alaska, for Alessi
Best Curve Appeal
Conch pearl earrings, by Boghossian
Best Debut
'Volume, the Land and the Maker', 2022, by Unno Gallery
Best Disappearing Act
'A'mare' outdoor furniture collection, by Jacopo Foggini, for Edra
Best Earth Builder
Vinu Daniel, of Wallmakers
Best Eighth Wonder
City, Nevada, by Michael Heizer
Best Elements of Surprise
Waste-based Terrazzo Family, 2022, by Charlotte Kidger
'Yubiwa' side table, by Roxane Lahidji
'Refoam' console, by We+
'Liquid Geology' table, by Can
'Paper' chair, by David Horan, for Béton Brut
Best Ensemble
Choir, by Teenage Engineering
Best Eye Candy
'Margas LC2' armchair, by Louise Liljencrantz, for &Tradition
'T4' lounge chair, by Holloway Li, for Uma
'Havana' armchair, by Lab 15, for Eilersen
Best Game Changers
Haas Brothers, for L'Objet
Best Hearth
'By the Fire' fireplace, by Studio Luca Guadagnino
Best Hidden Gem
Studio Renn, Mumbai
Best Hot Spot
'Cabanon' sauna, by Rodolfo Dordoni, for Effegibi
Bottega Veneta
Fendi
Gucci
Paul Smith
Chanel
Givenchy
Dior
Saint Laurent by Anthony Vaccarello
Louis Vuitton
Dolce & Gabbana
Prada
Loewe
Rokh
Hermès
Sportmax
Ferragamo
Raf Simons
Tod's
Issey Miyake
Talia Byre
Marni
Celine Homme
Balenciaga
Jil Sander by Lucie and Luke Meier
Best Mirror Finish
'The Principle of Lightness' collection, by MDF Italia
Best New Weaves
Waving Towers, by Cristián Mohaded
'Ibuju' stool and bench, by Francisco Jaramillo, for Fango
'Basket' lounge chair, by Joe Colombo, for Gubi
Best Outdoor Lounge
'Gatsby' planters, by Ramón Esteve, for Vondom
'Camargue' sofa, by Antonio Citterio, for Flexform
'Onsen' tables and lounge chair, by Francesco Meda and David Quincoces, for Gandia Blasco
'Onda' lounge chair, by Gordon Guillaumier, for Roda
'Plumon' sofa and chair, by Patricia Urquiola, for Kettal
'Circlet' stool, by Janus et Cie
'Talo' tables, by Altherr Désile Park, for Expormim
'Twins Alu-Teak' lounge' chair, by Sebastian Herkner, for Emu
Costiera' sofa, by Christophe Pillet, for Ethimo
Best Reissue
'Tobi-Ishi' table, by Barber Osgerby, for B&B Italia
Best Restaurant
Ikoyi, London, by Studio David Thulstrup
Best Rock Formations
'Pebble Rubble' collection, by Front, for Moroso, upholstered in 'Arda' fabric, by Front, for Kvadrat Febrik
Best Seating
Best Silhouettes
'Horizonte' sofa system, by Marcio Kogan/Studio MK27, for Minotti
'EK61' light, by Esben Klint, for Carl Hansen & Søn
'Mush' table, by Jean-Marie Massaud, for Poliform
'Blevio' dining table, by Ignazio Gardella, for Molteni & C
'Lloyd Tex' bookcase, by Jean-Marie Massaud, for Poltrona Frau
'Flutz' chairs, by Michael Anastassiades, for Cassina
'Stance' vases, by Colin King, for Menu
Best Ski Retreat
Flag House, Canada, by Studio MK27
Best Sleeper Hits
'Dharma' bench, by Studiopepe, for Baxter
'Car Park 1' rug, by Odd Matter, for CC-Tapis
'Leonardo' bookshelf, by Alessandro La Spada, for Visionnaire
'PK0 A' Chair, by Poul Kjærholm, for Fritz Hansen
'Collapse' vases, by Sofia Tufvasson, for Menu
'Vibe' bed, by Carlo Colombo, for Giorgetti
Best Spirit Lifters
'Alpha' mini sake pitcher and sake tumblers, by Hans Harald Rath, for J & L Lobmeyr
Limited-edition 'HopStep' crystal vessel; 'HopStep' in brown glass and 'Cloud Pipe' in amber, by Aldo Bakker, for J Hill's Standard
Best Storage
'Concept USM by Rimowa', by USM and Rimowa
Best Sustainable Style
A/W 2022 collection, by Herno Globe
Best Switch
'Coulisse' lamp, by Tomás Alonso, for Hermès
Best Team Colours
Roksanda x Fila
Best Tech
Pixel 7 Pro smartphone, by Google
Mania portable speaker, by Devialet
Sub Mini subwoofer, by Sonos
Best Tented Love
'Sardine Sardine', by Madeleine Oltra and Angelo de Taisne, for Design Parade Toulon 2022
Best Timeshare
Not A Hotel, Japan, by Shinji Hamauzu and Suppose Design Office
Best Time Traveller
Casquette 2.0 watch, by Girard-Perregaux
Best Use of Colour
First Emotions collection, by Lucia Pica, for Byredo
The winners of the Wallpaper* Design Awards 2023 are showcased in the February 2023 issue, available in print, on the Wallpaper* app on Apple iOS, and to subscribers of Apple News +. Subscribe to Wallpaper* today (opens in new tab)
Bill Prince is Acting Editor In Chief of Wallpaper*. Prior to taking up the role in March 2022, he served for 23 years as the deputy editor of British GQ, before which he worked at EMAP (as assistant editor of Q Magazine) and IPC (where he began his career at NME). In addition to editing, writing and brand curation, Bill is an acknowledged authority on travel, hospitality and watches. His first book, 'Royal Oak: From Iconoclast To Icon' was published by Assouline in September 2022.