Building Salmon Creek Farm: inside California's ultimate creative retreat
Salmon Creek Farm's founder, the architecture-trained artist Fritz Haeg, opens the doors to his cultural commune and tells us its story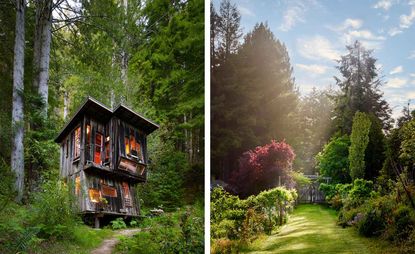 (Image credit: Photography by Thomas Loof. Art Direction by Michael Reynolds)
Salmon Creek Farm was conceived as the ultimate creative retreat. Set within the coastal redwood forests of Albion, California, the brainchild of architecture-trained artist Fritz Haeg is a place to foster a relationship with nature, slow down and connect with daily life.
Here, he opens the doors to his cultural commune and tells us its story.
I 'dropped out' in 2014. Traded in home in LA for a life in the woods. I bought a commune founded by idealistic hippies in 1971 on California's Mendocino coast. Eleven handcrafted cabins clinging to logging roads carved into a south-facing slope of second- and third-growth redwoods. I wrote a letter to the 13 remaining shareholders and expressed interest in continuing the legacy and spirit of the place. I offered to preserve their archive, which included correspondence, weekly meeting minutes, documents, maps, plans, press clippings and photographs. It offered a fascinating window into the social structures and stories behind the buildings that remain.
I gave up my previous life as a nomadic artist to be rooted in one place. An extended community of friends, friends of friends, and whoever showed up, pitched in during the early years with building, repairing, digging, gardening, decorating and documenting. Salmon Creek Farm is now emerging as a long-term art project shaped by many hands, a sort of queered commune-farm-homestead-sanctuary-school hybrid. We host workshops and retreats, and will soon start some sort of school. A non-profit has been formed to offer a 'sanctuary for fostering and cultivating a new kind of artist in the world'. I consider myself a steward of a sacred place that existed before me, and will continue after me. Here are some excerpts from a memoir I've been writing about my time on the land:
Salmon Creek Farm: the Commune
No one remembers exactly how many of them there were, what the date was, whether they marked the moment in some way, or even where they pitched the first tents, but the Salmon Creek Farm commune started as a modest encampment down at the creek on a late summer's day in 1971. Co-founders River and Robert each came with three young boys as a new blended family, and were joined by a few friends. On that first day, it seemed a natural choice to settle by the water. Stay by the source instead of having to haul it up. The notion of starting a commune down at the creek today is hard to fathom, with the steep terrain and thick woods between the road access on the ridge top and the valley at the bottom. But the land had been clear-cut in the 1950s, so the woods were a miniature version of what stands today. The creekside encampment lasted exactly one night. They hadn't even been battered by the famous coastal winter storms yet, but already they saw the challenge of hauling supplies down and kids up. The next day they began to scout individual sites for camping, which eventually would become cabin locations.
Working on Salmon Creek Farm
Every facet of life on this land – cultivating food, gathering water, harvesting trees to keep warm, composting, hosting friends, taking care of buildings – is both a practical necessity and a metaphorical enterprise to find big meaning from small daily tasks. I look back at the calendar over my first years, at the days marked with chores, comings and goings of guests, and wonder what happened. I hope that every moment is wrapped up in a legacy of actions, impacts and creations manifested here on this land. The day I carved the steps into the hill that would allow us to move in a new way, the rainy winter night that the new fruit trees were planted, the week a group of us built a communal dining pavilion out of wood harvested a few hundred feet away. I'm talking about embodiment, living a life intertwined with my surroundings, and the people who have passed in and out. We have affected this place, the place has affected us.
Hospitality
At the time of writing, I figure we have welcomed 1,442 guests at the gate. We have a culture of care, with each guest hosting the next. You get your cabin ready for the next person to arrive after you. You clean it, arrange things, perhaps leave flowers, a gift, a letter. We have hundreds of these letters now, warning the next cabin occupant of a night-time rodent intruder, welcoming them to experience the light at a certain time of day, informing them of a glitch with the hot water. I'm amazed when I go to a hotel how little there is to know about staying there. When people come to us, they get a detailed sheet to read about everything from tending a fire to emptying an outhouse bucket.
Comfort
When I see a room without a pile of pillows, blankets or rugs, I wonder, 'Is this person a sociopath?'. In architecture school in the late 1980s, it was drilled into us that comfort was the enemy of great architecture. But I believe in world-making that conjures up alternatives and possibilities. A pillow says rest your head, a blanket says tuck in, a rug says take off your shoes. They say you are welcome. This soft-grandma cosy vibe is actually radical when you think about it. Desiring comfort is not a weakness.
Improvisational carpentry
All the cabins were built in a hurry by hippies with no skills or experience or power tools. They went on to build around 21 structures on the land, referring to carpentry how-to books for the basics. They harvested saplings for poles, bought old windows from down the ridge where we still buy ours, even used pinball machine plastic for some windows. Building like this is like cooking from a garden. You start with what you have, then make a plan. The length of your boards will determine how high something is. A certain window might dictate a wider wall. It is the building equivalent of farm-to-table cooking. Every builder has a philosophy. I call mine 'improvisational carpentry'. It's the mostanti-modern way of building. I was schooled in the opposite approach. Alone at a table, or on a screen, facing the empty page. Make the recipe, then buy the ingredients and be damned what's in the fridge at the moment.
Rebuilding
The glass shatters into deadly triangular shards and scatters to the floor as I back into a window while heaving a beastly commercial stainless steel stove into position. Bustingone thing while fixing another is especially heartbreaking. We are in the middle of some intense renovations at Dawn cabin. Patching up one door, turning a bathroom into a vestibule, reimagining a previously private cabin as our new communal space. It is my first time cutting and sawing with electric power, and that's where things get dicey and I get nervous.
Trained as an architect, for decades I had been drawing plans for others, then inspecting to make sure the vision was being executed without any real appreciation for the effort or skill involved. Anyone with any capacity or confidence to use a power tool was put to work in the early days at Salmon Creek Farm. But now I have to face the music as the custodian of 11 ageing cabins lovingly built by amateur hippy hands. I can no longer depend on the passing skills of visitors. I finally need to take some agency. This broken window is the pivot point where I begin to build for myself. I remove the remaining glass and pry away the decaying wood stops. I take a dimension of the opening and, stunningly, it is identical to a salvaged window I have on hand. It has hopper hinges, allowing it to pivot up and out. Three or four screws on each side secure it to the frame and miraculously it fits, perfectly. I open and close it, and my mind is blown with a sense of accomplishment. Something mysterious that I've previously depended on others to do is now in my hands, and I'm off.
This article appears in the August 2023 issue of Wallpaper*, which includes the Wallpaper* USA 300, available in print, on the Wallpaper* app on Apple iOS, and to subscribers of Apple News +. Subscribe to Wallpaper* today
Receive our daily digest of inspiration, escapism and design stories from around the world direct to your inbox