Julianne Moore, actor and Wallpaper* Design Awards judge: 'Great design feels familiar but exciting'
Julianne Moore tells us of her passion for design, living with pieces she loves (puppy-bite marks on the Nakashima and all), and picking winners for the Wallpaper* Design Awards 2023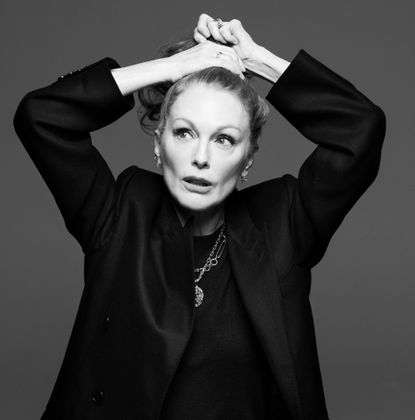 (Image credit: Photography: Inez & Vinoodh)
When it comes to design, Julianne Moore's voracious enthusiasm and genuine curiosity has honed her eye. Over the decades, not only has she acquired a spectacular design collection, but impressively, she has an intuitive understanding of how to put it all together. Rather than working with an interiors professional in the shadows, as many would do, the Academy Award-winning actor – known for films such as Still Alice, The Hours and Magnolia – has chosen to decorate all of her homes. While many of her pieces are considered blue-chip collector's items, as a mother of two children, as well as owner of two dogs, ultimately she's a pragmatist. 'You have to use this stuff, you have to live with it,' she says frankly. Case in point: her large George Nakashima coffee table – her first big purchase that has 'been everywhere with me' – bears teeth marks from her chihuahua from when it was a puppy.
Speaking from her new home in Lower Manhattan, Moore is currently pondering how she will furnish this new residence, which feels more contemporary than the West Village townhouse she sold in 2021. 'Every space calls for its own design,' she says. 'What worked in the townhouse is not necessarily going to work here,' although for now she's keeping her collection of Carl Auböck and Harvey Probber pieces. Many other pieces from her West Village home have either been sold, moved to storage, or relocated to her Montauk house, including two Le Bambole sofas by Mario Bellini, a Rogan Gregory coffee table, a large Pierre Chapo dining table and chairs, Willy Van Der Meeren cabinets, a Charlotte Perriand bookcase, and a Pierre Jeanneret desk: 'In the townhouse, you could never see it, but there I have it in a room with a lot of space around it.' That leaves her wondering what to do with a de Sede serpentine sofa, which she loves, but currently doesn't have space for. 'Your tastes do change,' she says. 'Remember Biedermeier?' she asks, referring to the early 19th-century Central European style that experienced a resurgence in the 2000s. 'What happened with that? Everyone went crazy for it, and then, poof!'
While tastes evolve over time, her decades-long passion for design has made some things clear to her. 'No matter what period something is, I like things that have a kind of sculptural quality to them. I don't like a lot of colour or pattern, but I like texture.' All of which informs her top choice for Designer of the Year when casting her vote in the Wallpaper* Design Awards 2023. 'When you see the juxtaposition of what India Mahdavi does with colour and pattern, and how satisfying that is, and then you see her work that is more sculptural and pared back… that is a gift.'
Julianne Moore on design as a 'humanist pursuit'
Moore speaks of design as a 'humanist pursuit. How do you live with it? What feels good to you?' She's attracted to designers whose original intentions were to create functional pieces for all. 'You can never get enough Perriand, right? There's something so vibrant and interesting about who she was, and how she lived her life, and the designs she created. [Isamu] Noguchi, too, is someone who's always spoken to me.' Last year, in conversation with Glenn Adamson for the Sotheby's Important Design sale, Moore spoke about Noguchi's theory that design was to make everyone's life better. As an egalitarian, she believes strongly in the importance of being able to access design with provenance. 'My first real design purchase was a tiny "Akari" lamp for around $100. As a young person, that was a piece of genuine design that I could live with.'
While her extensive knowledge is self-taught, she credits the design community for sharing insights: 'It's amazing how many people in the design world are generous enough to educate you if you just ask.' For starters, she consults architect and brother-in-law Oliver Freundlich on the layout of all her houses before she gets to work on the interiors. While a self-confessed scroller – 'I'm always online. I can't stop myself' – researching and window shopping at online galleries and auctions doesn't wield the same satisfaction as the relationships she has built. 'Kim Hostler of Hostler Burrows has been instrumental in my education. Evan Lobel [of Lobel Modern] and I have been friends since the late 1990s when he first started. Alberto [Aquilino] from 1950 is always so willing to talk. I go to Magen H Gallery all the time and talk to Nathalie [Dheedene].' She continues, 'There are so many decorators that I love, I think Reed and Delphine Krakoff are so talented. Michael Bargo is amazing. Joseph Dirand, Pierre Yovanovitch. Vincent Van Duysen has been a friend for ages, Daniel Romualdez is a neighbour in Montauk. Brian Sawyer did my garden in my townhouse. Joe D'Urso I think is a genius, I actually just ordered his table from Knoll.'
Intuition and gut feeling drives many of her own design decisions. She felt drawn to Open Architecture's staggering Chapel of Sound in China, a Wallpaper* Design Award 2023 winner for Best Public Building. 'I always feel that great design feels familiar but exciting at the same time,' she says. 'You see a building like this and you feel that it's always been there, but it also feels completely new. I loved it, it makes me want to go there, I want to see it and be in it.'
Moore herself is using design as a powerful tool. She started making ceramics as a hobby in the summer of 2022, and before long, Nancy Pearce – a sculptor she discovered through LA studio Commune Design and became friends with via Instagram – suggested casting a few in bronze. The collaboration, a limited edition of 100 pieces, sold out instantly when it went on sale on Moore's own Instagram account and Pearce's site, and will benefit charities for gun violence prevention.
'That's the thing about design – how do you call attention to something, how do you make something special?' she says. 'We're inundated with so much sensation all the time, that sometimes it is difficult to differentiate, and design allows you to do that: it can call your attention to something, give you some space around something, it can give you an actual emotional experience. And the more you could do that in your life, the better.'
@juliannemoore. Moore's latest film, When You Finish Saving the World, is released on 20 January. She also appears in Sharper, released on 10 February
The winners of the Wallpaper* Design Awards 2023 are revealed in the February 2023 issue, available from 5 January in print, on the Wallpaper* app on Apple iOS, and to subscribers of Apple News +. Subscribe to Wallpaper* today (opens in new tab)
Tilly is a British writer, editor and digital consultant based in New York, covering luxury fashion, jewellery, design, culture, art, travel, wellness and more. An alumna of Central Saint Martins, she is Contributing Editor for Wallpaper* and has interviewed a cross section of design legends including Sir David Adjaye, Samuel Ross, Pamela Shamshiri and Piet Oudolf for the magazine.
With contributions from