B&B Italia celebrates 'Le Bambole' by Mario Bellini on its 50th anniversary
A cushiony icon of 1970s design, Mario Bellini's 'Le Bambole' seating collection for B&B Italia gets a sustainable makeover for its 50th birthday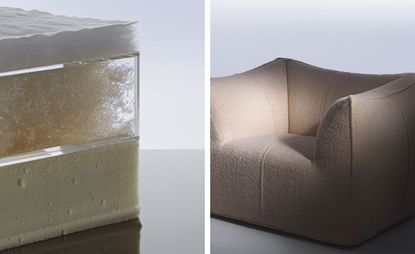 (Image credit: Photography: Alessandro Sorci )
Wallpaper* Newsletter
Receive our daily digest of inspiration, escapism and design stories from around the world direct to your inbox
Thank you for signing up to Wallpaper. You will receive a verification email shortly.
There was a problem. Please refresh the page and try again.
Back in 1972, the architect and designer Mario Bellini conceived 'Le Bambole', a playful sofa for groovy living rooms that would go on to become one of the icons of 1970s Italian style. Manufactured by Piero Ambrogio Busnelli and Cesare Cassina's C&B Italia (which would become B&B Italia in 1973 when Busnelli took full ownership), it is a vital piece of Italian design history that was awarded the Compasso d'Oro prize in 1979, and is still produced today by B&B Italia.
Without courageous and far-sighted entrepreneurs who are willing to take risks and put their trust in talented emerging designers to bring forth innovation, ingenuity can fall by the wayside. Bellini and his manufacturer found one another, and the rest is history. And to celebrate the 50th anniversary of Bellini's design, B&B Italia is now releasing a re-edition that looks at the sustainability of its manufacturing process.
Le Bambole's 1972 debut
The sofa's debut was spectacular: it was the first time a model had shared the stage with a piece of furniture in an advertising campaign for the latter. Photographer Oliviero Toscani, never one to shrink from controversy, shot scantily clad American model Donna Jordan – muse to Andy Warhol and the entire New York creative scene – frolicking on armchair and loveseat versions of 'Le Bambole'. Toscani was already an intriguing visionary; Jordan's posture was that of a spoiled child playing with a new toy, but her facial expression was considerably more grown-up. At a time when advertising had just become highly influential across the fashion and design industries, some applauded the campaign's outstanding and innovative visuals, while others considered them too disruptive. Censorship prevailed soon after the photographs of the topless model and curvy sofa were presented for the first time in the corridors of Salone del Mobile in 1972. The ads for 'Le Bambole' had to be toned down, but nonetheless became an emblem of contemporary living, as well as a manifesto for freedom.
Bellini is rumoured to have come up with the idea for 'Le Bambole' after seeing a bag left on the floor that resembled a large cushion. The sofa is formed from a super-light, concealed tubular steel frame, which is surrounded by flexible polyurethane foam, and it is this combination of the frame and the polyurethane that keeps the shape consistent when the sofa is in use. It stimulates our imagination and welcomes us into its soft and comfortable embrace, as only a project created from a single padded cushion can offer.
B&B Italia's reissue of an icon
In 2007, 35 years after it was first created, the sofa was revised by Bellini himself in a slimmer version with fully removable covers to create a new collection comprising the 'Bambola' armchair, the two-seater 'Bibambola' sofa, and the three-seater 'Tribambola' sofa, alongside matching ottomans. This year, B&B Italia celebrates 'Le Bambole's 50th anniversary with an innovative and more sustainable re-edition, which sports the rounded form of the original design and includes the 'Bamboletto' bed and the 'Granbambola' three-seater sofa, a deeper version of the 'Tribambola'. Thanks to advanced manufacturing technologies, the re-edition uses no adhesives and significantly less polyurethane, while its rotational moulded structure is made from recycled material. It is available in three new upholstery options: full-grain leather version Kasia, bold floral print fabric Manila, and super-soft sablé-weave fabric Sila.
'Sustainability is a crucial theme not only for us, at the company, but also for our investors at Design Holding [whose other brands include Flos and Louis Poulsen],' says Gilberto Negrini, B&B Italia's CEO. 'We are very concerned about the fact that our projects need to carefully consider the entire process of realisation, which starts from the designer's idea, the choice of materials, the production phases, until the real experience of those who buy and use the product. But we are also concerned about the end of this cycle, the recycling of materials and components. "Le Bambole" is a project that we are very proud of, a collection that bears exceptional content not only in the creative aspect, but also for its comfort, endurance and sustainability.' It is a great testament to its design that such an icon can keep up with the urgencies of today.
INFORMATION
A version of this article appears in the May 2022 issue of Wallpaper*. Subscribe today!
Receive our daily digest of inspiration, escapism and design stories from around the world direct to your inbox
Maria Cristina Didero is an independent design curator, consultant and author, who has contributed to many publications over the years; she is currently Milan editor of Wallpaper* . Didero has consulted for companies such as Vitra, Fritz Hansen, Lexus, Fendi, Louis Vuitton, Valextra among others. Based in Milan, she works internationally, curating exhibitions for institutions: some of her most recent projects include Nendo: The Space in Between and The Conversation Show at the Holon Design Museum, Israel; FUN HOUSE by Snarkitecture at National Building Museum, Washington D.C.; SuperDesign a project about Italian radical design, NY; Vegan Design, or the Art of Reduction by Erez Nevi and The Fish and The Crowd by Carlo Massoud, Milan. In April 2022 she curated a Mathieu Lehanneur exhibition at the Triennale in Milan called The Inventory of Life, while in July she debuted a project at the MK&G in Hamburg titled Ask Me if I Believe in the Future, alongside a series of ongoing collaborations. She was appointed 2022 Curatorial Director of Design Miami/. She is currently preparing two projects for Milan Design Week 2023.