What's next for mankind? Designers ponder the future in Hamburg exhibition
'Ask Me If I Believe in the Future' is a new show at Hamburg's Museum für Kunst und Gewerbe (until 23 October 2022), curated by Maria Cristina Didero and featuring Zaven, Objects of Common Interest, Erez Nevi Pana and Carolien Niebling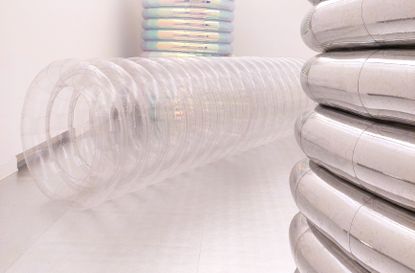 (Image credit: press)
Wallpaper* Newsletter
Receive our daily digest of inspiration, escapism and design stories from around the world direct to your inbox
Thank you for signing up to Wallpaper. You will receive a verification email shortly.
There was a problem. Please refresh the page and try again.
Given the tumultuous events of the past few years, you'd be forgiven for feeling a little pessimistic about what might be coming down the road. But when curator, design critic and Wallpaper* Milan editor Maria Cristina Didero asked four designers to engage with the slightly provocative question 'Ask Me If I Believe in the Future' for a new show at Hamburg's Museum für Kunst und Gewerbe (MK&G), the responses were surprisingly upbeat. Even more importantly, all of them embraced the idea of change. These designers weren't interested in a return to the status quo.
'Ask Me If I Believe in the Future' at Hamburg's Museum für Kunst und Gewerbe
Didero explains that the show was first conceived at the start of the pandemic, 'when nobody knew what was going to happen, not just in the far future, but even tomorrow'. People were feeling disoriented, and Didero thought it would be fascinating to investigate the notion of the future at this pivotal and unprecedented juncture: 'There was a sort of anguish; it was a powerful moment.'
The designers she selected to grapple with the question were Greek studio Objects of Common Interest (Wallpaper's Designer of the Year 2022), Zürich-based designer Carolien Niebling, Israeli designer Erez Nevi Pana, and Italian multidisciplinary design studio Zaven. All have been given free creative rein. The focus, as in many of Didero's curatorial projects, is very much on the ideas, people and themes, rather than the finished objects or products.
Objects of Common Interest proposed a sensorial installation, titled Teahouses for Domesticity, that features three inflatable pavilions in materials such as iridescent holographic foil and memory foam. 'Together they become an interchangeable cluster, with movement from outside to inside and vice versa and the blurring of boundaries,' explain Eleni Petaloti and Leonidas Trampoukis, the studio's two founding designers. 'Inside the pavilions, one can lose touch with the exterior, as though in a meditation space, but gradually reconnect with the outside through various media, such as material transparency or translucency, colour and iridescence, and video.' The studio's aim is to address the future through feelings and inner thoughts, and to give people the chance to reflect and slow down while they explore new notions of community and of sharing space with others.
Nevi Pana took a more otherworldly approach. 'I imagined humanity as a multi-planetary species, one that managed successfully to inhabit other planets,' he says of his installation, titled Homecoming. It features a landing pad filled with water (symbolising life) for future spaceships coming back to Earth after expeditions to other planets. A stool next to the pad is for those waiting for others to come 'home'. The idea is that viewing life on Earth from space will allow us to 'see the Earth as one, united – its strength and fragility laid bare', says the designer. This has the power to be consciousness-altering and unifying.
Zaven's vision was also collective, but very much Earth-based. Studio founders Marco Zavagno and Enrica Cavarzan chose to make a series of archetypal everyday objects – a lamp (for light), vessels (for food and drink), a cloak (for warmth and protection) and a chair (to rest on) – that have existed and evolved for centuries, but that the pair were pretty sure would be around in the future. 'Our design method is based on research, dialogue and experimentation,' say the pair. 'For this project, we insisted on the experimental aspect in particular, trying to build more with our hands, working not so much with sketches but with models and materials. We also worked with tailors and ceramicists, and were interested in working locally, joining forces, getting our hands dirty to achieve common goals.' In Zaven's imagined future, there is greater collaboration, more sharing of knowledge and practical manual work.
The fourth designer, Carolien Niebling, focused on the beauty of algae and edible plants in a series of blown-up photos and a collection of delicate ceramic plates featuring plants printed or cast in relief on the surface. Niebling says a lot needs to change on this beleaguered planet of ours, but she believes that change should be ignited by 'positive suggestions rather than negative restrictions'. In this project, she wanted visitors to think about what they were looking at before having an opinion on the ingredient itself. 'By showing ingredients out of context and in a museum, people tend to look differently at something that can be quite ordinary.'
The exhibition is laid out in two long rooms, with a central corridor that has been turned into a cinema space showing a film by Francesca Molteni about the designers. 'The film gives you an idea of the people involved. You hear their voices, you see where they live, how they work, how they think,' says Didero.
'The glue that brings the whole project together,' she continues, 'is the exhibition design, which is by Okolo, a Czech collective doing exciting, disruptive work in the fields of design, architecture, art and fashion. The entire exhibition is punctuated by huge brown paper columns inspired by the temples of ancient Greece.' Some have mirror-effect text panels on them that look futuristic, says Okolo's Jan Kloss. This juxtaposition of past and future seems apt given the universality of the themes explored. It also adds an element of uncertainty, suggests Kloss: 'Will the future be shiny and full of colour or made of ruins and dust? Nobody knows.'
Perhaps the spirit of the exhibition is best summed up by Zaven, who, when asked the question in the show's title, responded with a seemingly casual 'Why not?' Elaborating on the point, they say: 'The future is the only thing we can build, it's up to us as part of humanity to be hopeful and positive.' Viewed this way, 'Why not?' becomes much less casual, and almost an act of defiance.
INFORMATION
'Ask Me If I Believe in the Future' is showing until 23 October 2022 at Museum für Kunst und Gewerbe, Hamburg
mkg-hamburg.de
ADDRESS
Steintorpl.
20099 Hamburg
Germany
Receive our daily digest of inspiration, escapism and design stories from around the world direct to your inbox