Mathieu Lehanneur considers the world's plurality at Milan's Triennale
In a new exhibition curated by Maria Cristina Didero, French multidisciplinary designer Mathieu Lehanneur explores human life and the environment (on view until 12 June 2022)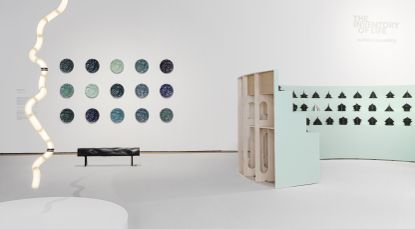 (Image credit: Mathieu Lehanneur)
Considering what the French multidisciplinary designer calls 'the state of the present world', Mathieu Lehanneur unveils 'The Inventory of Life' at the Triennale Milano, a new personal exhibition curated by Maria Cristina Didero and coinciding with Milan Design Week 2022. Themes include the fragility and transiency of human life – from the effect of depression to the interconnected damage experienced by changes in the environment.
Mathieu Lehanneur at Triennale: The Inventory of Life
Design, science, art, and anthropology are intertwined through four massive installations. 'The projects that we are presenting are very close to people and to my idea of what design is for, in this world. My personal mantra is "design is about people and not about chairs",' Didero explains. 'Not because chairs are unimportant, but because I'm interested in what happened before. Much of Matthieu's work fits this concept, this attitude that I have when I approach a design exhibition.'
State of the World is a series of anodised aluminium sculptures that visually represent the evolution and history of the human population in over 150 countries, reflecting changing demographics, birth rate, life expectancy, and history. The enamelled ceramic round sculptures of 50 Seas recreate the subtle nuances of blue found in the world's seas and oceans.
A luminous glass filament suspended from the ceiling displays different yet equally alarming projections and forecasts of rising sea levels in How Deep is Time, while Live/Leave is a collection of white canvases with black holes, the diameter indicating the number of suicides in each country. 'You can choose between seeing the hole, which represents all those who chose suicide, and seeing the white, which represents those who chose to live. To me, it's a way of making us consider our own decisions and positions in the world,' says Lehanneur.
The title, The Inventory of Life, is intriguing for several reasons: 'I'm the youngest in a large family with many brothers and sisters,' Lehanneur explains. 'Living in a large family means living in a large community, and you must negotiate your own desires, wishes, and goals with the common interests of your family and community. What I experienced in my family is what everyone on this planet lives; we all have to negotiate between who we are and what the rest of the world is.'
According to Lehanneur, the show provides no precise messages or answers, but rather examines the balance between the world and our personal perspective and sensibility. At the same time, each work is based on scientific and statistical data provided by reliable sources: from the United States to the World Health Organization, to satellite photographs commissioned for the project.
Lehanneur's approach to design seems a path to improve the connection between data, planet, environment, and human beings. 'It's about trying to understand what the present means for humans, about the willingness to live, the state of the sea, and the ability to control the future,' he says. 'My hope is that people will take something away from this exhibition, and feel something. It's moving, when you realise it's not just about numbers, statistics, and information, but about other people.'
INFORMATION
Inventory of Life is on view at Triennale until 12 June 2022
triennale.org
mathieulehanneur.fr
ADDRESS
Triennale
Viale Emilio Alemagna, 6
20121 Milano
Receive our daily digest of inspiration, escapism and design stories from around the world direct to your inbox