Stefano Boeri on his plans for the Triennale Design Museum and transforming the institution into a 'major cultural hub'
We talk to Triennale president Stefano Boeri on his plans for the Milanese institution, including the Triennale Design Museum and the development of a new cultural hub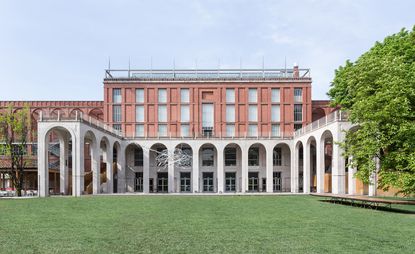 (Image credit: Gianluca di Loia)
As he celebrates his first year as president of the Triennale di Milano, the art and design institution in the Parco Sempione, Italian architect Stefano Boeri talks about his plans to turn it into a major cultural hub. Phase one, the Triennale Design Museum and a blockbuster exhibition.

Wallpaper*: Tell us about the new Triennale Design Museum.
Stefano Boeri: The Triennale already has a permanent collection of 1600 pieces of iconic Italian design, such as the Lettera 22 typewriter by Marcello Nizzoli for Olivetti, the Moka coffee pot by Renato Bialetti and Gio Ponti's Superleggera chair. We are working with Joseph Grima, creative director of Design Academy Eindhoven, and a board consisting of nine of Italy's leading design figures, to build the Triennale Design Museum collection further.
Gio Ponti's 'Superleggera' chair is part of the Triennale Design Museum permanent collection

We are contacting contemporary manufacturers and makers to stockpile new pieces and collaborating with the Fondazione ADI which safeguards the 650 designs that have won the Compasso d'Oro award.' (The prestigious prize for industrial design was founded in Italy in 1954). We will then create an exhibition programme that allows visitors to enjoy new forms of storytelling through these pieces.

W*: Where will the Triennale Design Museum be?
SB: As the collection expands, we will need more room, so we are looking at either developing an underground space within the Palazzo dell'Arte, (where the Triennale is housed) or creating a new site elsewhere. We will announce an international competition for its design based on our decision, along with a teaser of the new museum, in 2019.

W*: Triennale Design Museum aside, what will become of the other spaces within the institution?
SB: The whole site, which is to say, the 800-seat Teatro dell'Arte (dedicated to dance and performing arts), the restaurant, the additional exhibition areas and the gardens within Parco Sempione, will all be reinvigorated and well curated.

W*: What is your long-term ambition for the institution?
SB: The Triennale was designed as a cultural hub and it needs to go back to being one. In recent years, it has become too commercially oriented. Too many exhibitions have been hosted by paying sponsors; its spaces were increasingly rented out for commercial activity alone. That was a mistake. There is no other institution quite like the Triennale and we have to change direction. Sponsors will be welcome if they support our agenda, not their own. One day, I would like to be able to compare us to The Barbican in London or the Centre Pompidou in Paris.
W*: Tell us about the exhibition programme
SB: We will have around six shows a year devoted to architecture, design, fashion, the visual arts, new media and photography and these will last for a few months. The first, 'Broken Nature (opens in new tab)', will underline the concept of restorative design, highlighting 27 projects that consider our fragile relationship with the environment. It will provide a clear outline of what our mission is as an internationally relevant cultural institution and is curated by Paola Antonelli, (senior curator of architecture and design at New York Museum of Modern Art).

In 2020, Hans Ulrich Obrist will curate a retrospective on Enzo Mari (opens in new tab), one of the most intellectually provocative artists of the 20th century, and we are building ties with other 'studio museums' in Milan. In the same way that the studios of the late Achille Castiglioni and Vico Magistretti are open by appointment, we are looking to open the workspace of the late Milanese architects BBPR.

But we must look beyond nostalgia and the memory of the past and focus on young talents too. 2020 will see the first retrospective of the Danish architect Bjarke Ingels who opened his studio BIG in 2005. We hope this sequence of shows will be long-lasting, impactful and set the agenda for the Triennale of the future.
INFORMATION
triennale.org (opens in new tab)
ADDRESS
Triennale
Viale Emilio Alemagna, 6
20121 Milano
VIEW GOOGLE MAPS (opens in new tab)
Emma O'Kelly is a contributing editor at Wallpaper*. She joined the magazine on issue 4 as news editor and since since then has worked in full and part time roles across many editorial departments. She is a freelance journalist based in London and works for a range of titles from Condé Nast Traveller to The Telegraph. She is currently working on a book about Scandinavian sauna culture and is renovating a mid century house in the Italian Lakes.