Salone del Mobile 2022: highlights from Milan Design Week
In pictures: our highlights from Milan Design Week 2022, held during the 60th edition of Salone del Mobile (7 – 12 June 2022)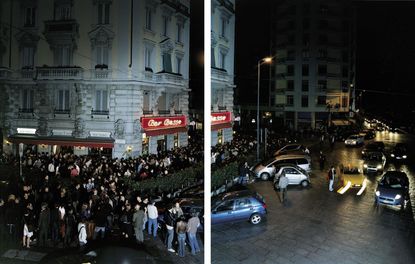 (Image credit: Massimo Vitali)
Salone del Mobile 2022 and Fuorisalone 2022 offered a rich programme of events, installations and launches. From 7 to 12 June 2022, the fair celebrated its 60th anniversary with a rich programme focused on creativity and innovation. Meanwhile, in town, Fuorisalone (the official moniker for Milan Design Week) populated the city's palazzos, courtyards, galleries and industrial spaces with fresh creativity, new product launches and installations.Discover the city's design highlights.
Fuorisalone 2022: highlights from Milan Design Week
Once you've had your full immersion into the furniture world of the fairgrounds at Salone del Mobile 2022, you'll want to take a stroll through the city. Fuorisalone 2022 will showcase the latest contemporary design throughout the city's central neighbourhoods. This is the most exciting time to be in Milan: historical palazzos open their eclectic interiors to the work of emerging design talent, showrooms showcase the latest launches and everywhere you turn, there is a promise of discovery (and exciting encounters).
Discover our pick of Fuorisalone 2022 launches and unmissable exhibitions.
Brera
Possibly the most picturesque neighbourhood of Milan, Brera's cobbled streets play host to an array of showrooms, galleries and exhibition spaces.
Via Solferino is a key design avenue for the area, and must-visit locations for Fuorisalone 2022 include Boffi and Salvatori (Via Solferino 11), accessed through a charming courtyard.
Also at Solferino 11, the Eames family presents 'Seeing with the Heart', the first in-depth display of work created by the artist Lucia Eames (1930 – 2014), staged in a traditional Milanese home. The same address hosts Dimoregallery, Dimorestudio's intimate apartment that, for Fuorisalone 2022, will be the backdrop for an exhibition titled 'Oublié', and an annual exhibition by File Under Pop and H+O featuring design brands and artists in an apartment setting.
Next door at no 9 is Missoni Home, a vibrant, light-filled showroom that's always worth a visit.
Moroso (Via Pontaccio 8) presents new furniture by Patricia Urquiola, Studio Wieki Somers and Jonathan Olivares, through a site-specific installation by Patricia Urquiola using Kvadrat Really. Separately, the brand also hosts a presentation of its forest-inspired collection by Front at the Teatro dei Filodrammatici (via Filodrammatici 1).
Nearby, Belgian design brand When Objects Work presents a collaboration with John Pawson (via Pontaccio 19), while Dedar (via Fiorichiari 18) unveils a collection with Borsalino using its iconic silks and jacquards.
From Via Solferino, if you turn into Via Palermo you'll find La Pelota at no 10, a historical Fuorisalone venue where Hermès has traditionally staged a world of exquisite objects and furniture to discover. Also on Via Palermo this year are Lee Broom's 'Six Ethereal Lighting collections' (Blindarte, Via Palermo 11).
The Braidense Library (Via Brera 28) is the stage of Prada Frames, a symposium curated by Formafantasma (from 6 to 8 June) exploring the complex relationship between design and the natural environment through a series of talks, debates, screenings and conversations.
Staged within the 16th-century Cloisters of San Simpliciano (Via Cavalieri del Santo Sepolcro, 3), Padiglione Brera offers an array of brand presentations, including new collections by SCP, Resident, Isokon Plus and Very Good & Proper.
Studio Luca Guadagnino makes its Fuorisalone debut with an interior architecture installation at Spazio RT (Via Fatebenefratelli 34). Titled Accanto al fuoco (by the fire), the installation comprises two living rooms inspired by the work of architect Carlo Scarpa and featuring furniture designs by the studio, as well as pieces by La Manufacture Cogolin, FontanaArte, and Italian American ceramicists Francesco Simeti, as well as a selection of vintage furniture.
Also in the area is Spazio Orso (Via dell'Orso 16), where ECAL traditionally presents its students' work. At Fuorisalone 2022, the Swiss design school presents The ECAL Manual of Style, a book published by Phaidon and edited by ECAL director Alexis Georgacopoulos and designer Jonathan Olivares that charts the school's creative methodology and approach to designing for the future.
Also by ECAL is the Yamaha Sound Machines project, created in collaboration with Yamaha and its Design Laboratory by Master Product Design students and exploring types of music players in order to meet new requirements related to listening to music.
Casa Mutina (Via Cernaia 1/a) is a space conceived by the Italian tile company to showcase its collections and special commissions. For Fuorisalone 2022, the space hosts an exhibition by the brand's collaborator, Nathalie Du Pasquier, titled 'Elementi per Paesaggi', featuring colourful glazed compositions by the French artist.
Du Pasquier has also collaborated with Danish ceramics brand Raawii, also presenting new collections by illustrator Olimpia Zagnoli and George Sowden, alongside the Memphis designer's own brand of lights (Spazio 44, Corso di Porta Nuova, 44).
In a newly opened showroom on Via San Marco 13, Tokyo-based furniture brand Time & Style unveils a series of pieces by Swiss architect Peter Zumthor. Drawing from some of the architect's most recognisable projects, the furniture designs distil the essence of Zumthor's work combined with Time & Style's rigorous approach to craftsmanship.
New in the area is Flexform, opening a showroom (via della Moscova 33) showcasing new collections during Fuorisalone.
A few steps north of Brera, in the Herzog & de Meuron Feltrinelli building (Viale Pasubio 15), UniFor unveils its new showroom and the OMA-designed Principles collection of office furniture.
Another Brera hotspot is Via Maroncelli. Here, presentations include 'A Tale of Two Continents' by Etel, with works by Cristina Celestino and Jorge Zalszupin shown in conversation (Via Maroncelli 13+14). Also by Celestino is a sculptural bathscape for German bathroom brand Kaldewei (Via Maroncelli 2), and on the same street is 'Forest of Reflection', a presentation by Calico wallpaper with Nude Glass and AB Concept, inspired by the Japanese mountain landscapes (Via Maroncelli 7).
Furniture showroom hopping: Via Durini, Corso Monforte and Corso Venezia
Fuorisalone is a great opportunity for a full immersion into the best Italian furniture showrooms (many of which are practically located in a small area within the city centre), and for the occasion, these spaces become immersive displays of each brand's latest launches.
First stop is Via Durini with Cassina, B&B Italia Technogym, Giorgetti and Gallotti & Radice, Porro, Edra and Dolce & Gabbana Home.
Also in Via Durini, Natuzzi unveils a new showroom concept by Fabio Novembre, with a special installation by long-term collaborator Marcantonio.
Hop along to nearby Corso Monforte to discover Artemide, Danese, Flos, Nemo, DePadova and Marta Sala Éditions. Also on Corso Monforte is Living Divani's Gallery, part showroom and part exhibition space, designed by Piero Lissoni.
Outdoor furniture brand Emu unveils a new showroom on Corso Monforte, debuting a new collection by Sebastian Herkner.
In the area, don't miss Armani Casa (Corso Venezia 14), Meridiani (Corso Venezia 29), Visionnaire (Piazza Cavour 3), Poliform (Piazza Cavour 2), and Baxter (Largo Augusto 1).
Fashion brand Aspesi presents a showcase of Hans Ulrich Obrist's Instagram-famous Post-it notes, presented through an installation by Patricia Urquiola (Corso Venezia 14). On top of Corso Venezia, Japanese brand Ariake hosts an intimate presentation in a private apartment (Via Alessandro Tadino 2, second floor), with new pieces by Gabriel Tan, Neri & Hu and Inga Sempé among others.
For Fuorisalone 2022, Tom Dixon celebrates his brand's 20th anniversary at Palazzo Serbelloni (Corso Venezia 16), while Palazzo Del Senato (Via Senato 10) is the backdrop for American bathroom brand Kohler's showcase of its collaboration with Daniel Arsham.
Once you've had your fix of Italian furniture, head to nearby Villa Necchi for a taste of old Milan, or venture into Quadrilatero della Moda (the city's fashion district), where you'll also find Molteni & C (Corso Europa 2) and Henge's new showroom (Via della Spiga 34). Poltrona Frau's showroom in a frescoed building (Via Manzoni 30) forms the backdrop for the Italian company's latest collaboration, featuring artist Felipe Pantone's take on the 'Archibald' chair by Jean-Marie Massaud and a celebration of the company's 110th anniversary. In the courtyard, a mirrored pavilion offers visitors an immersive video experience into the world of Poltrona Frau.
At Garage Traversi (Via Bagutta 2), Louis Vuitton stages a presentation of its latest 'Objets Nomades' collection, showcasing imaginative design pieces by some of the world's top creatives. Fendi Casa presents its collections in a new showroom (Piazza della Scala), with pieces by Cristina Celestino, Piero Lissoni and Atelier Oï, as well as new lighting collections.
Eschewing a traditional showroom presentation, Danish lighting brand Louis Poulsen took over historical cafe Taveggia, illuminated for the occasion with the brand's Poul Henningsen-design classics.
5 Vie
5 Vie is a historical district west of Duomo, home to spaces such as showrooms for BDDW (Via Santa Marta 19/A) Bitossi Home (Via Santa Marta 19) and Apparatus (Via Santa Marta 14), and cultural hub Piazza Gorani, which includes Riviera (Via Gorani 4), a creative space led by Italian design brand Lapalma showing a collection of colourful furniture by London-based designer Marco Campardo.
For Fuorisalone 2022, 5 Vie presents the work of London- and Istanbul-based design duo Ahu as part of the 'Surfing the Surface' exhibition (Via Santa Marta 18), featuring limited-edition sculptural furniture and objects made in collaboration with Turkish craftsmen and a new collection of lighting by Formafantasma for Maison Matisse, inspired by the artist's paper cut-outs (Via Santa Marta 21).
Elsewhere, experimental Japanese design studio Takt Project takes over the church of San Bernardino alle Monache (Via Lanzone 13), with an installation of balancing soft knit-fabric objects.
At the 5 Vie headquarters in a courtyard surrounded by old apartments (via Cesare Correnti 14), Anava Projects presents an exhibition by Berlin-based collective Matter of Course titled Ich und Du, featuring new work in glass, wood, clay, textiles, metal, and water, exploring the self in relation to others. At the same address, Poltronova (maker of legendary historical design pieces such as Ettore Sottsass' 'Ultrafragola' mirror) stages a reading corner dedicated to the work of Archizoom Associati, also unveiling a new version of the iconic 'Superonda' sofa.
Palazzo Francesco Turati (via Meravigli 7) hosts 'Masterly', an exhibition of work by Dutch contributors that this year includes designers, architects, artists, craftsmen, schools and brands. Beirut designer Richard Yasmine created a tribute to craft titled 'Woven Whispers', comprising a series of pieces made of ropes, rattan, wicker and wood.
Milan Design galleries to visit during Fuorisalone
Milanese design galleries have helped establish the city's design and cultural panorama, with a successful mix of old and new designs often placed in conversation within their spaces. The design galleries in Milan come alive during Fuorisalone with specially commissioned projects, objects and installations not to be missed.
Start with design destination Nilufar (Via della Spiga 32), Nina Yashar's gallery presenting the most exciting names in collectible design. For Fuorisalone 2022, the gallery presents the 'Reborn Project' – promoted by Ginori 1735 and curated by Frederic Chambre in collaboration with Nilufar Gallery – a creative initiative bringing together four designers (Flavie Audi, Martino Gamper, Federica Perazzoli, Andrea Zucchi) to create objects using the company's leftover stock. The gallery's second outpost, Nilufar Depot, opened in 2015 in an industrial space just outside of the city's centre (Via Lancetti 34) that used to hold Yashar's archives and has now been transformed into an exciting exhibition space, whose main floor is taken over by Martino Gamper's 'Innesto (Rubbing up the wrong tree)' presentation, while the gallery's latest offering includes works by Bethan Laura Wood, Audrey Large, Sophie Dries and outdoor furniture by artist Patrick Tuttofuoco among others.
Rossana Orlandi's gallery (Via Matteo Bandello 14) is a life-sized cabinet of curiosities that will offer a sense of discovery to any design journey, with a mix of emerging talent and independent brands showcased across its spaces. This year, the gallery's programming includes 'Danish House', a celebration of Danish design curated by Rossana Orlandi in collaboration with the Royal Danish Embassy in Rome and featuring Muuto, Bang & Olufsen, Louis Poulsen, Carl Hansen & Søn, and more. Also at the gallery, furniture brand Sé with designers Ini Archibong and Nika Zupanc unveil an immersive installation, while material specialist Nature Squared creates an architectural installation referencing conceptual art, nature and travel.
The new location of Dimoregallery is near Stazione Centrale (Via GB Sammartini 63): aptly named Dimorecentrale, the space is inspired by Italian painter Mario Sironi, whose urban landscapes informed designers Britt Moran and Emiliano Salci in the restoration of this former depot. Featuring a multifunctional hub, a courtyard-facing bar and a store selling a selection of objects chosen by the duo, Dimorecentrale makes its debut with 'Orizzonti', an exhibition of 20th-century design masters from Gabriella Crespi to Jacques Quinet.
Also in the area is newcomer Oxilia Gallery (via Nino Oxilia 9), founded by Alessandro Mensi and Frederik De Wachter and proposing a dialogue between design, modern antiques, art and craftsmanship. The inaugural exhibition is titled 'Dieci', presenting ten vases by international artists and designers.
Around Fuorisalone: exhibition spaces and more
One of the peculiarities of Milan Design Week, and what makes Fuorisalone so special is the fact that throughout the week, historical palazzos are taken over by brands, collectives and designers to showcase some of the most creative design installations.
Near Stazione Centrale, design brand Mohd presents Mohd in Bloom, an installation by Studiopepe at Officina Milano (Via Mauro Macchi 82) that recreates a summer garden. The same area will also host the newly announced Dropcity, an architecture and design centre located at the Magazzini Raccordati (Via Sammartini), the arched spaces running parallel to Central Station's train tracks. Designed by architect Andrea Caputo, the new spaces are set to open in 2024 and will host exhibition spaces, workshops and more.
For Fuorisalone 2022 (and until 19 June), the arches host several design events, including an exhibition on architect Ricardo Bofill, Bureau Spectacular, Fosbury Architecture, and more.
Back in the centre of town at Galleria Manzoni (Via Manzoni 40-42 and Via Borgospesso 19), Alessi stages a celebration of its centenary and presents the first project of the new century (the brand being 101 years old this year), a collection of cutlery by Virgil Abloh debuting the brand's new Occasional Objects series with the late designer's London-based studio, Alaska Alaska.
Around Porta Venezia, pop by Spazio Maiocchi (Via Achille Maiocchi 7), where Carhartt WIP and Toogood present their clothing collaboration alongside new furniture and three giant sculptural puppets. At the same location is Cinema Tacchini, an installation conceived by Formafantasma celebrating Mario Bellini's 'Le Mura' sofa.
Rome gallery Giustini Stagetti presents two new limited-edition pieces by Konstantin Grcic (NFQ, Via privata Passo Pordoi 6). Entitled 'Ceci N'est Pas un Mur', the display features furniture designed as micro-architectures in wood.
Multidisciplinary exhibition space Marsèll Paradise (via Privata Rezia 2) became the backdrop of You Don't Want Space, You Want To Fill It, an exhibition curated by Matylda Krzykowski, combining creatives whose work shifts between visual and performative, natural and artificial, human and animal, touch and sound.
LA-based studio Rios brought the colours of Californian vegetation to Milan Design Week with the installation Superbloom, an installation featuring large scale reproduction of wildflowers (Viale Umbria 49).
Triennale
The beauty of design in Milan is that it's often combined with art, architecture and Milanese cultural institutions. Some of the most important cultural locations in the city are, more often than not, part of Fuorisalone's programming.
These include the Triennale (Viale Emilio Alemagna 6) with its recently inaugurated design museum led by former Wallpaper* Milan editor, Marco Sammicheli. This year, Triennale transforms into a veritable design hub, with exhibitions and presentations that more than ever cement it as a must-visit destination.
As part of the museum's Fuorisalone 2022 presentation is Gufram's 'Cactusrama' celebrating the 50th anniversary of the 'Cactus', and fashion designer Arthur Arbesser's furniture and home objects launch. Maria Cristina Didero has curated a solo exhibition by Mathieu Lehanneur titled 'The Inventory of Life', while newly launched Japanese brand Koyori unveils a collection of five chairs designed by Ronan and Erwan Bouroullec and GamFratesi.
Long-term Wallpaper* collaborator AHEC presents Forest Tales, an installation showing highlights from the past year of collaborative projects on a distinctive platform designed by Studio Swine using the products' shipping crates.
Besides new launches, a visit to the Triennale is also a must, to see the museum's design exhibitions: currently on view are Ettore Sottsass' Casa Lana, accompanied by an exhibition highlighting the designer's special relationship with colour, and 'Memphis Again', showcasing over 200 pieces of furniture and objects designed by the Memphis group between 1981 and 1986.
Alcova
Curators Joseph Grima and Valentina Ciuffi launched group show 'Alcova' in 2018. Every year since, the project has taken over a dilapidated building somewhere in Milan, and with very little intervention the pair have staged an exhibition that takes people out of their comfort zone and into unexpected (Milanese) territories.
The 2022 edition of 'Alcova' is taking place just west of Milan's centre (Via Simone Saint Bon), in a cluster of buildings immersed in an urban park, including a nunnery and an industrial laundry. The raw spaces that serve as backdrops to the exhibitions allow visitors to discover design with a novel approach; the exhibitions feature an array of independent talent, not to be missed.
This year, Canadian lighting studio Lambert & Fils and Milanese design practice DWA present the second edition of Caffè Populaire, a seven-day aperitivo garden in collaboration with Superflower Studio, equipped with a water fountain to display the new lighting collections.
Also at 'Alcova', stone specialist SolidNature presents 'Monumental Wonders', a new series of designs by Sabine Marcelis and OMA, while designer-maker Otherside Objects makes its Milan Design Week debut with The Garden, an installation comprising sustainable furniture made with salvaged materials.
Other participants in this monumental group exhibition include Laufen, Trame, Tableau, Zeitraum, Wallpaper* Design Awards 2022 winners Objects of Common Interest and Snøhetta with Studio Plastique and Fornace Brioni, among many more.
Exhibitions in and around Milan
Every year, the more industrial areas around Milan's centre are populated with design shows by brands and designers taking over disused buildings and emerging art and design spaces.
A fitting example of this creative migration out of the immediate city centre is Assab One (Via Privata Assab 1), a lively factory of creativity led by Elena Quarestani and home to Formafantasma's Milan studio and Studio Mumbai among others. Here, Federica Sala curates the annual '1+1+1' exhibition, a meeting of art, design and architecture in conversation within the spaces. Participants in the Milan Design Week 2022 edition are artist Zilla Leutenegger, multidisciplinary designers Studio Ossidiana and architects Cino and Chiara Zucchi.
Also launched at Assab One are a new collection by Tajimi Custom Tiles and a collaboration between Giroflex, Karimoku and Big-Game.
Baranzate Ateliers is a project by Brussels' Zaventem, a creative studio space led by artist and designer Lionel Jadot (Via Milano 251, 20021 Baranzate).
For 2022, the industrial location hosts an immersive exhibition by Studiopepe, marking its collectible design debut with Galerie Philia, inspired by sacred objects.
Back south of the city centre, Fabbrica Orobia (Via Orobia 15) hosts 'See the Stars Again' a multi-celebration for Flos' 60th-anniversary party that includes a showcase of the lighting company's latest modular design by Patricia Urquiola, a project by Guglielmo Poletti and a co-celebration of Achille Castiglioni's 'Arco' lamp, also 60 this year. Designed as a multi-experiential hub, the space (open from 7 to 24 June) plays host to a series of talks and conversations from the lighting company's creative community at large and a pop-up restaurant and café by chef collective We Are Ona.
South Milan: Navigli and Zona Tortona
South of Milan is Zona Tortona, one of the original Fuorisalone locations: gravitating around main avenues Via Tortona, Via Savona and Via Bergognone are a series of large-scale installations, exhibitions and design hubs. The area erupts onto the Navigli, the city's picturesque canal area.
This year in the area is the Ikea Festival (Base, Via Tortona 54), a week-long event bringing together some of Ikea's collaborators to discuss all areas of design and unveil new and upcoming projects by the likes of Sabine Marcelis and Ilse Crawford.
Lasvit presents 'Sanctums' (Via Vigevano 18), an immersive series of lighting scenarios in collaboration with the likes of Yabu Pushelberg and David Rockwell.
Heading south, don't miss Atelier Biagetti's annual extravaganza (Piazza Arcole 4). The design duo comprising Alberto Biagetti and Laura Baldassari have excelled at taking a single topic and making it the centre of a great design spectacle (think bodybuilding, money and sex). For Fuorisalone 2022, the studio hosts 'Pet Therapy', playing with the mood-boosting effects of pets for an otherworldly installation featuring giant cats as lamps and seats.
Not far, on the Milanese Navigli, is an installation by architect Stefano Boeri's studio for Timberland (Viale Gabriele D'Annunzio 20, Darsena). Titled Floating Forest, the installation is conceived as 'an independent ecosystem on the waters of the Darsena in Milan to create a greener city.'
Salone del Mobile 2022: 7 – 12 June
Salone del Mobile 2022 celebrates the fair's 60th anniversary with an installation by Bologna architect Mario Cucinella, featuring a 1,400 sq m space set within Pavilion 15. Reflecting on the events of the past few years, the architect created a space focused on social connections and sharing. Based on Cucinella's attention to circularity, the sinuous seating is made of recycled materials and is enriched by greenery. A landscape and meeting point within the fair, the installation is based on themes of ecological transition, the home as the prime urban element and the city as a mine.
After the fair, the structures will be repurposed throughout Milan, with uses including a small library for a school, a classroom, a chair for a public space, a table for a laboratory and more.
The return of Salone Satellite
After a three-year hiatus, Salone Satellite returns for its 23rd edition at Salone del Mobile 2022, welcoming emerging designers to a new prominent location at the fair's entrance. Exhibitors will follow the theme of 'Designing for our Future Selves' with a focus on inclusive design that fosters 'autonomy, comfort, movement, usability, interaction and safety for all'. The exhibition will be designed as a welcoming piazza, enhancing the event's role as a connector of talents and a springboard for emerging creatives, start-ups and design schools.
As a nod to this community-led approach, the talks series that debuted in 2021 at Supersalone makes a comeback with a programme led by Chiara Alessi, Maria Cristina Didero and Beatrice Leanza, focusing on themes of people, beauty and the planet.
INFORMATION
Rosa Bertoli was born in Udine, Italy, and now lives in London. Since 2014, she has been the Design Editor of Wallpaper*, where she oversees design content for the print and online editions, as well as special editorial projects. Through her role at Wallpaper*, she has written extensively about all areas of design. Rosa has been speaker and moderator for various design talks and conferences including London Craft Week, Maison & Objet, The Italian Cultural Institute (London), Clippings, Zaha Hadid Design, Kartell and Frieze Art Fair. Rosa has been on judging panels for the Chart Architecture Award, the Dutch Design Awards and the DesignGuild Marks. She has written for numerous English and Italian language publications, and worked as a content and communication consultant for fashion and design brands.