Compact apartment by Ettore Sottsass reveals pioneering design approach
Triennale Design Museum presents Casa Lana, a new acquisition that faithfully reconstructs an apartment interior originally conceived by Ettore Sottsass in 1965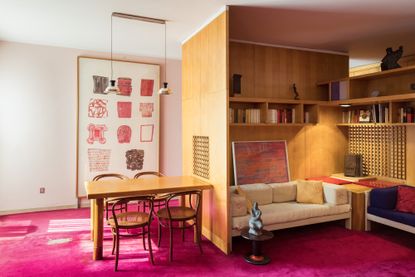 (Image credit: Gianluca Di Ioia)
Designed in 1965 by Ettore Sottsass for his friend, the lithographer and printer Giovanni Lana, Casa Lana in Milan is the latest acquisition for the permanent collection of the Triennale di Milano. The cultural institution's recent wave of acquisitions, arranged by its new design, fashion and crafts curator Marco Sammicheli, features some real gems by a host of Italian designers, including Carlo Mollino, Joe Colombo and Vico Magistretti.
Casa Lana at Triennale Design Museum
'The opportunity to secure Casa Lana came to us thanks to the Lana heirs and to the generosity of the Ettore Sottsass Archive,' says Sammicheli. 'We could not miss this opportunity due to the extraordinary integrity of the apartment. It is as if Casa Lana was frozen in time, precisely as the architect designed it. This allows us to present a project in its totality, integrity and strength.'
Giovanni Lana did not have much of a budget when he commissioned Sottsass, but the friends came to an agreement, and the resulting compact apartment epitomises the Italian architect's pioneering approach to design.
Pioneering interior design by Ettore Sottsass
Packed full of clever spatial tricks and brilliantly executed, Casa Lana neatly demonstrates how some past issues remain significant today, and offers up unexpected solutions in terms of lifestyle, materiality and small-space living. It comprises a tight sequence of zones, or 'rooms within a room', dedicated to different functions. To save space, Sottsass eliminated corridors and emphasised the idea that all spaces have been conceived to be part of a whole. The combination of art and architecture is apparent in the different colours and materials that help define the various functions of each specific zone.
'Today, Triennale di Milano gives the world an extraordinary surprise: the faithful reconstruction of part of Casa Lana by Ettore Sottsass, that Triennale took apart and philologically reassembled thanks to the collaboration of Iskra Grisogono from the Sottsass archive, and the dialogue with the original owner's family,' comments Triennale president, architect Stefano Boeri. 'From today, Milan hosts a veritable time machine, created by one of the geniuses of 20th century design.'
Adds Sammicheli: 'The fact that Sottsass' footsteps are still present in the original furniture is astonishing for us. That's what makes this apartment exceptional.'
INFORMATION
Casa Lana is on view at Triennale Design Museum
triennale.org
Maria Cristina Didero is an independent design curator, consultant and author, who has contributed to many publications over the years; she is currently Milan editor of Wallpaper* . Didero has consulted for companies such as Vitra, Fritz Hansen, Lexus, Fendi, Louis Vuitton, Valextra among others. Based in Milan, she works internationally, curating exhibitions for institutions: some of her most recent projects include Nendo: The Space in Between and The Conversation Show at the Holon Design Museum, Israel; FUN HOUSE by Snarkitecture at National Building Museum, Washington D.C.; SuperDesign a project about Italian radical design, NY; Vegan Design, or the Art of Reduction by Erez Nevi and The Fish and The Crowd by Carlo Massoud, Milan. In April 2022 she curated a Mathieu Lehanneur exhibition at the Triennale in Milan called The Inventory of Life, while in July she debuted a project at the MK&G in Hamburg titled Ask Me if I Believe in the Future, alongside a series of ongoing collaborations. She was appointed 2022 Curatorial Director of Design Miami/. She is currently preparing two projects for Milan Design Week 2023.
With contributions from