Step inside Formafantasma's chic new live/work space in Milan
Andrea Trimarchi and Simone Farresin of Formafantasma invite us to their new Milanese studio, set within the Assab One cultural complex and featuring bespoke furniture created with Sicilian manufacturer DiSé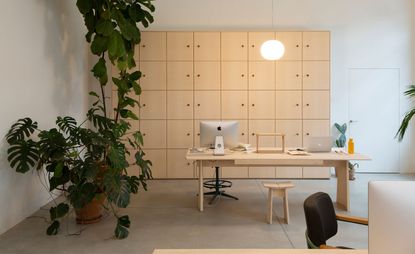 (Image credit: Mattia Greghi)
The area north of Milan's Piazzale Loreto is not on the city's traditional design circuits. It doesn't have the cobblestoned charm of Brera and the fashion triangle, there isn't an abundance of former warehouses turned into cultural destinations, and it's probably not where you'd want to take a walk on a sunny day. There's a tinge of dystopia to the area, which is defined by one of the city's largest traffic arteries, a string of supermarkets, petrol stations, and apartment and office buildings that grow less and less picturesque as you move away from the city centre. But change is afoot: Milan-based architect Andrea Caputo is now working as part of a team to transform the Piazzale with green spaces and pedestrian areas ahead of the 2026 Olympics, a project that will instil new life into neighbouring areas. 'The neighbourhood was really overlooked until now, but its transformation is evident,' says Andrea Trimarchi, co-founder of design studio Formafantasma. 'Restaurant openings, concerts, events in the area's parks; so many new things are popping up. It's also a very diverse area, with active local associations and several well-established South American and African communities.'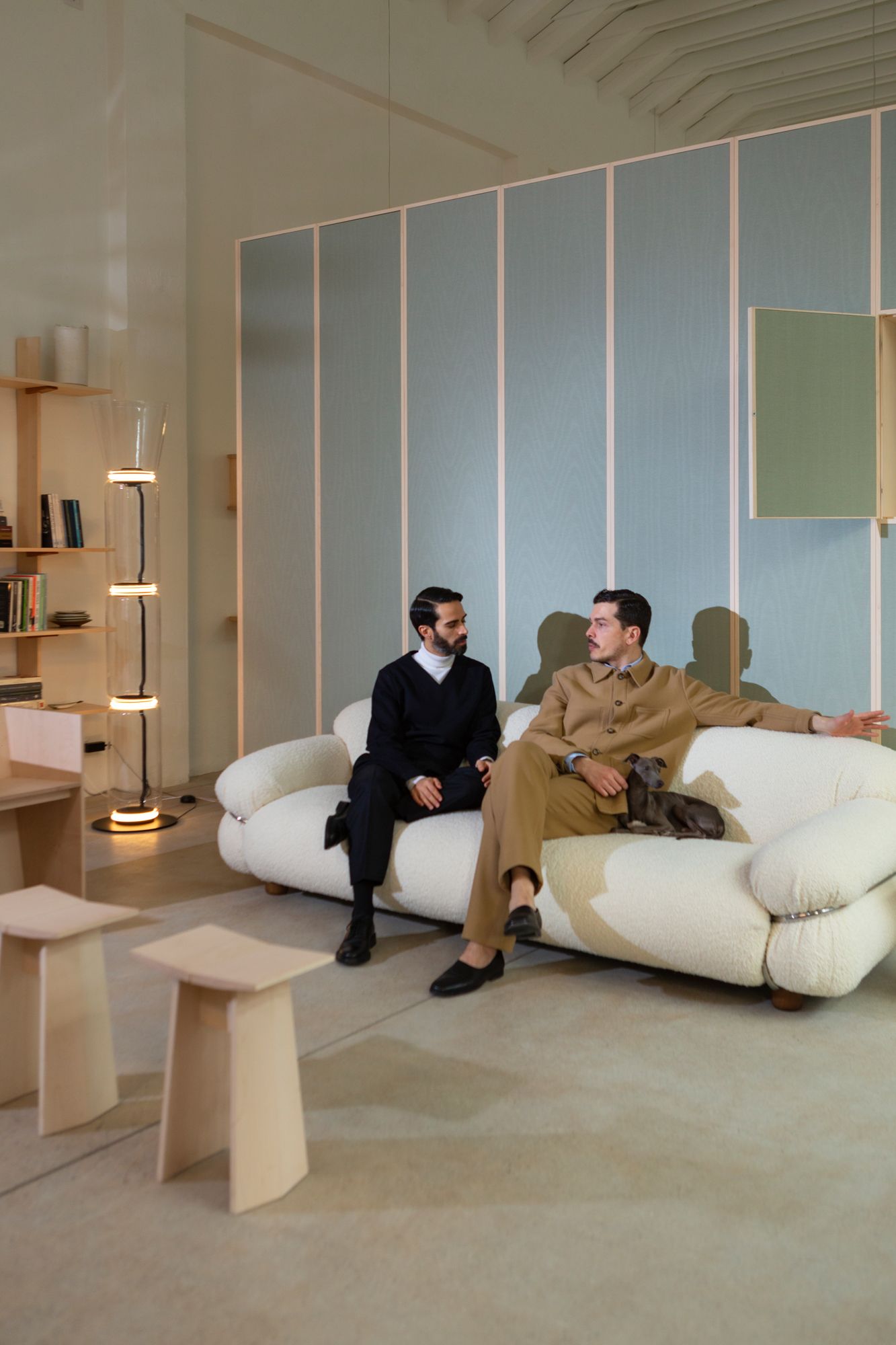 Trimarchi and partner Simone Farresin are familiar with the area, having moved their studio (and their lives) into Assab One, a couple of kilometres north of Piazzale Loreto. A local institution, the not-for-profit cultural complex is spearheaded by Elena Quarestani, and known for its bright Nathalie Du Pasquier murals, as well as art, design and architecture exhibitions.
It also includes a series of spaces that are slowly being populated by international creatives, from Studio Mumbai's Milanese outpost to experimental events organisers Terraforma Editions and popular independent publishers Guide Moizzi and Blackie Edizioni. The area feels more relaxed and open-minded than central Milan, notes Farresin. 'Being here feels in line with our principles.'
From Amsterdam to Milan
Trimarchi and Farresin had lived in the Netherlands for 14 years, having moved their studio to Amsterdam in 2009 after graduating from Design Academy Eindhoven. They had been talking about returning to Italy for years, mostly for cultural and social reasons. 'We didn't imagine growing old in Amsterdam,' admits Trimarchi. 'We never fully integrated in the Netherlands; and the idea of community we have in Italy doesn't exist anywhere else in Europe.' Other reasons, such as the more structured approach to design in Italy, and the fact that many of their clients are based here, contributed to the decision.
They continue to maintain a second studio in Rotterdam, now led by designer Jeroen van de Gruiter, a fellow Design Academy alumnus who has been with Formafantasma since its early days. It currently operates as a satellite to the Milan HQ, but the idea is to eventually diversify the two locations' output, in line with the pair's long-term vision for their practice. 'As we progress, our studio is increasingly becoming research-based, so that will likely become our focus in Milan, while Rotterdam might be where more of the designing happens. We are still trying to understand what might make sense,' adds Trimarchi.
Formafantasma's Milan studio
The Assab One space is remarkably similar to their previous live/work studio in Amsterdam: industrial, with high ceilings, exposed beams, and natural light flowing from large windows on the ground floor. 'Once we saw it, it was natural for us to say yes,' says Farresin. Moving in in summer 2021, they started transforming its 300 sq m of disused space into a functional office. To create the furniture, they called upon DiSé, a manufacturing studio based near Catania, Sicily, that specialises in the production of furniture and bespoke installation, and whose values (ethical, aesthetic and qualitative) are very close to Formafantasma's own.
The Milan studio demonstrates the duo's well-established ability to create holistic, aesthetically pleasing and thoughtful designs. Guests are greeted by their 'Wireline' chandelier, hung above a large dining table they also designed. On one side is a vast bookcase with some of their past projects on display. This more intimate living area is loosely separated from the larger office by a cupboard upholstered on one side in Vincent Van Duysen's 'Moiré' textile for Sahco, in a sage green that complements the light maple of the furniture.
For the open space, the pair have designed large tables characterised by functional details such as small drawers and a discreet slit in the middle for cables; wall-mounted standing desks; stools in two sizes which are reminiscent of Japanese joinery; and a step stool loosely inspired by Shaker furniture. The pieces' symmetrical straight lines are softened by rounded corners and angular edges. Everything is impeccably made in maple by DiSé, creating a calming visual consistency despite their distinctive forms. Lamps by Jasper Morrison for Flos are quiet luminal additions, and greenery punctuates the space. 'We wanted the office to be visually noiseless,' explains Farresin.
Every piece of furniture will become part of a growing collection, available to order from DiSé and imagined as Formafantasma's response to the post-COVID workspace. 'It speaks of the ambivalence between home and office. We wanted to design office furniture, but this office is also a home,' says Trimarchi.
The studio's evolution
The Assab One space is a home for the designers and their Italian greyhound Terra, as well as a workspace for their eight-strong team, an international group (a rarity in Milanese studios) whose expertise covers different disciplines, from curation to design and architecture. 'Our work could be seen as theoretical, but it's actually extremely imbued in reality,' says Trimarchi. 'We aren't just interested in academic work; we are practitioners, we work with clients to bring radical ideas into a context that is not typically radical – which has been the complicated part, as you have to find the right partners.' Despite a string of successful collaborations, they admit to inhabiting an awkward space, between a clean approach to design thinking and a clientele who is not always receptive. 'What we do is sometimes uncomfortable, but also very exciting.'
Projects such as 'Cambio', a deep dive into the timber industry first presented in 2020, have helped existing and prospective clients understand Formafantasma's approach and potential. And even though brands still expect new products when approaching the studio, they now often start working with brands from the ground up, investigating their structures to achieve an impact that goes beyond product design.
Among their projects for 2022 is an exploration of human and animal cohabitation through the topic of wool, to be unveiled at a new exhibition at Oslo's National Gallery, and an in-depth analysis of Artek's ecology, begun off the back of 'Cambio', which will result in a new iteration of the exhibition at Helsinki's Design Museum. They have also been tasked with creating the spaces of the Giardini and Arsenale for the upcoming Venice Art Biennale, curated by Cecilia Alemani, and further exhibition designs for Bahrain's Pearling Path and for the Fondation Cartier's participation in the Milan Triennale. They are about to unveil a series of interiors for a global fashion retail network, and the design of a farmhouse in Puglia. Their launches at Salone del Mobile 2022 will include an aluminium bookcase for Hem, designs for Cassina and Ginori 1735, and a lamp collection for Maison Matisse.
They aim for their Milanese studio to form part of a hub, a space for discussion and exchange of ideas. 'Design in Milan is still very traditional,' admits Trimarchi. 'There aren't many places for design debate, like the Triennale, and we hope that Assab One can become a magnet for a new generation of creative thinkers that is not well represented by the city.'
INFORMATION
formafantasma.com (opens in new tab)
assab-one.org (opens in new tab)
A version of this article appears in the April 2022 issue of Wallpaper*, on newsstands now and available to subscribers
Rosa Bertoli was born in Udine, Italy, and now lives in London. Since 2014, she has been the Design Editor of Wallpaper*, where she oversees design content for the print and online editions, as well as special editorial projects. Through her role at Wallpaper*, she has written extensively about all areas of design. Rosa has been speaker and moderator for various design talks and conferences including London Craft Week, Maison & Objet, The Italian Cultural Institute (London), Clippings, Zaha Hadid Design, Kartell and Frieze Art Fair. Rosa has been on judging panels for the Chart Architecture Award, the Dutch Design Awards and the DesignGuild Marks. She has written for numerous English and Italian language publications, and worked as a content and communication consultant for fashion and design brands.
With contributions from