Formafantasma asks: what is the global impact of wood consumption?
The Amsterdam-based duo's exhibition Cambio reopens at London's Serpentine Sackler Gallery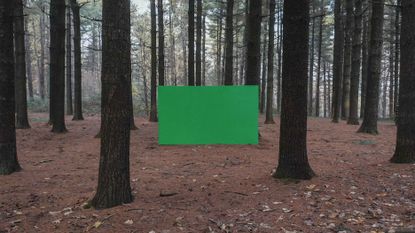 (Image credit: Serpentine Galleries)
Wood permeates our everyday lives in a variety of different guises. It is all around us, not only in its obvious original state as the furniture we sit on and in the buildings we inhabit, but also in less obvious forms made possible through chemical processes which enable it to be used as an ingredient in things like paint, cosmetics and LCD screens. To understand the impact that our voracious consumption of this material has on our planet, we need to go back along the supply chain to the source, which is exactly where Italian designers Andrea Trimarchi and Simone Farresin of Amsterdam-based Studio Formafantasma take us in an exhibition at London's Serpentine Gallery.
The exhibition, entitled Cambio, has just reopened and focuses on the governance of the extraction of timber from forests. The survey connects science, conservation, engineering and policy making and calls into question the role that design can play in shaping a better and more sustainable future.
Cambio
This title references the membrane that runs around the trunk of trees, which produces bark on the outside and wood on the inside. In a nod to this cambium layer, the exhibition's layout follows a concentric structure with two rooms at its centre. Here visitors will find interviews with specialists and a series of films made by Formafantasma. These include a monologue written and delivered by philosopher and author Emanuele Coccia. Spoken from the perspective of a tree, the monologue addresses the entire human race.
'It presents a reversal of the power structures on the planet where you start to question who is in control,' explains Formafantasma's Simone Farresin. 'It's not just a provocation - it's an invitation to start to think about what we do on the planet as a shared experience. As designers we can no longer think that our role is only to fulfil human desires and needs.'
The origin and lifetime of wood
In the outer spaces of the gallery, an intense forest scent designed by Sissel Tolaas fills the air and brings the exhibits to life. As visitors enter, they are confronted with the trunk of a huge oak tree from Garnstone Forest in Herefordshire which has been cut into planks and air dried ready for use. The majestic display captures the tree in the transition phase from living being to object while also bringing a sense of scale to the showcase.
Nearby, a series of wooden objects and contemporary products collected from Germany, Belgium and the Netherlands are displayed. Each one has been forensically tested to reveal the origin of the wood within it, and the startling results are presented on the wall. The findings reveal how protected and even endangered tree species are being used for cheap applications, such as ping pong paddles or charcoal for barbecues.
'It's an invitation to start to think about what we do on the planet as a shared experience'
In another display the designers chart the correlation between the amount of CO2 contained in an object and the amount of time the object would need to be used for to offset its carbon. For instance, a stool made from a fast-growing tree should last for 60 years, while a stool made from an oak tree would need a lifespan of more than 120 years.
'We conceived the show as the beginning of the project rather than an end,' explains Farresin. 'We wanted to put the research at the forefront.'
Material research
Despite the focus being firmly on thought processes, the studio has designed a series of furniture pieces specifically to display the research materials. A series of simple tables, stools, desks, chairs and bookshelves are made from pine wood harvested from Val di Fiemme – a forest in northern Italy that was destroyed in 2018 by a storm caused by climate change. Over 13 million spruce trees were felled by the powerful winds.
'The entire exhibition uses the wood from one tree,' explains Farresin. 'Pine is a very soft wood so we wanted to embrace that. We applied a varnish that is ordinarily used in the manufacture of musical instruments so that the surface becomes more durable. It's a transparent varnish with a little light grey that gives the pine a slightly "foggy" appearance.'
Formafantasma are no strangers to in-depth material research projects that examine design's political and ecological responsibilities. Previous investigations have included a two-year research project into e-waste, a collection of furniture made from lava, and objects made from discarded leather, cereal and natural polymers. At the same time, they have completed commercial projects for companies such as Turkish glassware brand Nude and Italian lighting manufacturers, Flos.
Going forward, the duo want to separate the two arms of their business more fully. The investigative, independent and research-based projects will become a focus, and where possible, they will filter this knowledge through to more commercial projects.
'It's about finding the right partners and making it work economically,' says Farresin. 'We want to separate the two but every once in a while have them cross over so that there is a moment in which the two halves communicate and feed each other.'
'As designers we can no longer think that our role is only to fulfill human desires and needs.'
Design at Serpentine Galleries
Cambio is the third exhibition of design in the gallery's history. It marks a shift in its programming to offer a platform to those practices who embrace radical approaches to design. The aim is to shine a light on designers' thought processes and approaches rather than showcase the finished objects and products. This chimes perfectly with Formafantasma's ethos, and Trimarchi and Farresin reveal that this is the first time they have been invited to curate an exhibition without the expectation that it will result in a collection or object.
'Spaces like this one allow design to live beyond the finished product,' praises Farresin. 'In this case we can begin a conversation about the consequences of design at large, and I think that it's a conversation that is very much needed.'
INFORMATION
'Formafantasma: Cambio' is on view until 17 May at Serpentine Sackler Gallery

serpentinegalleries.org (opens in new tab)