Tomás Saraceno's spider-led show at Serpentine has legs, and lots of them
'Web(s) of Life', the first major UK show by Tomás Saraceno, is a living, collaborative and multi-species call to climate action involving everything from dog-friendly sculptures to 'spider diviners' – but no phones allowed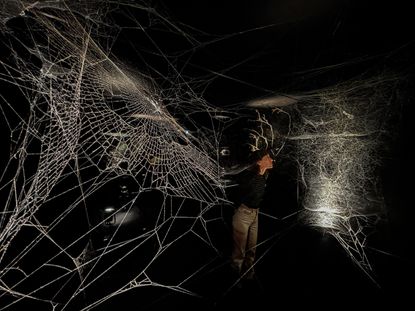 (Image credit: Photography by Studio Tomás Saraceno)
Wallpaper* Newsletter
Receive our daily digest of inspiration, escapism and design stories from around the world direct to your inbox
Thank you for signing up to Wallpaper. You will receive a verification email shortly.
There was a problem. Please refresh the page and try again.
There were a lot of dogs galloping buoyantly around the Serpentine South gallery this morning (31 May 2023). This, to an extent, is expected, given that the gallery sits in the middle of central London's largest park. But something else has got their – and our – attention; new sculptures from Argentine artist Tomás Saraceno's Cloud Cities series, which populate the park, the rooftop and the façade of the gallery. It forms part of 'Tomás Saraceno In Collaboration: Web(s) of Life', the artist's first major UK exhibition, which involves a full-scale transformation of Serpentine South gallery, inside and out.
Offering space for interspecies encounters and co-habitation, in this 'living organism', dogs, birds, ducks and insects – and particularly spiders – are welcomed, and honoured. 'I was very happy yesterday because when you [first] build something, the dogs don't come, the squirrels don't come, then finally some birds have shit on the sculpture! The first success!' Saraceno exclaimed in his opening speech.
The show is an ecosystem of different life forms, where technologies and energy systems interlink in a cacophonous demonstration for the climate emergency. The show is also locked into Serpentine's power supply, an intervention the artist refers to as the 'Ballad of Weather Dependency'. Energy for the exhibition is generated by, and dependent on, solar panels newly installed on Serpentine's roof; artworks on display will adapt to the weather, and therefore how much energy is generated. 'We know that art is not about quantification but somehow we have to be responsible also,' says Saraceno at the press view.
Inside, visitors are welcomed into a dark room where a wood-panelled desk encasing literature about lithium extraction (for a film in the exhibition, Saraceno collaborated with communities of the Salinas Grandes and Laguna de Guayatayoc basin in Jujuy, Argentina, who are fighting to protect their lands against lithium extraction, driven largely by demand for batteries, which is polluting and diminishing one of the ecology's scarcest and most critical resources: water). Fittingly, visitors are asked to surrender their lithium-battery phones before advancing through Saraceno's show. The rest we absorb, wholly, with our actual senses, unpolluted by photo opportunities and incessant buzzing.
The rest involves mostly spiders, Saraceno's creative, spiritual and ecological muses. A film focuses on the spider diviners of Somié, Cameroon, and their intergenerational ŋgam dùin, a practice in which ground-dwelling spiders are asked a series of binary questions. Their responses are interpreted via the rearrangement of a set of cards placed at the entrance to its burrow. Throughout the course of the exhibition, local diviner Bollo Pierre 'Tadios' invites visitors to ask the spider a question via their web portal titled Nggamdu.org.
Then we're greeted by a series of impossibly intricate architectural spider webs in glass boxes, glowing in the spotlights like silken constellations. For these, Saraceno collaborated with multiple spider species in his Berlin studio-cum-labatory. In this installation, and another, which sees a disused church confessional booth, traditionally found in churches, become a 'space for communing with the vibrations of a spider', we are asked to consult the spiders on the future of life itself and move away from arachnophobia (a fear of spiders) to arachnophilia (a love of spiders).
Saraceno's Fly with Pacha, Into the Aerocene (2020-23) documents another well-known facet of the artist's work: flight, its problems, and potential solutions. The film installation documents the artistic performance and flight of an aerosolar balloon sculpture over the salt flats in Argentina's Salinas Grandes, marking the first ever fossil-free human flight devoid of batteries, helium, hydrogen or lithium. It was hailed as the most sustainable flight in human history by the Fédération Aéronautique Internationale (FAI), setting 32 world records.
This was made possible through extensive, collaborative research carried out by the Aerocene Foundation (which Saraceno and others formed to devise new infrastructures of ethical mobility) and the indigenous communities of the Salinas Grandes and Laguna de Guayatayoc basin in Jujuy who are fighting for the preservation of land and water which is threatened by the mining of lithium.
As is customary with Tomás Saraceno, there's a lot to unpack, but the exhibition's success is in its lack of conventionalism; from the welcoming of dogs to the unwelcoming of phones – the show has legs, and lots of them.
'Tomás Saraceno In Collaboration: Web(s) of Life' is on view 1 June - 10 September 2023 at Serpentine South Gallery. serpentinegalleries.org
Receive our daily digest of inspiration, escapism and design stories from around the world direct to your inbox
Harriet Lloyd-Smith is the Arts Editor of Wallpaper*, responsible for the art pages across digital and print, including profiles, exhibition reviews, and contemporary art collaborations. She started at Wallpaper* in 2017 and has written for leading contemporary art publications, auction houses and arts charities, and lectured on review writing and art journalism. When she's not writing about art, she's making her own.