Steve McQueen to screen his harrowing film 'Grenfell' at London's Serpentine
Acclaimed film director and artist Steve McQueen will screen his film, Grenfell, at London's Serpentine South gallery (7 April-10 May 2023), six years after the Grenfell Tower block blaze killed 72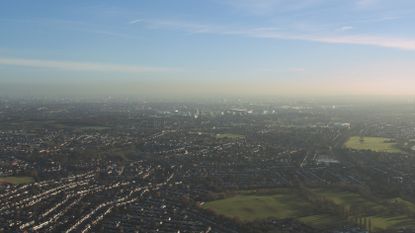 (Image credit: Courtesy the artist )
On 14 June 2017, a fire broke out at Grenfell Tower, a high-rise block of flats in the London neighbourhood of North Kensington. The deadliest structural fire in the UK since 1988, the blaze lasted for 60 hours and 72 people died.
In December of the same year, Oscar-winning film director Steve McQueen began filming Grenfell Tower from a helicopter after learning that the building would soon be wrapped in a protective plastic sheeting. He sought to create a record of the scene before it was concealed from view, and public memory. 'I knew that once the tower was covered up, it would start to leave people's minds,' says McQueen. 'I was determined that it would never be forgotten.'
From 7 April-10 May 2023, McQueen's haunting, politically-charged 24-minute film, Grenfell, will be presented at London's Serpentine South gallery. The public screening of the film follows a phase of private community viewings that prioritised survivors and those bereaved by the incident, who were consulted during the creation of the film.
McQueen grew up on the nearby White City estate and first went to Grenfell Tower in the early 1990s to visit an art school friend. 'I remember thinking I had never been up this high in London before. The views were amazing,' he explains in the film's accompanying guide. 'When I heard about the fire, I needed to do something. I was in pain, like many other people, at witnessing a tragedy that simply did not have to happen, yet did due to deliberate neglect. The question for me at the time was, how do I engage with this tragedy? The only thing I could think of was to visit the building again, after nearly 30 years.'
McQueen's Grenfell uses no words, music or dramatisation. Instead, it is a raw and unflinching window into the tower six months after the incident in which McQueen's camera repetitively encircles the charred council block, sometimes homing in on rooms where residents died and the forensic investigation was unfolding in real-time.
As McQueen told The Guardian in an interview before the film's release, 'I didn't want to let people off the hook. There are going to be people who will be a little bit disturbed. When you make art, anything half decent … there are certain people you will possibly offend. But that is how it is.'
Grenfell is the latest in McQueen's oeuvre of potent, unflinching films and artworks that probe socio-political injustices and tell defiant stories of cultural resilience, including TV mini-series Small Axe (2020), the Oscar-winning 12 Years a Slave (2013), and Hunger (2008).
Six years on from the Grenfell Tower fire, and four years on from Phase 1 of the Grenfell Tower Inquiry, a criminal investigation is still ongoing, deconstruction of the building is yet to commence, and recommendations to prevent a similar future tragedy are yet to be implemented. The findings of Phase 2 are due to be released later this year.
Grenfell by Steve McQueen will be on view from 7 Apr-10 May 2023. Free tickets can be booked via the Serpentine website. serpentinegalleries.org
Harriet Lloyd-Smith is the Arts Editor of Wallpaper*, responsible for the art pages across digital and print, including profiles, exhibition reviews, and contemporary art collaborations. She started at Wallpaper* in 2017 and has written for leading contemporary art publications, auction houses and arts charities, and lectured on review writing and art journalism. When she's not writing about art, she's making her own.