Barbara Chase-Riboud at Serpentine: alternative monuments, parallel histories
'Infinite Folds' at Serpentine North Gallery celebrates Barbara Chase-Riboud, the American artist, novelist and poet who has spent more than seven decades pondering history, memory, and the public monument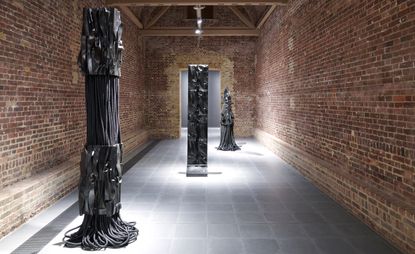 (Image credit: © Barbara Chase-Riboud 2022. Photo: © Jo Underhill, courtesy Serpentine)
Upon entering 'Infinite Folds' at the Serpentine North Gallery – the first solo UK exhibition by the American artist, novelist and poet Barbara Chase-Riboud – viewers encounter an untitled 1973 drawing of an imagined space composed of fragments and rock formations. The work evokes the vestiges of archaeological sites that Chase-Riboud saw in her travels across Africa and Asia in the early decades of her career. Rendered in three dimensions and seeming to extend infinitely into the black charcoal that surrounds it, the drawing foreshadows an interest in the themes and motifs that would become central to Chase-Riboud's practice: history, memory, and the commemorative public monument.
Chase-Riboud, who was born in 1939 in Philadelphia, trained at the American Academy in Rome and the Yale School of Art, where she was the first known African-American woman to receive an MFA. She has lived primarily in Paris since the 1960s. Sculptures from these earlier years, in their accentuated, slender and surrealistic style produced using animal bones, reflect the influence of Alberto Giacometti, whom she met in 1962. 'Infinite Folds' occurs at what Yesomi Umolu, director of curatorial affairs and public practice at Serpentine and curator of the exhibition, refers to as a critical juncture in Chase-Riboud's prolific seven-decade career. It coincides with the release of a memoir, I Always Knew, and another retrospective at the Pulitzer Arts Foundation in St Louis.
If Chase-Riboud's practice is deeply invested in the notion of the public monument, her oeuvre is anti-canonical in its elegant disruption of established aesthetic conventions, and her choice of subject matter. In the early 1970s, she began to use fabric skirts to conceal the armatures that hold up her sculptures, and release them from what she calls the 'tyranny' of the base. Wool and silk appear to become the weight-carrying materials, while bronze floats above. 'I was exploring the dynamics of opposing relationships… the metamorphosis of power from one to the other,' she writes in I Always Knew.
Three pieces from Chase Riboud's Monuments to Malcolm X series, including her first sculpture with a fabric skirt, are on display in 'Infinite Folds'. In a 1970 review for The New York Times, the art critic Hilton Kramer suggested that there was a discrepancy between form and motif in the series, critiquing Chase-Riboud for producing works that were too beautiful, sophisticated, and imbued with a 'French refinement' to be about Malcolm X. Professional artists of colour, Chase-Riboud remembers, were expected to use a naturalistic, stylistic or 'recognisable "Black" element' in their work, while abstraction 'was considered too cerebral for Black artists'.
These expectations and assumptions about what artists of colour should or should not produce have not stilled Chase-Riboud's desire for innovation in her practice, while she continues to highlight individuals who exemplify the possibility of creating new, alternative monuments. Umolu points out that the artist's early appreciation for marginalised figures was remarkably prescient, in light of recent conversations about how dominant histories are commemorated in our public spaces today ('It's about time,' Chase-Riboud says.) 'Barbara is offering not a minor history, but a parallel and equally-as-important history, prioritising those individuals and events that she feels need greater representation.'
Emblematic of these parallel histories is a series of works on paper, The Monument Drawings, which offer tributes to the Marquis de Sade, Nelson Mandela, Consort Zhen (a concubine of China's Guangxu Emperor), and the Queen of Sheba. In sculpture, Cleopatra is commemorated through the creation of objects that Chase-Riboud imagines would form part of the contents of her tomb or home. Cleopatra's Wedding Dress (2003) and Cleopatra's Bed (1997), are composed of thousands of bronze squares sewn together with gold wire.
Occupying its own space at the conclusion of the exhibition is one of Chase-Riboud's most recent works, La Musica Josephine Red/Black (2021). A tribute to the dancer, singer, actress, spy, and civil rights activist Josephine Baker, the sculpture is the culmination of a series commemorating iconic musicians. 'For her, I knew I needed a new expression, not only for the expression of the stele, [but] I had to find a way to make [it] dance,' Chase-Riboud says. 'It is a movement away from and yet towards a new commemorative form taking the sculpture off the wall and into futurism.' A shock of hanging red cord emphasises the bronze's curving shape, its angles and protrusions suggesting muscles in constant motion and tension.
On an opposite wall, a manifesto written by Chase-Riboud and scholar and professor Sir Reginald Jackson accompany the work. 'Sculpture must not sit still. Pillars fail to capture all the zeal Josephine's Muse emits,' it reads. 'Let throbbing rhythm thaw Giacometti's brittle toothpick limbs… Volcanic in its thrust, Josephine explodes then saunters routes right past their bones.'
INFORMATION
'Barbara Chase-Riboud: Infinite Folds' is at Serpentine North Gallery until 29 January 2023, serpentinegalleries.org
I Always Knew: A Memoir, by Barbara Chase-Riboud ($40/£30) is published by Princeton University Press, press.princeton.edu
Receive our daily digest of inspiration, escapism and design stories from around the world direct to your inbox