Theaster Gates' design for Serpentine Pavilion 2022 revealed
The American artist and urban planner reveals his plans for the Serpentine Pavilion 2022. Black Chapel has spirituality, music and community at its heart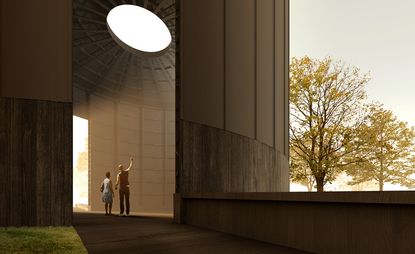 (Image credit: © 2022 Theaster Gates Studio)
Serpentine Galleries has revealed plans for its 2022 pavilion, titled Black Chapel, designed by American artist and urban planner Theaster Gates, with the architectural support of Adjaye Associates.

In a design rendering released today, 3 February, the pavilion – which will follow Counterspace's installation for the annual commission last year – appears as a towering cylindrical structure bisected by a pair of rectangular doorways, with a domed roof that culminates in a single oculus. A low wooden barrier lines one side of the pathway to the pavilion, likewise paved in wood, leading to a panelled façade. The structural honesty of the design – there's fluted exterior above the panelling and visible frameworks on the interior – contrasts with its considerable scale and deft manipulation of natural light. An accompanying statement describes the pavilion as 'a sanctuary-like environment for reflection and communion'.
Serpentine Pavilion 2022: a space for music, poetry and dance
While the Serpentine Pavilion 2022 structure is predominantly in wood (which has a lower carbon footprint than brick), its form is reminiscent of the great kilns of Stoke-on-Trent, the ceramics capital of the UK. As such, the pavilion serves as the final chapter of 'The Question of Clay', a multi-venue presentation by Gates that previously included solo London art exhibitions at Whitechapel Gallery and White Cube Mason's Yard, as well as an intervention at the V&A ceramics galleries.
A bell, originating from Chicago's St Laurence Church, will be placed at the pavilion's entrance. Following the church's demolition, Gates salvaged various architectural elements including the bell for his installation Martyr Construction at the 2015 Venice Biennale. At Kensington Gardens, the bell will once again toll to announce performances and activations, including Park Nights, the Serpentine's programme of live encounters in music, poetry and dance.
RELATED STORY
The pavilion shares its title – Black Chapel – with an installation that Gates presented at Munich's Haus der Kunst in 2019, at the invitation of the late museum director and curator Okwui Enwezor. Gates had filled the museum's central atrium with 'artefacts of Blackness from my life, to demonstrate the power embedded in the Black experience,' he explained at the time. By naming the pavilion after his previous installation, Gates wishes to acknowledge 'the role that sacred music and the sacred arts have had on my practice, and the collective quality of these emotional and communal initiatives.'

The new Black Chapel brings together multiple facets of Gates' life and work – his spiritual upbringing, his passion for music (he sang in the church choir, and continues to perform with his band, The Black Monks), his exploration of the joys and pains of Black life, and his ceramic art practice. It also reflects his fascination with architecture and placemaking, as seen in his lifelong quest to revitalise Chicago's South Side one derelict building at a time.

'I have always wanted to build spaces that consider the power of sound and music as a healing mechanism and emotive force that allows people to enter a space of deep reflection and deep participation,' he says. To minimise its environmental impact, Black Chapel has been designed to be fully demountable. There are plans to re-site the pavilion to a permanent location after four months in Kensington Gardens, so it can serve as a space for gathering and contemplation in years to come.
INFORMATION
serpentinegalleries.org (opens in new tab); theastergates.com (opens in new tab)
TF has been editor of Wallpaper* since December 2020. He is responsible for our monthly print magazine, planning, commissioning, editing and writing long-lead content across all our content pillars. He also plays a leading role in multi-channel editorial franchises, such as our annual Design Awards, Guest Editor takeovers and Next Generation series. He aims to create world-class, visually-driven content while championing diversity, international representation and social impact. TF joined Wallpaper* as an intern in January 2013, and served as its commissioning editor from 2017-20, winning a 30 under 30 New Talent Award from the Professional Publishers' Association. Born and raised in Hong Kong, he holds an undergraduate degree in history from Princeton University.