Iwona Blazwick on 120 years of Whitechapel Gallery
As Iwona Blazwick announces she will step down after 20 years as director of Whitechapel Gallery in April, we look back on our 2021 story to mark the gallery's 120th anniversary, for which Blazwick shared her pick of its most influential shows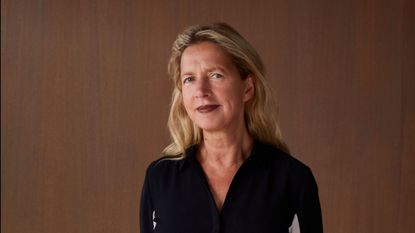 (Image credit: whitechapelgallery.org)
In March 2021, Whitechapel Gallery turned 120. The vision of Samuel and Henrietta Barnett, the east London gallery was conceived of a commitment to social reform and experimentation. Its inaugural exhibition, 'Modern Pictures by Living Artists, Pre-Raphaelites and Old Masters', opened in 1901 and attracted 260,000 visitors. Some attribute this impressive turnout to the gallery's electric lighting – which many visitors would have experienced for the first time – but its founders knew they had tapped into something deeper.

One of the most notable moments in Whitechapel Gallery's history was in 1939. A young Spanish painter sought to highlight awareness for civil rights in his home country. He exhibited a single painting and requested that visitors leave their boots behind as donations for freedom fighters in Spain. The artist was Pablo Picasso; the painting was Guernica.
The gallery brought international art to London's East End. Over the decades, it has hosted a wealth of artist debuts and has seen the work of many a modern master grace its doors, including that of Jackson Pollock, Mark Rothko, Barbara Hepworth, Frida Kahlo and David Hockney. In more recent times, the gallery has handed over the reins to contemporary art trailblazers such as Nan Goldin, Zarina Bhimji, Gillian Wearing, William Kentridge, Michael Rakowitz and Elmgreen & Dragset, who famously turned Whitechapel Gallery's ground-floor space into a vast, derelict public swimming pool.

In celebration of its milestone, Whitechapel Gallery has launched a 12-month interactive online campaign. It will put out a 'call for memories', encouraging audiences to share anecdotes from their experiences with the gallery, and will also delve into the archives to unearth rarely-seen material that shaped its history.

The gallery seems to have found a recipe for longevity: a spirit of innovation, an understanding and appreciation of its diverse East End community, and a fearless willingness to experiment. Over its 12 decades, it has united, subverted, educated, shocked, transformed and inspired.
Iwona Blazwick: 20 years at the helm of Whitechapel Gallery
Iwona Blazwick has been director of Whitechapel Gallery since 2001, steering the gallery into even greater renown. In April 2022, after 20 years at the helm, the celebrated director will step down from her role.

A fierce champion of emerging talent and young artists – discovering Damien Hirst is just one of a catalogue of achievements – she was given an OBE in 2008. Blazwick, whose critical writings are pored-over by students (and lecturers) globally, is also known for her support of female artists, having chaired the Max Mara Art Prize for Women since its inception in 2005, winners of which have included Emma Hart in 2017, and Emma Talbot in 2021.

Here, Blazwick reflects on 120 impressive years of the Whitechapel Gallery.
1901 - 1910
1902: Japanese Exhibition
'With this show of reconstructed tea-houses and temples, porcelain, armour and musical instruments from Japan, Whitechapel Gallery set the foundations for a century of bringing global perspectives to local people.'
1910 - 1920
1914: 20th Century Art: A Review of Modern Movements – David Bomberg, Isaac Rosenberg, Mark Gertler, Duncan Grant, Wyndham Lewis, Walter Sickert
'Around the corner in impoverished Brick Lane, young Jewish artists were revolutionising British art with their brand of futurism, premiered at the Whitechapel Gallery alongside Camden town post-impressionist Walter Sickert and his atmospheric evocations of street life.'
1920 - 1930
1929: Kibbo Kift Educational
'This utopian movement drew from Anglo-Saxon, Celtic, Egyptian and Native American crafts, dress and language to create habitats and activities that were transformative for inner city children and young people.'
1930 – 1940
1939: Picasso's Guernica
'Perhaps the greatest history painting of the 20th century made its debut at New Burlington Galleries and consequently the Whitechapel Gallery as part of a tour to promote anti-fascism in Spain. Picasso asked that the price of entry was a pair of boots. By the end of the show 400 pairs had been donated for the freedom fighters in Spain.'
1940 – 1950
1941: Dr WM Crofton's collection of British masters (including Turner and Constable)
'Defying 56 consecutive nights of bombing in the East End, at the height of the Blitz, the gallery brought old masters out of their stately homes and into the lives of East Enders.'
1950 – 1960
1956: This is Tomorrow
'A radical experiment brought 12 groups of young artists and architects together to shape their visions for the future through eye-popping pavilions that went from cool constructivism to brash pop art.'
1960 – 1970
1961: Mark Rothko
'This sublime immersion in Rothko's evanescent canvases was one of a series of solo shows featuring Jackson Pollock, Helen Frankenthaler, Philip Guston, Robert Rauschenberg, Morris Louis and Lee Krasner and that introduced cutting-edge art from America to British audiences.'
1970 – 1980
1979: Eva Hesse
'This was the very first exhibition I saw at the Whitechapel Gallery. I was studying art and English at Exeter University and Hesse's biomorphic, space-invading resin sculptures blew me away. I knew then that art would be my life.'
1980 – 1990
1982: Frida Kahlo and Tina Modotti
'A joint show of these then unknown artists established Kahlo as a feminist cultural icon, juxtaposing her intense visionary paintings with Modotti's photographs of the revolutionary Mexico they had emerged from.'
1990 – 2000
1995: Seven Stories About Modern Art in Africa
'Modern and contemporary art from Kenya, Ethiopia, Nigeria, Senegal, South Africa and Sudan testified to the avant-garde creative energy of the continent.'
2000 – 2010
2002: A Short History of Performance: Jannis Kounellis' 12 live horses
'Twelve live horses spent the day at the gallery in a recreation of an iconic 1969 Arte Povera work by Jannis Kounellis, an encounter of nature and culture that proved unexpectedly emotional.'
2010 – 2020
2018: Elmgreen & Dragset: This is How We Bite Our Tongue
'Scandinavian duo Elmgreen & Dragset conjured away the Whitechapel Gallery and replaced it with the ruin of a public swimming pool, a memorial to all civic facilities destroyed by commercial development. A testament to our mission to realise artists' visions.'
INFORMATION
ADDRESS
77-82 Whitechapel High St
London E1 7QX
VIEW GOOGLE MAPS (opens in new tab)
Harriet Lloyd-Smith is the Arts Editor of Wallpaper*, responsible for the art pages across digital and print, including profiles, exhibition reviews, and contemporary art collaborations. She started at Wallpaper* in 2017 and has written for leading contemporary art publications, auction houses and arts charities, and lectured on review writing and art journalism. When she's not writing about art, she's making her own.