Elmgreen & Dragset take the plunge at Whitechapel Gallery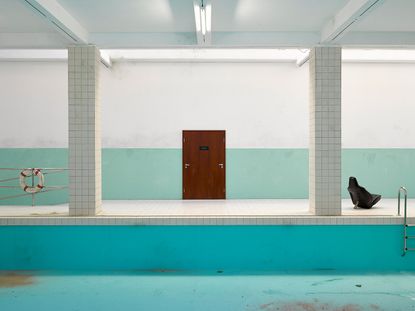 (Image credit: Jack Hems)
Michael Elmgreen and Ingar Dragset have been disrupting white cube architecture since the 1990s, but their recently unveiled installation at London's Whitechapel Gallery may be one of their most sagacious transformations yet. The site-specific commission – a ghostly derelict swimming pool in the ground-floor gallery – is a timely monument to the fate of civic spaces in an era of austerity politics.

The art of the con lies in the materiality of the environment: the nostril-tickling perfume of chlorine, a teak changing room door that leads nowhere, the grime-covered municipal tiling, and the peeling mint-green paint that evokes an uncanny sense of nostalgia and queasiness. More fascinating still, is the elaborate narrative that Elmgreen & Dragset have constructed for their audience.

Established in 1901 through social reform, the pool was renovated in the 1950s and used daily by local Aldgate residents until it fell into disrepair during Thatcherism. A plaque by the installation proclaims this is also the site where David Hockney made his first drawings of a swimming pool's surface (Whitechapel Gallery in fact hosted the first major retrospective of the artist's work in 1970).
The Whitechapel Pool, 2018, by Elmgreen & Dragset.

Naturally, the pool is destined to become the showpiece of a luxury hotel spa after being bought by a developer in 2016 (notably Boris Johnson's final year as Mayor of London) – a fabricated outcome that convincingly aligns itself with the 'intense gentrification' of East London. Where fact ends and fiction begins has been an ongoing preoccupation of the former Wallpaper* Guest Editors (see W*175), who notoriously once wrapped the V&A in development hoardings and 'for sale' signs, shocking unsuspecting visitors to the museum.

The Whitechapel Pool is the focal point of the Scandinavian artist duo's first survey in the UK – 'This Is How We Bite Our Tongue' – which also spans two decades of sculpture. A fallen classical figure of a man, described as an 'anti-heroic sculpture' by the artists, is a prelude to the figurative works in the upstairs galleries, exploring notions around masculinity, childhood, capitalism, religion and social class.

They're sobering themes but Elmgreen & Dragset prove their sense of wit is as honed as ever. Portraits of the Artists (2018) – an empty wall with the faint trace of two portraits that previously hung there – echoes a 1998 sculpture of a couple of pairs of Levi's jeans and Calvin Klein underpants left crumpled on the floor in a previous gallery. Like with The Whitechapel Pool, we're left to ruminate on an imagined history of what could have taken place.
INFORMATION
'This Is How We Bite Our Tongue' is on view until 13 January 2019. For more information, visit the Whitechapel Gallery website (opens in new tab)
ADDRESS
Whitechapel Gallery
77-82 Whitechapel High Street
London E1 7QX
VIEW GOOGLE MAPS (opens in new tab)