Theaster Gates: London, urban reform and exemplars of Black excellence
The American artist and urban planner returns to London for a cultural takeover on a grand scale, and – as one of five visionaries invited to nominate creative leaders of the future for '5x5', Wallpaper's 25th anniversary project – picks five exemplars of Black excellence leading the way for social and creative change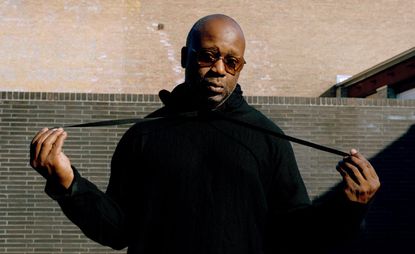 (Image credit: Caroline Tompkins)
The life and work of artist Theaster Gates are famously intertwined with Chicago – the city where he was born, raised, and continues to be based, whose South Side neighbourhood he has revitalised and transformed one building at a time. Lesser known, but no less interesting, is his long-standing affiliation with London. He remembers his first visit vividly: in 1998, while a master's student at the University of Cape Town, he came to the British capital on a holiday and visited the Crafts Council Gallery. 'I remember being so excited that I could see a Julian Stair work, and a Michael Cardew, a Shoji Hamada, and a Bernard Leach,' he says, listing the ceramic artists who would come to shape his artistic practice. 'It was a very important time for me.'
A subsequent sojourn, in 2012, was just as formative. Soon after Documenta 13, where Gates showed 12 Ballads for Huguenot House (restoring an abandoned hotel in Kassel, Germany with labour and materials from a derelict South Side building), he arrived in London for his first exhibition with White Cube, which involved suspending a fire truck from the ceiling of its Bermondsey gallery, with a cabinet full of Ebony and Jet magazines on its tether. Titled Raising Goliath, the work pointed to culture as a way to alleviate the Black American struggle. The audience 'was so kind and generous, and my practice really flourished', recalls the artist. 'London has been like my second home. And while Londoners can be quite critical of a bad exhibition, because I've had such good reception in the past, I'm very excited to offer this proposal to this place that I love so much.'
Theaster Gates' London cultural takeover
The proposal he refers to is 'The Question of Clay', an ambitious project involving some of the city's top cultural institutions: a solo exhibition at Whitechapel Gallery (until 9 January 2022) and an intervention in the V&A's ceramics galleries this autumn, followed by a commission to create the 2022 Serpentine Pavilion. Add to this a show at White Cube Mason's Yard (until 30 October 2021), and you have the biggest takeover by a single artist that London has witnessed in recent years. A seminal moment for sure, but Gates, who has become one of America's leading cultural figures, feels no cause for anxiety. 'Now that I have no more points to prove, I would use these next years to really share and explore my interest in ceramics. The shows are all varying exposés around craft, craftsmanship, the cultural connections between places, and my training as a potter.'
In parallel with his conceptual inclinations, Gates has always had a fondness for craft. He took up pottery as an undergraduate student at Iowa State University, eventually completing a residency in Tokoname, Japan, where he worked with a group of master potters. His 2007 exhibition 'Plate Convergence', often considered his breakthrough moment, showed a collection of his pottery, only disguised as the work of a fictional Japanese potter who moved to Mississippi and married a Black civil rights activist; three years later, his show 'To Speculate Darkly' paid homage to Dave the Potter (also known as David Drake), an enslaved 19th-century artist who created extraordinary stoneware pots. Gates believes that training in craft involves 'thinking with the hands' and is a necessary complement to the study of art, history, and philosophy: 'If you bring contemporary art and craft together, you have the best of two really amazing worlds.'
Not surprisingly, craft was the starting point for the Whitechapel Gallery show. In 2015, Gates and Lydia Yee, the then-newly appointed chief curator at the gallery, sat next to each other at a lunch in Venice. They talked about 'Spirit of Utopia', a 2013 group show at Whitechapel for which Gates had installed Soul Manufacturing Corporation, a working pottery studio where visitors could learn how to make bricks and throw clay on a wheel from a skilled potter. Gates registered his interest in doing a follow-up show, thus kicking off a series of conversations. 'And the more I talked to Lydia, the more I thought, there are so many places in London that have amazing craft histories and things in their vaults, but they're rarely seen in a contemporary light. Could we connect with these places?' Gates wondered. He thus set on a path to draw from other collections to create a history of ceramics, displaying the work of his artistic ancestors alongside his own.
An invitation from the V&A to undertake a research fellowship came at the right time. Given free run of the museum's ceramics collection, Gates naturally gravitated towards craft potters he long admired. He was particularly interested in those who worked across different cultural contexts, such as Leach and Hamada, who co-founded the Leach Pottery in St Ives a century ago; and Ruth Duckworth, who fled Nazi Germany, studied in London and became known for monumental stoneware murals in Chicago.
But Gates also took the opportunity to explore more practical uses of clay: searching for the oldest bricks in the collection – including one marked with the name of Nebuchadnezzar, who ruled Babylon in the sixth century BCE – and surveying the output of the Wedgwood factories, which represented the apex of 19th-century industrial manufacturing. He sought out 'perversions' within the collection too, namely ceramic figures of enslaved Black people from the early 19th century, some serving double duty as tobacco jars or candlesticks; though commissioned by abolitionists, these figures have exaggerated physical features that perpetuated racial stereotypes. A selection of these ceramics have made their way to Whitechapel, complemented by loans from other public and private collections (including a storage jar by Dave the Potter, who is not yet represented in the V&A collection).
'The V&A was so excited that a contemporary artist was interested in these things,' says Gates, who characterises the museum as an extremely open environment, deftly confronting its colonial past by championing openness, equity and diversity. 'All the big institutions have the challenge of making right these complicated paths, and the only way to do that is to open your museums up to more artists of colour, more queer artists, artists across the gender spectrum, people who are trying to say new things with old objects.'
In this case, the juxtaposition of old objects – such as 18th-century Chinese earthenware, an emancipation medallion commissioned by Josiah Wedgwood, a series of Black ceramic caricatures, and Dave the Potter's storage jar, all within in the same vitrine – speaks to the relationship between global trade, colonial expansion, slavery and abolitionism.
They accompany Gates' own ceramic work across two decades, including his 'Afro-Mingei' sculptures, which incorporates Japanese elements with the culture of Africa and its Diaspora. For instance, a 2019 piece, titled Afro-Ikebana, comprises a bronze cast of an African mask paired with a rotund ceramic vessel containing a single branch, presented on a tatami mat.
'I'm trying to couple Mingei, the folk craft movement in Japan, with the Black Arts Movement in the United States. In this moment [in the 1930s] Japan was saying, "Who we are is beautiful, we don't need Western culture to reaffirm our beauty and the importance of our craftsmanship and our people." In the United States 20 years later, Black people were saying, "Our hair and our skin are beautiful, and the objects and foods of our culture are important." The resistance to a certain kind of Western whiteness created both movements, which I've brought together. That very strong philosophical meld led to a material meld, which is very exciting to me.'
Also part of the show are Gates' new stoneware vessels, installed on custom plinths of hand-milled wood and stone, referencing African sculpture, the human body, and industrial and utilitarian objects. Many of these were made at the Archie Bray Foundation for the Ceramic Arts in Montana, where ceramic artist Peter Voulkos had begun his career in 1951. Voulkos' work 'is very material and muscular, masculine and action-oriented', describes Yee. 'He would often work in an improvised way, even down to allowing some degree of chance to happen in the kiln. Some of the work that Theaster has made is in response to this.'
Gates additionally brought his band, the Black Monks, to Montana to make music that explores themes of craft labour and spiritualism; at Whitechapel, their performance becomes part of a new film that explores the history of clay practice in the UK, US and Japan. The spiritual aspect ties in with the title of the show, 'A Clay Sermon'.
'Theaster grew up in the Baptist church in Chicago, and he's said that he learned about art every Sunday by going to church: the aesthetics, the way people put themselves together, the music. I think that goes very much to the fact that music, and the community spirit of being part of a church, is integral to his work today,' explains Yee, adding that Whitechapel Gallery has a similar history of community engagement.
'A Clay Sermon' coincides with Gates' intervention at the V&A. 'Because they are loaning me works from their ceramics galleries, I will replace those works with my own, so their vitrines are not empty. There's a little bit of trade happening, and I think it's an interesting way to get people into the museum,' hints the artist.
Serpentine Pavilion 2022
And while the design of his 2022 Serpentine Pavilion is yet to be unveiled, Gates is brimming with enthusiasm for the commission and already eager to talk about it, unfazed when I point out that he will be the first non-architect to take it on (previous participating artists have partnered with architects – Ai Weiwei with Herzog & de Meuron, and Olafur Eliasson with Kjetil Trædal Thorsen). 'I've restored a lot of buildings,' says Gates of his work on the South Side, through the Rebuild Foundation. 'And while I'm not a trained architect, I think about space more than anything. Black space, especially, is core to my practice. And I feel that making space is such an amazing power move within art, for people like Robert Irwin, Sam Gilliam, Donald Judd, or Hiroshi Sugimoto. I'm part of a continuum of artists who have been thinking about disruptions and interventions in the public sphere and in nature – in my case, the urban environment in a Black neighbourhood.
'My art has always been kind of land art. So if we can open up the architectural project to one that is actually concerned about land, its politics and complexity, then it seems quite reasonable that not only me, but more artists in the future, will do substantial things [with the Serpentine] commission.'
The first thing about making a space, Gates contends, is to create the conditions for a gathering of people, which is why he's thinking not only about physical architecture but also 'the sound system, the food, the energy, the lighting'. Since 2013, he's run an annual gathering called the Black Artists Retreat, and he hopes that his Serpentine Pavilion 'will be a place where we might also convene, converse, party, reflect, and celebrate together'.
Looking at the various elements of 'A Question of Clay', it becomes clear that Gates wants us to engage deeply with art, design and architecture, not just taking them at face value but also understanding their social function, and the political implications that come with putting them on display.
'Sometimes politics are on my mind, and sometimes the colour red. And I want to have self-permission to talk about either. There are moments when a truth should be shared, and I don't want to hide behind the colour red, out of fear it would diminish my artistic practice. Some people choose not to talk about politics because it can be a little messy. I never want to lose that courage. I want to grow in courage to be as sophisticated in my knowledge in politics, as I am in my belief in colour.'
Exemplars of Black excellence
It follows naturally that Gates' creative leaders of the future for Wallpaper's 25th Anniversary Issue '5x5' project would be creators of elegant, distinctive forms who are advancing a social message with equal confidence. His pick of five talents are exemplars of Black excellence in Britain and the United States, ranging from fashion to architecture to furniture. He lauds shoe designer Kendall Reynolds, co-founder of the Kendall Miles brand, for delivering 'an elegance, luxury and femininity for Black women', menswear designer Grace Wales Bonner for 'offering a new lens through which to consider conversations on race, identity and sexuality', and fashion and textile designer Tolu Coker for being 'a fierce advocate for Black models and models of colour'.
Gates selected architect Germane Barnes for being 'unafraid of uprooting contemporary notions of scale, ideological complexity, or boundaries within his design. He moves me to have deep conversations about what design can achieve for the masses.'
Also on the list is Norman Teague, a more established talent who worked with Gates on 12 Ballads for Huguenot House. 'Brother Teague designs collaboratively, thinks strategically, and is committed to training Black and brown makers. His determination and design vocabulary continue to inspire me,' Gates enthuses.
He acknowledges that his mentors – among them artists Kerry James Marshall and Ingrid Lilligren, curators Okwui Enwezor and Thelma Golden – had a major role in shaping his practice, encouraging him to study abroad, learn about other cultures and indulge in craftsmanship. 'Those moments were very important to me, and I've always tried to create opportunities to have that time and space to speak to younger people, to offer them support and advice.'
With support from Prada Group, Gates has just launched the Dorchester Industries Experimental Design Lab, a three-year programme that will provide emerging artists of colour with opportunities for exchange, training, critical feedback and exposure.
'I'm trying to mimic what I was blessed to receive,' says Gates. 'And I'm excited to be able to invest financially, invest emotionally, invest lots of different kinds of resources into designers, artists and other creatives so that they can do more of the great things they want to do.'
Meet Theaster Gates' five creative leaders of the future:
INFORMATION
theastergates.com (opens in new tab)
'Theaster Gates: A Clay Sermon', until 9 January 2022, Whitechapel Gallery, London, whitechapelgallery.org (opens in new tab)
Theaster Gates: 'Oh, The Wind Oh, The Wind', White Cube Mason's Yard until 30 October 2021
A version of this article appears in the October 2021, 25th Anniversary Issue of Wallpaper* (W*270). Subscribe today – 12 digital issues for $12,£12,€12
TF has been editor of Wallpaper* since December 2020. He is responsible for our monthly print magazine, planning, commissioning, editing and writing long-lead content across all our content pillars. He also plays a leading role in multi-channel editorial franchises, such as our annual Design Awards, Guest Editor takeovers and Next Generation series. He aims to create world-class, visually-driven content while championing diversity, international representation and social impact. TF joined Wallpaper* as an intern in January 2013, and served as its commissioning editor from 2017-20, winning a 30 under 30 New Talent Award from the Professional Publishers' Association. Born and raised in Hong Kong, he holds an undergraduate degree in history from Princeton University.