Germane Barnes discusses cities, architecture and identity
Named by Theaster Gates as one of 25 creative leaders of the future in Wallpaper's 25th Anniversary Issue '5x5' project, American architect Germane Barnes explores the link between architecture and identity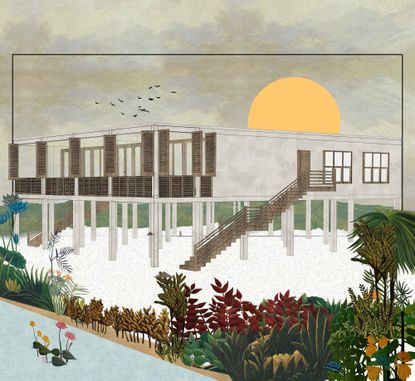 (Image credit: press)
According to architect and urban designer Germane Barnes, we cannot look at cities without acknowledging the social and racial demographics that shape them. Although these urban 'spaces have been transformed through the material contributions of the diaspora', says the 2021 Wheelwright Prize winner, the stories, methods and practices of that same diaspora have been erased by colonialism and imperialism.
Currently an assistant professor and the director of the Community Housing & Identity Lab at the University of Miami School of Architecture, Barnes explores the link between architecture and identity. By investigating social and political matters through historical research, he uses his design training to reorient the discipline of architecture through a 'familiar lens'. There is an unwavering amount of Black culture embedded in the Miami-based architect's work, but 'one need not be an architect or designer to grasp my intentions', he explains.
Germane Barnes: examining Black culture
One of Barnes' most notable projects was A Spectrum of Blackness: The Search for Sedimentation in Miami, shown at MoMA in 2020 as part of the group show 'Reimagining Blackness and Architecture'. Consisting of 12 carefully composed collages, a spice rack and a map, the installation asked what it means to be Black in Miami, examining Black culture, practices and spaces of gathering.
'The Blackness present in my work is from a very specific perspective. It's the Great Migration, it's porch culture, it's plastic over furniture and hot curling irons on the stove,' explains Barnes. Visitors learned about the African and Caribbean people who, despite helping build Miami, were unable to live near the water due to discriminatory planning policies. The project recounted the stories of the Bahamian immigrants through water, the kitchen, and the porch, while celebrating the African diaspora.
'Barnes moves comfortably between set design, pavilion making, social planning and installation art with an unrivalled ease and confidence,' says Theaster Gates, who selected Barnes as one of 25 creative leaders of the future in Wallpaper's 25th Anniversary Issue '5x5' project. 'Another Chicago brother, Germane is one of the brightest lights in the field of design. His tenacity as a designer moves me to have deep conversations about what design can achieve for the masses.'
Currently working on Belize House, a residential project in Central America, Barnes will also be participating in the 2021 Chicago Architecture Biennial with a project that pays homage to Chicago's block parties. It's a collaboration 'with the organisation Under the Grid, on the West Side, my home turf', says Barnes. 'It's the purest version of community collaboration and activism, two components integral to my work.'
INFORMATION
germanebarnes.com (opens in new tab)
A version of this article appears in Wallpaper's October 2021, 25th Anniversary Issue (W*270), on newsstands now and available to subscribers – 12 digital issues for $12/£12/€12 (opens in new tab).
Meet more creative leaders of the future nominated by artist Theaster Gates here.