What to see at the Chicago Architecture Biennial 2021
Wondering what to see at the Chicago Architecture Biennial 2021? We met up with artistic director David Brown ahead of the opening later this month, and got a sneak peek of what's going to be on show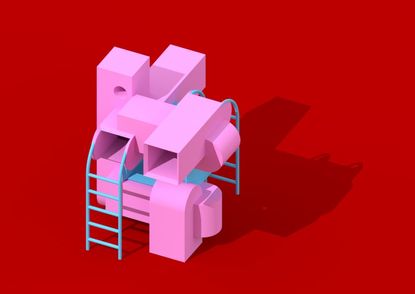 (Image credit: courtesy of Studio Barnes)
Wallpaper* Newsletter
Receive our daily digest of inspiration, escapism and design stories from around the world direct to your inbox
Thank you for signing up to Wallpaper. You will receive a verification email shortly.
There was a problem. Please refresh the page and try again.
As in-person events in some parts of the world slowly start returning (with Milan Design Week and Open House London already making a splash), the Chicago architecture scene has been preparing for a celebration of its own. For the Chicago Architecture Biennial 2021, the festival's fourth edition, artistic director David Brown digs deep into a rich pool of contributors and topics, creating a layered, varied and exciting city-wide show, tapping into critical ideas, such as urban and social sustainability, vacant spaces, diversity and community. First-hand installation experience and meaningful discourse are central to this biennial's iteration.
With his programme, Brown expands on the theme The Available City, his entry for the inaugural 2015 Biennial, where vacant lots served as his muse for developing 'an experiment in new possibilities of how to explore and activate space'. In keeping with this subject (and to accommodate the ongoing Covid-19 pandemic) the biennial has migrated outside the traditional headquarters of the Cultural Center in the Loop, placing the vast majority of entries in the city's neighborhoods, especially on the South and West sides, with their wealth of vacant lots.
We met up to find out more about this edition's highlights, and while stressing that the biennial is a dynamic work in progress, Brown names Living Room and Under the Grid, pieces that tackle issues such as urban farming and neighbourhood gatherings, as some of his must-sees – while maintaing that of course visitors should try to visit all the sites, if possible. Looking through the festival's advance information, RAISIN, Invest South/West and Epic Academy also feel like standout designs and concepts, talking about ideas of homeownership, performance and equity and the arts.
Here is our pick of some of the finest installations to visit during Chicago Architecture Biennial 2021.
Living Room
This is a collaboration between Chicago architecture firm The Bittertang Farm and CCA Academy, a private, non-denominational high school in Chicago's North Lawndale Community. Living Room invites engagement with urban agriculture and farming within the PermaPark Garden, with an emphasis on health and wellness.
Under the Grid
A 15-block stretch under the Pink Line 'L' train developed by Open Architecture Chicago and Freedom House, this project has two main elements: Block Party and Cover the Grid. The former is a collaboration between Miami-based Studio Barnes, Shawhin Roudbari (Colorado), MAS Context (Chicago) and the Westside Association for Community Action (WACA). It celebrates Chicago's West and South Side's rich history of block parties. Block Party creates a space for community programming and gathering, anchored by a structure designed to mimic blow-up bounce houses that are staples of block parties.
Meanwhile Cover the Grid is made by architectural-scale urban paintings by GPS-guided robots that transform vacant territory into landscapes for civic gatherings, inviting people to engage with unexpected civic space.
RAISIN
Organized by guest curator Asha Iman Veal with curatorial assistants Shannon Lin and Esraa Yousef, this piece explores themes from Lorraine Hansberry's classic 1959 play A Raisin in the Sun – including first-time homeownership, gender dynamics within communities of colour, and generational dreams. Featuring artworks by more than 30 Chicago and international artists, RAISIN offers local and global perspectives on 'home'.
INVEST South/West
These site-specific programmes are led by artists-in-residence in four communities (Auburn Gresham, Austin, Englewood, and New City/Back of the Yards) and supported by Chicago's Department of Cultural Affairs and Special Events, furthering an ongoing commitment to equity and access to the arts. Artists involved include (respectively for each community mentioned above) Dorian Sylvain, Antonia Ruppert, Eric Hotchkiss, and Fernando Ramirez and Project Onward.
Epic Academy
This outdoor pavilion is constructed from sustainably sourced timber and designed as a classroom and event and performance space by Skidmore, Owings & Merrill, collaborating with Tsz Yan Ng and Wes McGee at the University of Michigan's Taubman College of Architecture and Urban Planning, utilizing robotic fabrication techniques.
As exciting and important as these topics may be, and however dynamic their creators' voices, they are only just a taster of what's on offer at Chicago Architecture Biennial 2021. A wealth of events (pavilions, exhibitions, talks and more) span the width and breadth of Chicago, making the whole city a large-scale architectural party – one that tackles serious issues in what will hopefully be an accessible, enjoyable, experiential way. Some 30 or so contributors from around the globe promise a varied and topical show, which, following on the main theme, spreads all across town.
'The proposition of The Available City is that all of the city-owned vacant land could in fact be community-driven collective spaces,' says Brown. 'Why that's important is that those lots are primarily in under-resourced neighbourhoods. This kind of collective space is driven by thinking of the interests of organisations or residents in the neighbourhood, and how those ideas might manifest to make spaces or be expressed through spaces.'
INFORMATION
The 2021 Chicago Architecture Biennial opens 17 September 2021, featuring activation weekend programs and events through 31 October. Installations will remain on view until 18 December.
chicagoarchitecturebiennial.org
Receive our daily digest of inspiration, escapism and design stories from around the world direct to your inbox