Interview: at home with Ai Weiwei
In our ongoing interview profile series, we hear about what artists are making, what's making them tick, and the moments that made them. As Ai Weiwei releases his long-awaited memoir, 1000 Years of Joys and Sorrows, we revisit our June 2021 interview with the artist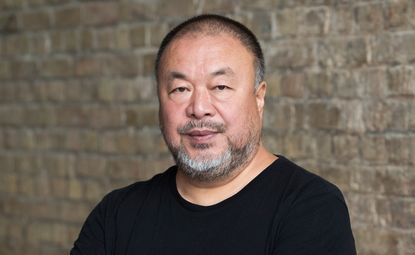 (Image credit: Ai Weiwei Studio)
Experiencing the art of Ai Weiwei is like biting into a scorpion. Plenty of sting, searingly sharp, and hard to swallow. And so it should be. The divisive Chinese artist has dedicated his life, career and freedom to exploring some of the most pertinent issues facing humanity. From his bold and unwavering criticism of censorship and authoritarianism in his native country to documenting the escalating migrant crisis, cultural stereotypes, and the darker caverns of history.

Experiencing the art of Ai Weiwei is also cathartic. He is an artist of resilience, vision, optimism and undeniable wit. His art dares to dream of a world where speech has freedom, equality reigns, power is held to account and satire can roam free.
Through film, installation, sculpture, performance, photography, and almost any other medium art has in its toolbox, Ai has invited those who see his work to walk, if for a moment, in another's shoes.

The stately rural haven of Blenheim Palace might feel like a far cry from the subjects Ai has often turned his attention to, but his relationship with the palace runs deep. In 2014, he became the first contemporary artist in Blenheim's 300-year history to make the palace his canvas. The show was a courageous move from its host, and as one might imagine, conventions were kept to a minimum. Ai placed handcuffs on the bed in Winston Churchill's Birth Room, introduced the Long Library to 40 photographs of him 'giving the finger' to global institutions, and let loose a plague of porcelain crabs in the Red Drawing Room. Less conventional still was the fact that the show was organised remotely while Ai was barred from leaving China by authorities.
Recently, Gilded Cage – Ai's imposing interactive sculpture exploring the physical and ideological constraints of refugees – has been installed on long-term view in the palace's grounds. We took the opportunity to speak to the artist, via Zoom, about his extraordinary life and work, and his long-awaited memoir, 1000 Years of Joys and Sorrows, published by Penguin Random House.
Wallpaper*: Where are you as we speak?
Ai Weiwei: In Portugal. This is one day before my largest exhibition ever ['Rapture' at Cordoaria Nacional, Lisbon]. It's about 40,000 sq m.

I bought a property in Portugal and I now consider Portugal to be a place I will settle in. I've been pushed out of China for six years. I spent five years in Berlin, and some time in the UK in Cambridge, where my son still studies. Now, since the pandemic, I've been in Portugal for a simple reason: plenty of sunshine.
W*: How are you finding your new home?
AW: I'm kind of a political refugee. Once you've left your home, either you're home, or you're a foreigner outside of your home. So I choose a place simply by instinct. I like a place to have sunshine. You open the door and see the sun, you open the window and see the sun, and you don't feel depressed, you feel something you can trust in: nature. The sun given to us is so generous, but living in the city, we forget.

This is a natural life, it's not a city struggle. It's very peaceful, and at my age, 64, you need a moment to be alone.
W*: Gilded Cage (2017), which has just been installed at Blenheim Palace confronts the international migrant crisis and lots of your previous work has centred on identity, displacement and inequality. Why are you so passionate about these issues?
AW: It's like the Yin and Yang: there are the fortunate ones, and the not so fortunate. I have had a lot of unfortunate experiences, I grew up with my father in exile for 20 years, so I know what it's like. As humanity, we always have to think as 'one', so there's always 'fortunate ones' and 'unfortunate ones'. But we're basically the same.

If we go to the refugee camps, we see the little girls and boys, and they're so smart. Their lives have the same meaning, but if we don't provide very simple opportunities – like education and nutrition – it just becomes a waste. Their whole lives, millions, maybe hundreds of millions of people, living under those kinds of conditions, given no hope.

[For me] it's become a responsibility. It's not mercy or some kind of compassion, it's become, 'do you really think you're a good person' or 'do you really not care at all?' It's a challenge. As an artist, I cannot avoid a conscience, so I ask myself the same question. I make films, and exhibitions to introduce the institutions to the so-called liberal world, to say 'we're responsible' and 'we're not as free as we think'.
W*: Were there any specific enclosures or cages it was inspired by?
AW: Yes, when I made the film Human Flow (2017), I based it on 40 [refugee] camps from the Syrian border to the Egypt border, the Turkish border, Lebanon, Jordan, and Myanmar.

[The film asked] 'what's it like being someone forced away from their home?', 'How do they live?', 'What kind of future do they have?'

So I got all these not-very-beautiful images. What I remember most vividly are several locations; one is the US border with Mexico. You can see one side is so rich and plentiful, and the other side is so desperate, you always question 'why is it like that?'. And also in Israel on the West Bank, people have to go through these jail-like fences. They're very narrow and very long. The Palestinian people have to get jobs, and they have to wait in there for hours. I don't know why they make the fences so narrow; people are compressed like sardines. I think about the psychological warfare that makes people feel unimportant: 'I'm the master of you', 'I decide your life'. So that's not fantasy, it's reality, so I made a little fence, a cage, that you can go in and out of; it could only take 20 or 30 seconds. It's a sculpture, an installation, a little modern instrument [to show] how humans treat others.
W*: The work was previously on view in New York's Central Park.
AW: Yes, it was in Central Park, near 59th Street, a few blocks away from Trump Plaza.
W*: Was that intentional placement?
AW: I liked that placement because New York is a city for rich and powerful people. And of course, today if you're powerful, somehow you will understand the cage. Either you cage others, or you can be caged.
Building Ai Weiwei's Gilded Cage at Blenheim Palace. Videography by Pete Seaward, produced by Blenheim Art Foundation
W*: Installing Gilded Cage at Blenheim is a bit of a homecoming for your work. You were the first contemporary artist to ever exhibit there, but you were detained in China at the time. What was the experience like?
AW: With every opportunity that comes, I say to myself, 'this will be my last show'. So I always make maximum effort, because, who knows, I could be locked up in jail for the next ten years. Whether it's a large project, or a small project, it's the same feeling. Life is short.
W*: The history of Blenheim is complex. It provided a refuge for 400 evacuated children during WW2. It also symbolises a certain British elitism and exclusion, yet it also stages radical contemporary art. What does Blenheim mean to you, both as a place and what it represents?
AW: Blenheim has a very historical figure in [Winston] Churchill and also represents Britain's struggle in modern times. Some were intelligent moves, some are maybe questionable, but the struggle is real. And that kind of struggle, we cannot replace it. History only teaches us how difficult [a place] freedom has come from.
W*: That's interesting. I suppose what Blenheim has done by exhibiting contemporary art, is open itself up to analysis, and perhaps criticism, of its history.
AW: I think they are brave. My show was their first, and they're always a little bit controversial. I asked them to place handcuffs on the bed inside Churchill's bedroom and they accepted. I can see the grandchildren of Churchill are so open-minded; they have great humour.
When I tried to hang Study of Perspective – 40 photographs in which I held my middle finger up at 40 different famous locations – in Churchill's library, the photos were larger than the library bookcases, so we wondered how to hang them because nothing seemed possible. So they said 'why don't you hang them this way [landscape]'? So all of the fingers now pointed like this [horizontal]. I love that kind of response – to trust the artist and just let something happen in this 'historical readymade'. They [have] respect, and also see the possibility to integrate contemporary culture. I think that takes some courage and it made the show very meaningful for me.

Normally with heritage and history, we think we shouldn't touch it, but we should touch it, otherwise we are not existing.
W*: What was the first piece of art you remember seeing, and how did it make you feel?
AW: The first piece of art I can memorise was by my father. He was an artist that studied in Paris, and was exiled for 20 years since the year I was born. We were in Xinjiang, the province of the Uyghur people and the Gobi Desert where he was doing hard labour. There was a black hole in the landscape, and we lived in this home for five years.
W*: You've got a picture of that home as your phone screensaver, that's quite powerful.
AW: That was my palace. This home was like the moment, if you remember, when the US Army pulled out the Iraq leader Saddam Hussein [who was in hiding] from the ground. It's an awful image, but we lived in a hole like that with my father. Now you understand that the palace means something very different to me.

But the first piece of art I remember. My father was cleaning public toilets for 200 farmers. It was very dirty, there was no water, no roof, and awful flies. This was a punishment to insult him. My father was a poet. You can see what kind of struggle he'd been through because he was a writer.

He was the most important writer in China but he was forbidden to write for 20 years. For a writer, this was the best time, from [the age of] 47 to 67, and he was not allowed to touch a pen. So once, he grabbed a pencil and drew a flower in front of me. I saw the magic happen. At that time, he was an old man who was supposed to clean the toilets. I never knew he could draw, and he just drew and the lines were so beautiful. That makes me feel like art is about real life, it's about the reality, it belongs to our heart.
W*: What's the most challenging art project you've ever worked on?
AW: My most challenging project also relates to my father [the Chinese poet, Ai Qing]. In 2011, I was detained [by the Chinese authorities]. In detention, I realised I knew him very little because I'd never really asked him a question. There were so many questions in my mind, but when he was alive, somehow I didn't ask them. I was stupid, I was not conscious, and now I will never get a solid answer.

The police told me I could face ten years of imprisonment. So suddenly, I felt sad because my son was only just over two years old. The prison guard said to me, 'after certain years, you come out of jail and your son won't recognise you'. That is very hard. One day, I [decided] to write a book about what was happening, so my son knew his grandfather and his father, from their own words, because there could be a lot of publications using their own words.

So that project has taken the last ten years, and the memoir will be published on 2 November (2021), it's called 1000 Years of Joys and Sorrows, published by Random House. It's taken a lot of effort to write this book.
INFORMATION
Gilded Cage is now on long-term view at Blenheim Palace. blenheimpalace.com
Ai Weiwei, 'Rapture', until 28 November 2021, Cordoaria Nacional - Galeria do Torreão Nascente, Lisbon.
1000 Years of Joys and Sorrows: A Memoir, by Ai Weiwei, is out now, published by penguin.co.uk
Harriet Lloyd-Smith is the Arts Editor of Wallpaper*, responsible for the art pages across digital and print, including profiles, exhibition reviews, and contemporary art collaborations. She started at Wallpaper* in 2017 and has written for leading contemporary art publications, auction houses and arts charities, and lectured on review writing and art journalism. When she's not writing about art, she's making her own.