Ai Weiwei's limited-edition cover for Wallpaper* explores surveillance, free speech, and humour as activism
Ai Weiwei takes over the limited-edition cover of the April 2023 issue of Wallpaper*. Ahead of the artist's major Design Museum show on 7 April, we explore the story behind the cover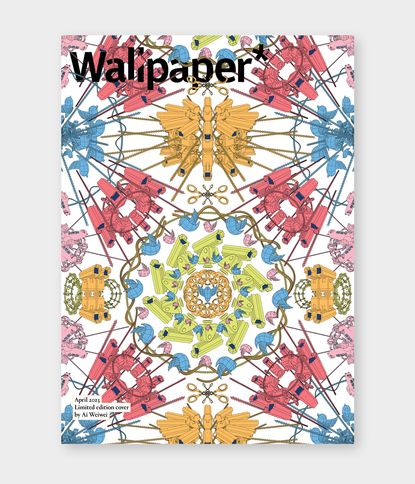 (Image credit: Ai Weiwei)
There is a hint of William Morris to the limited-edition cover of the Wallpaper* April 2023 issue. But the repeating pattern of intertwining colourful forms did not come from the hand of the 19th-century British designer and leader of the Arts & Crafts movement, but rather from pioneering 21st-century artist Ai Weiwei.
As explored in our exclusive profile on the artist, Ai's cover takeover anticipates his first museum exhibition focusing on design, 'Making Sense', which opens at the Design Museum, London on 7 April 2023. The cover artwork is a preview of the wallpaper that will wrap around the museum's soaring atrium, and bring a playful jolt of colour to a space characterised by neutral tones.
The motifs relate to surveillance and free speech, which are Ai's longstanding pre-occupations. Long before he went into exile in Europe in 2015, his outspoken criticism of corruption and defence of human rights had incurred the wrath of the Chinese government. In 2018, when a magnitude 7.9 earthquake in Sichuan province killed at least 69,000 people, he launched a citizens' investigation to expose the corrupt officials responsible for the shoddy construction of school buildings that collapsed. In retaliation, the government put him under close watch.
'Surveillance cameras sprouted up everywhere around the perimeter of my studio. During the day, plainclothes officers would take turns standing watch outside, and at night they would huddle up inside an unmarked white sedan,' the artist wrote in his 2021 memoir, 1,000 Years of Joys and Sorrows. 'Having nothing to hide, I had nothing to fear [...] transparency would work in my favour.'
The surveillance cameras in the wallpaper pattern – an instrument of control neutralised into a decorative object – nod to this episode, as do the steel rebars. Distraught by the sight of twisted rebar at collapsed schools, Ai brought more than 200 tonnes of the material back to Beijing and employed a dozen workers to hammer every one of the pieces back into shape, as though they had just come off the manufacturing line. At his solo show at Washington DC's Hirshhorn Museum in 2012, this rebar was laid on the ground in an undulating pattern to form the installation Straight, which used an act of repair to cast a bitter light on an irreversible loss.
Meanwhile, the handcuffs allude to the 81 days in 2011 that Ai spent in secret detention, purportedly for tax evasion (he soon realised the allegations were a pretext for political persecution – when police raided his studio, they left his accounting books intact), and the Twitter birds refer to the artist's prolific use of social media, which gave him in independent voice in a cultural landscape saturated by propaganda.
Then there's the alpaca, which gave the wallpaper its title – The Animal That Looks Like a Llama But is Really an Alpaca 2023 (2023). This bit requires a bit of explanation for non-Chinese viewers. The alpaca looks 'harmless, naive, innocent', says the artist during our interview in February, at his home in Montemor-o-Novo, Portugal. But it's in fact an allusion to an internet meme that first appeared in January 2009, about a type of alpaca called the 'grass mud horse'. A viral video in the style of a children's song described the grass mud horse from the Gobi Desert whose existence is threatened by an evil river crab.
In fact, 'grass mud horse' in Mandarin Chinese sounds very much like a commonly deployed pejorative about another person's mother. 'Everyone in China who sees this would laugh,' Ai says. The meme was coined to poke fun at China's censorship regime, which has clamped down on humour as a form of protest (in recent years, it also removed images of Winnie the Pooh in response to comparisons that netizens have drawn between the cartoon character and the Chinese president).
Pausing a YouTube video of the grass mud horse that he has gleefully played at full volume, the artist elaborates, 'the authoritarian police [in China] has no sense of humour. But they can't stop our use of humour as a means of confrontation. Humour makes them feel powerless, and so it's an asset that can really melt down their foundation.'
In making the grass mud horse a protagonist of his wallpaper design, Ai not only brings a chuckle to those in the know, but also reminds us of the potency of humour as a political statement, as he does best.
'Ai Weiwei: Making Sense' runs from 7 April-30 July 2023 at Design Museum, London, designmuseum.org (opens in new tab)
Ai's limited-edition cover is available exclusively to Wallpaper* subscribers (opens in new tab) and from the Design Museum Shop. aiweiwei.com (opens in new tab)
TF Chan is a former editor of Wallpaper* (2020-23), where he was responsible for the monthly print magazine, planning, commissioning, editing and writing long-lead content across all pillars. He also played a leading role in multi-channel editorial franchises, such as Wallpaper's annual Design Awards, Guest Editor takeovers and Next Generation series. He aims to create world-class, visually-driven content while championing diversity, international representation and social impact. TF joined Wallpaper* as an intern in January 2013, and served as its commissioning editor from 2017-20, winning a 30 under 30 New Talent Award from the Professional Publishers' Association. Born and raised in Hong Kong, he holds an undergraduate degree in history from Princeton University.