Ai Weiwei's largest-ever Lego artwork revealed at London's Design Museum
At London's Design Museum, Ai Weiwei has unveiled Water Lilies #1, a new Lego recreation of Claude Monet's iconic painting. We explore the vast new work ahead of the Chinese artist's major show at the museum, opening on 7 April 2023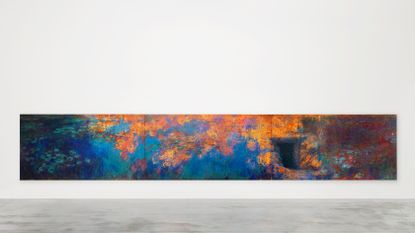 (Image credit: Photo © Ela Bialkowska/OKNO studio. © Image courtesy of the artist and Galleria Continua)
Ahead of his major show at London's Design Museum, Chinese artist Ai Weiwei has unveiled a homage to Impressionist painter, Claude Monet, constructed entirely of Lego.
The piece, titled Water Lilies #1, is Ai's largest Lego artwork to date, spanning 15m in length and comprising 650,000 studs of Lego bricks in 22 colours.
The new work will be on view as part of the Design Museum's much-anticipated exhibition 'Ai Weiwei: Making Sense', which opens on Friday 7 April, and will be the artist's first exhibition to focus on design and architecture, as well as his largest solo show in eight years.
In Water Lilies #1, Ai probes notions of reality and artifice. Although Monet's word-famous painting represents the epitome of natural beauty, the pond and gardens he depicts were in fact a man-made construct, designed and created by Monet himself at the turn of the 20th century. In Ai's work, the Lego bricks eliminate the humanistic gesture of Monet's brushstrokes in favour of a simplified, depersonalised language of pixel-like parts and colours. Through this, Ai comments on contemporary modes of digital image consumption, and all that might be lost in the process.
As Ai Weiwei commented, 'Our world is complex and collapsing towards an unpredictable future. It's crucial for individuals to find a personalised language to express their experience of these challenging conditions. Personalised expression arises from identifying with history and memories while creating a new language and narrative. Without a personal narrative, artistic narration loses its quality. In Water Lilies #1 I integrate Monet's Impressionist painting, reminiscent of Zenism in the East, and concrete experiences of my father and me into a digitised and pixelated language. Toy bricks as the material, with their qualities of solidity and potential for deconstruction, reflect the attributes of language in our rapidly developing era where human consciousness is constantly dividing.'
Ai Weiwei first deployed Lego bricks as an art medium in 2014 when he used them to create portraits of political prisoners. Now a key element of his practice, Lego will also feature heavily in the Design Museum show, most notably in Untitled (Lego Incident) which will see thousands of Lego blocks fill the gallery floor. Ai sourced the materials for the work (seen fully assembled for the first time at the Design Museum) via public donations from around the world, in response to Lego briefly refusing to sell their products to him in 2014.
Justin McGuirk, Chief Curator at the Design Museum and curator of 'Ai Weiwei: Making Sense' said: 'Several of the works in this exhibition capture the destruction of urban development in China over the last two decades. With Water Lilies #1, Ai Weiwei presents us with an alternate vision – a garden paradise.' McGuirk also describes how Ai has embedded a more poignant narrative into the piece: a dark portal on the right-hand side, representing the door to the underground dugout in Xinjiang province where Ai and his father, the acclaimed poet Ai Qing, lived in forced exile in the 1960s. 'On the one hand, he has personalised it by inserting the door of his desert childhood home, and on the other, he has depersonalised it by using an industrial language of modular Lego blocks. This is a monumental, complex and powerful work and we are proud to be the first museum to show it.'

'Ai Weiwei: Making Sense' runs at the Design Museum from 7 April-30 July 2023. designmuseum.org
Harriet Lloyd-Smith is the Arts Editor of Wallpaper*, responsible for the art pages across digital and print, including profiles, exhibition reviews, and contemporary art collaborations. She started at Wallpaper* in 2017 and has written for leading contemporary art publications, auction houses and arts charities, and lectured on review writing and art journalism. When she's not writing about art, she's making her own.