Introducing Wallpaper* April 2023: Global Interiors
The Wallpaper* April 2023 issue is on sale now. Step inside Humberto Campana's new São Paulo studio, and meet Ai Weiwei at his Portuguese home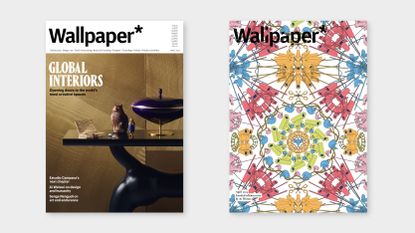 (Image credit: Newsstand cover photography (left) by Romain Roucoules)
There are many reasons to love Estudio Campana. The Brazilian design studio, founded by brothers Humberto and Fernando Campana, is celebrated for its ingenious upcycling of everyday materials – creating exuberant furniture pieces from stuffed toys, waste fabric, sheepskin offcuts, cork, and even the wooden sticks typically used to build Brazil's favelas.
Beyond their imaginative output, we also admire their reverence of nature, their steadfast championing of indigenous wisdom and traditional craft, and their fundamental belief in the role design can play. As Humberto tells our writer Beta Germano in this issue, 'I see my profession as something sacred, because in a way I enter people's homes, their temples.'
That sense of purpose has been a motivating force for Wallpaper* since day one, so we're honoured to bring you the first look at Humberto's new studio in São Paulo. Determined to continue the work he'd begun almost four decades ago with his brother, who sadly passed away last November, Humberto remains as prolific as ever. He also has ambitions for his space to host design meetings and exhibitions for other creatives: 'The important thing is to keep telling stories and improving the lives of others, with ideas and hope'.
Our other headliner, Ai Weiwei, likewise sees design as a humanist pursuit. While best known as a conceptual artist, he has a longstanding interest in material culture, and will stage his first design exhibition at London's Design Museum this April. He welcomes our magazine editor TF Chan and photographer Jermaine Francis to his home in Montemor-o-Novo, Portugal, for an exclusive preview, and has additionally created this issue's limited-edition cover: a wallpaper pattern with motifs relating to surveillance and free speech.
Continuing the theme of opening doors to the world's most creative spaces, we visit Singaporean architect Ian Chee's apartment, an oasis of calm that juxtaposes old and new; step into the studio of French artist Eva Jospin ahead of her carte blanche commission for champagne house Ruinart; and head to Espoo, Finland, to meet jewellery icon Björn Weckström, one of whose pieces was famously worn by Carrie Fisher as Princess Leia in Star Wars.
Meanwhile, our 'At home with' series continues with designer Sebastian Herkner, whose curiosity and cosmopolitanism are evident in the iPhone photos he's taken for us.
Complementing our annual Global Interiors story, which brings together the finest new furniture from the US, Brazil, France, New Zealand, Singapore and South Africa, is a collaboration between Wallpaper* stalwarts Caragh McKay and Nick Vinson. Inspired by a 2019 Van Cleef & Arpels exhibition, their story on jewels for the home reveals the longstanding links between the great jewellery houses and interior designers.
Marshalling their sterling reputation and considerable charm, Nick and Caragh persuaded these houses to loan museum-quality pieces from their archives, and paired them with similarly exceptional furniture and furnishings for an eight-page special that also graces our newsstand cover. It's a testament to how the best design never goes out of style.
Bill Prince
Acting Editor-in-Chief
The April 2023 issue of Wallpaper* is available in print from 9 March, on the Wallpaper* app on Apple iOS, and to subscribers of Apple News +. Subscribe to Wallpaper* today (opens in new tab)
Bill Prince is a journalist, author and former acting editor-in-chief of Wallpaper* (March 2022-April 2023). Prior to taking up the role, he served for 23 years as the deputy editor of British GQ, before which he worked at EMAP (as assistant editor of Q Magazine) and IPC (where he began his career at NME). In addition to editing, writing and brand curation, Bill is an acknowledged authority on travel, hospitality and men's style. His first book, 'Royal Oak: From Iconoclast To Icon' – a tribute to the Audemars Piguet timepiece at 50 – was published by Assouline in September 2022.