Counterspace's Sumayya Vally on her Serpentine Pavilion
Counterspace is the fast-emerging South African architectural practice commissioned to create the latest Serpentine Pavilion in London. Here, its founder Sumayya Vally takes artist and photographer Mikhael Subotzky on a whistle-stop tour of their adopted hometown, Johannesburg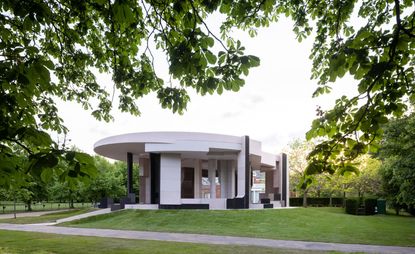 (Image credit: Iwan Baan)
Looking at each individual project by Sumayya Vally, it's hard to pinpoint a 'signature' look or subject. There are installations, film and sound pieces, projects around food, community-focused schemes, fine art research, and traditional building works. Yet zoom out and examine her portfolio as a whole and her fascination with the 'city' becomes clear. Listening to her talk reveals even more: Vally is 'obsessed with Joburg'.

Vally grew up in an apartheid-era township in Pretoria called Laudium. She credits the tight-knit community, 'strong urban atmosphere', and her experiences of going to a Muslim school from a young age and living in a relatively small space with informing her sense of community and city. Witnessing many people transcending that small-town context, through their work or studies, also played its role.

But it was Johannesburg that shaped Vally's architectural approach and her passion for urban space. She often spent holidays with her grandfather, who owned a store in the city. Eventually she studied for the second part of her architecture degree there (architecture studies in South Africa include two parts in university, usually split by a break in practice). During this time, she admits to being completely taken by the varied, rich, urban environment of South Africa's largest city. 'I was obsessed with the city; reading it, understanding it, drawing it, filming it, absorbing it,' she recalls. 'I became really concerned that, after graduating, I would lose what that felt like, and that is how Counterspace was born, as a response, refusing to become jaded.' Vally set up her practice in Johannesburg in 2015.

Working in the city before completing her studies– practising architecture at an NGO, and conducting research and installation projects for several national museums – proved transformative. 'I had a lot more exposure to what was actually going on in the city,' says Vally. 'Seeing how people find ways to function economically, understanding ritual practices of the city – seeing how belief systems, for example, filter down into how people live. This can birth different or new kinds of architecture that we may not be focusing on in school. This is really rich ground to create architecture.' And why shouldn't buildings be created by taking into account different uses and ways of life? This is exactly the point between formal and informal architectural space- and place-making that Vally likes to unpick. 'My work is focused on how architecture can be social and public and inclusive and diverse, but it's from the perspective of a deep social project. There is this layer about history, future and archive that is left out [of mainstream architecture] at the moment.'
Over the years, Vally explored multiple areas of Johannesburg, choosing different communities to focus on. All of these places influenced her practice, she admits. There is Bree Street, an economic hub for the Ethiopian and Eritrean diaspora, which helped her understand forms of trade in the city; and Ntemi Piliso Street, home to her grandfather's store, where she spent much of her childhood and first encountered Basotho textiles, and their 'language' and meanings.

Using this kind of 'urban reading', zooming in and out of cultural hotspots of activity, Vally followed her instinct and picked work that allowed her to develop her interests – a lot of it in the realm of research. In 2018, she worked with Yale University's Denise Lim on the archive of artist Mikhael Subotzky (who shot the portraits on these pages) – in particular, his collection of trash from Ponte City. Created in 1976, the 54-storey cylindrical building (W*80) became iconic in Johannesburg, starting off as a desirable place for European expats, but later designated a 'grey zone' (an apartheid-era term for areas where people of colour could live). It changed character completely during the last decades of the 20th century, due to population shifts and the political situation in the country, becoming home to people from all over the world. Subotzky and artist Patrick Waterhouse collected the rubbish left behind when developers bought the building in 2008 and started to clean it out; the pair's project is now part of the collection at SFMOMA.

Johannesburg's infamous mine dumps (great mounds of waste on the sites of disused mines) in Booysens, Soweto, East Rand and West Rand also attracted Vally's attention. Her research on the dumps and surrounding issues – socio-economic systems, belief systems, toxicity, racism, climate change – and how they affect the formation of cities, became a display at the inaugural Chicago Architecture Biennial in 2015. 'It is a reminder of how segregated our city is,' she says. Later, a pigment research part of the project became the Folded Skies mirror installation for the Spier Light Art festival in Stellenbosch in 2018.

'I worked on researching how to recycle the mine dust and pigments from run-off to tint mirrors to reflect the colours of Johannesburg skies at different times in the day,' says Vally. 'There is a myth in Joburg that our skies and our sunsets are iridescent because of all the toxic dust.'
The city's Yeoville Market, Fordsburg and Little Mogadishu in Mayfair, home to South Asian and Muslim immigrants, have a particular significance in Vally's Pan African Plates, an ongoing project looking at how different communities gather around food. North-east of Pretoria in Mapoch, a village that maintains the traditions of the Ndebele people, she learned about the culture's shapes and their meanings, for Ndebele Geometries. The project, a mobile installation to help children learn about mathematics through the distinct shapes found in the painted façades of Ndebele homes, is currently in development.

Digging a little deeper into Vally's projects, it becomes clear that there are strong, common threads running through all of them – the notion of archive; ideas of coexistence and mixing of cultures, segregation and common ground; and how our background, be it cultural or political, can affect the way we live and structure our urban environment. These are themes that tie strongly into Johannesburg life as Vally experiences it, but also life in South Africa as a whole. 'The nature of growing up in South Africa certainly informed my practice,' she says. 'On the home scale, the community scale, the urban scale, in the way I think about segregation.' They are also themes that feel universal and can apply to anywhere migration has taken place – which is, on some level, most places.

This layering of design, history, culture and archival research in the creation of architectural output that speaks to its place and users has become a speciality for Counterspace. In 2019, Vally was invited to apply her perspective to the annual Serpentine Pavilion in London. Counterspace is the youngest studio to be awarded the commission; the pavilion will be the first built work of its kind by the fast-emerging practice. Delayed by the pandemic, it will be unveiled this year.

While Vally's proposal includes the traditional physical structure (in this case to be made of cork and bricks from recycled construction waste), the project has grown branches that reach far beyond the pavilion's usual remit at Kensington Gardens. 'I didn't want it to be an aesthetic manifestation, but I felt that it needed to be a representation of my ethos as a practice,' she says. 'I wanted to bring other voices into the pavilion.' Rather than working on the physical structure first, Vally approached the concept from the opposite direction. 'The intent to read, and draw in other places and neighbourhoods came first, and then I went into the form-making of the pavilion,' she explains.
She researched migrant communities in London and photographed a series of spaces, especially gathering places, that represent, or used to represent, various migration waves and groups. 'Some of the places existed but have now been erased,' she says, flagging up as examples areas in Brixton, Hackney, Edgware Road and North Kensington. Her research includes anything from event posters to music records. Spaces of cultural production that, she feels, were not widely recognised at the level they deserved, play a prominent role. Case studies include one of the first venues to play Black music in the UK, the Four Aces Club in Dalston; the Centerprise publishing house that was a centre for the West Indian community; the Theatre of Black Women (Britain's first Black women's theatre company, operating during the 1980s); the iconic Mangrove Caribbean restaurant in Notting Hill; the first mosque in London; and informal venues, such as the sites of festivals and sidewalk events.

Vally treated the pavilion as a place to bring these forms of gathering and cultural manifestation together and into Hyde Park in an abstracted form. It is a design planned to encourage both one-on-one and larger encounters, both organised (through a programme of events) and casual – all this, of course, planned before the pandemic hit. 'Now there are different kinds of opportunities to engage with, and we are developing projects that will have a life of their own, beyond the pavilion,' she says. Counterspace's Serpentine Pavilion is currently planned to go ahead for a June opening, unless the pandemic throws another unexpected curveball; either way, its intention and spirit are emblematic of Vally's approach to architecture.

Meanwhile, more built work is underway – a mixeduse building in the Crown Mines area of Johannesburg is due to complete this year. Larger-scale architecture, cultural projects in particular, is something Sumayya Vally is keen to focus on in the future. 'The slowness of research, the faster pace of installations, and then building too – all these speeds catalyse and inform each other,' she says. Eventually, it all feeds back to the city, how we read it and how we push it, and the discipline of architecture, forward – in Joburg, and beyond.
INFORMATION
Ellie Stathaki is the Architecture Editor at Wallpaper*. She trained as an architect at the Aristotle University of Thessaloniki in Greece and studied architectural history at the Bartlett in London. Now an established journalist, she has been a member of the Wallpaper* team since 2006, visiting buildings across the globe and interviewing leading architects such as Tadao Ando and Rem Koolhaas. Ellie has also taken part in judging panels, moderated events, curated shows and contributed in books, such as The Contemporary House (Thames & Hudson, 2018) and Glenn Sestig Architecture Diary (2020).
With contributions from