Now Gallery presents the vibrant culture of 'A Young South Africa' captured through the lens
Now Gallery's 'A Young South Africa, Human Stories' showcases six inspiring photographers for the 2023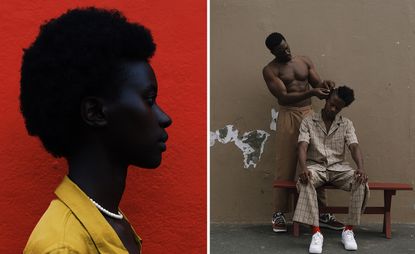 (Image credit: Fede Kortez)
When stepping into the Now Gallery on London's Greenwich Peninsula, you enter into the vibrant youth culture of South Africa. 'A Young South Africa', the title of this year's annual 'Human Stories' project, is presented through the eyes of six South African photographers – Bee Diamondhead, Fede Kortez, Aart Verrips, Nikki Zakkas, Anita Hlazo, Ben Moyo and Karabo Mooki – who capture the diverse culture of their home nation, which is shadowed by a complex political, socio-economic and cultural landscape.
The featured works celebrate individualism, co-creation, and collaboration, telling the story of the 'Ama2000s', a generation of young South Africans defined by self-expression and political awareness, and a desire to revolt against the constraints of the past.

Despite the continuous rise of youth unemployment, and the decline in basic services like clean water, the creative energy of Ama2000s is undimmed and expressed through visual culture, music, and fashion – all a focus of the exhibition, which has been curated by Kaia Charles.
Speaking with Wallpaper*, she said: 'Human Stories commissions seek to engage the viewer in global conversations. South Africa is known for its turbulent past and the amazing Amapiano music movement that is sweeping the world. We hope the exhibition will share new perspectives, both thought-provoking, uplifting and transformative.'
Now Gallery: 'A Young South Africa'
---
Anita Hlazo, Afrogrunge
In her photographs shot in Nyanga, a township in the Western Cape, and Cape Town, fashion designer and stylist Anita Hlazo, founder of label Afrogrunge, showcases her evolving style and identity as a Black 'Alternative' presenting girl, mixing pop and grunge subcultures. Hlazo's portraits capture piercings, tattoos, and platformed boots, contextualised by the urban environment and local communities.


Karabo Mooki, Island Gals
In this photo-documentation, Karabo Mooki focuses on the lives of 'Island Gals', a skateboarding community based in Johannesburg and Soweto. The Black women and queer crew reclaim their right to appear in the places they skate, collectively declaring the right to protest against South Africa's history of gender-based violence.


Fede Kortez, Cape Town Vibes
Glazed with a saturated colour, Kortez's portraits are shot in the Bo-Kaap and Woodstock neighbourhoods of Cape Town. The colourful houses of Bo-Kaap celebrate the district's Muslim identity. Through his photography, Kortez seeks to capture the energy of the two neighbourhoods while embracing Pan African pride and connection with the people he photographs.


Nikki Zakkas
Keen to share cultural richness, diversity and pride, Zakkas captures a cast of five young people within the locations that are significant to those individuals. The backgrounds hide symbolic clues to their personalities, with each photo as unique as its subject.


Bee Diamondhead, Back to the Soil
Three queer, male musicians are photographed by Bee Diamondhead, who celebrates their beauty, softness and vulnerability, challenging the cultural stereotypes of the South African music industry. She critiques toxic masculinity and acknowledges that her country has the highest gender-based violence rate in the world. The nude sitters, painted with coloured clays and earth, engage in 'a ritual of remoulding' themselves, 'channeling back with the soil or giving back to it'.
Aart Verrips, For My Liewe Land
Through self-expression, Aart Verrips reimagines the 'rainbow nation'. Exploring the intersection of music, performance and fashion, he features a collective of individuals driving the cultural movement.
Now Gallery's 'A Young South Africa, Human Stories' is showcased from 11 October – 19 November 2023. nowgallery.co.uk
Receive our daily digest of inspiration, escapism and design stories from around the world direct to your inbox
Tianna Williams is the Editorial Executive at Wallpaper*. Before joining the team in 2023, Williams taught scuba diving for three years before heading into journalism. Previously she has been involved covering social media and editorial for BBC Wales, Ford UK, SurfGirl Magazine, and Parisian Vibe, while also completing an MA in Magazine Journalism at Cardiff University. Her work covers writing across varying content pillars for Wallpaper*.